10 Surplus Shops to Check Out in Manila
Here's a round-up of thrift shops to love, from Fairview to Paranaque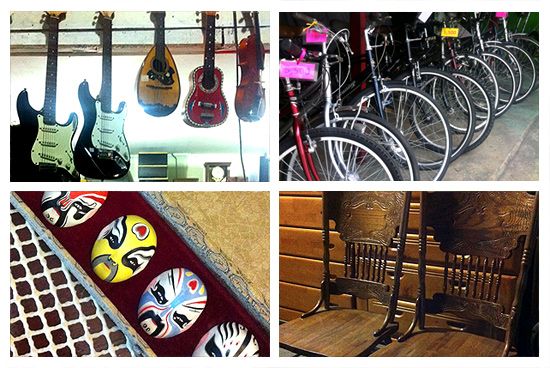 (SPOT.ph) Often dusty, poorly ventilated, and filled with a hodgepodge of what seems to be sorry refuse, surplus shops don't usually have the best reputation. Granted, not everyone is willing to get their digits dirty and risk developing asthma in pursuit of a find, but those who do very well know the thrill of scoring a personal treasure (and yay to earthly-friendly shopping!).
Three things to keep in mind:
1. Don't expect the items to sell for a song; some are priced ridiculously high. Exercise good judgment in deciding whether to buy or not considering the condition, uniqueness, and price. Compare prices and try to haggle.
2. Surplus shops are alternatives to cookie cutter malls and hipster stores. Resist the urge to ask, "Miss, may bagong stock pa kayo nito?" or "May ibang kulay ba 'to?"—maybe unless you're at niche surplus shops.
3. Bring wet wipes. A couple of the shops in this list look like regular stores, while some are reminiscent of the warehouses where goons in Pinoy movies would take their hostages. Check out the wet wipes level of each shop to give you an idea of the amount of grime and chaos to expect.
Generally, the stores are open every day, from 9 a.m. to 7 p.m. Call or refer to their Facebook pages for updates and inquiries.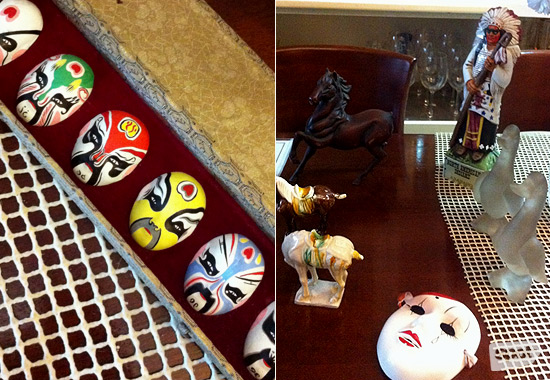 ADVERTISEMENT - CONTINUE READING BELOW
27E Regalado Avenue (near Fairview Center Mall), Quezon City
Contact: 0977-171-1365
A surplus shop newbie? This shop-in-a-house is clean and cozy and won't overwhelm a first-time thrifter. The edited assortment of glassware, décor, toys, and whatnot (we liked the miniature masks at P350) fill the shelves and display cabinets. Good-quality leather bags (Japanese and European brands; around P1,450) and scarves (from P40/piece) sprawl on a dining table. It feels like visiting a hoarder or a slightly kooky aunt's house, especially since the female owner is friendly and accommodating.
Wet wipes level: 1 sheet
CONTINUE READING BELOW
Recommended Videos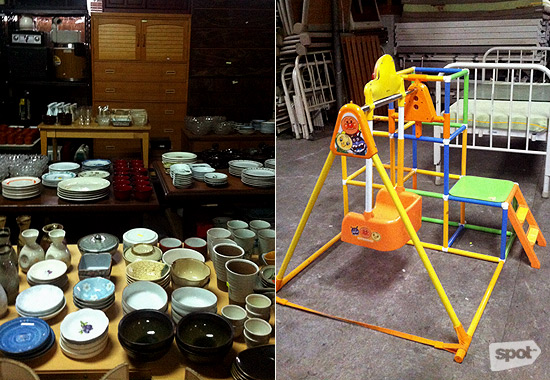 HNSS Surplus Shop
L1 B168 Regalado Avenue, Quezon City
Contact: 461-7367; 736-5408
Along the quiet stretch of Regalado Avenue lies this dim and intriguing—if not intimidating and ominous—humongous space. Inside, seemingly endless rows of ceramic plates (starting at P20) and glassware await. In the back, there are toys, appliances, and small furniture pieces. The other side is filled with office furniture, heftier chairs, and beds and cabinets. In general, the furniture is in a sorry state, but you might just find a gem somewhere if you're game to scour and willing to shell out for repairs. They're open to wholesale and also hold public auction.
ADVERTISEMENT - CONTINUE READING BELOW
Wet wipes level: 5 sheets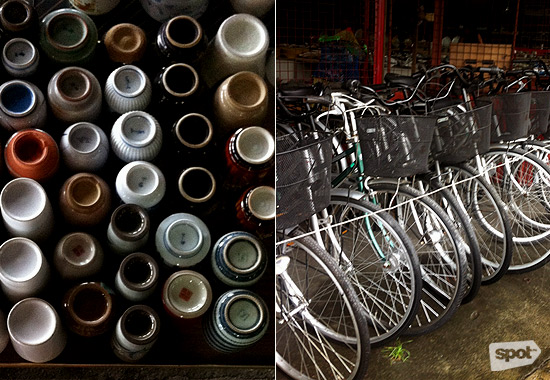 Laciapag Trading
Regalado Avenue corner Domingo de Ramos Street (near SM Fairview), Quezon City
Contact: 332-0861
This one is near—and similar—to the other Regalado warehouse surplus shop, only a bit brighter and breezier. There are several stacks of plates and bowls and mugs (starting at P20, but could go as high as P60 if branded and microwaveable). There are also bikes at around P3,500, refrigerators at P7,500, and washing machines at P3,500. There's a slim selection of bags and accessories. The hold public auction from time to time; call to ask for the schedule.
Wet wipes level: 4 sheets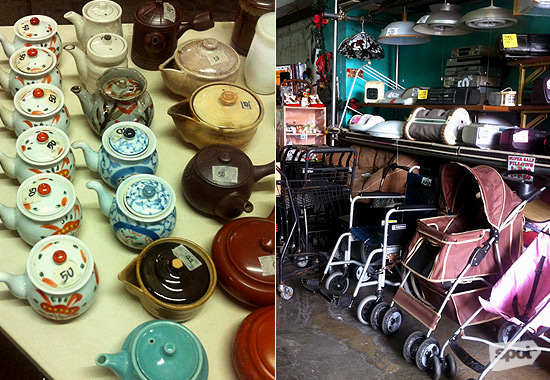 ADVERTISEMENT - CONTINUE READING BELOW
305 J.P Rizal Street, San Roque, Marikina City
Contact: 570-1213
Believe us when we say this place is huge and worth a visit whether you plan to buy something or to just look around for curios. It's a warehouse-type space, but items are well organized and the staff is helpful without being intrusive (plus points for their cute polka dotted apron uniform!). They have the biggest assortment of bikes among the shops in this list; they even have an "Earth Japan Bike Club." There are Japanese dolls in glass cases, appliances like sewing machines, dining sets, cabinets, wheelchairs, random Japanese oddities, and so much more. Tip: Fill up with burgers and soda at Mama Chit's across the street.
Wet wipes level: 3 sheets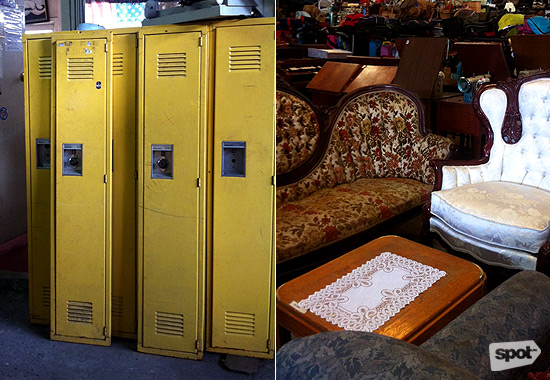 809 EDSA corner Scout Borromeo, South Triangle, Quezon City
Contact: 929-9221
They have also have a smaller branch in Cubao, near Farmer's Market.
ADVERTISEMENT - CONTINUE READING BELOW
The lone U.S. flag carrier among the shops on this list, MSM American Surplus has slightly different offerings from the Japan surplus shops, though not any less dirty or crazy overall. For instance, there's a good chance of finding whole sets of ceramic plates here compared with the others whose items are mostly one-offs. There are also Christmas and Halloween decorations, toys, furniture, Mercedes-Benz parts, and random, pointless things like trophies. Here you'll also find a separate room for just electronics, which is a different world altogether.
Wet wipes level: 5 sheets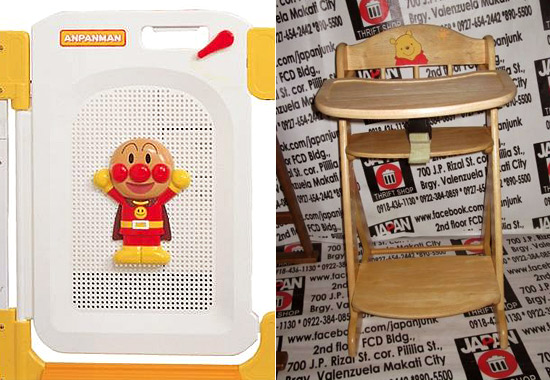 2/F FCD Building, 700 J.P Rizal corner Pililia Street, Makati City
Contact: 0918-436-1130
Japan Junk Thrift Shop has a physical store, but it is highly advisable to check out their Facebook page before visiting for the list of their available products. This is a niche surplus shop focusing on cribs, branded strollers, and carriers, so expect to see all items neatly folded and packed at their store. They will only open the item you're already sure of buying. Their Facebook page is updated and sold items are placed in a "SOLD NOT AVAILABLE" album. The complete details about the product, including the condition, are indicated in the product photo. They also have high chairs, safety gates, and soft toys. Take note of the product details, or take a screen shot of the photo and present it to the attendant.
ADVERTISEMENT - CONTINUE READING BELOW
Wet wipes level: 1 sheet
(Note: The shop itself is clean, but it is located on the second floor of a dingy building.)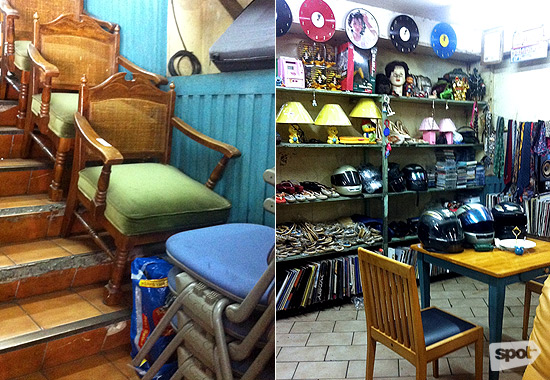 Hapon Surplus Trading
711 Rizal Avenue, Sta. Cruz, Manila
This three-storey surplus behemoth has a ground floor dedicated to ukay-ukay apparel, the entire second floor to furniture, appliances, and curios; the third floor to mostly ceramics and tableware. As if those spaces were not enough, corners and recesses such as stairs landing are filled with folding chairs (about P850) and more whatnot. Here you'll find serviceable though bulky cabinets and dressers (about P4,000), some guitars and tripods, appliances, and random objects to keep you amused for hours.
Wet wipes level: 5 sheets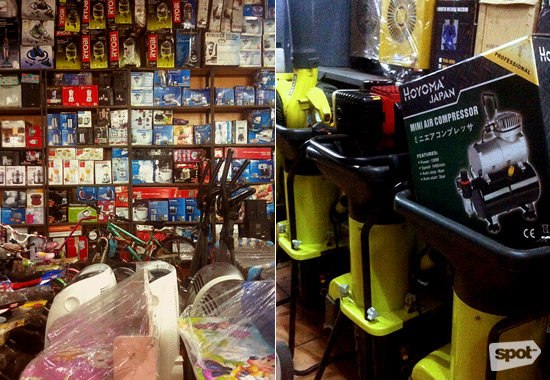 ADVERTISEMENT - CONTINUE READING BELOW
68 Dr. A. Santos Avenue, Sucat, Parañaque City
Contact: 239-0594
This is a niche surplus shop offering all sorts of power tools and industrial, heavy-duty indoor and garden equipment, and small kitchen appliances such as espresso machines (around P8,980), blenders (around P3,490), even retro-style slushie machines—all in their original packaging. They also have some dining sets, strollers, and furniture for kids. Do check out their FB page and decide for yourself if it's worth the visit, especially if you're coming from the north.
Wet wipes level: 2 sheets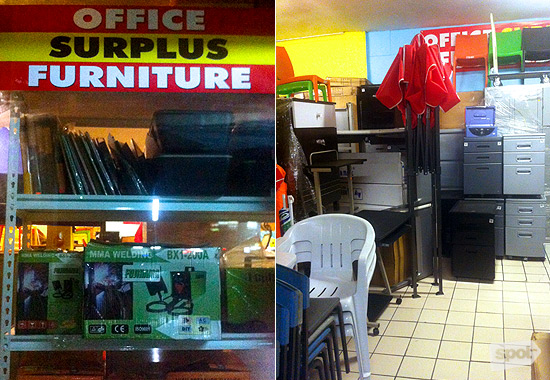 Uniwide Mall, Dr. A. Santos Avenue, Sucat, Parañaque City
Contact: 899-9750
With branches in Tondo, Cavite, Malolos, and Parañaque—plus close to 29,000 likes on Facebook—Mega Office Warehouse is the most commercial of the bunch. They offer both used and brand new office chairs (starting at about P1,200), steel cabinets (about P2,000), modular partitions, lockers (P16,000), safes, and the like. Tip: Right next to their branch in Uniwide Mall is a small no-name surplus shop you might want to check out for possible gems.
ADVERTISEMENT - CONTINUE READING BELOW
Wet wipes level: 1 sheet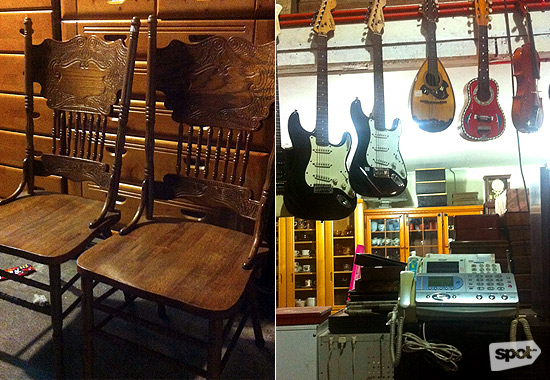 Japan Store
98 Dona Soledad Avenue, Better Living, Parañaque City
Contact: 0917-615-2707
This store has a wide assortment of items, like a shabby department store, in a way. Surplus shop staples like dining sets, cabinets (they have Chinese-style armoires that others don't), dressers, and breakables are present. What's unique are the fine finds such sets of designer tableware from labels like Givenchy, Royal Albert, and Hanae Mori. These don't come cheap though; going as high as a couple of thousands for a set. There are also some electric guitars and ukulele (around P7,800), kokeshi dolls (the biggest one sells for P2,800), and an office area with cool vintage curios.
Wet wipes level: 3 sheets
Share this story with your friends!
---
Help us make Spot.ph better!
Take the short survey
Load More Stories