10 Things We're Loving Now: R2-D2 Christmas lights, a bunny alarm clock, Chit Chat labels + more
Plus, the only way kids nowadays can learn about computer diskettes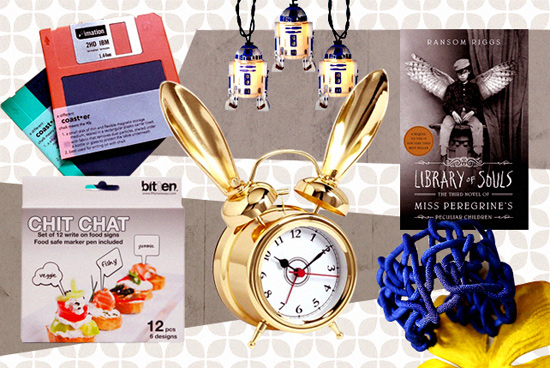 (SPOT.ph) Do yuccies even know what a diskette is? Their love for all things "vintage" might help them understand this antique, but we also found some cool coasters that could introduce them to these foregone digital recording devices. Plus, the cutest food labels for your fridge or party, Ransom Riggs' final page-turner for the Miss Peregrine's series, a game for your next party, and more!
ADVERTISEMENT - CONTINUE READING BELOW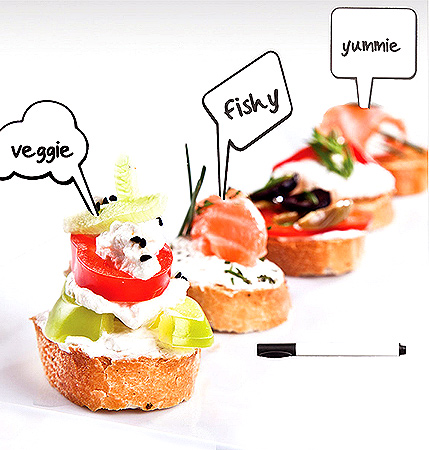 Chit Chat Food Signs (P495)
Let your food do the talking with these fun thought bubble signs. Your party guests would appreciate the labels especially when placed on top of some unfamiliar food (because they'll be too polite to say it out loud anyway). — Loren Evangelista, managing editor
Available at Dimensione
ADVERTISEMENT - CONTINUE READING BELOW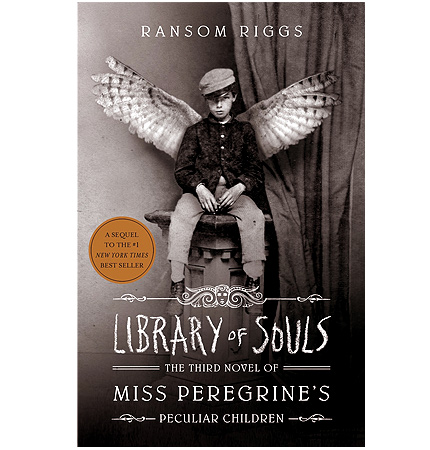 Ransom Riggs' Library of Souls (P495/paperback)
If you follow this section, then you might have noticed that I loved the first book (Miss Peregrine's Home for Peculiar Children) back in 2011 then the second book (Hollow City) last year. It seems only fitting that I close it out with the final novel in the trilogy. Ransom Riggs finally ties all the loose ends with the third installment of this dark fantasy. Hero Jacob Portman continues the cliffhanger ending of the second book and rescues his Peculiar friends from the wily hands of the wights. In the difficult terrain of Devil's Acre, who can he trust?
ADVERTISEMENT - CONTINUE READING BELOW
We can't wait for the all-star cast in the Tim Burton-directed adaptation coming in 2016! — Sasha Lim Uy, Eat + Drink section editor
Available at all major bookstores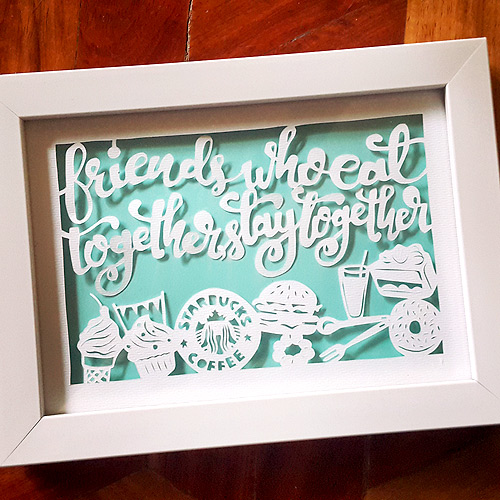 "Friendship" Paper Craft (P550)
Nothing says friendship like a shared love for food! Commemorate your love for eating and your barkada with this framed, hand-cut work by local crafter, Ebony Paguia. — Aimee Dacanay, staff writer
ADVERTISEMENT - CONTINUE READING BELOW
Available at handslovepapers or e-mail handslovepapers@yahoo.com.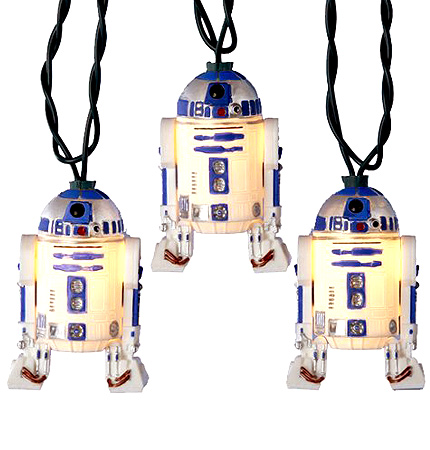 Star Wars R2-D2 Light Set (P1,645)
Two things: Christmas and Star Wars. Both are just around the corner, and this R2-D2 light set just makes me even more excited! It's a perfect alternative to the usual Christmas lights, especially for self-confessed Force-sensitive people like me. — Mimi Miaco, staff writer
ADVERTISEMENT - CONTINUE READING BELOW
Available at Galleon PH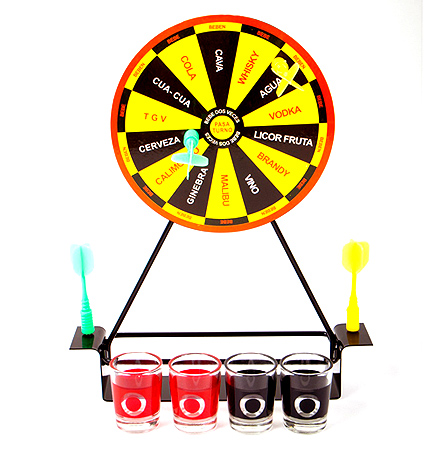 Drinking Dart (P960)
Hosting a Christmas party? Keep things fun and your guests buzzed with this exciting and quirky drinking game! — Jamie Sanchez, editorial assistant
Available at Weekenders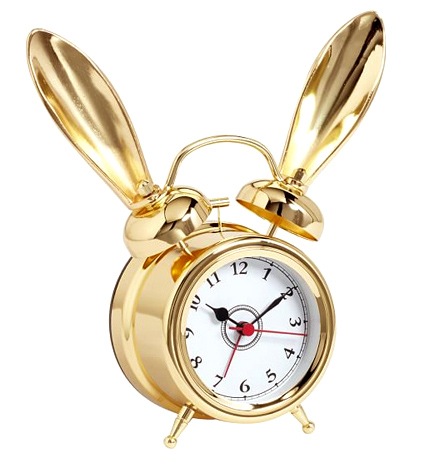 ADVERTISEMENT - CONTINUE READING BELOW
The Emily + Meritt Bunny Alarm Clock (P4,950)
Confession: Getting up in the morning is a downright struggle for me, every single time. So anything that can make it a little less dreadful is a winner in my book. Especially when it's this cute.— Joanna Manalastas, editor-in-chief
Available at PBteen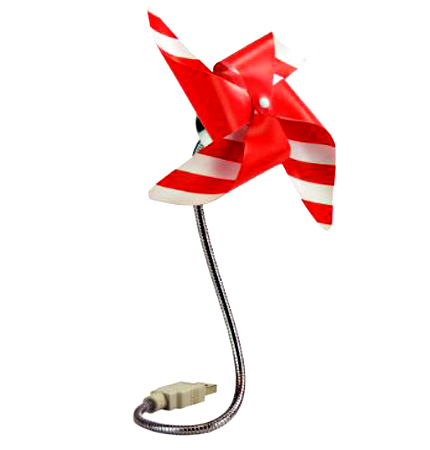 Mustard Fantastic Fan (P895)
ADVERTISEMENT - CONTINUE READING BELOW
When the pressure in the office gets too hot, plug this whimsical pinwheel into your CPU. Take a break and just cool off. — Sasha Lim Uy, Eat + Drink section editor
Available at Rustan's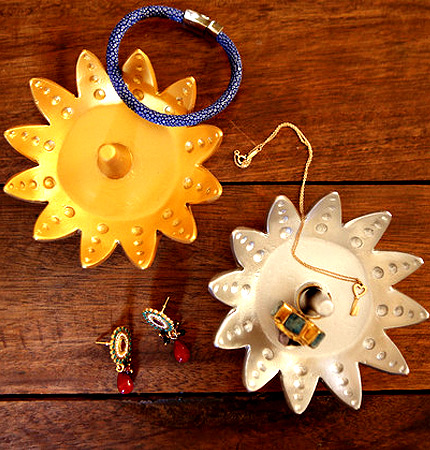 "Marilyn" Ring Holder (P350)
Spruce up your vanity or bedside table with these chic handcrafted trays that will hold all your rings and jewelry. They come in different colors, too! — Aimee Dacanay, staff writer
ADVERTISEMENT - CONTINUE READING BELOW
Available at Seek the Uniq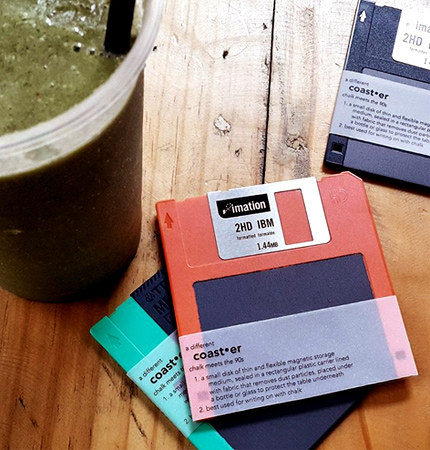 Diskette Coasters (P120)
When was the last time you saw a computer diskette? No, the "save" button on your computer doesn't count. These diskette coasters from @chalkandcloud make for great icebreakers and for labeling your drinks (the black part is made of chalkboard material). — Jamie Sanchez, editorial assistant
ADVERTISEMENT - CONTINUE READING BELOW
Available at Common Room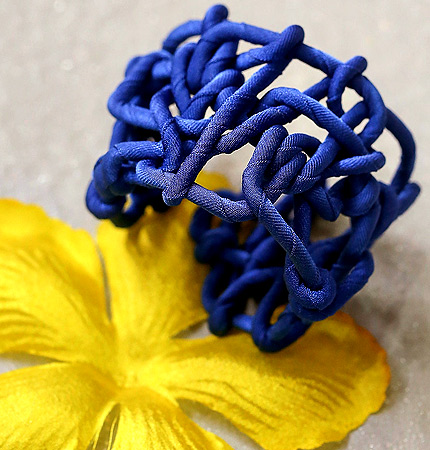 Scribble Cuff (495)
This arm candy is charming without being too flashy. It was also exhibited in the recently held APEC Summit's showcase of Philippine products. It's classy but affordable–what a steal! — Mimi Miaco, staff writer
Available at PiesaPh
Recommended Videos
Load More Stories