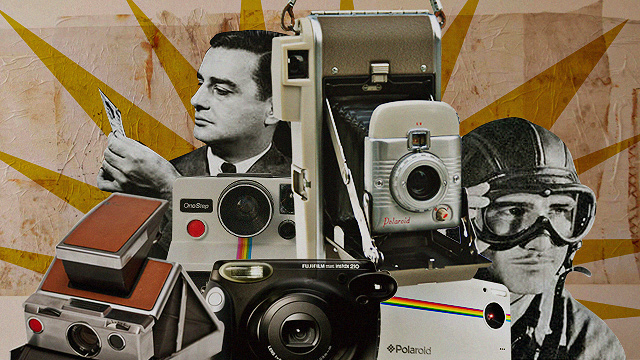 (SPOT.ph) "The best things in life are worth the wait" is a cliché that people would like to believe to make themselves feel better. But let's be real: The best things in life are the actually ones that come right away. Instant gratification is the reason technology has evolved the way it has. You can send and receive messages in a second, book a car in a snap, and, well, enjoy noodles any time you want, among other things.
Because of the rapid technological advances, what used to be normal back in the day is now considered a novel idea, like sending snail mail, making long phone calls using a telephone, and taking pictures using a film camera and waiting for days before getting to see the photos. Admit it: you get a little (okay, a lot) giddy inside when you receive a postcard from the other side of the world. Or when you look at old film photographs from your childhood. That sense of nostalgia is what makes you believe that the simpler times aren't necessarily better off being left in the past.
ADVERTISEMENT - CONTINUE READING BELOW
It's probably why instant film cameras were such a hit back then and even today: It combines the novelty of film and instant gratification in one handy device. All it took was a curious little girl and an extraordinary father to revolutionize film photography.
How Polaroid came up with the world's first instant film camera 
It was one fine day in 1943. A father was enjoying a nice walk with his three-year-old daughter in Santa Fey, New Mexico in the U.S. When he brought out his film camera and snapped a photo of his daughter, she asked him, "Why can't I see the picture now?" And like most questions toddlers ask their parents, he was left dumbfounded—and driven to devise a camera that had the ability to develop film instantly.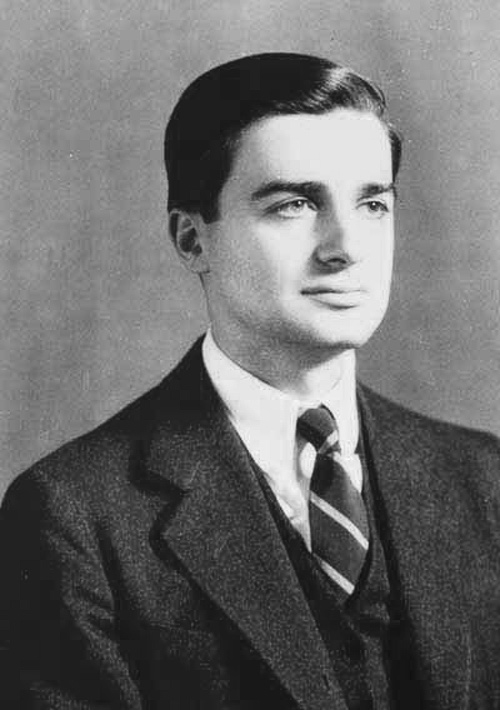 Edwin Land
Lucky for the little girl, her father was no ordinary man. He was Edwin Land—an American scientist and inventor born in 1909 who, by the year 1929, already had a patent for a method of producing polarizing sheets. Oh, and if the name rings a bell, that's probably because he's also the inventor of Polaroid. Fun fact: Polaroid first made an impact in the military during World War II before being the world's first portable instant film camera.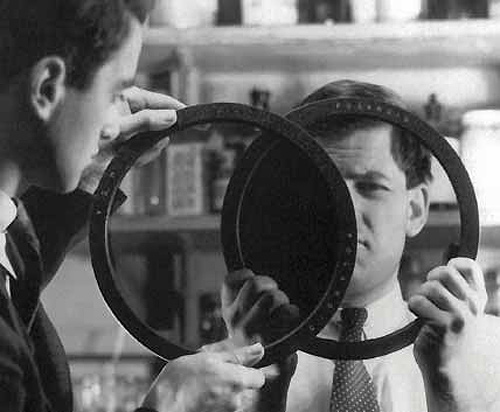 ADVERTISEMENT - CONTINUE READING BELOW
Polaroid before they revolutionized film photography
In 1932, Edwin Land teamed up with his Harvard colleague George W. Wheelwright III to create Land-Wheelwright Laboratories in Cambridge, a company that created inexpensive polarizers that were used for anti-glare sunglasses, photographic filters, and stereoscopic products (a.k.a. 3D images). They became Polaroid Corporation by 1937, making a business out of their polarizing films.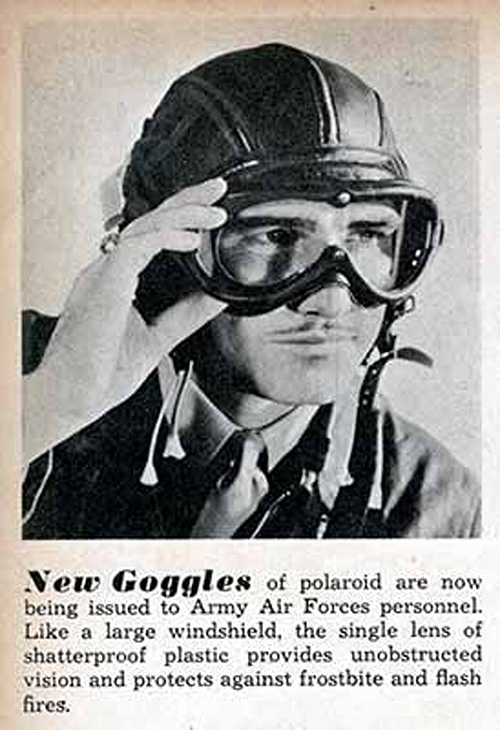 ADVERTISEMENT - CONTINUE READING BELOW
Polaroid and World War II
Once the 1940s rolled around, the U.S. was preparing for the impending World War II. Edwin Land was bent on making Polaroid a company that could contribute to wartime efforts. During the war, they provided anti-glare goggles for pilots and soldiers, along with other optical devices that made use of their polarizing lenses. They even invented the vectograph, which helped the U.S. army visualize the geographic features of battlegrounds and revealed enemy camouflage. But as the war came to a close, the question for the company was: What's the next step?
"Why can't I see the picture now?"
Who knew that a simple question from a little girl would be the catalyst for Polaroid to become the world's first instant film camera? It took Polaroid around five years of research and development to figure out a way to design a device that could perform the complex job of a darkroom at the palm of your hand.
ADVERTISEMENT - CONTINUE READING BELOW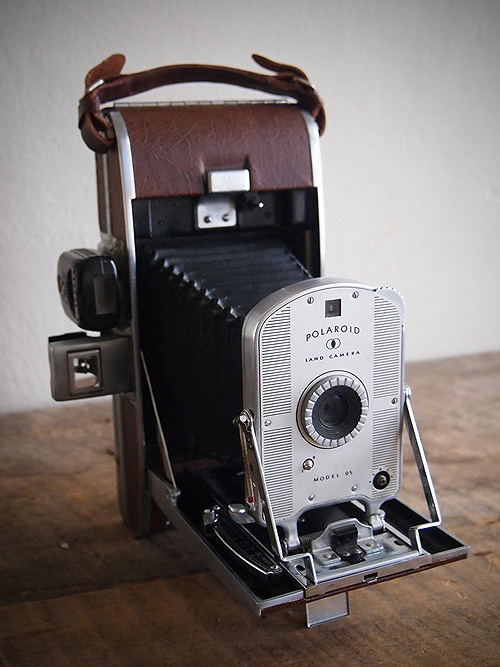 In 1948, Edwin Land unveiled the Polaroid Land Model 95—the world's very first instant film camera. Polaroid seemed to have underestimated the demand for instant film cameras and only produced 60 units of the Polaroid Land Model 95. It sold out within minutes, according to the American Chemical Society. It was priced at U.S. $89.75 (roughly P4,575) and became the prototype for all Polaroid Land cameras that were produced in the next 15 years, according to the Photographic Research Center at Boston University.
ADVERTISEMENT - CONTINUE READING BELOW
The first attempt at inventing an "instant" film camera
While the invention of the first instant film camera is credited to Edwin Land, the very first instant camera with a portable darkroom was invented by Samuel Shlafrock in 1923, although Time Toast claims it never caught on due to the inconvenience and cost. The difference between the two is that Polaroid Land Model 95 was loaded with self-developing films, allowing it to develop in exactly 60 seconds after the shutter button was fired. Samuel Shlafrock's invention simply had a portable darkroom, which still required manual developing.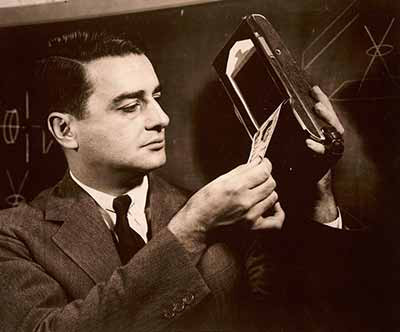 ADVERTISEMENT - CONTINUE READING BELOW
The secret behind Polaroid's success
What made Polaroid's instant film camera such a groundbreaking idea was Edwin Land's film unit which contained both positive and negative sheets, as well as a pod which contained the dyes that were used in a darkroom to develop film. Unlike instant film cameras today, the very first unit only produced sepia-toned photographs and required photographers to peel off the negative sheet after waiting a full minute for the film to develop.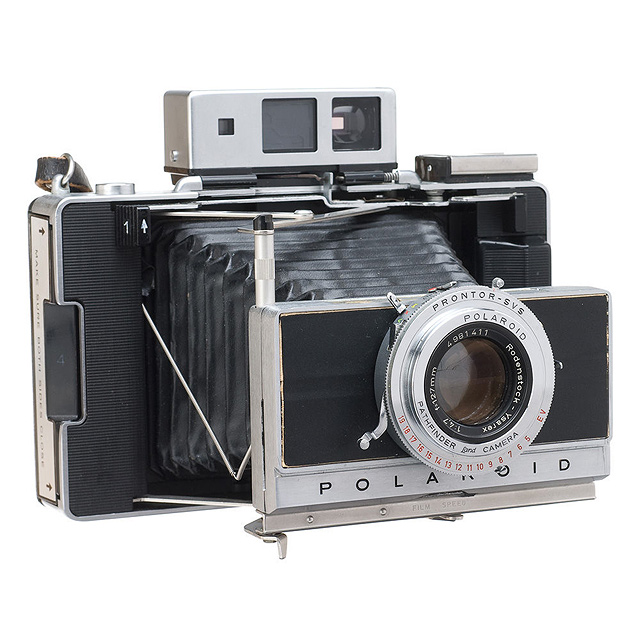 ADVERTISEMENT - CONTINUE READING BELOW
Polaroid Model 110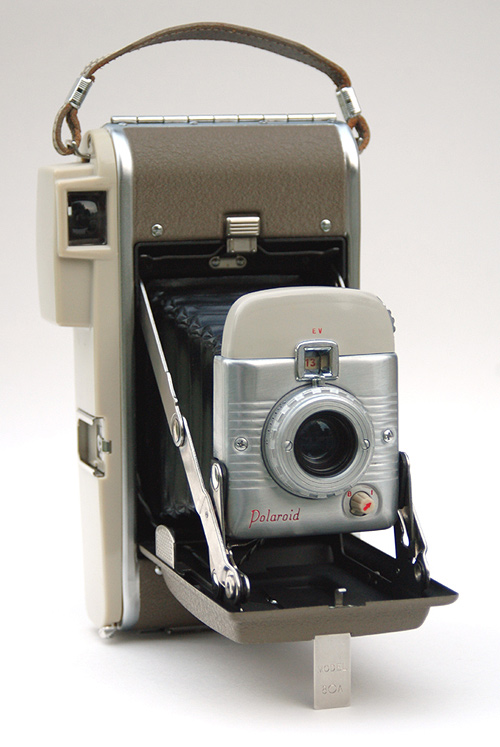 Polaroid 80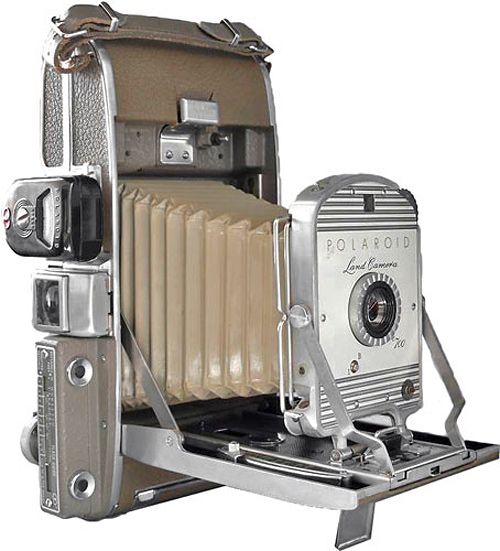 ADVERTISEMENT - CONTINUE READING BELOW
Polaroid Model 700
Black-and-white film was made available in 1950. Edwin Land worked closely with Meroë Morse, an art history major from Smith College, who supervised the development of the new film. Polaroid came out with three new camera models, specifically the Model 110, Model 80, and Model 700, along with new films that came in different sizes. According to Lomography, Polaroid's sales reached over a million dollars by the end of 1956 and grew even more popular after the New York Times gave this technology the seal of approval by claiming that instant photography was "equal in tonal range and brilliance to some of the finest prints made by the usual darkroom routine."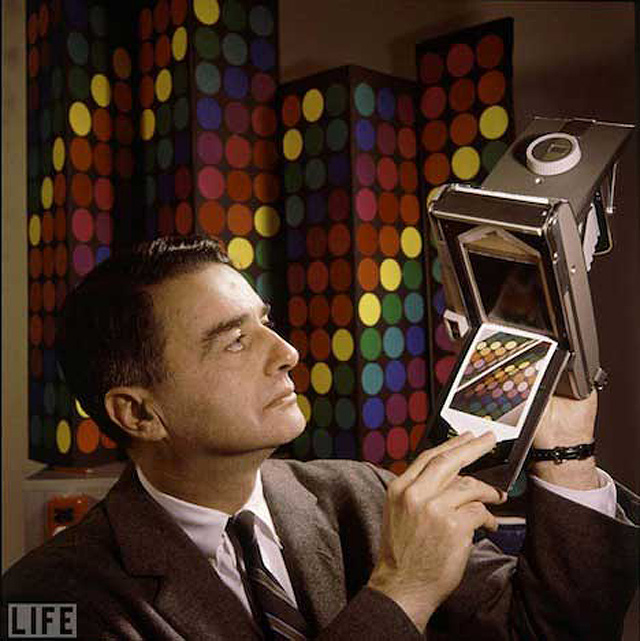 ADVERTISEMENT - CONTINUE READING BELOW
Instant film cameras and the invention of colored film
Traditional photography started to offer colored films during the early 1960s, pushing Polaroid to produce instant colored films. In 1963, Polaroid came out with Polacolor, their first ever instant color film. 
Polaroid keeping things fresh and enjoying its glory days
It was in the mid-'60s when Polaroid became more popular to the younger market. They came out with the Polaroid Swinger, an affordable instant camera priced at U.S. $20 that produced wallet-sized black-and-white photographs.
ADVERTISEMENT - CONTINUE READING BELOW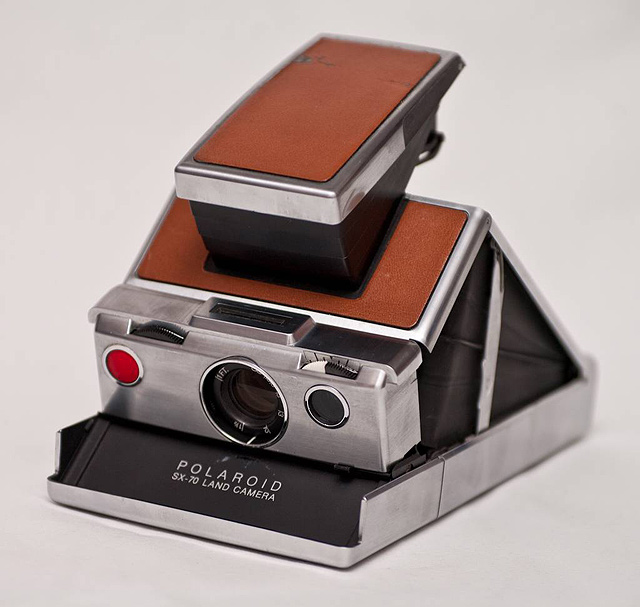 Polaroid SX-70 Land Camera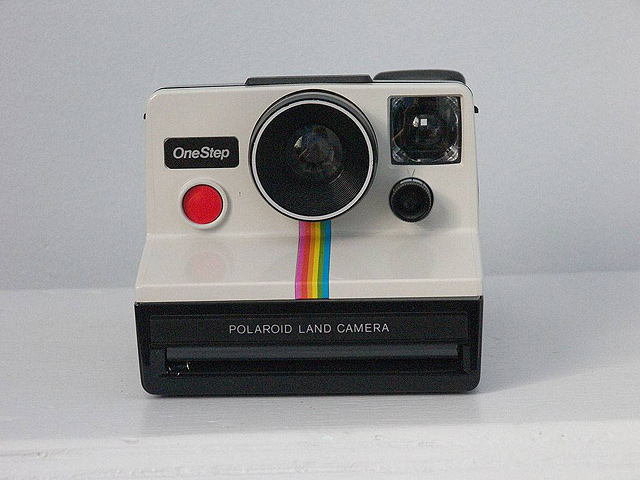 ADVERTISEMENT - CONTINUE READING BELOW
Polaroid OneStep Land Camera
Polaroid reached its peak in the '70s when they launched the Polaroid SX-70 Land Camera, which the Photographic Research Center at Boston University dubbed as "the first automatic, motorized, folding, single-lens reflex camera which makes self-developing instant color prints." In short, it was the world's first folding SLR instant camera. Lomography reports that Polaroid produced 5,000 units a day because the SX-70 Land Camera became so popular. The hype was followed by the launch of Polaroid's OneStep Land Camera—a fixed-focus instant film camera that became the best-selling camera in the U.S. because of its affordability and user-friendliness.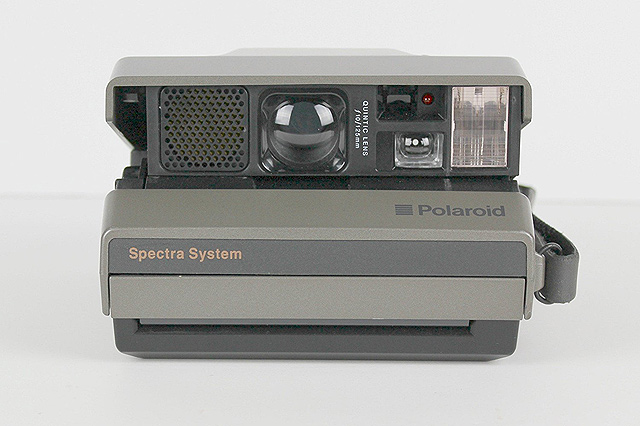 ADVERTISEMENT - CONTINUE READING BELOW
Edwin Land retired as Polaroid Corporation's CEO in 1980, but the company continued developing more instant film camera products, including the Polaroid Spectra System—a brand-new line of cameras that made use of a new kind of rectangular film. They were also equipped with better lenses and produced higher quality photographs.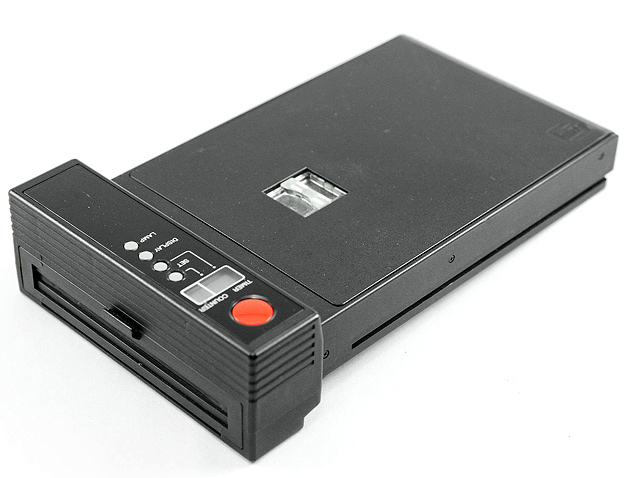 ADVERTISEMENT - CONTINUE READING BELOW
Fotorama
Fujifilm's take on the instant film cameras
It was also in the same year Fujifilm started to make their own instant film cameras available to the market, starting with Fotorama—an instant film camera with a rectangular format. Yes, there was a patent dispute between the two brands but according to the LA Times, the two came to an agreement which lets Fujifilm sell instant film cameras if they let Polaroid take a peek at their other graphics technology.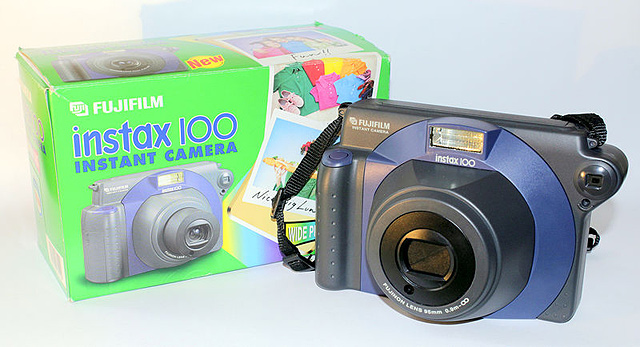 ADVERTISEMENT - CONTINUE READING BELOW
Fujifilm Instax 100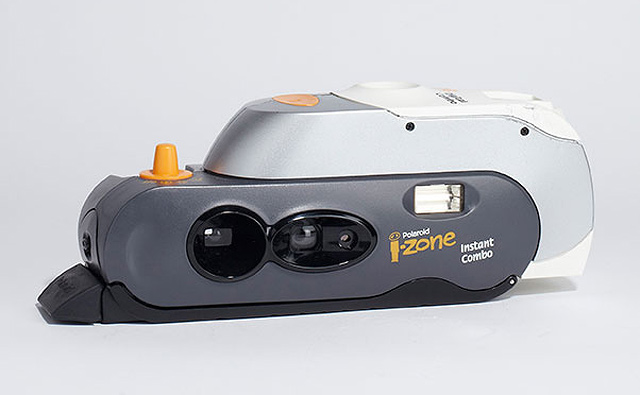 Polaroid i-Zone
In 1999, Fujifilm launched the very first Instax model called the Instax 100, while Polaroid released the Polaroid i-Zone which became a hit among teenagers, thanks to its fun design.
The rocky relationship between Kodak and Polaroid
You might be wondering: Where was Kodak in the middle of all this? Well, you'd be surprised to know that the two photography giants actually worked hand-in-hand...but it was never going to be a forever kind of thing.
ADVERTISEMENT - CONTINUE READING BELOW
See, Kodak bought Polaroid's polarizing sheets in 1934 while they provided Polaroid with the necessary developing materials for their instant films. It's important to note that, according to Business Insider, Kodak had no idea that Polaroid was bent on revolutionizing film photography. Kodak manufactured Polaroid's negatives and became their biggest partner up until some time in the '60s, when Polaroid approached them about their most important development: A film system that required zero physical manipulation. Kodak realized that Polaroid could potentially impact their market in a negative way, so they wanted to make a deal before continuing their partnership: to be able to sell their films for Polaroid instant film cameras in their signature yellow boxes. Polaroid didn't like the idea, so the two went their separate ways—with Kodak trying to develop their own instant film camera. This prompted Polaroid to file against Kodak for infringing 12 patents, resulting in a 14-year legal battle. By 1985, Kodak had no choice but to terminate their production of instant film cameras, and by 1991, they were ordered to award Polaroid with U.S. $909 million plus interest.
ADVERTISEMENT - CONTINUE READING BELOW
Entering the digital age
By the end of the '90s, digital photography was on the rise. Polaroid's digital cameras were stealing the spotlight—so much so that they became the leading digital camera seller in the U.S. By the early 2000s, Polaroid had stopped their production of instant film cameras and focused their efforts on digital photography.
ADVERTISEMENT - CONTINUE READING BELOW
Fujifilm Instax Wide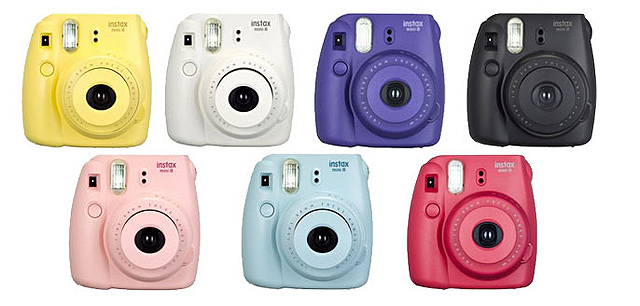 Fujifilm Instax Mini
Fujifilm's Instax series revives the novelty of instant film cameras
While Kodak and Polaroid were already out of the instant film camera market by 2008, Fujifilm stepped in and continued to produce Instax models: The Instax Wide and Instax Mini which are still widely available in the market. An Instax Wide would cost around P7,500 and an Instax Mini would be around P5,500. The latter comes in various colors and is available in cute and trendy character themes like Gudetama and Minions!
ADVERTISEMENT - CONTINUE READING BELOW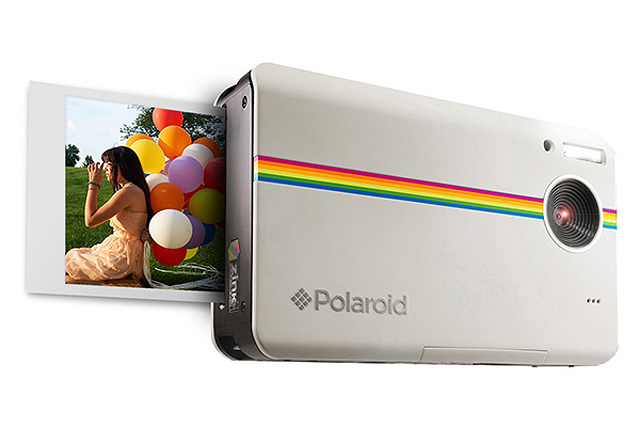 Polaroid Z2300
Digital and instant film camera hybrid
And because technology is always evolving, Polaroid came out with the Polaroid Z2300 in 2012—an instant digital camera that allows you to take digital photos and have them printed out at the same time, in a way bringing back the charm of instant film photography—only this time, you get to choose which photos you want to print out.
ADVERTISEMENT - CONTINUE READING BELOW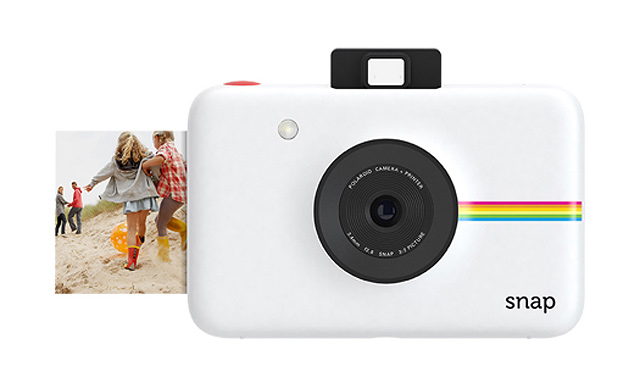 Polaroid Snap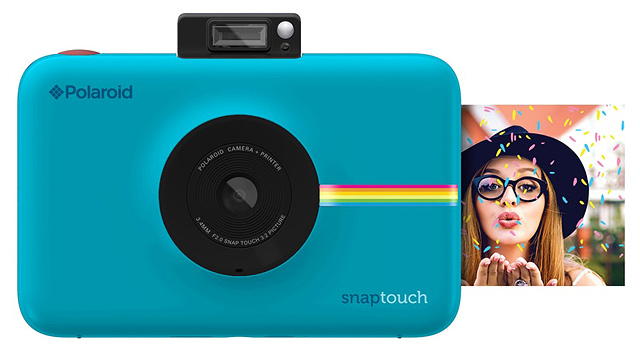 ADVERTISEMENT - CONTINUE READING BELOW
Polaroid Snap Touch
In 2015, Polaroid introduced the Polaroid Snap which prints out all the photos you shoot instantly. It was quickly followed by the release of the Polaroid Snap Touch in 2016 which takes the digital-instant film hybrid to a whole new level—by allowing you to edit your filters, choose which photos to print out, and save some photos in a memory card.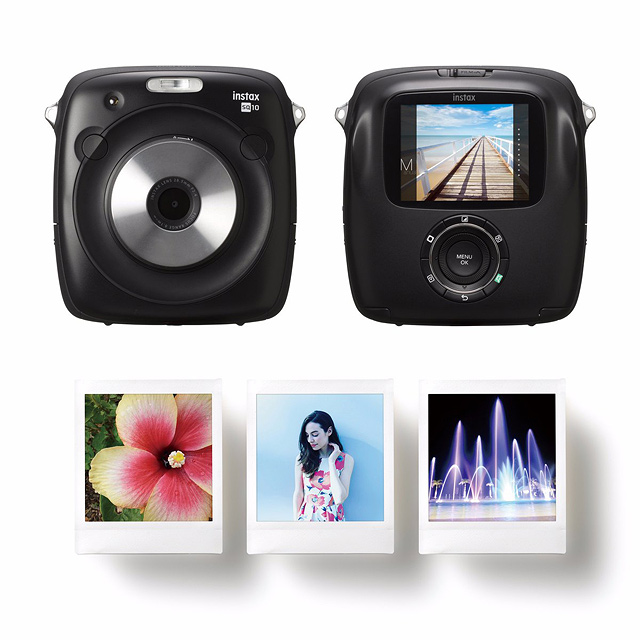 ADVERTISEMENT - CONTINUE READING BELOW
Fujifilm Instax SQ10
Fujifilm also tapped into the digital-instant film hybrid, coming out with their own version, the Instax SQ10, which they launched in May 2017. And because it is the age of Instagram, the Instax SQ10's square film made it a hit, allowing users to bring their IG feeds to life. The Instax SQ10 resembles the Instax Mini, except it's got a three-inch LCD in the back which lets you preview your photos before you print them out into an actual square film. Today, the Instax SQ10 is priced at P14,999.
Instant film photography and its continuous evolution
From the looks of it, instant film photography will continue to evolve, and our imagination is the only limit to what the future of instant film would be. Maybe a smartphone that can be loaded with instant film? Who knows? What we do know is that the key to revolutionizing something is by asking simple questions—the same way the curious three-year-old did.
ADVERTISEMENT - CONTINUE READING BELOW
Share this story with your friends!
---
Help us make Spot.ph better!
Take the short survey
More Videos You Can Watch
Load More Stories