10 Shipping Services for Your Online Shopping Fix
As if shopping in the Philippines wasn't already addictive enough.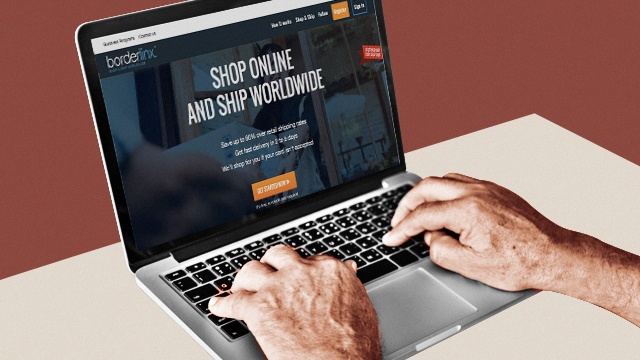 (SPOT.ph) International shipping can be quite a hassle—from dealing with mishandled packages down to shouldering outrageously high fees in customs and deliveries. But don't let those things stop you from shopping online, especially when you're after items that are only available in selected regions or limited-edition merchandise you won't find locally. Online shopping won't be that much of a headache with these shipping services. Most of them serve as your very own balikbayan box, except everything inside the box is all yours, and you didn't need to bother a relative or friend to buy you anything.
Before adding items to your cart, most of these shipping services do not allow the forwarding of dangerous or prohibited items, even large pieces of furniture. They won't allow you to purchase items that would deem to be for reselling, like anything that goes beyond 12 pieces of the same item during one shipment. Lastly, it might be a good idea to use their shipping calculator or estimate tool before going on a shopping spree—like any shopping expedition, your best judgment is still the boss.
Here's a list of cheap courier services in the Philippines for your online shopping needs: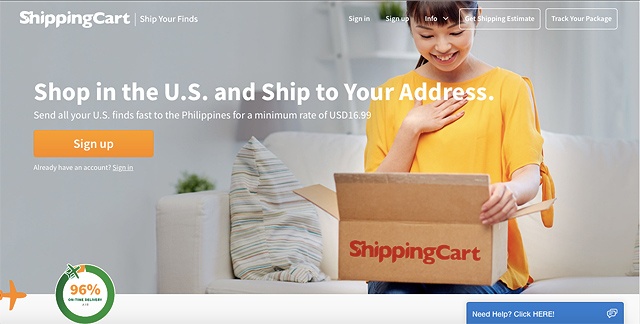 ADVERTISEMENT - CONTINUE READING BELOW
Shipping Cart
Shipping Cart is one of the more well-known cheapest shipping from Philippines to U.S.A., thanks to its reliability and convenience. You don't need to sign up and pay for a membership or subscription—you simply use the service when you need it.
The company lets you use their U.S. address as your shipping address, but your billing address is your actual Philippine address. Items are photographed when they reach the U.S. warehouse, and you have the option to consolidate all your purchases into one shipment. Items can be kept in the warehouse for free for a maximum of 30 days, afterwards there will be a fee per exceeding day.
CONTINUE READING BELOW
Recommended Videos
You get discounts on shipping fees when you use certain credit cards, and if you don't have a credit card or a PayPal account, you can pay for your shipment in cash via any LBC branch. What makes them extra awesome is that your shipment is insured for free if its value is U.S. $500 and below. Expect delivery around 10 days via air or 45 days via sea.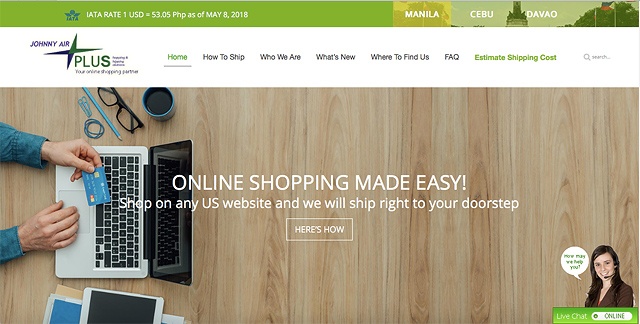 ADVERTISEMENT - CONTINUE READING BELOW
Johnny Air
Johnny Air allows you to use any of their four U.S. addresses in New York, New Jersey, Los Angeles, and San Francisco as your shipping address when doing your online shopping. If you don't have a credit card, you can also opt to apply for a Johnny Air Plus credit card.
For JAC Plus Loyalty cardholders, you can avail the Customer Ice Box, which is their fancy way of saying that you can consolidate all your purchases into one box instead of several individual shipments at a time. They accept cash and credit card payments, but freight charges will be settled once you pick up the shipment or have it delivered to you.
Figuring out when your shipment is going to be delivered is dependent on the delivery schedule of the Johnny Air offices in the U.S.; but once it arrives on our shores, you'll receive a message that it's ready for pickup at one of three locations in Metro Manila. Oh, and did we mention that they have an app to track your package, too?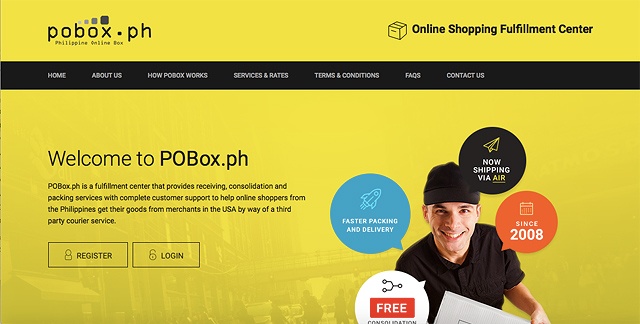 ADVERTISEMENT - CONTINUE READING BELOW
POBox.ph
Input the address of their PO Box U.S to Philippines shipping warehouse in California while online shopping on a U.S.-based site, then choose which box size will store your items best (there are five sizes to choose from!). Box prices range from U.S. $40 (smallest size) to $85 (largest size). After your items have been consolidated and packed, they will send you the bill. You can choose to pay via credit card, PayPal, or bank deposit into their peso or dollar account.
Expect your items to reach you between 12 days to five weeks, depending on when the items are picked up from the California warehouse by their partner couriers.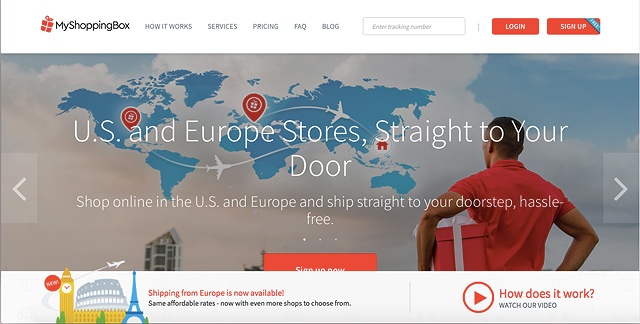 My Shopping Box
This site lets you shop in the U.S. and Europe for a subscription fee. They give you your own address from the U.S. or Europe, depending on the location where you'll be buying your goods, but like most of these services, your billing address will still be your actual address in the Philippines.
ADVERTISEMENT - CONTINUE READING BELOW
They only allow your items to be in their warehouse for free for 15 days. They don't consolidate your items into one package, but they do put together your items that arrive on the same day. When shipping items via air, they group the items according to Class 1 or 2—Class 1 are less valuable goods, like clothes and food, while Class 2 goods cover electronics and the like. There's no class system when you ship items via sea.
You can expect your shipment to arrive from 10 to 12 business days if via air, or 45 to 60 calendar days if via sea. Avail their ongoing promos with local banks to soften the blow (and the fee!).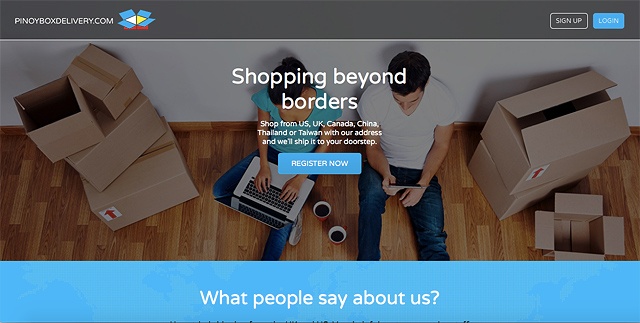 Pinoy Box Delivery
Pinoy Box can ship from the U.S., Canada, U.K., Taiwan, China, and Thailand. Your shipping address will be that of their partner warehouses. They also offer a procurement service, which covers sourcing and buying from your chosen country.
ADVERTISEMENT - CONTINUE READING BELOW
After choosing which of their five boxes will best suit your shipment, shipping cost estimates are given via email, and payments can be done via bank deposit or PayPal. Items can only stay in their partner warehouses for free for 30 days, otherwise it's P200 per week of overstaying. Boxes must be fully paid for before they are shipped to the Philippines.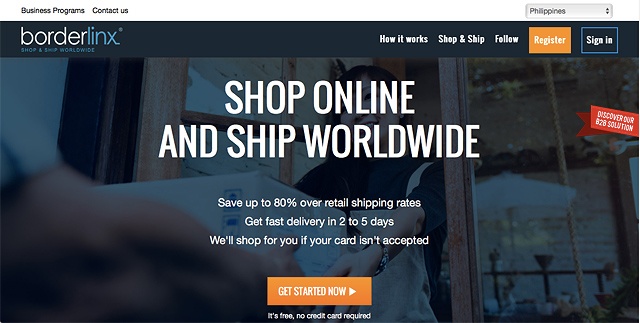 Borderlinx
Apart from offering shipping services from the U.S. and the U.K., Borderlinx also ships from Hong Kong or Germany, too. Virtual addresses are given depending on your chosen store location. If your card isn't accepted, they have a concierge service that can buy your item for you.
Items are photographed upon delivery to their warehouse, and can be kept there for a maximum of 30 days. They can repack select items to create one shipment. Delivery time is quick—two to three days via DHL—but if you live in a remote area that they can't deliver to directly, you can opt to pick the package up at a DHL branch.
ADVERTISEMENT - CONTINUE READING BELOW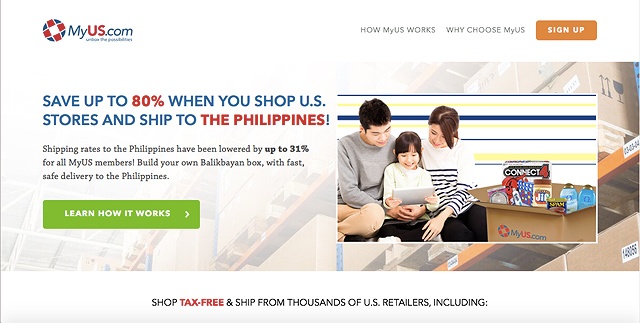 MyUS 
Apart from being one of the longest running shipping sites, MyUS also ships to more than 220 countries.
Much like other shipping services, they give you a U.S. address, accept credit cards, and deliver your items between two to 10 business days. But unlike most services that compute your shipment based on either volume or actual weight, MyUS charges based on package weight only. They claim to be the only company that has a tax-free postal code, but be warned—they have a membership fee of U.S. $7 a month.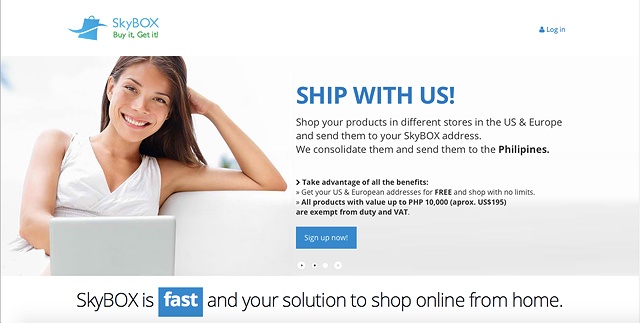 ADVERTISEMENT - CONTINUE READING BELOW
SkyBOX
Shipping from U.S. and Europe, SkyBOX has a loyalty program, wherein the points you earn can be converted into money spent for your shipments. Get an address from either Miami or London, and they'll assign you a special suite number to use as a shipping address. Your items will be consolidated and kept for free in their warehouse for up to 30 days. They accept credit cards and PayPal for payment, but you can also pay via bank deposit in our local currency. Delivery time takes around two weeks. You can register up to three people under your account so they can use their services too, and have the shipments delivered right to their homes!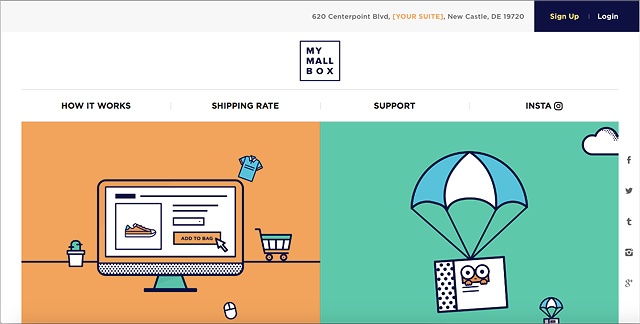 My Mall Box 
Beyond their attractive and easy to navigate website, My Mall Box covers the basics—a U.S. address for shipping, your own credit card for payment, and an option to consolidate all items in one shipment. Each item can be photographed as it arrives in the warehouse for $1 per product photo, and they can keep your items for 90 days, free of charge. Delivery will take around 12 business days, depending on the type of package and your courier of choice.
ADVERTISEMENT - CONTINUE READING BELOW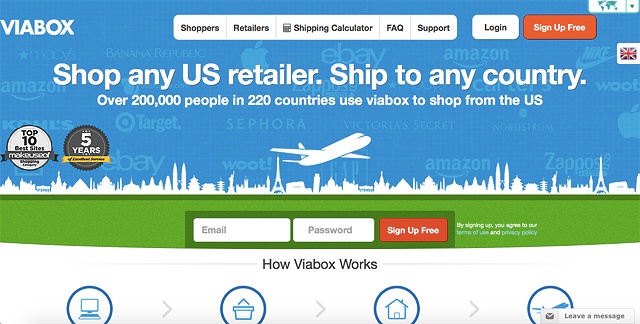 Viabox
Having a U.S. address from Oregon has its perks—the items you'll buy will have 0% sales tax added! Because of this, Viabox gives you the following services for free: Assisted purchase of items you can't buy using your credit card, photographing items as they come in, consolidation or repackaging of your items in one shipment, and free holding period up to 180 days in their warehouse. Pay for your items via credit card, PayPal, bank wire transfers, or even Bitcoin, and your shipment will be with you in roughly two weeks.
Your guide to thriving in
this
strange new world.
Share this story with your friends!
---
Help us make Spot.ph better!
Take the short survey
Load More Stories