10 Shampoo Bars You Can Buy Locally
They're both eco- and travel-friendly!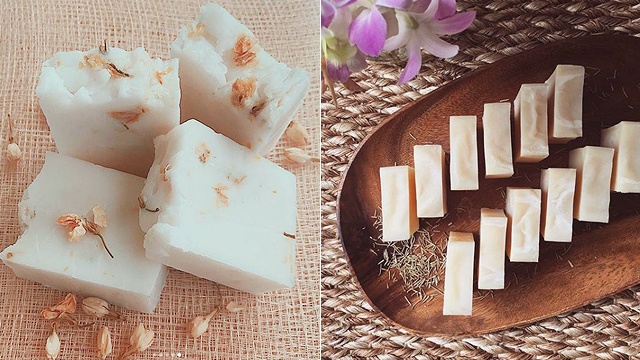 If you're on a journey to living a zero-waste lifestyle, making a few tweaks to your beauty routine should be a top priority. For one, opting for a solid shampoo can significantly reduce the use of plastic in your routine because you won't have to dispose of a bottle every time you run out. Ready to make the switch? Here are 10 brands where you can shop for your new shampoo bars:
Thickening Shampoo Bar (P150) from Ecobar
Ecobar has a vast selection of solid shampoos that can address basic hair concerns. Their nourishing bar is free of sulfates, parabens, silicones, and synthetic dyes.
Shampoo Bar (P180) from Suds
Suds' all-natural and handmade shampoo bars are not only eco-friendly, each one also lasts for up to 100 showers.
Shampoo Bar (price available upon request) from Zero Basics
This zero-waste brand has shampoo bars made with essential oils that encourage hair growth and protect your scalp from dandruff.
ADVERTISEMENT - CONTINUE READING BELOW
Flowerchild Shampoo/Conditioner Bar (P80) from Paralúman PH
Cut shower time in half with Paralúman's two-in-one shampoo/conditioner bars, formulated with various oils to keep your hair soft and smooth.
ACV Shampoo Bar (P250) from Pure
This brand packs its apple cider vinegar-based shampoo bars in eco-friendly soap pouches you can easily reuse.
Rosemary Shampoo Bar (P90) from Tree Maria
Say goodbye to dandruff and plastic bottles with Tree Maria's rosemary solid suds.
Shampoo Bar (price available upon request) from Daniela Calumba
Calumba's shampoo bars are made in small batches in a span of three months. She uses rosemary and neem oil from her family's farm in Bukidnon, as well as raw, unrefined, and locally-sourced oils and butters.
Jason and the Argan Oil Shampoo Bar (P495) from Lush Cosmetics
Lush is one of the big brands advocating the use of solid shampoo worldwide, coupled with waste-free packaging. This shampoo bar in particular has argan oil for smoother locks!
Daila Gugo Shampoo Bar with Aloe Vera (P145) from The Artisan Gatherer 
Daila is known for their bestselling gugo and aloe vera shampoo, which also comes in solid form. It promises to promote hair growth after every wash.
Shampoo Bar (P220) from Activgreen
On top of selling other zero-waste goodies, ActivGreen also makes organic shampoo bars. Their bars come in different scents like Black Jasmine, Ocean Breeze, Coconut, Cotton, and Lemongrass.
This story originally appeared on Preview.ph.*Minor edits have been made by the Spot.ph editors.
Load More Stories