This Grooming Lounge Lets You Have a Haircut With a Drink in Hand
Check out this barbershop catering to men with discerning taste.
(SPOT.ph) Men grow up with a certain impression of barbershops. For most, it's a place that reeks of powder and rubbing alcohol, with freshly cut hair strands littered all over the floor. There may or may not be a TV showing a basketball game. You enter, wait on a bench, get your haircut while chatting with the barber, then leave. It's as straightforward as it gets.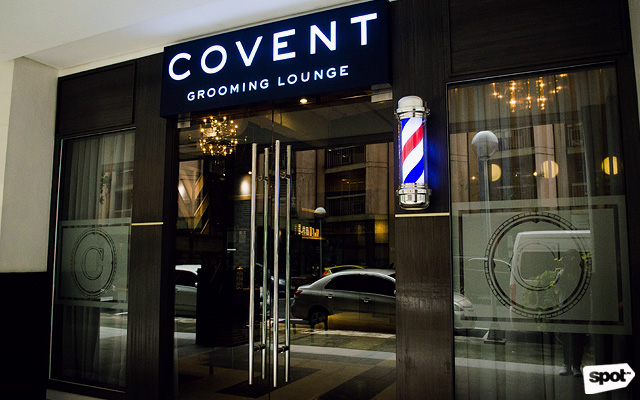 CONTINUE READING BELOW
Recommended Videos
ADVERTISEMENT - CONTINUE READING BELOW
But the new crop of "luxury" barbershops is trying to alter this impression. Promising grooming services fit for modern-day gents, these establishments dress up the barbershop experience with stately interiors and offer crafted drinks customers can indulge in. These places argue that yes, you're just getting a haircut, but why not feel like a debonair while doing so?
The goal of Covent Grooming Lounge, recently opened along Legazpi Street, is to elevate this experience further. "[Covent] is for a different kind of gentleman—those who are more worldly and aren't fixated on what a gentleman should be," says Michael Sanchez, one of the partners. It's a loose definition that matches the setup of Covent itself, as it straddles the line between a barbershop and a place to quietly savor a drink.
This grooming lounge takes inspiration from Covent Garden in London, a fashionable district filled with stores, theaters, and cafés. Michael and his partners based Covent on the traditional barber shops they found in the London neighborhood, where barbers were noted for their unique styles and personalities. "We don't want robots, so we encourage our barbers to be themselves," says Sanchez. "We want them to show their earrings, tattoos, mustaches. We want people."
ADVERTISEMENT - CONTINUE READING BELOW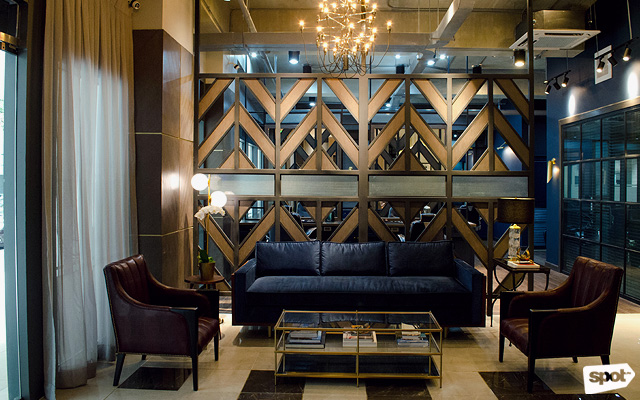 A worldly air is palpable upon entry. Interior designer Rod Lascano's aim was for Covent to deviate from the more industrial and masculine vibe of competitors in favor of something softer and sophisticated. The walls are a rich, dark blue, with wood and Art Deco details befitting a place that caters to those with refined and discerning tastes. Customers will be greeted at the door by a concierge, who will check for the availability of a barber. The customer can then wait in the lounge with a roomy sofa, an improvement over the uncomfortable benches of your usual neighborhood barbershop.
ADVERTISEMENT - CONTINUE READING BELOW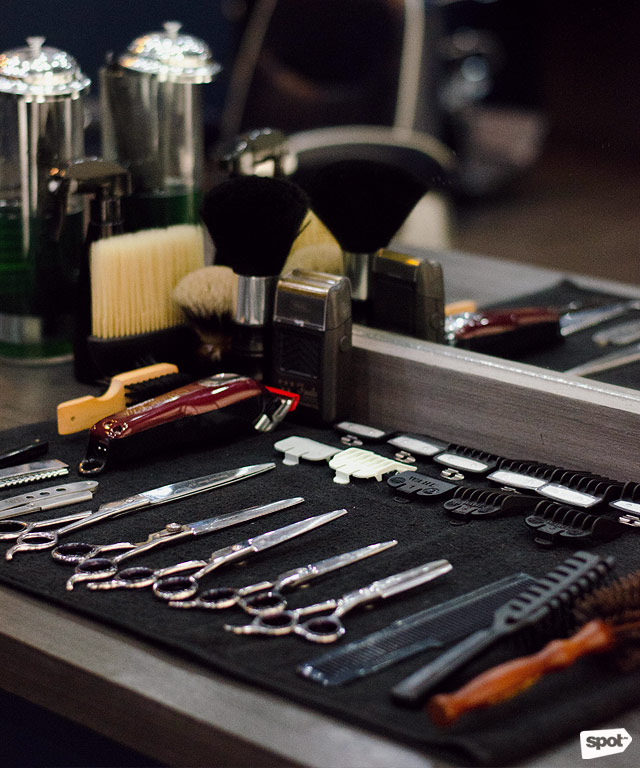 Covent only services men, who can get a 45-minute haircut for P450, or a shave or beard sculpt for P500 for the same duration. There are a host of other treatments and packages such as a cut and shave, men's facial, scalp treatment, and head/face massage, all of which come with a complimentary beverage of choice. Customers can have their drink—they can choose from coffee, wine, whisky, gin or soda—anytime during the service.
ADVERTISEMENT - CONTINUE READING BELOW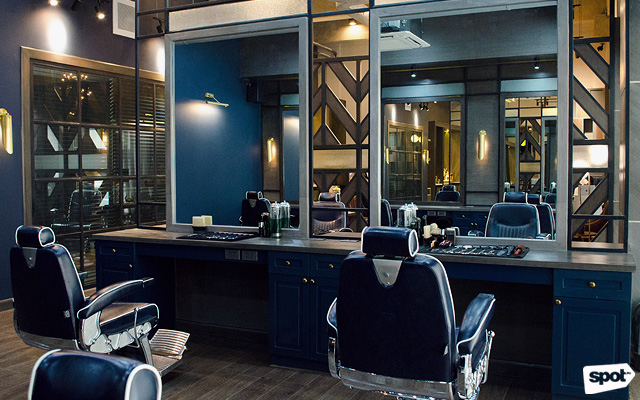 The barbershop area takes its cue from the lounge's look. The blue upholstery of the barber's chairs actually inspired the color scheme for the whole place. The chairs are spaced farther apart than usual so customers won't feel cramped while being groomed. There is even a private room for those opting for the "retreat" packages, where they get a haircut, facial, and head/face massage.
ADVERTISEMENT - CONTINUE READING BELOW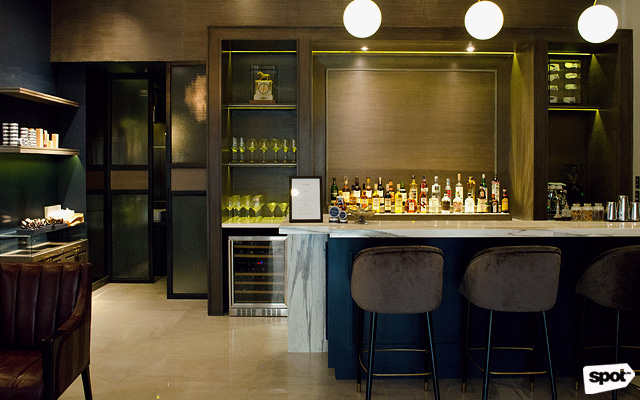 Covent's distinguishing factor is in its cocktails and wines, which could put most bars to shame. While other luxury barbershops only serve the usual beer or gin and tonic, Covent's drinks menu boasts an extensive selection that will make customers want to stay even after their haircut is done. "Since we're a lounge, we want customers to feel free to have a drink with us after the service," says Sanchez.
ADVERTISEMENT - CONTINUE READING BELOW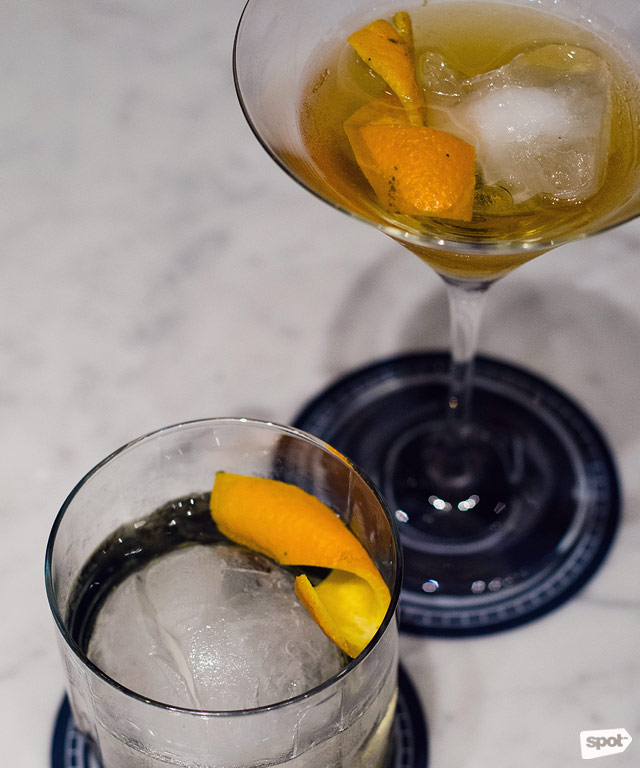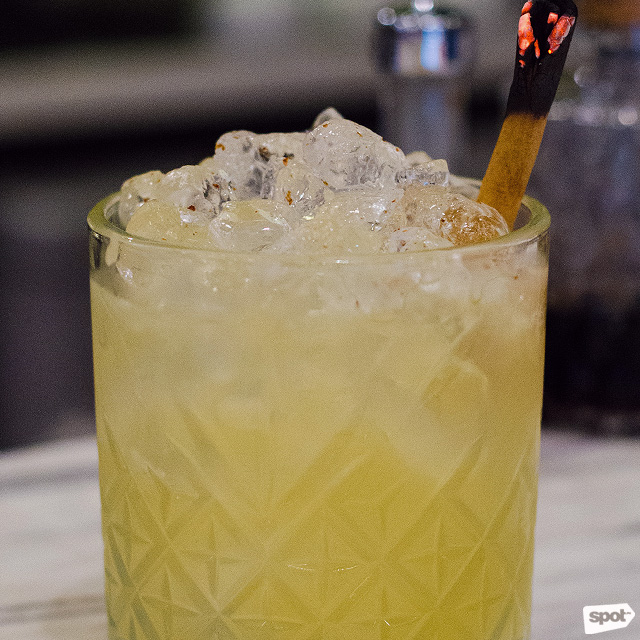 ADVERTISEMENT - CONTINUE READING BELOW
The menu is overflowing with unique concoctions by Covent's own mixologists. The M&J (P450), one of the lounge's signature cocktails, has salted maple and hints of chocolate bitters that give the whiskey base a surprisingly sweet aftertaste. The Smokey Maria (P450), meanwhile, boasts traces of cinnamon, thanks to the burnt cinnamon stick wedged between the ice.
Even the individual spirits and bitters are uncommon, sourced from different parts of the globe to truly drive home Covent's world-class aspirations. Customers can down a glass of Martin Miller's gin or Glenfiddich whiskey. As the base for cocktails, these liquors assure that the classic drinks on the menu offer a different kick.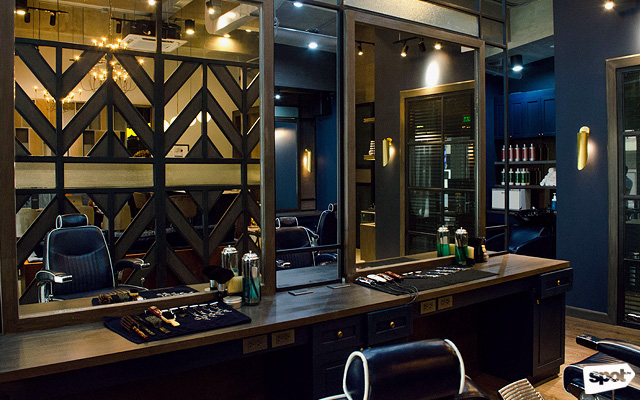 ADVERTISEMENT - CONTINUE READING BELOW
While the elegance of the interiors and menu may seem intimidating, Covent's only aim is to be a chill space where men can feel their best. It's a gentleman's sanctuary, with none of the crudeness of typical barbershops or the rowdiness of salons. The owners are thinking of extending the bar hours up to midnight—not a bad idea since the relaxing vibe makes you want to stay for a couple more drinks anyway. But hey, if you're looking to get buzzed, might as well look your best while you're at it.
Covent Grooming Lounge is at G/F The Grand Midori Makati, Legazpi St., Legazpi Village, Makati City. Open from 11 a.m. to 9 p.m. (Monday to Friday) and 10 a.m. to 9 p.m. (Saturday and Sunday). For more information, visit Covent Grooming Lounge's website.
Photos by Marikit Singson
Update (Sept. 9, 2019, 4:38 p.m.): A previous version of this story mentions Cosmic Carabao, which Covent doesn't offer anymore.
ADVERTISEMENT - CONTINUE READING BELOW
Load More Stories