Top 10 Places for Foot Massage in Manila
For the next time you need a quick pick-me-up!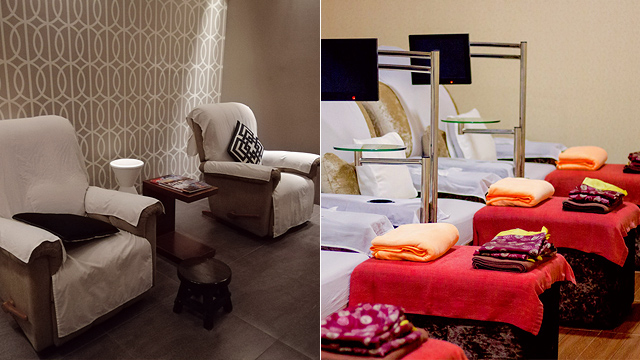 (SPOT.ph) After what seems like a never-ending work week—or even just a full day of being on your feet running errands—nothing beats a good foot massage that can give you quality nap time. If you're looking for a place where you can relax for a bit and have a skillful masseuse knead your sore and tense leg muscles before you get back to your daily grind, don't worry—we got you (and your tired feet). We've ranked the 10 best places to get a foot massage in Manila based on the ambience of the place, comfort level, therapists' expertise, and the overall experience. Oh, and we may or may not have considered if we were able to score some quality Zs.
All SPOT.ph Top 10 lists are researched for, paid for, tested, and selected by the writers and editors. They are discreetly conducted without any notice made to the establishments or their owners.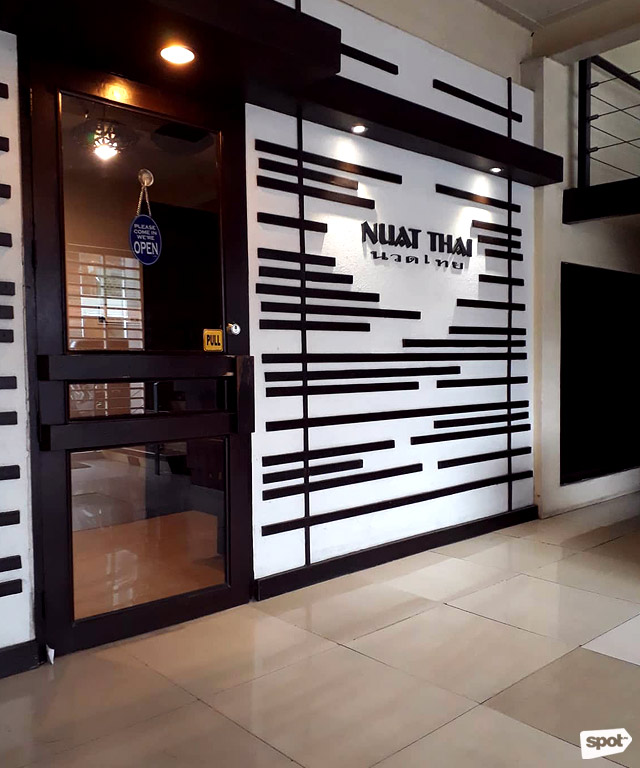 10. Nuat Thai's Thai Foot Massage (P350/60 minutes)
Nuat Thai puts more value on function than form. And since the Metro is practically studded with Nuat Thai branches, it's where you can go if you want a quick pick-me-up that won't hurt your wallet. The dimly lit spa area with relaxing music allows you to doze off in your recliner chair if the chatter of other clients doesn't bother you. It's good that the therapist asks you for your preferred pressure level—they also spend some time massaging your hands and your back, so that's an extra perk you get to enjoy. Plus, they offer you hot tea and a warm towel after your massage. The best part is that with their low price point, you can pay a visit in the spa more often in a month without putting a dent in your bank account.
ADVERTISEMENT - CONTINUE READING BELOW
See a list of Nuat Thai branches.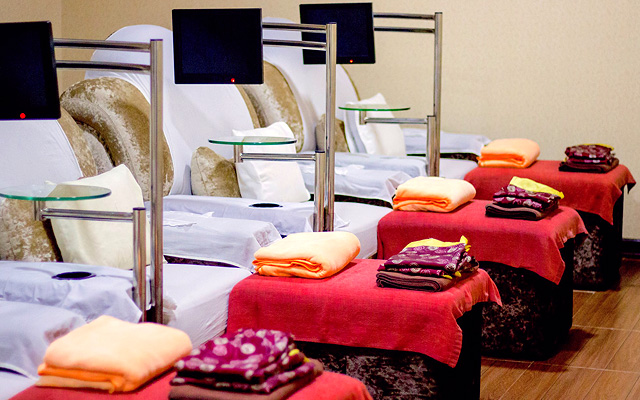 9. Beijing Foot Spa's Foot Massage (P550/70 minutes)
If you're looking for a no-nonsense kind of foot massage, you can't go wrong with Beijing Foot Spa. They have a number of branches around Manila, making it pretty convenient for anyone to just pop in and enjoy a relaxing foot massage at any given time. What it lacks in ambience, they make up for in the massage technique itself. They have cushy chairs that are very comfortable and they're equipped with personal TVs in case there's a show you want to catch (though only free local channels are available). While it's nice that they have an entertainment system for each customer, you might find that there's no need for it since you'll be off to dreamland in no time, thanks to the skillful hands of your therapist. They use long strokes along the length of the foot and focus on each toe to loosen up tense muscles. Then, they use a rubber hammer to tap your legs all over to improve blood circulation and relax your muscles even more. After the service, they offer tea or water. There's no doubt you'll walk out feeling reenergized. A session lasts for 70 minutes and for P550, you totally get what you pay for.
See a list of Beijing Foot Spa branches.


ADVERTISEMENT - CONTINUE READING BELOW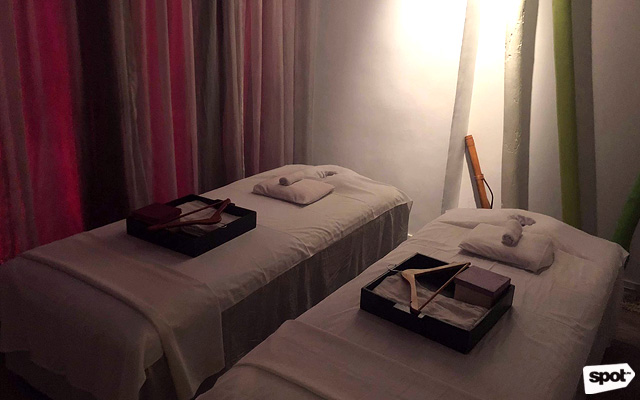 8. NEO Day Spa's Foot Massage (P1,300/60 minutes)
NEO Day Spa immediately sets the mood with relaxing earthy scents and calming music once you step inside the spa. They offer lots of privacy so you can enjoy your foot massage in peace. Each room is equipped with two massage beds and both come with a fresh robe, a pair of slippers, and a hanger for your clothes. You can tell the masseuse ahead of time about the pressure level that you prefer, but they'll still make sure you're comfortable within 10 minutes of the massage—assuming you're not fast asleep yet. In the middle of the massage, they make use of a wooden stick, a reflexology tool, which they use to focus on pressure points to stimulate lymph flow and maybe even make you feel things you've never felt before. After the massage, they let you enjoy the room and offer different kinds of tea. The only downside is the price. For P1,300, it's a lot steeper than most spas that offer the same or even better massage service. It would have ranked higher on the list if their rates were a bit more competitive.

NEO Day Spa is at 5/F Holiday Inn Galleria, ADB Avenue, Ortigas Center, Pasig City. You can book an appointment through 0921-477-9999. For more information, log on to Holiday Inn's Facebook page.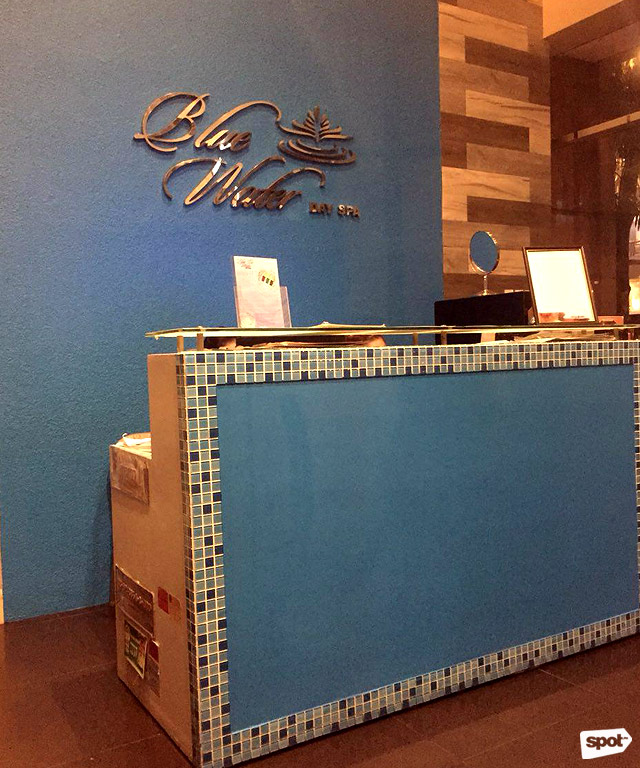 7. Blue Water Day Spa's Foot Reflexology (P650/60 minutes)
First things first: If you don't mind watching movies while getting a foot massage, then you'll enjoy your experience at Blue Water Day Spa. Otherwise, you might be better off at a massage place that offers more peace and privacy. The friendly therapist offers you hot tea before the service begins. You might want to give her a heads up about your preferred pressure level so that your feet don't end up feeling bruised after the session. Don't expect to fall asleep in the middle of the service—they play fun movies that will keep you entertained all throughout your spa sesh (they played 50 First Dates and Twilight when we paid a visit). Overall, it's a good place to relax and unwind with your squad. For P650, you get a good foot massage and enjoy a fun movie, which is a pretty sweet deal.
ADVERTISEMENT - CONTINUE READING BELOW
See a list of Blue Water Day Spa branches. You can book an appointment through 562-9689. For more information, log on to Blue Water Day Spa's Facebook page.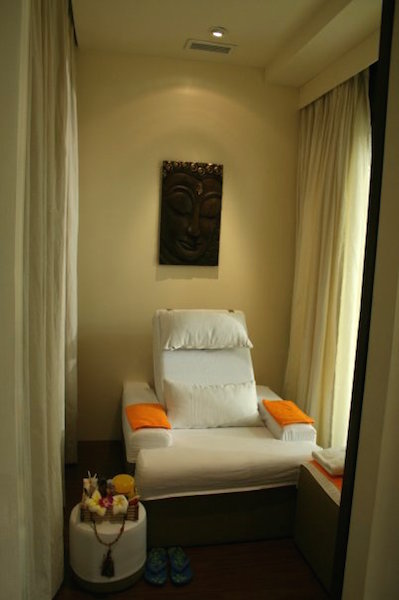 6. Island Spa's Foot Reflexology (P840/60 minutes)
While it doesn't get much foot traffic because of its secluded location, The Island Spa is worth a visit thanks to its cozy ambience. While it lacks that signature spa scent, they make up for it with their warm interiors featuring earthy colors and nature-inspired elements. For their foot reflexology service, you'll be led to a room with a plush recliner seat covered with white towels (for sanitation purposes) and asked if you want to change into a robe. The service starts with the masseuse leaving your feet to soak in warm water, then she proceeds to massage your thighs. Next, the therapist will continue with your feet, applying pressure on specific points while making sure you're comfortable. The way they set up the chair will make it easy for you to fall asleep. After the service, you can enjoy a warm cup of ginger tea before you leave. We recommend booking an appointment beforehand so that you don't end up waiting for a next free slot. The overall service is excellent, though you could get the same quality of service at a lower price point.

Island Spa is at 5/F Rustan's Makati, Ayala Avenue, Makati City. You can book an appointment through 710-8588. For more information, log on to Island Spa's Facebook page.


ADVERTISEMENT - CONTINUE READING BELOW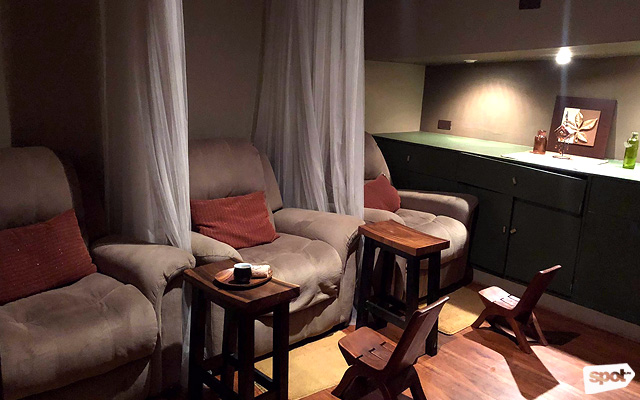 5. The Mandara Spa's Xiamen Foot Reflexology (P650/60 minutes)
It can be tricky to find Mandara Spa in San Juan since you have to enter through the office building's stairwell to get inside, but you'll immediately feel like you've teleported to a peaceful sanctuary once you're there. The place gives off a restful vibe, but what really makes the place stand out is the service of the staff and therapists. Even if you're a few hours early, they'll gladly accommodate you and make you feel right at home. They offer you hot ginger tea or cold water that you can enjoy while getting cozy in their plush couches. Then, they place a warm compress over your shoulders—a nice perk that lets you feel even more relaxed. You can tell that the therapists know what they're doing, focusing on each pressure point, relieving sore and tense areas of your feet. The hard massage is pretty satisfying, but if it becomes too painful rather than relaxing, you can tell the therapist so she can adjust to a pressure level you're comfortable with. The dimly lit spa area and ultra-comfy seats make it conducive to sleep. The Mandara Spa gets major points for their competitive rates, considering the quality of service you'll get.

The Mandara Spa is at Mezzanine Floor, Atlanta Centre, 31 Annapolis Street, Greenhills, San Juan City. You can book an appointment through 463-5628 or 0917-715-5501. For more information, log on to The Mandara Spa's Facebook page.


ADVERTISEMENT - CONTINUE READING BELOW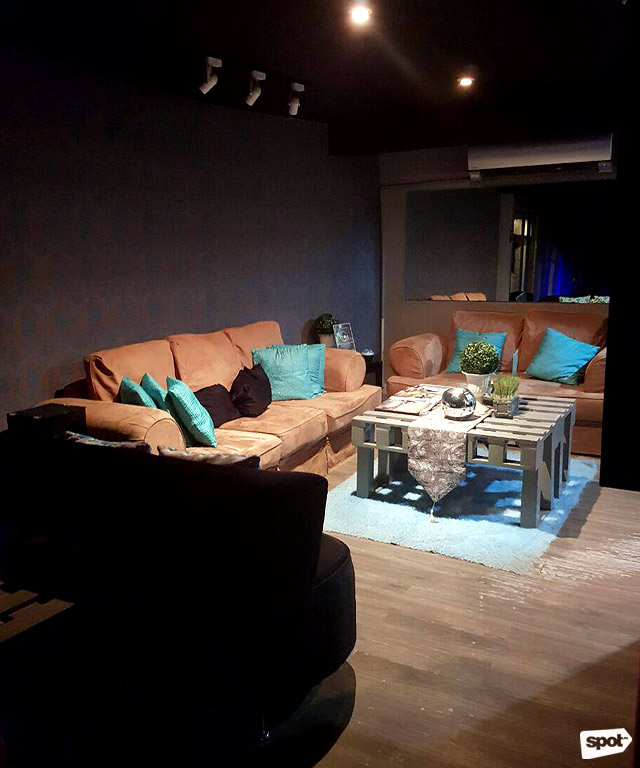 4. Naya Boutique Spa's Foot Reflexology (P349/60 minutes)
Somewhere within the busy streets of Diliman, Quezon City, is a place where you can escape the city and treat yourself to some pampering. Naya Boutique Spa has a cozy ambience that immediately sets the mood. They can accommodate you even if you arrive a bit earlier than your scheduled appointment. When you get there, you'll be offered hot tea or water and shorts to change into, and you'll be taken to a foot wash area for a quick bubble soak, which is then rinsed off with warm water. Then, you'll be ushered into a foot massage area, with the glow from the TV on one side of the room (which they eventually turn off mid-massage) as the only light source. Into the first few minutes of the massage, the therapist asks for your preferred pressure. There's no doubt you'll catch some quality Zs here—if you're lucky enough to be the only customer to be serviced during your appointment, since you might be awakened by customers heading up to the massage rooms on the second floor. But for P349, it's safe to say you get more than you pay for.
Naya Boutique Spa is at 128 Malakas Street, Diliman, Quezon City. You can book an appointment through 358-3347. For more information, log on to Naya Boutique Spa's Facebook page.


ADVERTISEMENT - CONTINUE READING BELOW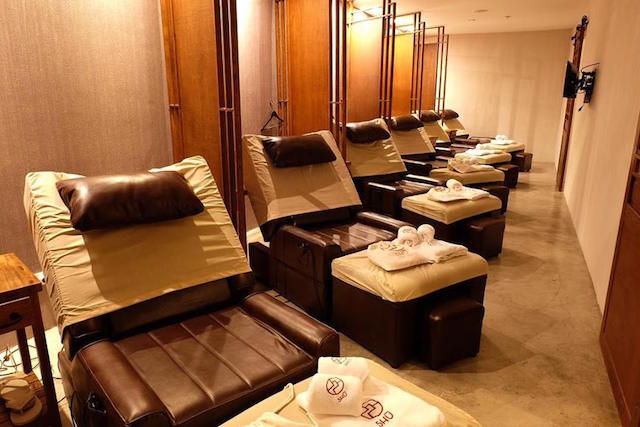 3. Shu Reflexology and Foot Therapy's Foot Reflexology (P420/60 minutes)
If you're looking for a place that's cozy and can make you feel pampered minus the intimidating vibe of some luxury spas, Shu Reflexology and Foot Therapy's got your back. The helpful staff offers you a robe you can change into and a pair of slippers you can use. Before the massage begins, you'll be asked to submerge your feet in your choice of soak: Ginger soak for improving circulation, green tea soak for detoxifying, soothing, and healing stressed skin, or salt detox bath for alleviating joint and muscle pains while also providing antibacterial and anti-fungal properties. You'll also be offered a wide range of teas like green tea, rose tea, oolong tea, jasmine tea, and pu-er tea. Even if you got the Foot Reflexology treatment, don't be surprised when they start giving your head, back, and arms a quick massage—it's all part of what you're paying for and for P420, you might find yourself coming back every week!
Shu Reflexology and Foot Therapy is at Mezzanine, TNA Building, 17 Jose Abad Santos Street, San Juan City. You can book an appointment through 0908-889-3353. For more information, log on to Shu Reflexology and Foot Therapy's Facebook page.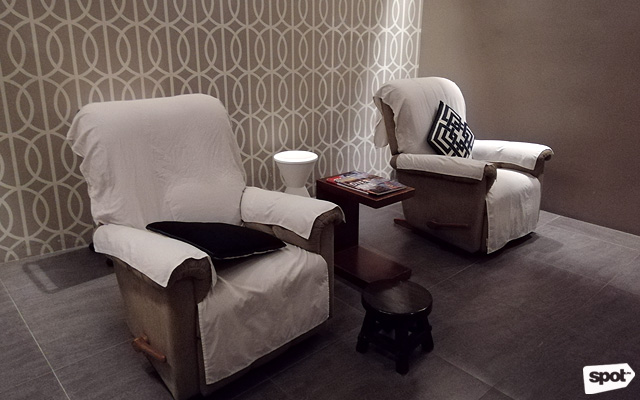 2. The Spa's Oriental Foot Therapy (P990/60 minutes)
For a luxurious spa experience, you'll never go wrong with The Spa. Every single area is peaceful and quiet—pair that with their dimmed lights and relaxing music, we wouldn't be surprised if you've already fallen asleep even before your treatment begins. The staff is well-trained and pleasant, making sure your spa experience is nothing short of excellent. The Spa has designated rooms for all of their services, and the one for the Oriental Foot Therapy is very spacious (unlike most foot spas) and is equipped with two cushy recliner couches and a sidetable with a stash of magazines. They cover your lap with a blanket to keep you warm and comfy throughout the session. The therapist makes sure to ask you if the pressure is okay, and adjusts accordingly for a more relaxing experience. They also offer warm ginger tea or warm water after your massage sesh. If you're all for treating yourself once in a while, The Spa is the perfect place to do it.

See a list of The Spa branches. You can book an appointment online.


ADVERTISEMENT - CONTINUE READING BELOW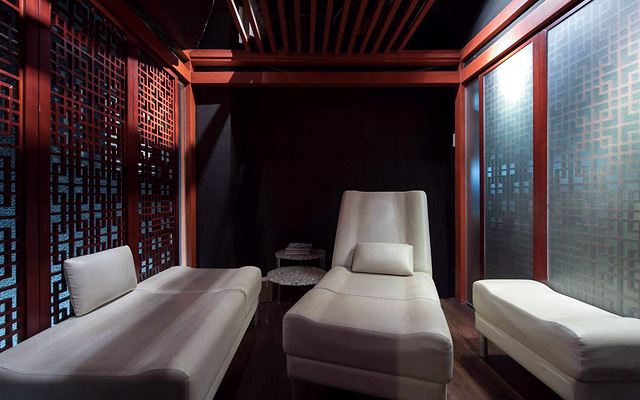 1. QiWellness' Foot Reflexology (P880/60 minutes)
You might know QiWellness as a wellness destination in Tagaytay, but you'll be pleased to know that you don't have to drive all the way there to experience a blissful escape because they actually have a spa located inside Picasso Boutique Hotel. The spa features traditional yet elegant Chinese-style interiors that will remind you of the grand palaces of Ancient China with soothing Zen music to match. The receptionist and the therapist are very well-versed in what they're doing, making sure you're comfortable throughout your entire treatment. You'll love that you'll get a lot of privacy even for just a foot massage since you'll still get your own private room with a comfortable reclining chair. The service begins with the therapist warming your feet with a damp hot towel. They'll also provide a blanket for an extra layer of warmth—it'll be hard not to fall asleep! If you have any requests, the therapist will be glad to make adjustments. You can customize your treatment by telling your masseuse if you'd like to have her spend the whole 60 minutes massaging your feet or spend a few minutes on your back, arms, and head. QiWellness aces our list of criteria, from the ambience down to the price points. If we didn't know the price of their services, we'd think we'd be paying for something over P1,500—the experience is that great.
ADVERTISEMENT - CONTINUE READING BELOW
QiWellness is at 4/F Picasso Boutique Hotel, L.P. Leviste Street, Salcedo Village, Makati City. You can book an appointment through 556-1818. For more information, log on to Picasso Boutique Hotel's Facebook page.
Load More Stories