10 No-Fail Gift Cards to Give This Christmas
No more stressing over buying the perfect gift-leave the shopping to them!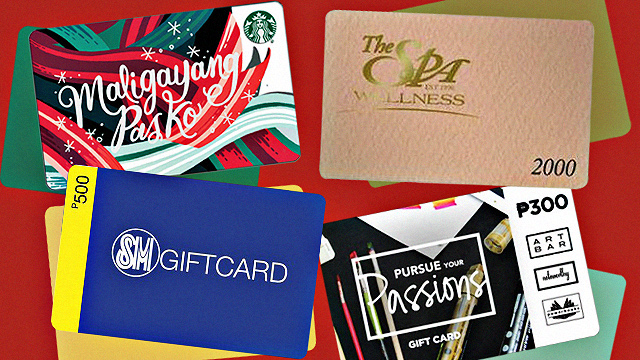 (SPOT.ph) Everyone hates that awkward moment when you give a gift to someone only to see them force out a polite, appreciative thank you just because "it's the thought that counts." When you pick out a present, you might as well make sure it's something they will love. In this day and age, there's no room for impractical gifts. Want to know an easy way to make sure you don't mess up? Give a gift card! We round up 10 gift cards your loved ones will surely love (and actually use). 
SSI Purple Card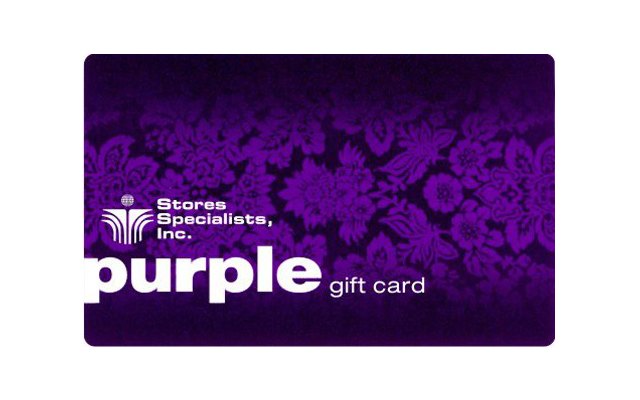 Denominations: P1,000 to P12,000
Make your shopaholic friend's holiday perfect by giving them an SSI Purple Card. They can splurge on all the latest collections of their favorite SSI brands such as Kate Spade, Zara, Michael Kors,  Lacoste, Nine West, Salvatore Ferragamo, Marks & Spencer, Muji, Estee Lauder, Clinique and lots more. It's available for purchase in any SSI store nationwide.
H&M Gift Card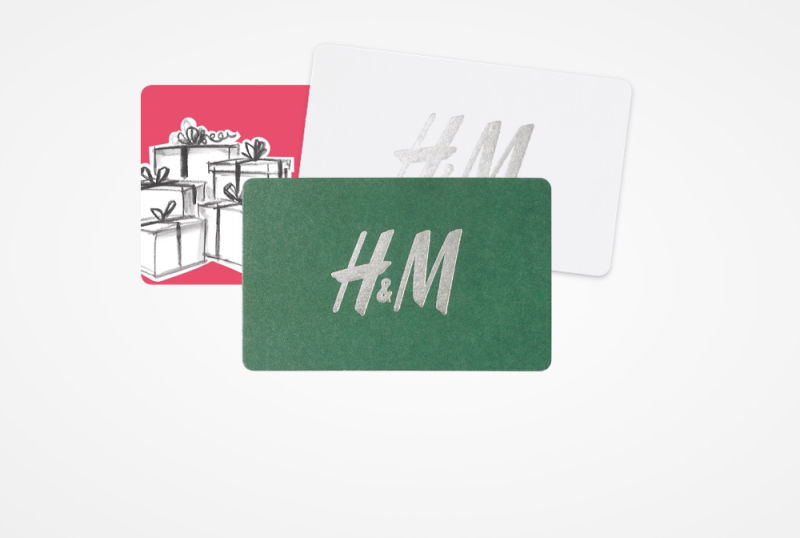 Denominations: P300 to P30,000
Why spend hours on end searching aisle after aisle for the perfect blouse for your best friend when you can leave the shopping to them? H&M has so much in store for anyone so this H&M Gift Card is a surefire way to get a genuine thank you on Christmas. Whether they're shopping for office-appropriate clothes or for the perfect Boho-chic top for a music festival, a trip to H&M will do just the trick. The H&M Gift Card is available at any H&M store nationwide.
ADVERTISEMENT - CONTINUE READING BELOW
Uniqlo Gift Card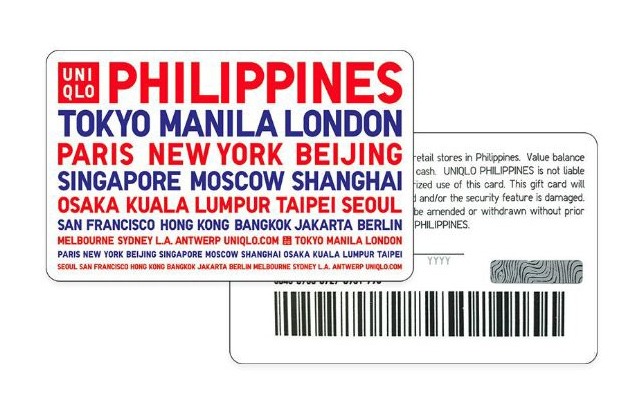 Denominations: P500 and P1,000
Not sure what to give to that friend who values both style and comfort? Give them a Uniqlo Gift Card and they'll love you forever. Let them shop for their favorite ultra-comfy shirts, stylish jeans, and hoodies for that effortlessly cool look. It's the perfect gift for absolutely everyone. It's available for purchase in any Uniqlo branch nationwide.
SM Gift Card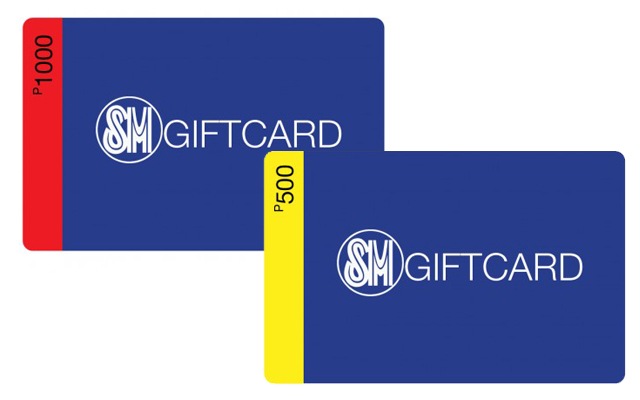 Denominations: P500, P1,000, and P2,000
They always claim that they've got it all for you and their gift cards don't disappoint! The SM Gift Card can be used to shop not only at the department store and supermarket, but also at different outlets around the mall, including Forever 21, Uniqlo, Adidas, Nike, Kultura, The Body Shop, Bata, Miniso, and many more. The cards are sold at check-out counters of the department store, Ace Hardware, Sports Central, Our Home, Kultura, Baby Company, Levi's (inside SM Supermalls), Nike (at SM North Edsa Annex), and Adidas (inside SM Supermalls).
Forever 21 Gift Card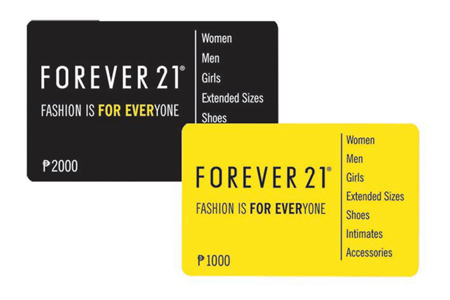 Denominations: P1,000 and P2,000
As much as you think you know someone, you don't really know for sure what kind of clothes they'd wear (and which ones they leave lying in the bottom of their drawer forever). Buying clothes for someone else is not an easy feat, which is why it's sometimes better to let them do the shopping themselves! The Forever 21 Gift Card is the perfect gift for your stylish friends. It's available at all Forever 21 stores nationwide.
Starbucks Card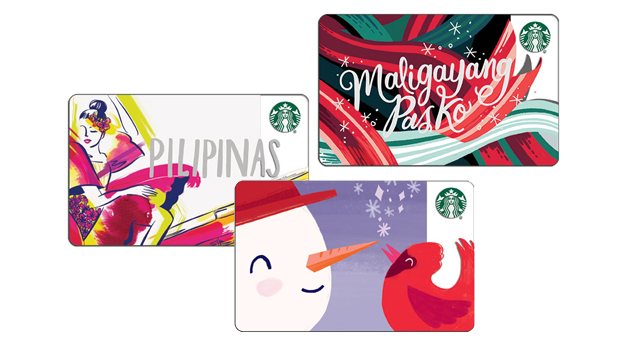 Denominations: Reloadable
Make a coffee-lover happy by giving them a Starbucks Card. You can choose from a wide selection of card designs. Whether you decide to stick to the festive designs or the other, more universal prints is completely up to you. They even have artsy, Filipino-inspired designs that you can choose from, making this not only useful but also a nice addition to all the stuff in your wallet. It comes with a lot of rewards, so any Starbucks lover will love to get their hands on one of these. You may get one (or two, so you have one for yourself) in any Starbucks branch.
ADVERTISEMENT - CONTINUE READING BELOW
Pursue Your Passions Gift Card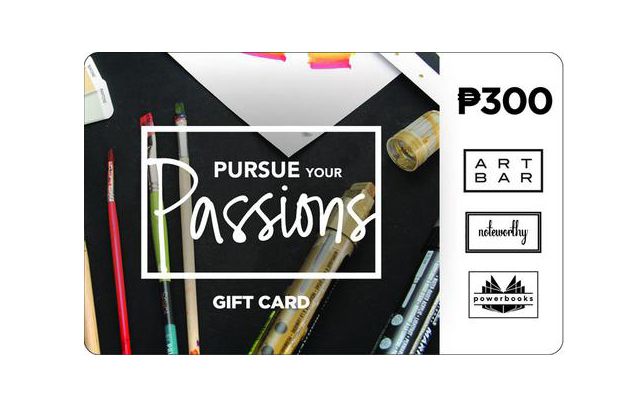 Denominations: P300
Stocking up on high quality brushes, pens, and artist grade paints would make a dent on anyone's wallet, so the slightest help would go a long way. Help a frustrated artist out and get them the Pursue Your Passions Gift Card from Art Bar. Hoarders of all things stationery would love to get this gift card because it can be used to shop at any Noteworthy and Powerbooks branch, which also happens to be places where you can purchase one.
BeautyMNL Gift Card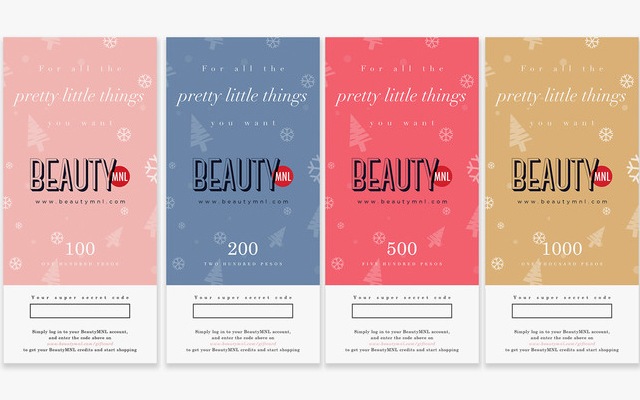 Denominations: P100, P200, P500, and P1,000
We live in a world where makeup and skincare is life, so getting the BeautyMNL gift card will make anyone's day complete. With an extensive catalogue of products from both local and international brands, BeautyMNL is the ultimate online shop when it comes to all things beauty. The best part? The card's non-expiring, so you can take your time shopping. Order one on the Beauty MNL website.
The Spa Gift Card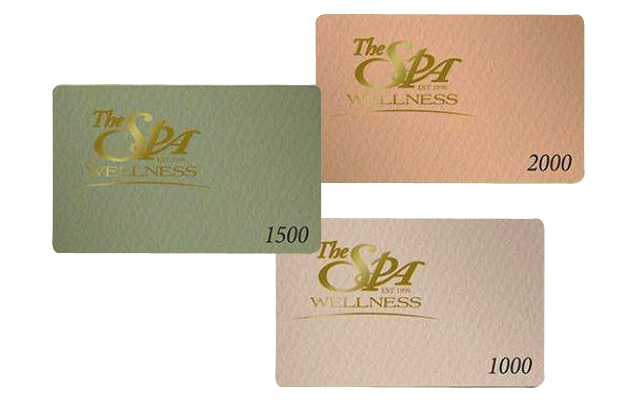 Denominations: P1,000, P1,500, and P2,000
Treat your workaholic friends by giving them a Wellness Gift Card from The Spa. Chances are, they're almost always stressing over whatever project (or projects, more likely) they're working on right now. Remind them to take a breather and unwind with a trip to The Spa. There's nothing more rewarding than pampering one's self with a luxurious massage to really enjoy the holiday. The gift cards are available at any The Spa Wellness branch.
App Store and iTunes Gift Card

Denominations: U.S. $10, $15, $25, $50, and  $100
ADVERTISEMENT - CONTINUE READING BELOW
With practically everything going digital, we can't really blame anyone for being glued to their phones. A surefire way to make them happy is by giving them an App Store gift card! It's like giving them a bit of everything: It can be used for iTunes, the App Store, and Apple Books. It's available in Power Mac Stores. 
Load More Stories