Cool Korean Online Shops That Deliver Straight to Your Doorstep
Fill your waiting digital baskets and regret nothing-these online stores ship to the Philippines!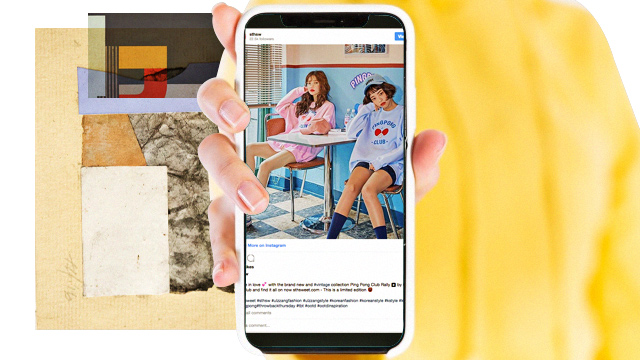 Be it TV shows, music, food, or fashion, you're sure to spot a touch of Korean culture in there somewhere. At this rate, we wouldn't be surprised if you want to add Korean-style pieces to your wardrobe—after all, Korean brands can answer most of your needs in the style department. We've made it a whole lot easier for you to shop by putting together a list of cool Korean online haunts that ship straight to your PH address.
ADVERTISEMENT - CONTINUE READING BELOW
Mixxmix
View this post on Instagram
If you're into that school-girl-slash-cool-girl #aesthetic, Mixxmix is your match made in heaven. Popular groups Twice or WJSN wear the brand quite a lot—some of the pieces they carry are a pleated mini-kilt and a plush little velvet beret. This is also where you can get the same thing in four or so different colors. Basics—whether that means turtlenecks or shift dresses for you—go a long way, and Mixxmix knows it. Stock up!
Somethin' Sweet
View this post on Instagram
This multi-label shop's name speaks for itself. Click on over for a healthy dose of sugar, spice, and everything nice. You'll end up wanting all three, by the way. This is also the place to hunt for girly-girl co-ords in current prints like plaid and leopard. So here's a suggestion: Why not snag some matching sets for you and your gang of best mates?
Chuu
View this post on Instagram
Fun fact: Chuu stocks 5kg Jeans, a denim collection that vows to make your thighs look a ton slimmer. You be the judge and find out for yourself if the promises are true! Also, don't forget to check out their makeup line Beige. For the record, how is anyone supposed to say no to all this adorable, heart-dotted packaging? That, and if you're a sucker for pretty ear candy, here's your cue to hoard their selection of dainty studs and pearly danglers away. 
ADVERTISEMENT - CONTINUE READING BELOW
Stylenanda
View this post on Instagram
It'd be impossible to jot down a list of notable Korean online shops without including Stylenanda. Though the brand is easily available on Zalora.ph, you can take your pick from a wider selection of items on their official online home. In turn, you can't talk about Stylenanda without mentioning their in-house makeup line 3CE. They're popular and instantly recognizable for a reason! Tip: They're always dropping sparkling new iterations of trusted favorites like their matte lip colors, so keep an eye on their well-updated 'gram.
Daily Monday
View this post on Instagram
There are the no-nonsense basics you'll wear forever. Sensible and stylish, we're particularly liking their selection of knits (in case you didn't know, fisherman sweaters are making a huge comeback). Daily Monday specializes in serving up clothes that are wearable all day, every day. Even the modeled styling pegs on their 'gram breathe a certain ease you'll want to live in 24/7. Plus, if you're looking to curate your fashion stash and start a capsule wardrobe, this is the place to get ideas from.
ADVERTISEMENT - CONTINUE READING BELOW
Rowky
Rowky is atrinket treasure trove. Channel the inimitable Blackpink quartet and cop that coveted K-Pop-idol look with generous, curated pepperings of earrings and layerable bling. Whether your favored flavor is punk, glam, or even minimalist, we guarantee you'll find something to suit your discerning taste. They've even got a rainbow cocktail of uber-trendy, colorful hair accessories to decorate your mane with. 
ADVERTISEMENT - CONTINUE READING BELOW
Ader Error
View this post on Instagram
Ader Error is one buzzy, magnetic design collective that's really making waves abroad—with a Vogue feature under its belt and excellent product quality that speaks for itself. And in case you couldn't get enough of their recent, fantastically '80s-inspired collaboration with Puma, 2019 is seeing tie-ups with the likes of Eastpak and Alpha Industries in the works, GQ reports. We can barely wait! Plus, they've got an entire Instagram account dedicated to teaching fans how to style their unique pieces IRL. Even SHINee's Key is a believer, and that's honestly the only marketing needed here. Case closed.
87mm
View this post on Instagram
Simultaneously athletic and utilitarian, 87mm boasts all things street, done in comfy, simple shapes often dyed eye-popping neon greens, purples, and oranges. Vibrant may be the keyword here, but laidback is the undertone. This one's for the coolest of kids, tbh. At 87mm, comfort complements color without trumping style. Make sure to check out their brightly hued beanies and graphic tees tucked into loose-fitting cargos...and, if anything, they've got us cultivating a reborn fascination for camouflage print. We warned you.
ADVERTISEMENT - CONTINUE READING BELOW
O!Oi
View this post on Instagram
Look no further for chic, casual clothes whispering subtle feminine deets like ribboned sweatshirts, large buttons on wrap dresses, and the current collection's adorable daisy motif. We dare any aspiring vintage dream girl to take their eyes off of this checked, '60s mod ensemble. Twiggy would be proud. Now, if only our tropical Manila was chilly enough for opaque white tights... 
This story originally appeared on Preview.ph. Minor edits have been made by the editors.
Recommended Videos
Load More Stories