(SPOT.ph) Sure, shaving might be the quickest and cheapest way to be hair-free in an instant, but it's also likelier to damage your skin's surface, and increases the risk that you'd ingrown hair. One of the best ways to safely remove body hair without having to spend tens of thousands for a laser treatment is by having regular waxing sessions—and that means finding a waxing salon that you'll want to keep going back to every month. To save you all the trouble, we tried a range of waxing places in Manila and ranked them based on ambience, quality of service, comfort level, and value for money. For this list, we tried the half-leg wax option from each waxing place to properly compare and rank their overall service.
All SPOT.ph Top 10 lists are researched for, paid for, tested, and selected by the writers and editors. They are discreetly conducted without any notice made to the establishments or their owners.
10. Pink Parlour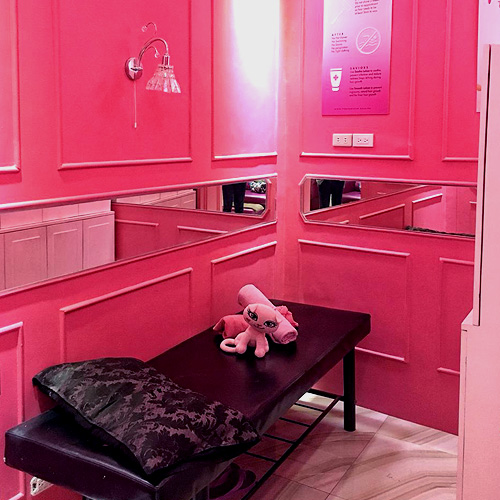 ADVERTISEMENT - CONTINUE READING BELOW
How much to shell out: P600/half-leg wax
The lowdown: "Everyone says waxing should be done swiftly—quick and without hesitation. I suppose that's exactly what the technician I met at Pink Parlour believes. The overwhelmingly pink interiors (and no, it's not the millennial pink we all know and love) can be a little intimidating, but perhaps you can think of it as a welcome distraction once the fun (read: painful) part begins. The no-nonsense style might not be suitable for someone who's new to waxing, but it certainly does the job. The technician didn't talk much as she expertly spread hot wax over my calves. The warmth is almost comforting until she places the cloth strip over it and, well, we all know what happens next. The good thing is that it was over as quickly as it began; although the hasty procedure does leave me wondering whether the stubble left on my legs was really caused by 'hardened roots' (I shave my legs) or not. In any case, for the price I paid, maybe a bit more pampering would have been appreciated."
The verdict: This pink paradise could easily be one of your favorite waxing places, especially if you love the color pink and you also like cats. To calm your nerves, they offer a feline stuffed toy you can squeeze and hug during your treatment. It's worth mentioning that they have a bathroom available, in case you want to freshen up before your service. They also have online reservation, although you might want to keep double-checking with them if they got the booking for a smooth process once you arrive.
ADVERTISEMENT - CONTINUE READING BELOW
Recommended Videos
See a list of Pink Parlour branches.
9. Hey Sugar!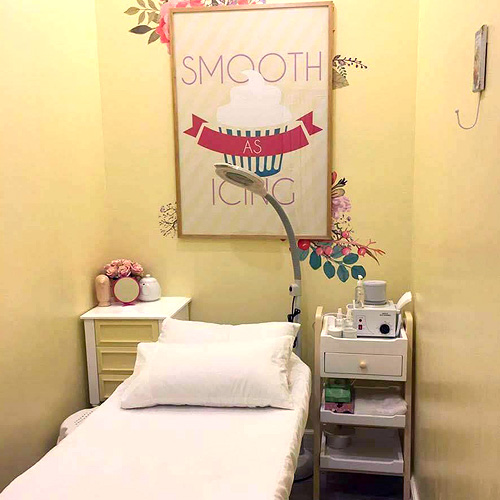 How much to shell out: P410/half-leg wax (cold), P485/half-leg wax (hot)
The lowdown: "Even though I've never been to Hey Sugar!, I've always been drawn to their sweet, desserts-themed interiors so I decided to have my first leg wax there. Plus, having it done at a place that resembled a cupcake store made the process less intimidating. At the counter, the accommodating receptionist guided me through their different kinds of waxing services, named, of course, with sweets-themed puns. After much convincing from the lady at the counter, I opted for the hot wax over the cold, and am glad that I did—hot wax is less painful, which makes it friendlier to beginners. The service itself was pretty no-frills, especially compared to how, well, frilly Hey Sugar! is. I was led to a private room that, other than a framed sugary quote, was pretty bare-bones. It was fine though, because I was in and out in probably under 10 minutes—I'd barely begun scrolling through my newsfeed before I was done. The service itself had no extra bells and whistles but got the job done, plus they're attentive to how hot the wax might be, checking up on you every now and then. I noticed afterwards that there were stray hairs here and there, though not enough to bother me. All-in-all, if you're in need of a quick wax that satisfies, Hey Sugar! has you covered."
ADVERTISEMENT - CONTINUE READING BELOW
The verdict: At Hey Sugar!, you'll come in because of their inviting interiors and come back because of their accommodating staff and unbelievably quick service. For a flawless wax, be sure to double check before you leave so you can ask the technician to go over the missed spots!
See a list of Hey Sugar! branches.
8. Lay Bare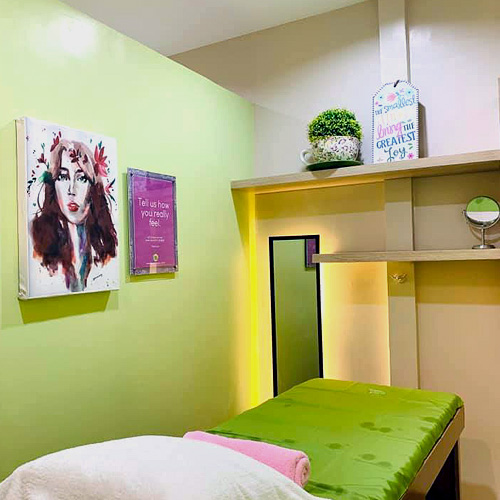 How much to shell out: P330/half-leg wax
The lowdown: "Since most Lay Bare branches follow a first-come-first-served basis, it was hard getting a slot—not really a problem, unless you don't have time to wait. Once I got to the room, the wax technician sprayed my legs with water, dabbed them with a towel, and sprinkled powder on them. I made the mistake of saying yes when they asked if it was all right for two employees to perform the service. I regretted it shortly afterwards: I didn't realize that it meant having two people rip hair from each of my legs in alternate or simultaneous fashion (it varied because each of the two employees waxed fast). This was not at all comfortable and was overwhelming at first, but I managed to get used to the whole thing after a few minutes. To be fair, they were considerate enough to ask me from time to time if the waxing was uncomfortable or painful. I think the price was just reasonable for the service provided. They could work on the ease of making appointments, but the waxing service itself provided a good result. I guess even for waxing, all's well that ends well."
ADVERTISEMENT - CONTINUE READING BELOW
The verdict: You can always count on Lay Bare for a no-frills waxing treatment that won't burn a hole through your wallet. The city is studded with Lay Bare branches so it's very accessible no matter where you are in the Metro. Their branches are equipped with bathrooms complete with bidets and different kinds of feminine washes, so you can freshen up when you get there. Note that Lay Bare only uses cold wax, which is known to be slightly more painful than hot wax but hey, you'll be out of there in no time—especially if they have two technicians available to do the treatment.
See a list of Lay Bare branches.
7. Maxwax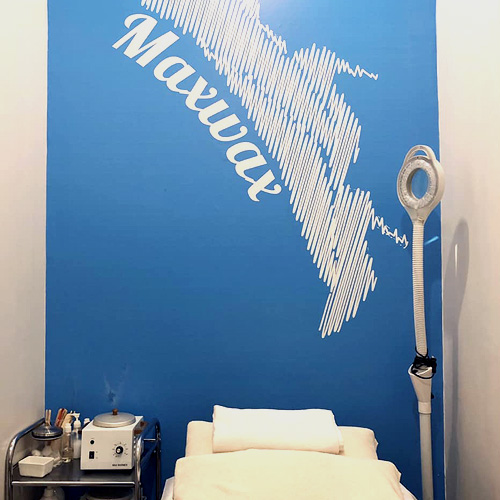 How much to shell out: P730/half-leg wax
The lowdown: "I usually get a wax-and-pedi combo for this much, so Maxwax's price for just a half-leg wax left me skeptical. Impromptu dinner plans were arranged on the day of my appointment and I arrived earlier than scheduled to ask if they could accommodate me, and happily, they did—probably because it was a weekday and they weren't packed. The room wasn't very big, but there was a side table for my (rather large) purse, and while there were faint stains on the towel covering the pillow on the bed, they looked like the kind that would no longer wash off. Maxwax only uses one kind of wax, and my therapist always made sure to ask if the temperature was tolerable as she worked. It was all done in under 15 minutes, including a quick massage—it was to apply tea-tree oil, really, but it was a nice end with the added bonus of being a bit of a mood-booster."
ADVERTISEMENT - CONTINUE READING BELOW
The verdict: Maxwax's fun and colorful interiors are enough to calm your nerves before getting your hair follicles ripped from your skin. It's worth mentioning that they offer some budget-friendly treatment combos, in case you need to avail of several services. Maxwax gets bonus points for that quick yet soothing leg massage after the treatment—a nice little treat that you didn't know you needed. Their rates are considerably higher but if you're pressed for time and don't want to settle for sub-par service, Maxwax makes for a great option. 
See a list of Maxwax branches.
6. Bare Skin Waxing Studio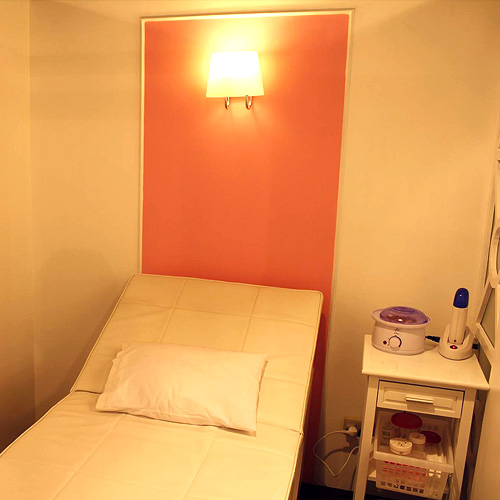 How much to shell out: P500/half-leg wax
The lowdown: "I recommend making a reservation ahead of time at Bare Skin Waxing Salon in SM Megamall, as I had to wait a few minutes to get my appointment as a walk-in customer. However, the staff was very accommodating and if you leave your number, they text you as soon as a slot opens up. The room I got was pink from wall to wall (as with the rest of the salon) and it was very spacious and comfortable; I loved that it came with a little shelf where I could leave my things. The treatment itself was quick and painless. I was expecting the usual popsicle-stick-shaped applicator, but a roll-on type of applicator was used to apply the wax, which was very comfortable on the skin and applied more efficiently with no plucking necessary. I passed the time by plugging in my earphones and scrolling through social media—there was enough space for the wax technician to move freely. She pretty much did everything as soon as I lay down without me having to put me in uncomfortable positions. All in all, it was a good, affordable, non-bothersome, in-and-out experience, though maybe not the most luxurious place if you're looking to treat yourself."
ADVERTISEMENT - CONTINUE READING BELOW
The verdict: Bare Skin Waxing Studio might stray from the edgy, colorful vibe found in most waxing salons with their brightly lit rooms and simple interiors that might give off a clinical vibe (dated, even). But what makes them stand out is their nearly painless service. If you have low pain tolerance, this might just be the perfect waxing place for you.
See a list of Bare Skin Waxing Studio branches.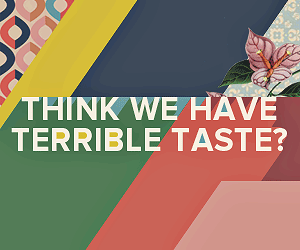 5. BeesWax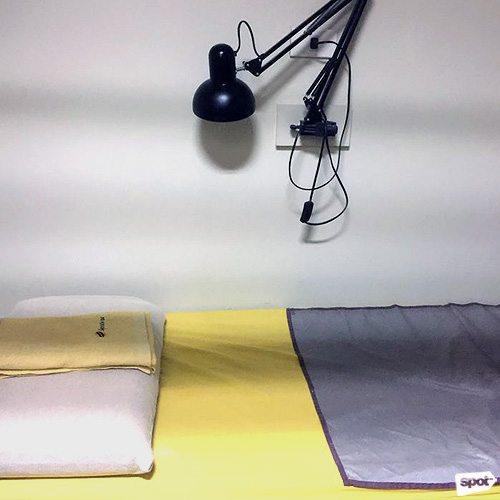 How much to shell out: P560/half-leg wax
The lowdown: "The first thing I noticed about Beeswax was its all-yellow aesthetic, which made for a pretty cute waxing salon experience. I walked in without a reservation and was accommodated right away—they have a large number of staff members on hand and they stay open till 11 p.m. so it's a good place to go if you're just squeezing that waxing appointment into your schedule. The room (decked out in yellow towels and sheets, of course) can be a bit cramped for two people, so depending on which body part you're getting waxed, you may have to lie in awkward positions in order to let the waxer reach certain areas. The wax they use is all-natural and non-irritating because they're made from (you guessed it) beeswax, so it's good for people who have sensitive skin. The hot wax was applied the usual way straight out of the tank. It was too hot at times, but the waxer was very quick to communicate with me about my preferences. Overall, I'd say their strength lies in their efficient and pleasant staff, so it might be a good place to find your go-to waxer."
ADVERTISEMENT - CONTINUE READING BELOW
The verdict: BeesWax offers a number of waxing services at wallet-friendly price points, which is great for people who need a reliable place to go to regularly. They accept walk-ins and you rarely have to wait for a very long time, which is great if you decide to get a wax last-minute and don't want to wait. They're very thorough with the waxing, making sure no strand gets life behind so you definitely get your money's worth. If only they had more spacious private rooms...
See a list of BeesWax branches.
4. Flirt Waxing Lounge
How much to shell out: P350/half-leg wax
The lowdown: "Flirt Waxing Lounge's interiors can be a bit off-putting—the waiting area is as small and as crowded as your neighborhood hair salon—and you just want to rush off as soon as you get there. It's a good thing I was able to schedule an appointment (after three tries on the phone) and was immediately ushered into a fuchsia-pink room. If you're not as lucky, prepare to wait for an hour—but that's fine. Thanks to their not-too-sticky wax applied with a roll-on, pain level is almost zero. Before I knew it, my legs were hair-free."
ADVERTISEMENT - CONTINUE READING BELOW
The verdict: Flirt Waxing Lounge's edge is their wallet-friendly rates and their exceptional waxing services. Their wax technicians are thorough and make sure not to miss a spot, plus they use a roller-type applicator that applies non-sticky wax to your skin, which is probably why the experience is almost painless. The only catch? They only have two branches: One in Kapitolyo and the other in SM Light Mall.
See a list of Flirt Waxing Lounge branches.
3. Strip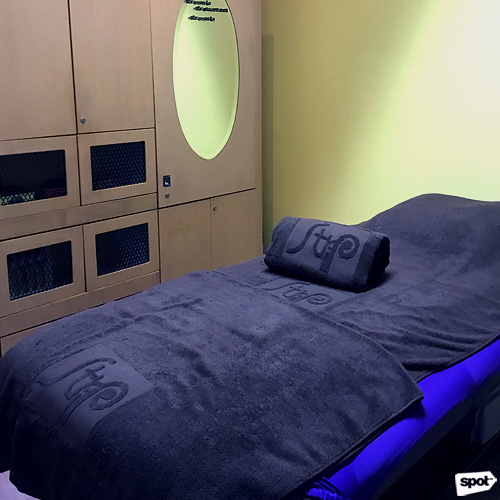 How much to shell out: P948/half-leg wax
The lowdown: "I've always been very particular when it comes to my choice of waxing salons. Being a creature of habit, I always go back to establishments whose service I'm more familiar with. So, when I had a chance to try Strip, I was a bit nervous and excited at the same time. When I got there, the first thing I noticed were their hip interiors, witty posters, and loud music. I didn't feel intimidated at all—everyone was friendly and approachable. I appreciate how their private rooms gave me a sense of comfort, thanks to soft beds that made it easier to relax throughout my session. The whole treatment took less than 15 minutes, which is quicker than most waxing salons I've tried. Their rates are pretty steep, but if you feel like spoiling yourself a little or if you need to get waxed quick, Strip won't disappoint."
ADVERTISEMENT - CONTINUE READING BELOW
The verdict: If you don't mind paying a little extra for comfort, then you have to try Strip's waxing services. Their private rooms have cabinets where you can store your things and are all equipped with super comfy beds and soft pillows that are enough to lull you to sleep. The next time you want to treat yourself, Strip is the place to be.
See a list of Strip branches.
2. Barenaked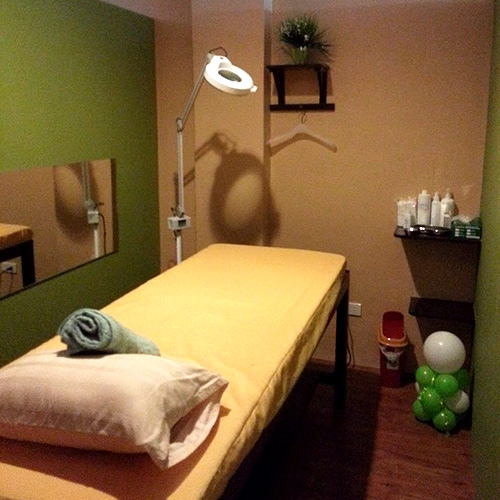 How much to shell out: P450/half-leg wax
The lowdown: "Every time I walk towards Barenaked, there's only one thing on my mind: I hope the line's not too long. That's the downside of the waxing salon not allowing reservations—you never know how long you have to wait before you'll be accommodated. Barenaked uses sugar paste—an actual sugar mixture with no chemical additives—that you could eat if you wanted to. (Two previous technicians have actually demonstrated this to me—no joke!) As luck would have it, there was no line that Saturday and I was settled into the waxing room in no time. The technician asked if the wax was too hot before applying it to the rest of my legs (it was always just the right temperature) and asked me if she could tweeze those stubborn little hairs she can't get to. If I weren't scrolling through my phone, I would've fallen asleep because of how painless the experience was—the relaxing spa music helped. When I was paying at the cashier, they asked me for my mobile number for their digital rewards program, which lets you earn points that you can use for a service in the future. My wax technician held the door open for me as I left, telling me to come back soon. And I will—when they text to remind me that it's been three weeks since my last service—they never miss a beat."
ADVERTISEMENT - CONTINUE READING BELOW
The verdict: Barenaked's spa-like ambience tells you that you're in for a relaxing treat, never mind that strands of hair are about to be ripped from your skin. It's great that they have a bathroom fully stocked with feminine hygeine products. It's worth mentioning that their customer service doesn't end after your treatment because they always, always follow up with their clients after three weeks to remind them that it's time for another wax—and that might be enough reason for you to keep coming back, not to mention their very competitive rates.
See a list of Barenaked branches.
1. Wink Laser Studio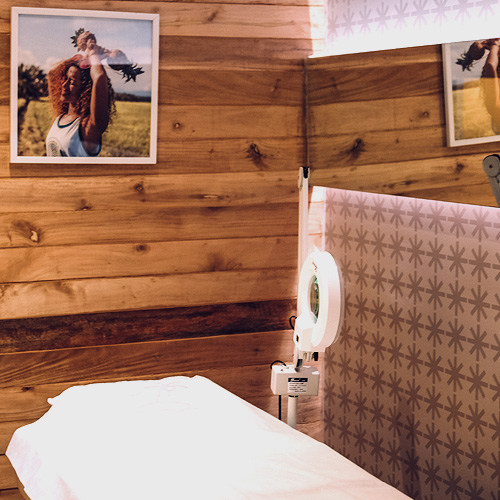 How much to shell out: P500/half-leg wax
The lowdown: "Wink has cozy interiors and spacious private rooms (so you have a lot of space to move around when taking off pants), not to mention the most efficient reservation system. All I had to do was book online and within a few minutes, my reservation was confirmed. They sent a reminder via text on the day of my service, too. When I got there, the staff was very accommodating and everyone answered my questions with a smile on their face. There was also a bathroom complete with soap, tissues, and feminine wash. Their wax technicians were professional and very gentle, constantly asking questions (in a non-annoying way) throughout the session. Wink uses hot wax for all their services and are very thorough. Their half-leg wax is P500, and considering their facilities and the level of comfort they provide, I felt I got the most bang for my buck."
ADVERTISEMENT - CONTINUE READING BELOW
The verdict: From making an appointment to the service itself and the result of your treatment, Wink certainly aces everything and gives you more than you pay for. When you want ambience, overall service quality, and value-for-money, you know where to go. Wink, wink. (Sorry, we had to do it at least once, y'know).
See a list of Wink Laser Studio branches.
Share this story with your friends!
---
Help us make Spot.ph better!
Take the short survey
Load More Stories