How The Stride Collective Is Changing the Game for the Local Shoe Industry
They're so much more than just a local shoe business.
(SPOT.ph) "Collaborative, not competitive"—these are just some of the wise words Tal de Guzman, co-founder of The Stride Collective, shared with SPOT.ph when we visited her shoe-making facility in Marikina. The Stride Collective is the culmination of a seven-year journey into the local shoe industry. It's a community of local footwear brands that all aim to change the local footwear industry in the Philippines by supporting local shoemakers and artisans all over the country.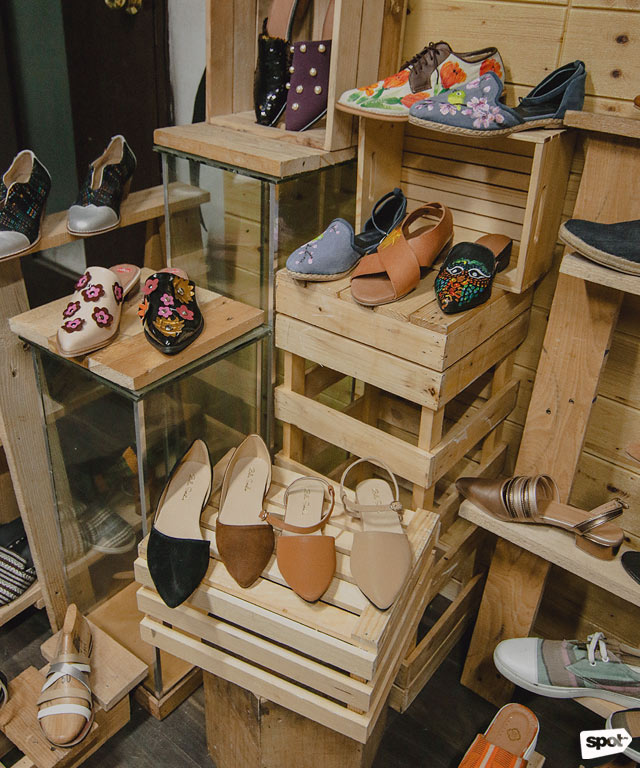 CONTINUE READING BELOW
Recommended Videos
ADVERTISEMENT - CONTINUE READING BELOW
Launched in December 2018, the collective is composed of about 17 brands, each with their own distinct personality. If you're looking for simple, everyday shoes to go with all your outfits or a bold, statement pair that'll get people talking (in a good way) or unique, hand-painted flats for a dainty look, you'll find what you're looking for at The Stride Collective.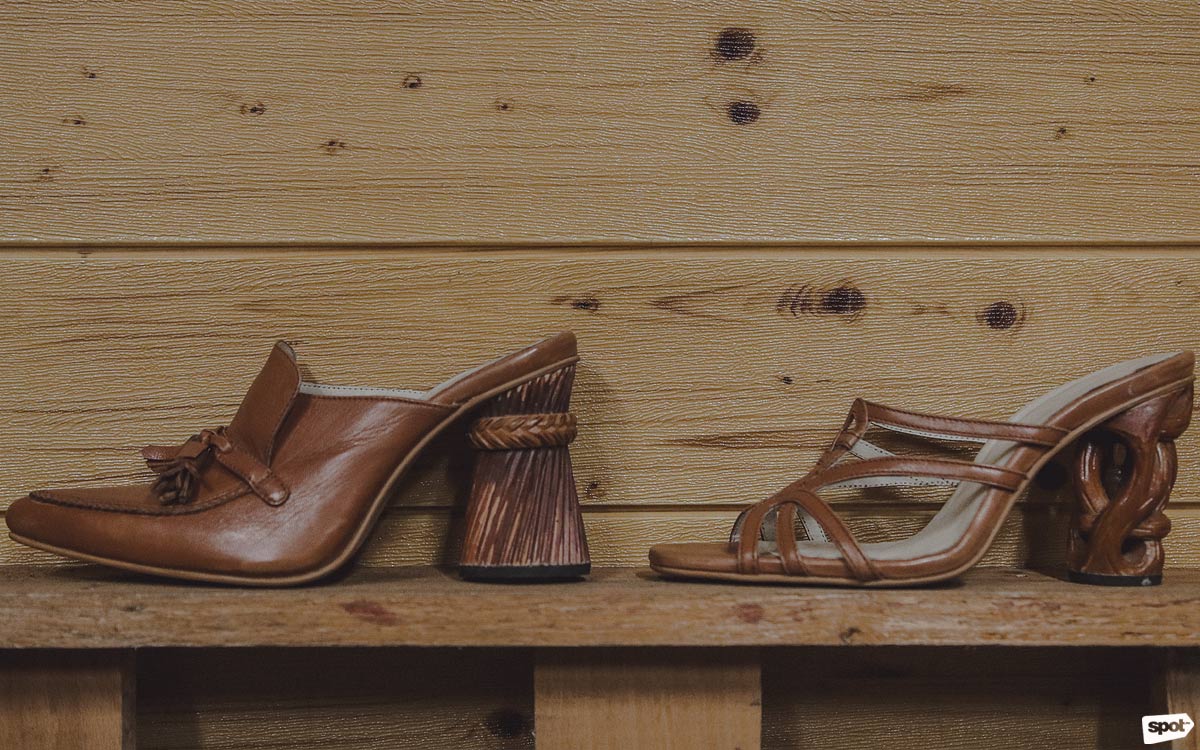 de Guzman's own brand Risque Designs features eye-catching pairs with intricately carved wooden heels.
PHOTO:

Zelda Carreon
The Brands That Make Up the Collective
Mika Moko is one of the brands that caught our eye when we stepped into the showroom. Their pairs are made from leather, suede, and embellishments that are all made from recycled plastic that are laser-cut and hand-embellished. Artisatch is another brand with unique leather and suede pairs that are all hand-painted with beautiful designs like flowers and animals. For chic and comfortable flats that won't break the bank, Bella Sorelle is a popular pick. They make use of man-made leather and their sandals come in classic styles that's perfect for everyday wear. Inne is another attention-grabbing brand, creating shoes made from materials like rattan, solihiya, and abaca. Other notable brands part of the collective include Habi Footwear, which makes use of woven mats; Marquina, which now also creates leather shoes for women; La Filippine, which makes use of jute material; Ripple Twine, a sneaker brand that makes use of different materials like leather, canvas, suede, and woven textile; Andante, which uses real leather for all their classic pairs; and Design & Style, which creates pairs that lets you interchange the material used, whether it's leather or woven fabric.
ADVERTISEMENT - CONTINUE READING BELOW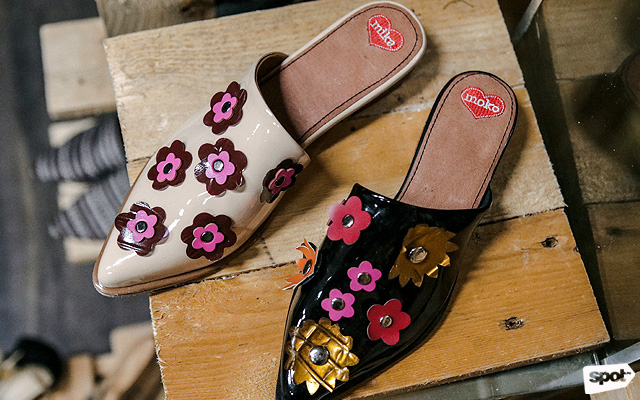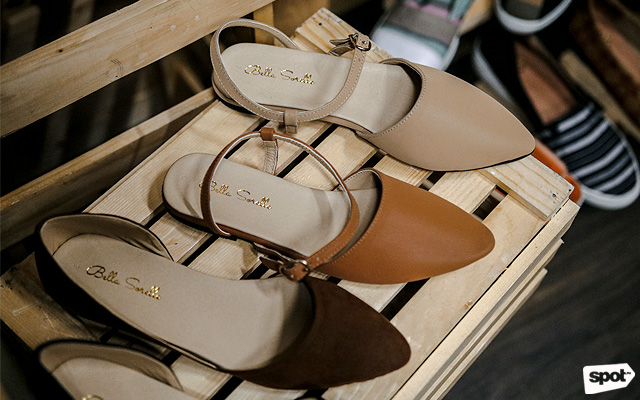 ADVERTISEMENT - CONTINUE READING BELOW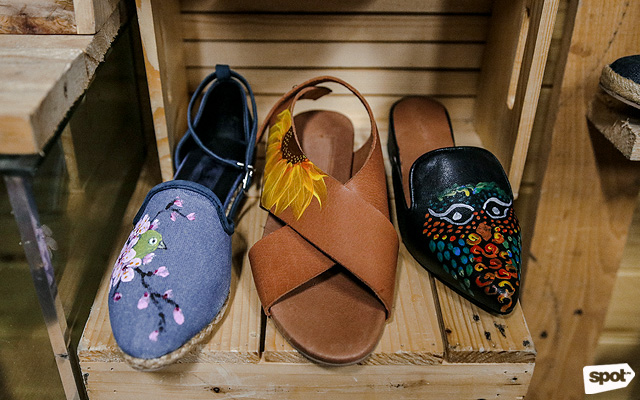 While they're all very different from one another, they do have a couple of things in common: All their pairs are manufactured in De Guzman's shoe-making facility; they make use of local materials and support local artisans; they all share the same values; they aren't in the shoe business to be competitive, but they're here to learn from each other, grow together, and ultimately, sustain Marikina's shoe industry.
ADVERTISEMENT - CONTINUE READING BELOW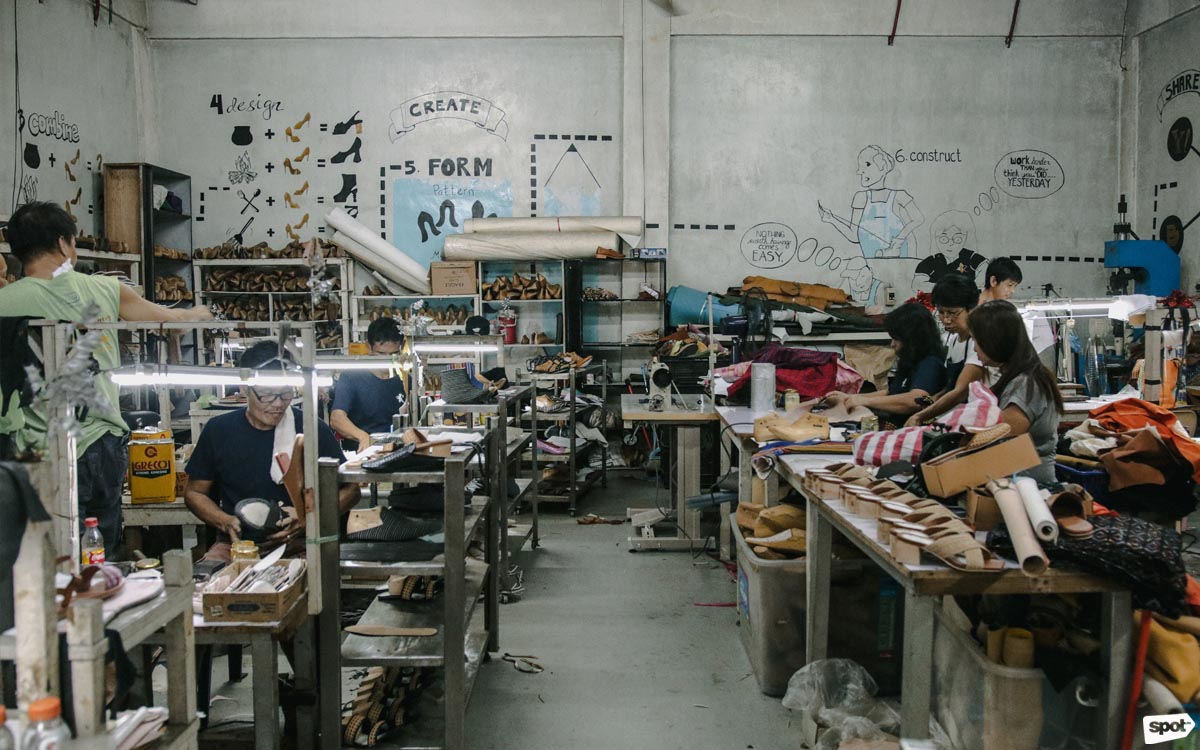 Their shoe-making facility is made up of a team of 12 sapateros.
PHOTO:

zelda carreon
Starting From Scratch and Learning By Experience
You would think that in order to run a shoe-making business, one would have to come from a family of shoemakers or at least, have some sort of background in the shoe industry. But that's not how the story was written for De Guzman. "Wala talaga akong alam. I didn't know how to make a pair, I didn't know [the] materials...I learned everything from experience. And [from] working with people," De Guzman shares.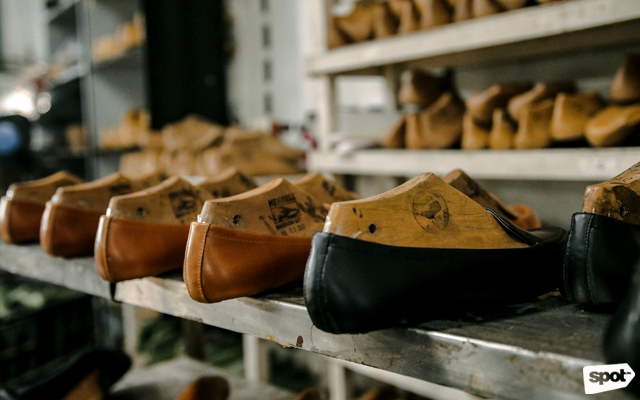 ADVERTISEMENT - CONTINUE READING BELOW
"When I was still soul-searching, I thought I was gonna go into bags but I [knew] I always wanted to use local materials. Before that, I was just toying with the idea [of starting a shoe business]. I have a friend who actually does cutesy-cutesy hand-painted shoes in Indonesia, like cartoonish. I wanted to bring it here. And I did." But after a few bumps and potholes—let's just say Customs was challenging (read: charged her more than the actual cost of the pairs put together)—De Guzman realized they were something she could produce locally. "So I started to make my own shoes," she says. And that's how she started Risque Designs in 2012. She designed shoes that make use of textile made by local weavers from around the Philippines as well as intricately carved heels that are all made from wood by local wood carvers from Laguna.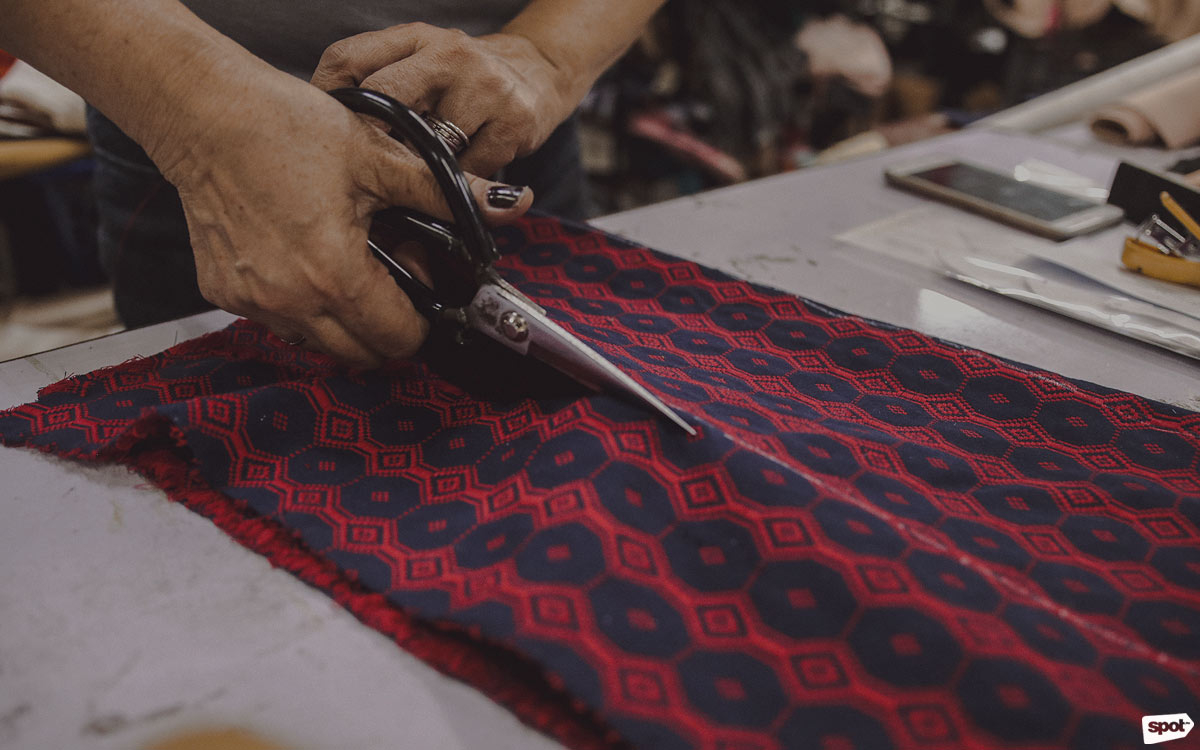 The Stride Collective sources textile from local weavers all over the country.
PHOTO:

Zelda Carreon
ADVERTISEMENT - CONTINUE READING BELOW
"So from there, I was just using local textiles, supporting local craftsmanship. [Then] in 2015, I opened this manufacturing facility," De Guzman tells us. "Eventually, I realized, I wanted to manufacture for other brands."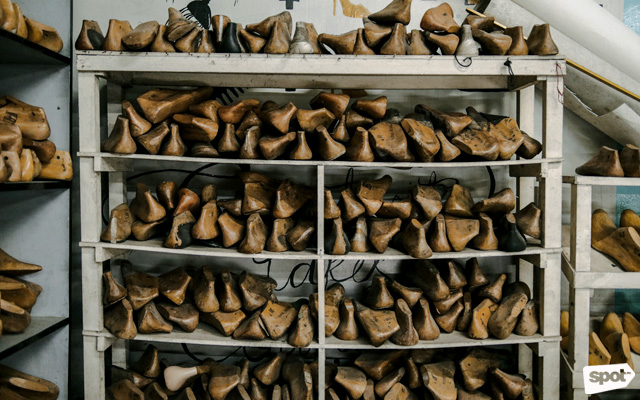 Collaboration, Not Competition
You're probably thinking: Why on earth would you want to help potential competitors? Well, De Guzman's ultimate goal was to make the local shoe industry in Marikina more sustainable. "Minsan may nagtatanong sa'kin, bakit mo sine-share 'yan? Di ba parang secret? And I'm like, why not? Kasi how do you grow an industry if you're not sharing?"
ADVERTISEMENT - CONTINUE READING BELOW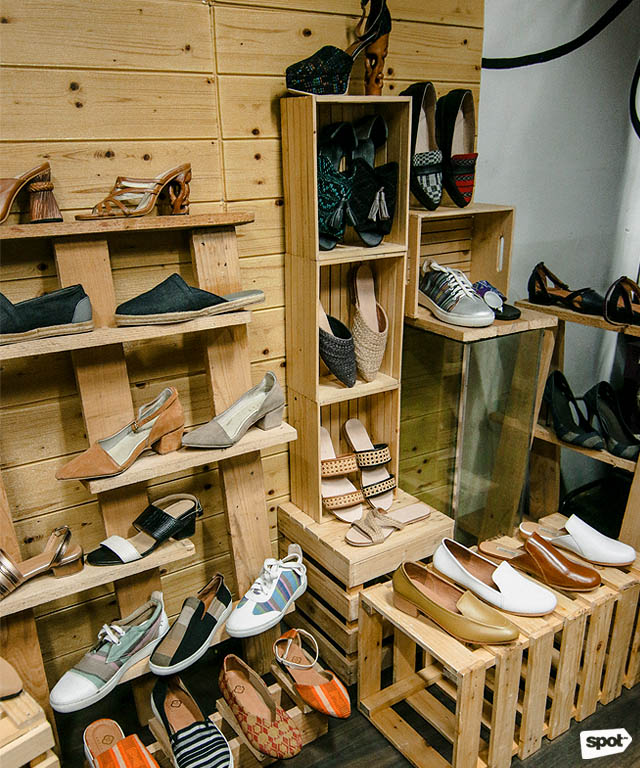 Since the collective is composed of different groups of people, they get to pool their resources. "Like when I do international shows, I get to bring them [along], not just Risque. So it will help us hopefully get orders for other [brands]," De Guzman says. "I'm bringing all of them to Korea in May. I'm working with Work Together Foundation from Korea. They gave us a grant for social impact, so [it's] mostly for the training and capacity buildings for the sapateros 'cause we really wanted to create more impact in their [lives], part of obligation is to go there. We'll also have an event [there] where we get to showcase our products and they'll bring in buyers."
ADVERTISEMENT - CONTINUE READING BELOW
De Guzman also shares that one of their partner brands is relocating to Singapore very soon, and they're hopeful that they can make The Stride Collective available there, too. Suddenly, being competitive makes no sense when you realize how coming together can really open huge opportunities for everyone—not just business-wise, but also for the local shoe industry.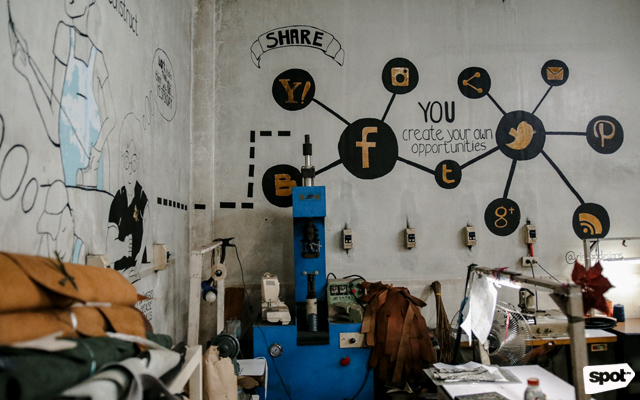 ADVERTISEMENT - CONTINUE READING BELOW
Even before De Guzman started her workshop, she was already helping out people who wanted to start their own brand. She teaches courses at the School of Fashion and the Arts Design Institute, which pushed her to come up with a workshop that teaches both shoe-making and business. "Eventually, na-realize ko, sige, I'm teaching how to make sandals, they understand the process, but they really wouldn't know how to start a business," De Guzman shares. The Shoepreneurshop 101 is a workshop on everything you need to know about starting your own shoe business, from  learning about the parts of the shoes, the different types of styles and materials, as well as things like where to find suppliers, how many pairs to create for your first batch, et cetera. "Really, for me, the objective of that is to bring in more people to Marikina."
"Before I started Shoepreneurship 101, I got people who wanted to find suppliers [and] toured them around Marikina. Kasi it's not just in one place. It's like all over Marikina. That's why I wanted to show people where, so in turn, hopefully, it will bring more business to the suppliers. Kasi kami naman as shoe designers nagrereklamo kami lagi na kulang 'yong materials, konti ng options, pero ang problem lang kasi ng suppliers, wala rin kasi sobrang madaming demand, so how can they bring in more? So if they feel that there's demand, then eventually, they'll [produce] more things.

ADVERTISEMENT - CONTINUE READING BELOW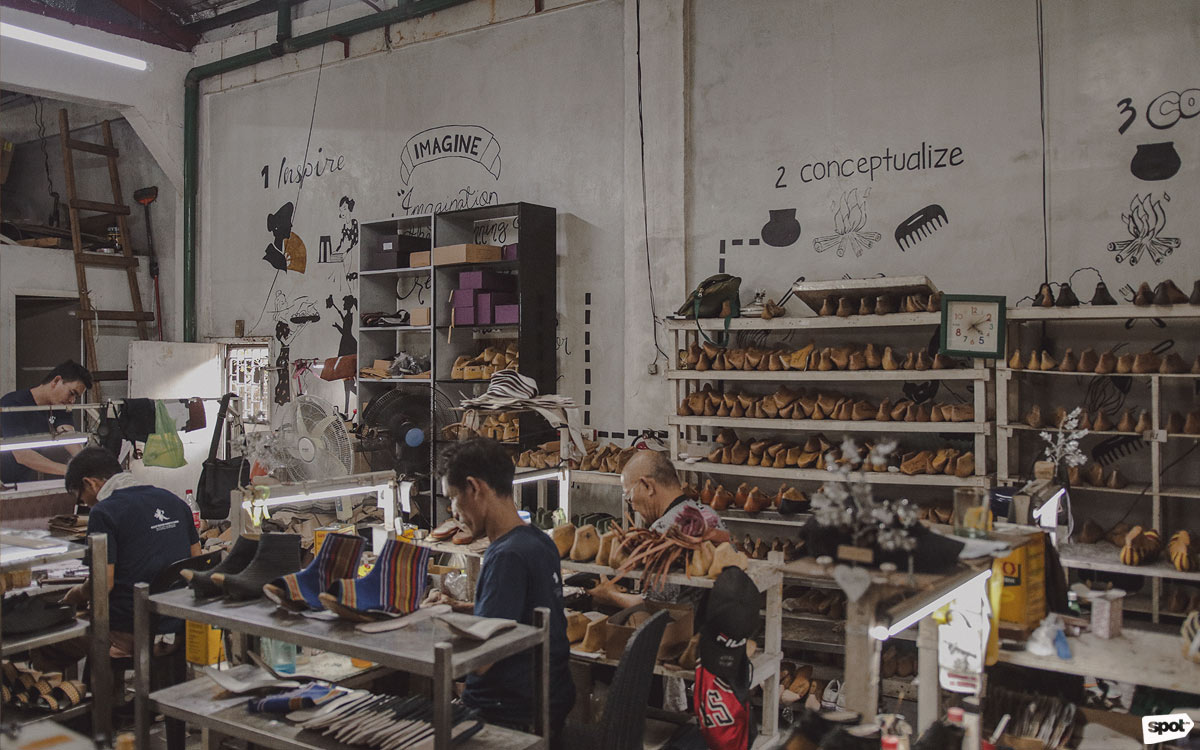 The people behind The Stride Collective make sure they compensate their sapateros decently and treat them like family.
PHOTO:

zelda carreon
Creating Opportunities and Treating Her Sapateros with Respect
For De Guzman, it's not just about sharing her resources with local footwear brands—it's also about the bigger picture: creating more jobs for the shoemakers and giving local artisans more access to buyers. De Guzman has opened plenty of doors for budding entrepreneurs as well as for local weavers and shoemakers all over the country. "I work directly with the community. Like for example, my weavers in Negros, when I started working with them, they only charged P30 for a yard of fabric. Can you imagine? Thirty pesos. Sabi ko, di kita babayaran ng ganyan kababa. So when I started, I didn't know [anything about] demand. I was just trying out their textiles, so I said, 'Okay, I'll pay you P60.' But now we're paying them a hundred per meter."
ADVERTISEMENT - CONTINUE READING BELOW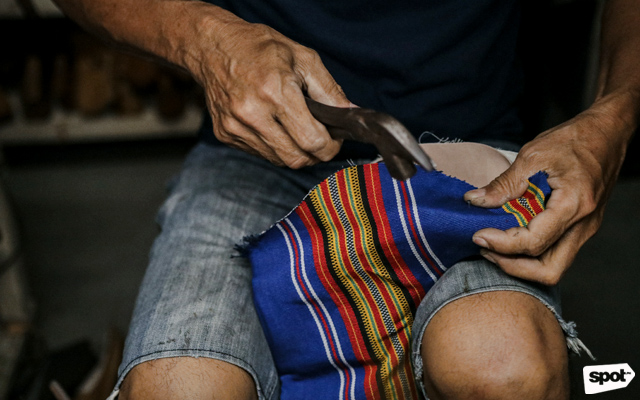 She shares that the Philippines imports a total of 168 billion pairs of shoes every year. "Imagine 168 billion, majority of that is China, Vietnam, and South Korea. But China takes about more than half of that. And the average price, sadly, is around a dollar. So we can't compete with that," she shares. "That's one of the reasons why maraming namatay na shoe [businesses] here in Marikina. Dahil nga mababa 'yong prices ng shoes, bumababa rin 'yong bayad sa shoemakers."
ADVERTISEMENT - CONTINUE READING BELOW
It's important for De Guzman that her sapateros are paid decently. "A lot of the [shoemakers] here, they're paid on a piece-rate basis. So pag matapos mo 'tong part na 'to, ilan matapos mo niyan, yan ang babayaran sa'yo," she tells us. That's why at her shoe-making facility, her shoemakers are paid a daily rate.
When asked if she ever declines brands that want to have their designs manufactured in her facility, she firmly says "Yes... Especially first if they're copying. And also kapag 'yong sobra sila makahatak sa price, kasi first magsa-suffer naman yung tao." De Guzman also shares that she's a bit choosy when it comes to the people she wants to work with. "I want nice people around. People who are also going to be nice to my staff here. Kasi di ba they get to [interact] with the artisans." She proudly shares that the brands she currently works with all share the same values about working together and building a strong community. 
ADVERTISEMENT - CONTINUE READING BELOW
The Stride Collective's Next Move
De Guzman has her eyes on making The Stride Collective brands more accessible to the public, since they're currently only available online. In the works is the opening of their very first physical store which will be located along Gil Fernando Avenue, Marikina. "I realized, when you go to Marikina, you don't know where to go. Like, if you wanna buy shoes, where do you go? And the usual things you see are normal-looking shoes," De Guzman shares. "Wala masyadong special or may design element. It's just the usual shoes you'll see, so we want [the store] to be a hub for the shoes that we make." 
De Guzman is also looking to open The Stride Collective to other local brands that are manufactured by other companies. She shares, "In the future, we might open it up to other brands na di namin manufactured. It can be a platform for all Marikina shoes. So we can be inclusive. But right now, we started with the brands we [manufacture] for, because it's something we can control." To conclude our conversation, she cheerfully says: "Let's just help each other! Mas masaya e."
ADVERTISEMENT - CONTINUE READING BELOW
It's clear that The Stride Collective is more than just a business opportunity to the folks behind it—it's a community that doesn't only care for one another and the people they work with, they're also people with laser-sharp focus on one ultimate goal: to keep the local shoe industry alive. And alive (and kicking!), it is.
The Stride Collective showroom is at #23 E. Santos, Marikina City. For more information, log on to The Stride Collective's website.