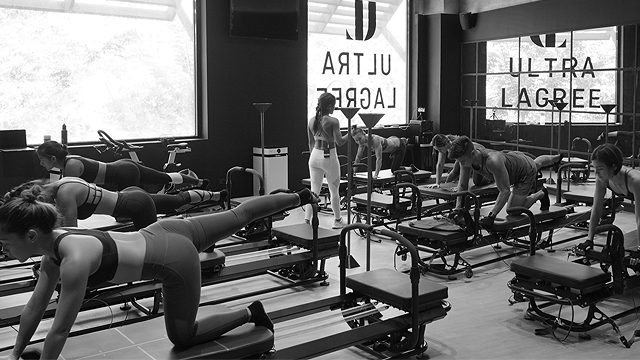 (SPOT.ph) Yeah, we get it. You're an extremely busy person with deadlines to beat, friends to meet, and, well, lots of food you want to eat. You don't even have enough time to get the recommended six to eight hours of sleep every night, so how on earth are you going to insert exercise in your daily routine, right?
ADVERTISEMENT - CONTINUE READING BELOW
Hear us out: This workout will only take 45 minutes of your day and it can burn twice as many calories compared to running on a treadmill for the same amount of time. Enter Ultra Lagree—a brand-new fitness studio that opened on May 27 on the second floor of Estancia Mall, Capitol Commons, Pasig City. 
The Lagree workout is a high-intensity, low-impact exercise that strengthens the core and improves endurance, balance, and flexibility. The slow, resistance-based movements make your body work twice as hard, burning more calories while still being gentle on your joints, making it a great exercise for people of all ages. Don't get us wrong, though. Just because it's a "slow" workout doesn't mean you won't break a sweat. In fact, going as slow as you can will be the reason you'll feel your muscles shake and burn throughout the session—and maybe (okay, certainly) even after. Fun fact: One session can burn up to 800 calories, depending how intense your workout is (read: if you push yourself to your limit and not give up in the middle of holding a pose). Oh, and another fun fact: Celebrities like Meghan Markle, Khloe Kardashian, and Chrissy Teigen swear by this workout. 
"We want to cater to fitness buffs and those who want to get started on their fitness journey but can't find time," shares Harold Lee, Ultra Lagree CEO and co-founder. "We are right inside a mall, so people can squeeze in their workout in the middle of their daily schedule, or before or after work." 
ADVERTISEMENT - CONTINUE READING BELOW
Just to give you an idea on what kind of positions you'll encounter, here are some of our favorites (a.k.a. the ones that burned so good, we can't forget it): Bear (targets the arms, lats, and abs) is where you start out on a high plank with your palms on the front platform and your feet on the carriage which you control slowly moving back and forth by flexing and extending your legs. Plank-to-Pike (targets core, lower abs, and obliques) starts out in a high plank just like the Bear, except your legs stay straight and your heels lifted from the carriage as you rise up using your abs, bringing your legs closer to your chest.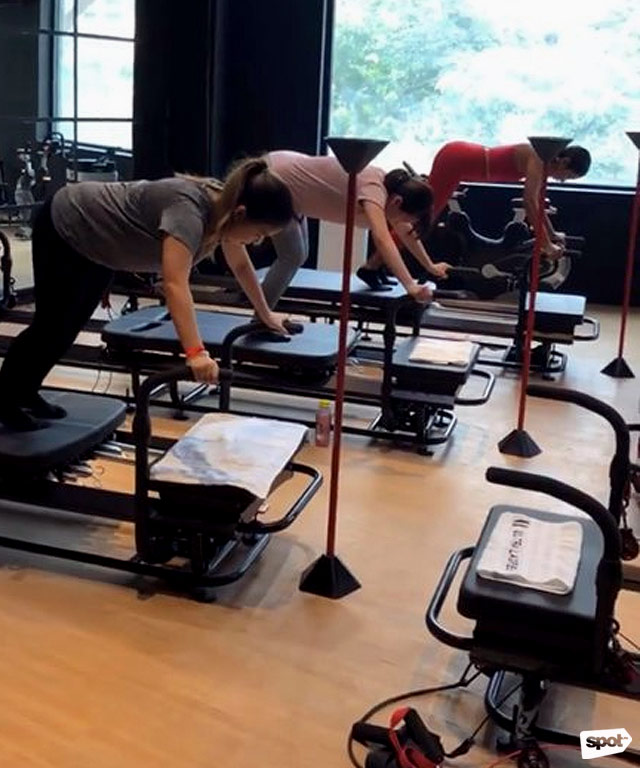 ADVERTISEMENT - CONTINUE READING BELOW
Feeling tired yet? Great, because the Catfish (targets shoulders, lats, abs, arms, and thighs—basically your entire body) will fire all your muscles up even more. You start with your palms on the front handle bars and just the tips of your toes on the carriage. Your back should be in tabletop position (parallel to the floor) and your knees aligned to your hips as you push your carriage backwards so you're in an inclined plank position, then slowly bring your knees in until it's aligned with your hips. All moves are done in four slow counts and the slower you go, the better. The result? A stronger body with tighter and toned muscles.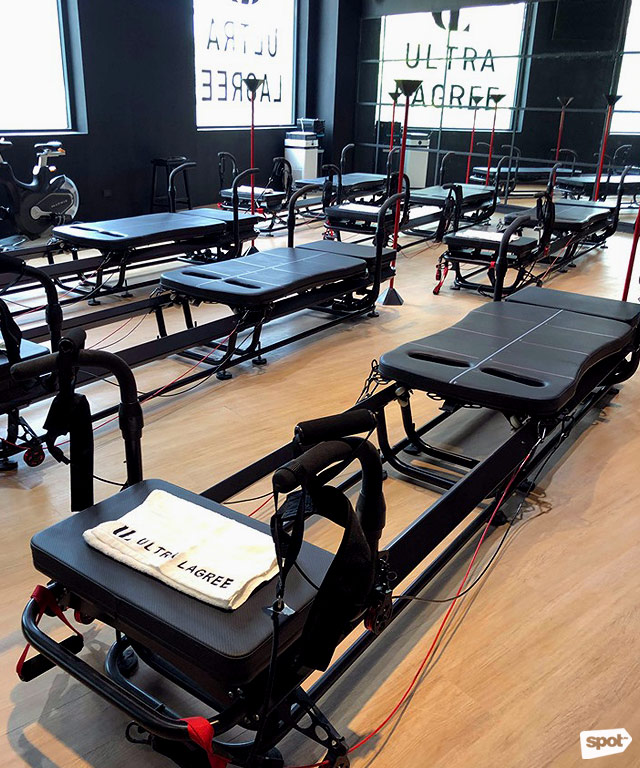 ADVERTISEMENT - CONTINUE READING BELOW
But first, meet the mean machine that you'll have to work with for the entire 45-minute session: the Megaformer—your greatest tormentor but your Best Fitness Friend. At first glance, you'll probably immediately think "torture machine," and, well, you're not wrong. But it's the kind of torture you'll keep coming back to once you get started. It has a front platform, a back platform, and a gliding carriage in the middle. If you're familiar with Pilates, the Megaformer will remind you a lot of the Reformer, except the former is larger with more torture settings—er, configurations—like springs, straps, and handle bars compared to the latter. This means there are a lot more positions you can do, targeting more muscle groups—even areas where you didn't know you had muscles will be alive and kicking...or shaking, accurately speaking.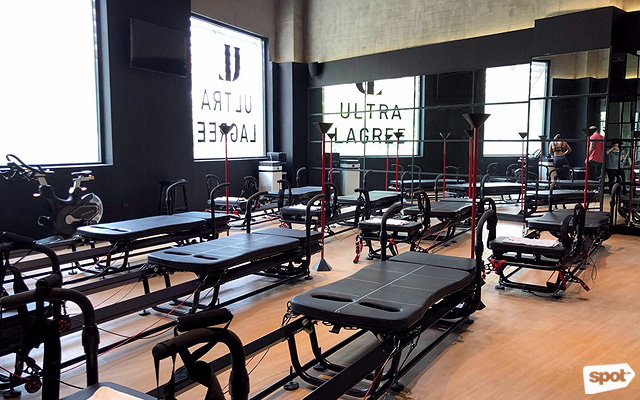 ADVERTISEMENT - CONTINUE READING BELOW
The workout studio has cool industrial interiors, featuring concrete walls, wooden floors, and a blacked-out ceiling. The back of the studio has big windows that let natural light in, with mirrors that line the walls reflecting the brightness throughout the room. The studio is equipped with seven machines so group classes stay small, which is great for those who prefer working out with only a few people.
ADVERTISEMENT - CONTINUE READING BELOW
Ultra Lagree has a group of well-trained instructors that teach you how to use the Megaformer and help you power through the longest 45-minute workout of your life (we say this in a good way). Will Devaughn, Ultra Lagree's co-creator and master trainer, flew all the way to Los Angeles to train under Sebastien Lagree himself (he founded the Lagree workout in the early 2000s). Devaughn shares with us the benefits he got from doing Lagree almost every day: "My knees and my joints have less pain. I honestly don't even feel it in my right knee anymore and I had ACL. In my left knee I had MCL, and that's one of the reasons why I stopped running." He continues, "I don't feel pain in my knees anymore [so] I'm able to sleep better. My flexibility has [improved] so much more, too." Apart from helping you get fit, Devaughn thinks that Lagree is also good for the mind. "Not only does it benefit your body but also your mind because it's cerebral. You tune in to the mind-muscle connection more than any other exercise that, for me, I've ever done," he shares. "Many benefits. Mind, body, and also spirit."
ADVERTISEMENT - CONTINUE READING BELOW
When asked how often you should do Lagree, Devaughn shares, "To start with, I'd say maybe two to three times a week." He continues, "It's all about how your body feels. You know your body more than anything." While the workout can get really intense, you won't feel a ton of pressure trying to keep up with the rest of the class. Devaughn tells us, "You can push yourself as far as you want. I think that's the beautiful thing about it. Everybody's in a different level of advancement yet we can all workout together in one unit."
So if you're looking for an intense workout that doesn't require hours off your day, you might want to give Lagree a go. Besides, burning up to 800 calories per session means you can down that next burger without feeling guilty about it afterwards! And you know that's exactly what's going to happen after your workout.
ADVERTISEMENT - CONTINUE READING BELOW
Ultra Lagree is at 2/F Estancia Mall, Capitol Commons, Pasig City. Rates start at P1,400 (Trial Package, two sessions).
For more information, log on to Ultra Lagree's Facebook page, Instagram page, and website.
Share this story with your friends!
---
Help us make Spot.ph better!
Take the short survey
More Videos You Can Watch
Load More Stories