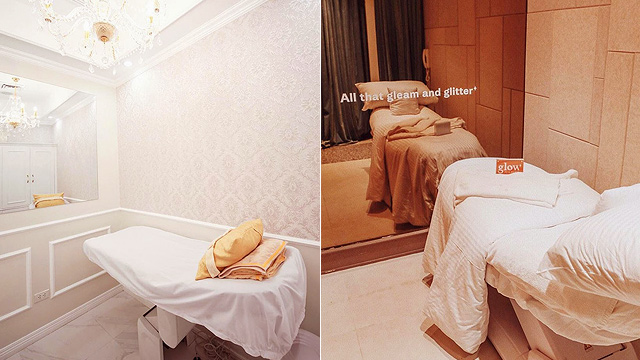 (SPOT.ph) Living in a fast-paced city that's constantly polluted can really take a toll on your skin. Couple that with your eating habits and the inevitable stress from work, it's no surprise if your skin accumulates all kinds of impurities. While having a skincare regimen in the morning and evening can really help you keep those pesky zits at bay, getting a facial is essential if you really want to unclog your pores and rejuvenate your skin. So, we tried the 10 best places to get a facial in Manila and ranked them based on comfort level, quality of service, value for money, and overall experience.
All SPOT.ph Top 10 lists are researched for, paid for, tested, and selected by the writers and editors. They are discreetly conducted without any notice made to the establishments or their owners.
Here are the top 10 best places for facials in Metro Manila:
10. Cara Laser Skin Care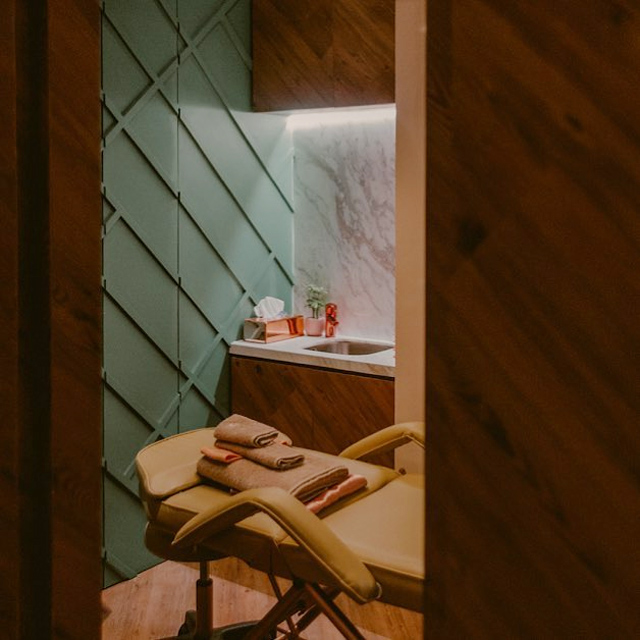 ADVERTISEMENT - CONTINUE READING BELOW
Service/How much to shell out: Cara Facial (P2,500)
The lowdown: "It was my first time to get a facial, so as a newbie afraid of things poking at my face, I was definitely kind of scared. I booked an appointment for a Cara Facial through their online booking system, which unfortunately didn't show their prices. It did have an automatic confirmation system that told me who would be doing my treatment though, and they were easy to contact through text. When I got to their branch in UP Town Center—the only one so far—I was greeted by chic, modern designs that still felt homey, complete with the usual relaxing scents and ambient sounds one would expect at a spa. The attendant at the front desk wasn't exactly too talkative though, and after just a few minutes, I was led to the treatment room.
The aesthetician came in soon after to start my treatment. I was hoping for a bit of an explanation of the process first, especially after I told her it was my first time, but she went straight to cleaning and exfoliating. The process itself seemed pretty typical, but intensive. There were times where I would doze off a bit, especially when I was left alone to soak in whatever it was they had put on my skin. Towards the end of the treatment, she applied a serum on my face to reduce redness, which stung a bit but not enough to be unpleasant. The treatment cost P2,500, which seemed a bit on the high side, although all their equipment looked to be state-of-the-art and they certainly didn't scrimp on the products they used. All in all, it was a pleasant experience, but probably not something I would do on a regular basis." — Mia
The verdict: If you're a first-timer, you might be a little intimidated at Cara Laser Skin Care. They aren't very chatty and they don't really explain what they're doing to your skin, so it's more suited to those who just like to sit back and enjoy the peace and quiet while getting their skin pampered. It's a bit pricey for the quality of service, but the chic interiors and cozy ambience make up for it. You'll want to whip out your phone to snap some IG-worthy pics!
Cara Laser Skin Care is at G/F Phase 1, UP Town Center, Katipunan Avenue, Quezon City.
9. The Spa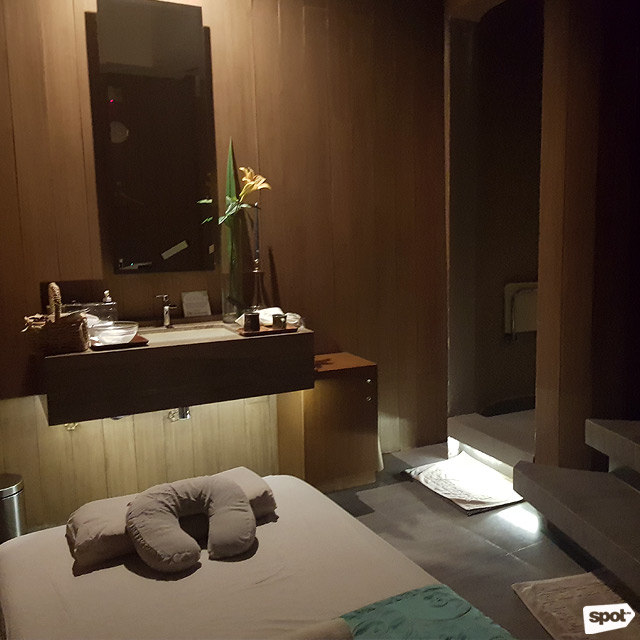 ADVERTISEMENT - CONTINUE READING BELOW
Service/How much to shell out: Casmara Facial (P1,320)
The lowdown: "I've gotten a lot of facials in my life and most of them came with pain in varying degrees, so going to The Spa for a Casmara Facial, which I knew was more of a peel-off mask treatment than it is a pricking session, intrigued me. The room was spacious enough to have a bed, a mirror, sink, bathtub, and shower—things I didn't really need for the treatment I chose. The facial started with the facialist gently wiping my face with soaked cotton pads. I went through a series of cleansing-slash-massage motions on my face and décolletage, alternating cotton pads with what I presume to be cleansing lotions until it was time to be under the steamer for five minutes. Afterwards was the extraction, which was very light-handed; I could tell with each light press of the tool on my face that the facialist wasn't after gunk-less pores. Rather, she was going at spots ever so gently that I secretly wondered whether she actually managed to get anything icky from my face.
ADVERTISEMENT - CONTINUE READING BELOW
The interesting part was the mask itself, which I didn't expect to harden so much. I was used to more porous, less opaque clay masks that when she started applying the product (which slowly hardens into a gel-like mask) on top of my lids and lips, I went straight to panic mode and tried to talk my way out of it (which of course, ruined the product application near the mouth). The facialist assured me that it was normal. It took me a while to get used to the cooling sensation and tightening around my face. She would check on me from time to time, until the 15 minutes was up. The peeling was painless; I also instantly noticed how taut and moisturized my skin was. I'd probably do it again only if I had extra cash to spare." — MM
The verdict: What makes The Spa's treatments worth it is the unmatched level of relaxation you get from their cozy ambience. You could tell that their facialists are trained to make you feel comfortable every step of the way, which is perfect for first-timers. The peel-off mask treatment involves less pricking and feels more like getting a facial massage; if you aren't looking for deep cleansing and just want to spoil yourself once in a while, The Spa is a great option. 
ADVERTISEMENT - CONTINUE READING BELOW
See a list of The Spa branches.
8. Kamiseta Skin Clinic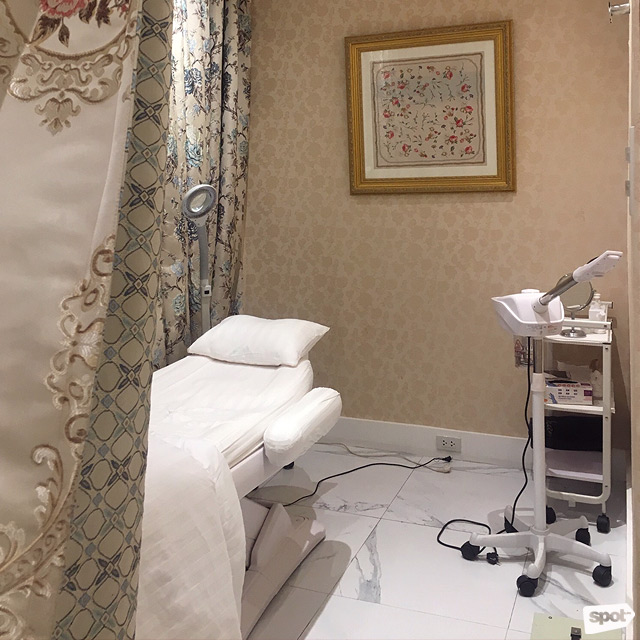 Service/How much to shell out: Casmara Facial (P2,000)
The lowdown: "If you want to be pampered like a royalty, then Kamiseta Skin is the clinic fit for you. I'm happy I finally got to try their facial and prove that they're more than just a pretty clinic. The almost pain-free session made me want to go back into getting monthly facials again. (It's actually been so long since my last facial because I hated the extraction part due to my low pain tolerance). Though it's a bit pricey, it's totally worth it because of their friendly and skilled staff, cozy and beautiful interiors, and exceptional service." — Sha
ADVERTISEMENT - CONTINUE READING BELOW
The verdict: Kamiseta Skin has gorgeous interiors and almost pain-free treatments—ideal for those getting a facial for the first time. They have a pretty extensive menu, though it doesn't describe the services in detail. It's a good thing that the staff—from the receptionists to the aestheticians—can answer any question you have, whether you're a first-timer who's curious about the treatments or a regular who has a lot of questions about your skin condition. While their facial is pretty expensive (for pricking and masking), they make up for it with their great customer service.
See a list of Kamiseta Skin branches.
7. Belo Medical Group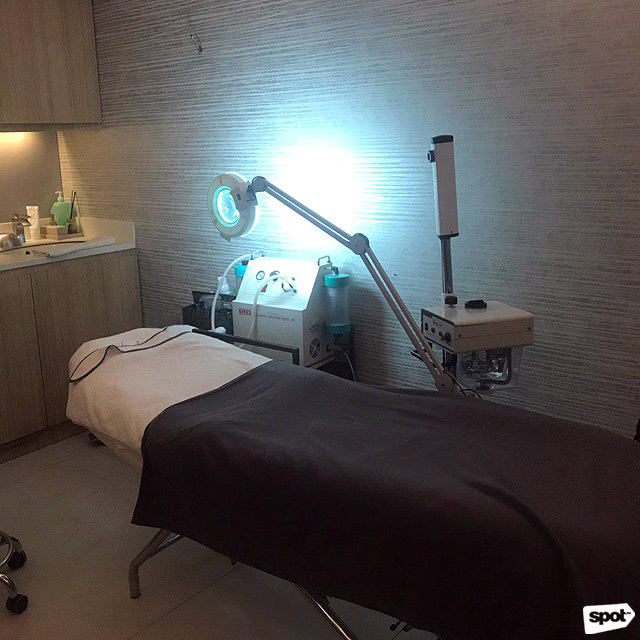 ADVERTISEMENT - CONTINUE READING BELOW
Service/How must to shell out: Botanical Facial (P2,500)
The lowdown: "I booked an appointment a day ahead and they texted me right after I called to finalize details. On the day of the facial, they sent me a message reminding me of my appointment. The staff was nice and accommodating and the place was bright and cozy, and you can get complimentary juice while you wait. My room was spacious and had dimmable lights, and there was a seat where I could place my bag. They also provided a blanket so I was able to stay warm and comfortable throughout my treatment.
A doctor came in before my session started and recommended I get a facial that was better suited to my skin type. She even wrote me a prescription for post-facial treatment. The facialist assigned to me explained the whole procedure before she started and was very particular about not missing any spots during the treatment. I like how she constantly asked me if anything hurt and adjusted accordingly. I haven't gotten a facial in a while but I used to have problems with facialists who handled my skin with heavy hands. The service at Belo Medical Group was really good and I had no complaints about the service at all. The session finished in about 45 minutes, which is relatively faster compared to other facial treatments." — Clara
ADVERTISEMENT - CONTINUE READING BELOW
The verdict: If you're looking for something quick and effective, you won't go wrong with Belo Medical Group. It's easy to book an appointment and it's good that they're efficient at reminding their clients about their treatment schedules. They also have doctors (availability depending on your chosen schedule), who will not only recommend which facial to get, but also a skincare routine post-facial. You'd definitely want to keep going back because of their exceptional service and great results—just make sure you're willing to splurge. 
See a list of Belo Medical Group's branches.
6. Luminisce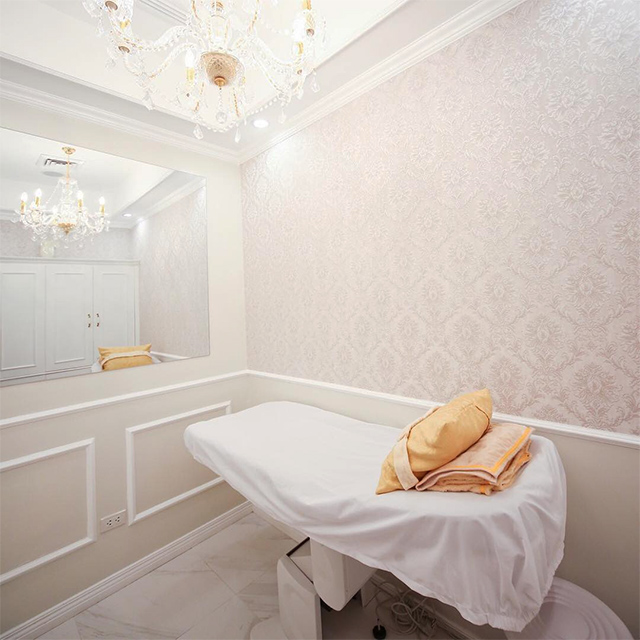 ADVERTISEMENT - CONTINUE READING BELOW
Service/How much to shell out: Luxury Facial (P2,500)
The lowdown: "While I do have a pretty detailed skincare routine and use over-the-counter treatments like acids, it was my first time to have a facial when I visited Luminisce at The Podium. Scheduling an appointment was very easy—you can contact them via landline or Viber. I was 30 minutes late to my appointment because of traffic, but I texted them and they moved my schedule easily enough. Once I got there, I immediately felt I was in for a luxurious time, with their elegant cream interiors, plush sofas, and a crystal chandelier at the waiting area.
I had a free consultation with the dermatologist at one of their private rooms (which had the same motif as the lobby) and she answered all my questions and recommended several treatments to target my acne and dry skin. A warning, though: Luminisce doesn't display their prices at the counter so when the dermatologist showed me her recommendations with prices, I was shocked to see that it could set me back as much as P8,000! I opted to just have the Luxury Facial, which costs P2,500.
ADVERTISEMENT - CONTINUE READING BELOW
Once I decided on my treatment, the aesthetician then started the facial, which involves a relaxing head and face massage, moisturizer, vitamin C, antioxidants, a hydration mask, and pricking. Overall, the treatment lasted two hours—but I didn't really feel the time as I fell asleep almost immediately thanks to the gentle, soothing hands of the aesthetician. Afterwards, my skin did look like it cleared up! Would I go back? With the price tag, probably not (except for the free follow-up consultation and pricking they offer). But when you feel like treating your skin to a deluxe experience, schedule that appointment, stat." — Henna
The verdict: You might get intimidated by Luminisce's posh interiors (and the fact that they don't display their rates at the counter), but if you really want to invest in better skin and a luxurious experience, don't hesitate to step inside and inquire. While they do offer recommendations for your skin condition, it's great that they're not pushy about it. We love how they offer a free follow-up consultation and pricking service, making the P2,500 worth it. So if you're all about cool perks and a premium experience, Luminisce is worth a try.
ADVERTISEMENT - CONTINUE READING BELOW
See a list of Luminisce branches.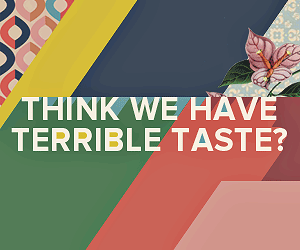 5. Simply Skin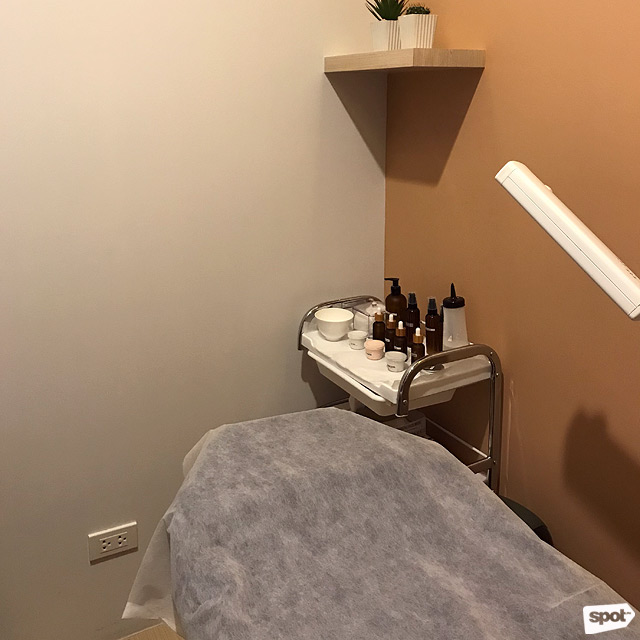 Service/How much to shell out: Ultimate Modern Facial (P1,500; P1,200 for first timers)
The lowdown: "I don't normally get facials so I wasn't sure what to expect, but thankfully the staff at Simply Skin explained each step in the process for me. Before the procedure, the aesthetician consulted with me to know more about my skin type and preferences and she said the treatment would be adjusted accordingly. The Ultimate Modern Facial includes hydradermabrasion, exfoliation, removal of blackheads, and rejuvenation, which results in a hydrated, plump face, and smooth skin. There was no pricking so it was a totally painless procedure. Afterwards, they told me what steps to take in the coming days for my skin to get the best results and even recommended what ingredients to look for in my products. All in all, I think it's a great place for first timers because of the thorough explanation and gentle procedure—they even have a discount if it's your first time getting the facial!" — Chin
ADVERTISEMENT - CONTINUE READING BELOW
The verdict: What makes Simply Skin stand out from the rest is their discounted rate for first-timers. If you love discounts, you'll want to avail of the cool promo ASAP...and when you do, you'll realize you wouldn't mind paying the full amount because you'll end up coming back for more. It's also good that the aestheticians adjust each treatment according to your skin type, so the experience is very personalized. 
See a list of Simply Skin branches.
4. Aivee Clinic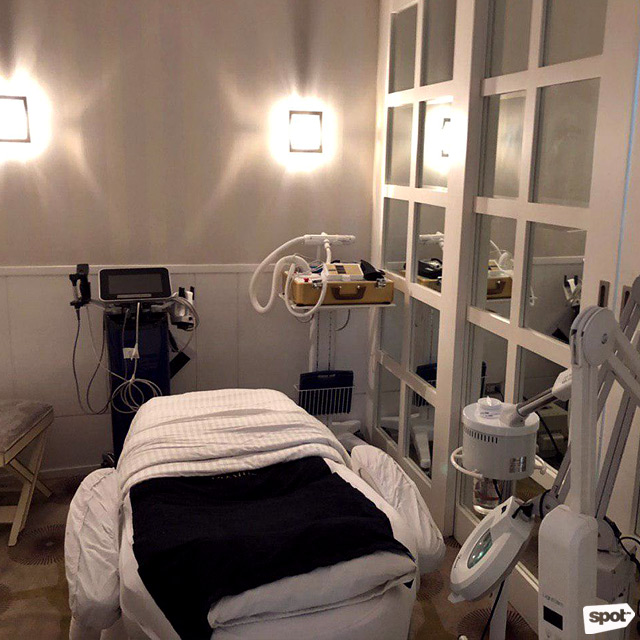 ADVERTISEMENT - CONTINUE READING BELOW
Service/How much to shell out: Light Clearing Facial (P2,500)
The lowdown: "Making an appointment at Aivee Clinic was a little tricky. I walked in on a Saturday, hoping they could squeeze me in. They were fully booked that day but the accommodating receptionist offered to text me if anyone canceled. Unfortunately, no one did and the next available schedule was on Wednesday. This gives me the impression that if you just need a quick facial, stat, Aivee Clinic might not be able to accommodate you as soon as you wish, but they'll definitely try their best. Come Wednesday, I arrived a little earlier than my scheduled appointment, so I had to wait a bit, which was fine because their posh interiors immediately made me feel relaxed and pampered.
My treatment started on the dot. I got the most basic treatment, the Light Clearing Facial, which is a cleansing facial perfect for those who want to unclog their pores from gunk and grime build up. My aesthetician led me to a private room with a treatment bed that's comfy enough that I would have been able to sleep if I really wanted to. The session started with a cleanse followed by a mask and steam which work to soften skin and open up the pores. Then, my aesthetician started to do the pricking and extraction—and let me just say that she didn't shy away from getting every trace of dirt and oil out from each pore (which is great if you think about it because you really get your money's worth). I was in tears half of the time, but it might also be because it was my first time getting a facial. She was very nice and apologetic about it, though. Even though I experienced some pain, I'm glad that the aesthetician was really thorough and made sure she didn't miss a spot. I walked out of Aivee Clinic with my face feeling the cleanest it has ever felt before. My aesthetician recommended I go back every two weeks and that's where the problem lies. As much as I want to keep getting facials at Aivee Clinic regularly, shaving off P2,500 every other week is pretty heavy on the pocket. I will definitely go back, but maybe not as often as recommended." — Reggie
ADVERTISEMENT - CONTINUE READING BELOW
The verdict: While their picture-perfect interiors and excellent quality of service will make you want to come back to Aivee Clinic regularly, spending at least P5,000 of your salary for bi-monthly facials will really put a dent in your wallet. It's best for those who have specific needs or concerns, as appointments are essential. Still, Aivee Clinic is a great place to treat yourself especially for those times when your skin is in a state of serious S.O.S. 
See a list of Aivee Clinic branches.
3. Mecca Aesthetic Clinic and Spa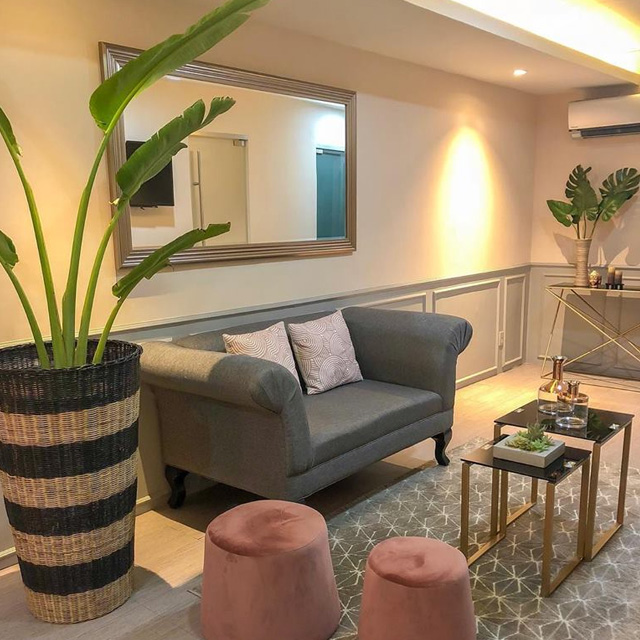 ADVERTISEMENT - CONTINUE READING BELOW
Service/How much to shell out: Bump Off Sebum Facial (P1,550), Regenerin Casmara Mask (P500)
The lowdown: "I hesitated about getting a facial, since a lot of friends [have] claimed they've been left crying from the pain, but I was willing to try out Mecca since they seemed good from online reviews. I had zero problems booking an appointment over the phone, and when I arrived, I found that the place looked more like a hotel than a beauty clinic or spa. After filling out a questionnaire asking if I had allergies or previous surgeries, a resident dermatologist did an initial skin consultation. She initially recommended the Aqua Peel (P3,500), their best-selling service that clears skin impurities without manual extraction. They say this is the best service to get if it was your first time to get a facial. I asked if they had a more basic facial to try, and they offered the Bump Off Sebum Facial + Regenerin Casmara Mask (P1,550 + P500 for the mask) which would have a similar clarifying result for my combination skin. They were very accommodating and answered all my questions and concerns about the service, even telling me what to expect during and after the procedure.
ADVERTISEMENT - CONTINUE READING BELOW
My therapist Tin was very skilled—the extraction barely hurt; her hands were so light, I almost felt silly worrying about any pain! I was glad that I took their advice to add a hydrating mask afterwards because my skin did feel a little tight after the treatment (which they told me was expected), and the mask kept any discomfort and redness at bay. In fact, my skin barely turned red, even when I checked immediately after. My skin felt so soft afterwards. It's been days, and my skin still looks and feels clear. I'd probably go back to try their other best-selling facials too!"
The verdict: If you love a luxurious experience and pain-free facials, Mecca Aesthetic Clinic and Spa is for you. From the moment you make an appointment, they ask about your skin condition so they can make recommendations on what treatment would benefit your skin the most—which is big help especially for first-timers. You'll be treated like a VIP, with the staff constantly checking up on you, offering tea and water whenever they can. Plus, their elegant interiors belong right in your IG feed!
ADVERTISEMENT - CONTINUE READING BELOW
2. Miss Esthe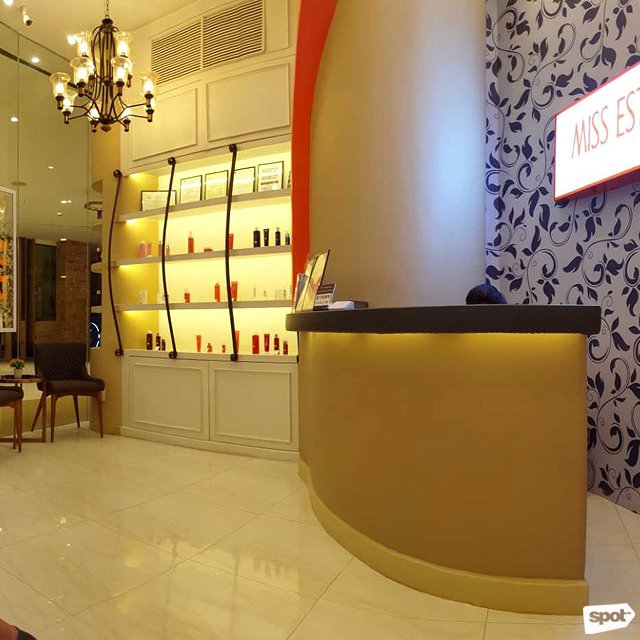 Service/How much to shell out: Instant Lifting Facial (P2,500)
The lowdown: "Upon checking their website, I saw that you can make online appointments but there was also a mobile number that you can call to reserve your slot. I decided to call to get instant confirmation, and I was booked right away. When I found out that the facial I had in mind was way above my budget, I asked for alternatives, and they offered to assess my skin during my appointment and recommend the best service for me.
ADVERTISEMENT - CONTINUE READING BELOW
I arrived 30 minutes earlier than my appointment time but I was accommodated right way. They asked me to fill out a customer profile sheet, which included questions about my skin and skincare routine. I decided to get the 45-minute Instant Lifting Facial priced at P2,500. I was offered a pair of rubber slippers and was asked to change out of my clothes and into a comfy towel so that my clothes wouldn't get wet. Then, I was led to my bed, and the aesthetician covered my legs with a separate towel to keep me warm. 
My aesthetician explained what she was doing to my skin every step of the way so I didn't feel worried or confused. The treatment included cleansing, a head and shoulder massage, pricking (she used a tool that vacuumed my pores clean. She explained that the vibration of the tool helps generate heat which opens up the pores, so there wasn't any need for steaming), an Instant Lift procedure (she used a sonic tool to give my face an instant lift while contouring it at the same time), a brightening mask (which involved putting a LED lamp above my head so that the nutrients from the mask get absorbed by the skin better), and moisturizer, which the aesthetician gently massaged onto my face.
ADVERTISEMENT - CONTINUE READING BELOW
I felt super pampered the whole time. The bed was really comfortable and it was angled at a position that doesn't strain the back—I was even able to take quick naps during the treatment. For the service and the tools used, I think I got what I paid for. They delivered the "instant life" to my skin as promised. Plus, the pore-vacuuming tool wasn't as painful compared to the regular pricking so it's a great treatment for people who have lower pain tolerance when it comes to facials. But considering the price point, this would probably be my twice-a-year thing." — Anya
The verdict: If you want to splurge on your skin and treat yourself once in a while, you won't regret your experience here. Miss Esthe is equipped with advanced tools that make treatments more comfortable and nearly painless—they use a pore-vacuuming tool instead of a regular pricking tool to extract the gunk from your pores, for one. Their aestheticians also go the extra mile—aside from patiently explaining each step of the facial, you'd even receive a personalized note and a bottle of water at the end of your session. This place might just end your love-hate relationships with facials.
ADVERTISEMENT - CONTINUE READING BELOW
Miss Esthe is at 2/F Uptown Mall, 9th Avenue corner 36th Street, Uptown Bonifacio.
1. Glow Skin Clinic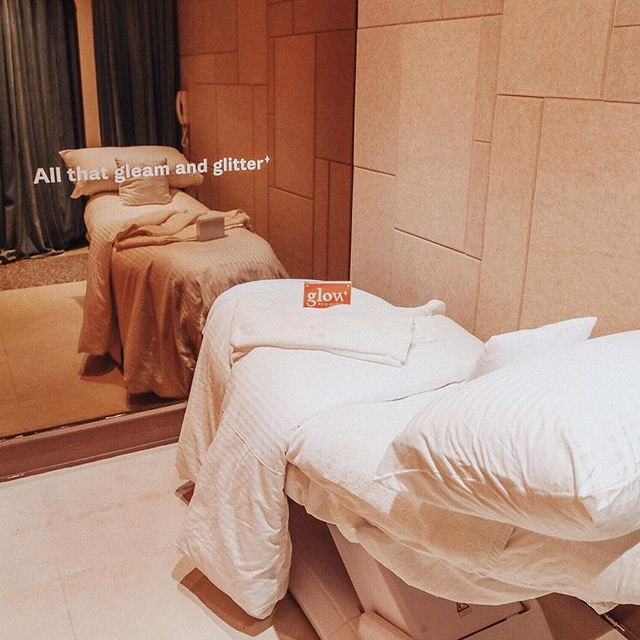 Service/How much to shell out: Essential Facial (P850)
The lowdown: "Glow Skin Clinic offers a good basic facial for less than P900—great if you're on a budget. Plus, they stay open till 11 p.m. which was perfect for me since I have a busy schedule during the day. The place itself is very #aesthetic and has a nice, relaxing ambience. The procedure included cleansing, moisturizing, steaming, blackhead extraction, a little bit of pricking for more difficult blemishes, and a brightening face mask. They topped off my skin with creams and sunscreen for overall protection. The pricking was very minimal, but this may depend on the state of your skin. The aesthetician did take extra care to make sure I was comfortable the whole time and she was very gentle throughout the entire procedure. I was happy with the end results because my skin was smoother and blackhead-free and it felt healthier. I would definitely go back." — Ashley
ADVERTISEMENT - CONTINUE READING BELOW
The verdict: The first thing you'll want to do when you step inside Glow Skin Clinic is take a million of pictures because every corner is picture perfect—which pretty much sets the tone of the rest of your experience. Glow Skin Clinic tops our list mainly because they go above and beyond when it comes to ambience, quality of service, and most especially, value for money—P850 for an intensive two-hour facial in a well-designed room, on top of scoring spotless skin? We're sold!
See a list of Glow Skin Clinic branches.
Share this story with your friends!
---
Help us make Spot.ph better!
Take the short survey
More Videos You Can Watch
Load More Stories