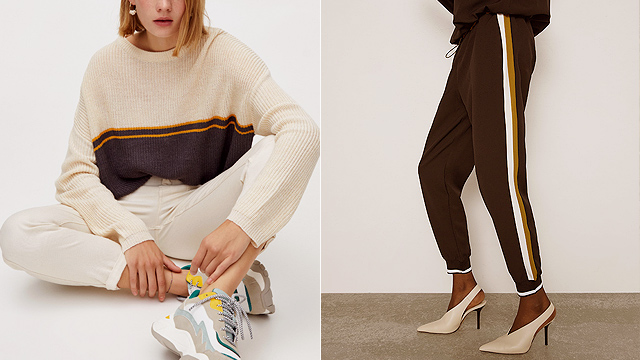 (SPOT.ph) We've all been through this: your sibling just graduated from high school or it's your dad's 50th birthday and you have buffet reservations. You arrive picture-perfect, dressed-to-impress and before you know it, you're cautiously circling the room doing the math and wonder how much can you eat before you even have to unbutton pants and hide a food baby? Well, we're here to tell you that you don't have to compromise style over comfort. We can have our cake and eat it, too. In fact, we can come back for seconds. 

Here are 10 stylish, food baby-friendly pieces:
Striped Colour Block Sweater (P1,495) from Pull&Bear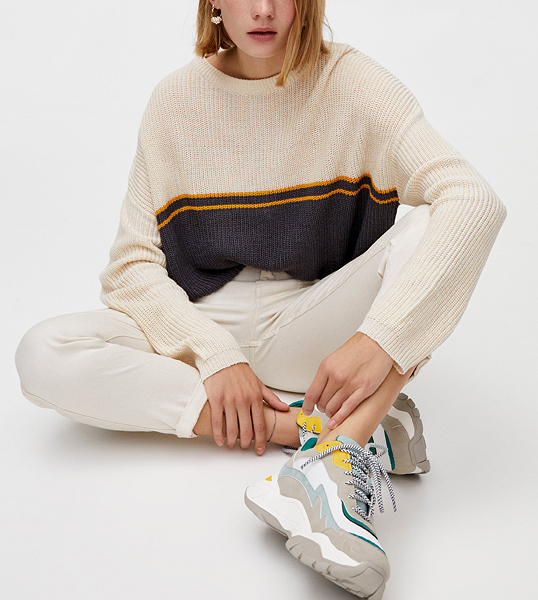 ADVERTISEMENT - CONTINUE READING BELOW
It's a widely known fact that the best time to wear a striped sweater is all the time, but sporting this piece from Pull&Bear under eat-all-you-can circumstances might just be one of the best times you could bust out that knitwear. Not only does it look super comfy, it's elegant enough to wear with tailored, cropped pants and a pair of heels. As an added bonus, the color-blocked print is strategically placed in the tummy region for that extra coverage. 
See a list of Pull&Bear stores.
Extra Fine Cotton A Line Striped 3/4 Sleeve Dress (P1,990) from Uniqlo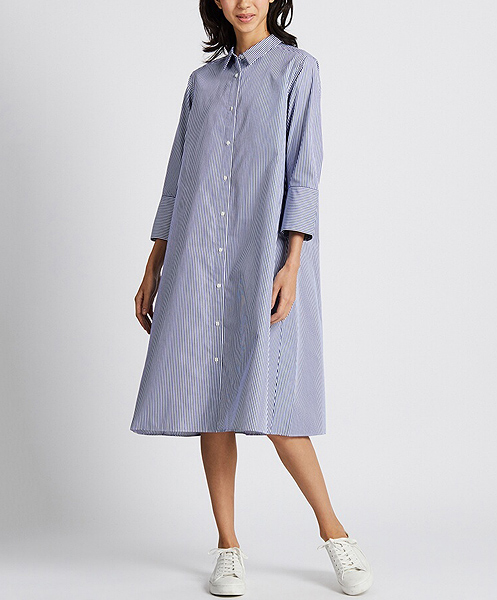 Did you know that the A-line dress, a classic vintage silhouette, gets its name from the construction of the garment—that it widens from the bust to the hem, making a shape that looks like the capital letter A? As in A for "All-You-Can-Eat"? This versatile piece from Uniqlo is the marries comfort and style—its slightly flared silhouette and premium cotton material allow for easy movement. And the best part? It has pockets. Who doesn't love dresses with pockets?
See a list of Uniqlo stores.
Paper bag trousers (P1,490) from H&M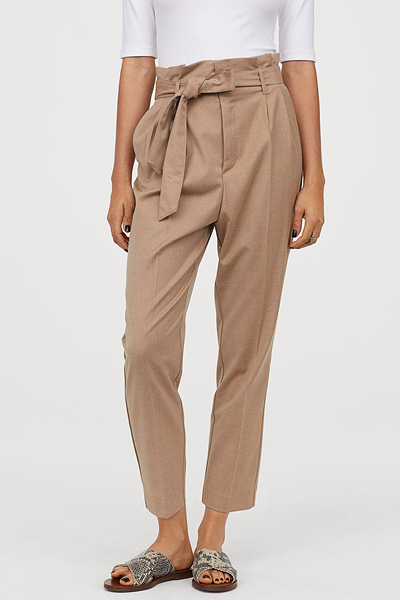 ADVERTISEMENT - CONTINUE READING BELOW
These high-waisted trousers from H&M feature a detachable tie belt, which lets you adjust your pants when you're starting to feel full. Its concealed hook-and-eye fastener and zip fly will still keep your pants on, with the tapered legs and pleated fabric lending a dressy vibe. If you needed more convincing, the subtle creasing above the belt also helps with hiding unwanted tummy bulging.   
See a list of H&M stores.
Tassels Top (P1,995) from Mango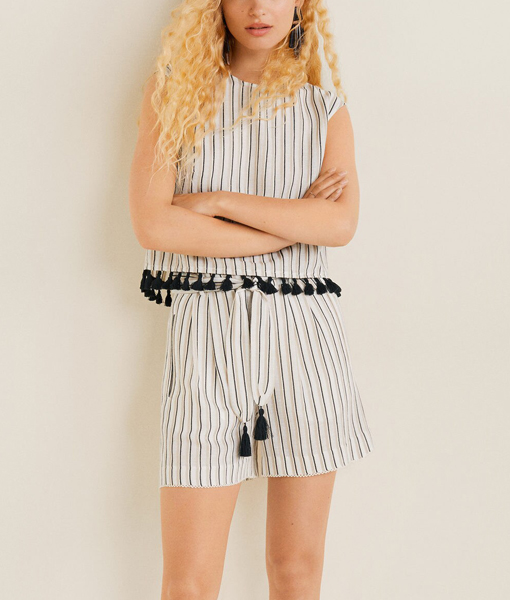 ADVERTISEMENT - CONTINUE READING BELOW
Who doesn't love fun tassels? They're great on bags, shoes, and are even better when they're lining the hem of your top and adding a little extra oomph to an otherwise ordinary striped blouse. This cute, loose top from Mango is just the kind of piece you need to feel unrestricted and confident enough to walk back for second helpings. Pair them with structured trousers for contrast and you're good to go. 
See a list of Mango stores.
Jogging Trousers with Side Stripes (P1,695) from Zara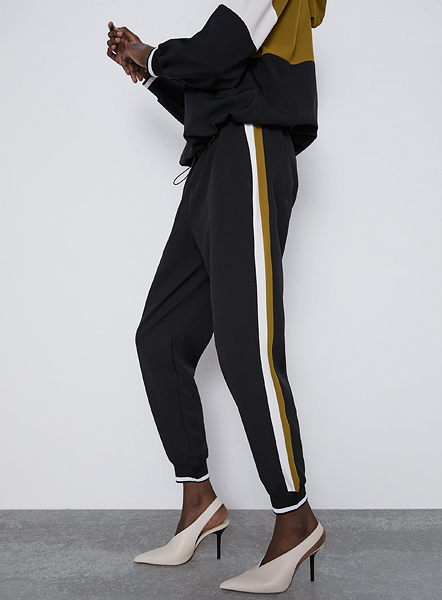 ADVERTISEMENT - CONTINUE READING BELOW
Two words: elastic waistband. Let's take a moment to thank the fashion gods that athleisure became a thing. It blurred the lines between gym-wear and lunch-wear, blessing us with joggers-slash-trousers like these ones from Zara. The high-waisted pair features two-toned side taping, cuffed hems, and of course, pockets. 
See a list of Zara stores.
Echo Park Top (P2,600) from Anika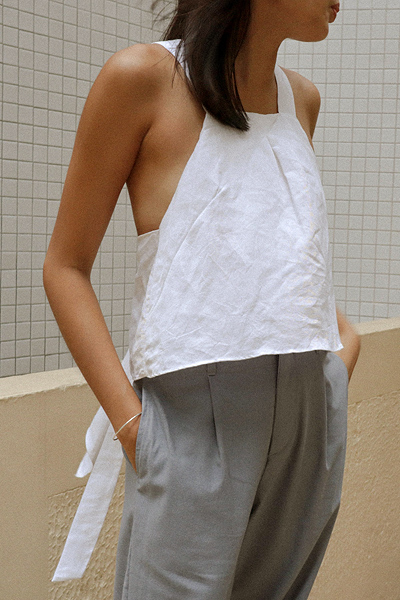 ADVERTISEMENT - CONTINUE READING BELOW
This super chic top is from local brand Anika, which defines itself as an "infinitely wearable clothing line for the casual cool and the laid-back luxe." Designed with a loose fit and linen fabric, this top was made for breathability, which is great because all that walking at the buffet can really make you break a sweat.
Available online.
Palm Springs Jumpsuit (P2,195) from Neon Island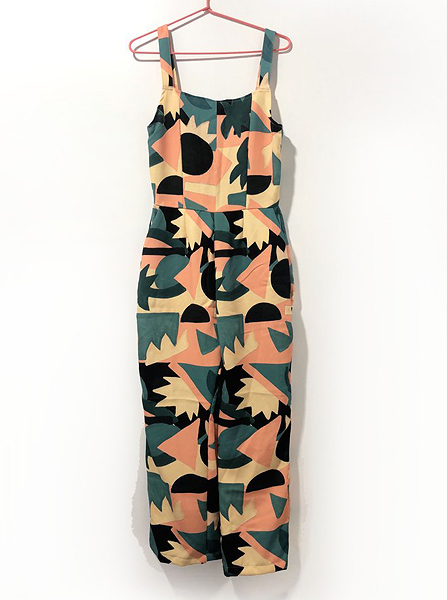 ADVERTISEMENT - CONTINUE READING BELOW
Much like how a cheetah's spots help it blend into its surroundings, this playful, patterned jumpsuit from homegrown label Neon Island will help mask any sign of that impending food baby. And much like pizza and handbags, jumpsuits are only made better with pockets. Confidently run from your meetings to your grandparents' wedding anniversary dinner looking presentable on both occasions with this must-have piece.
Available online, Common Thread stores, and Cubao Expo.
Librada Top (P4,250) from Herman & Co.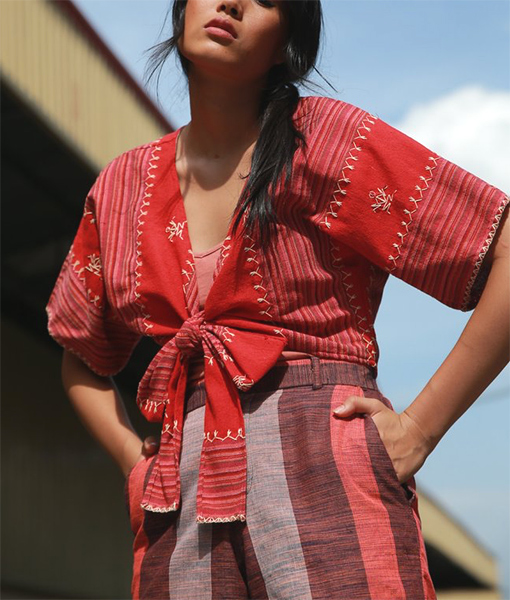 ADVERTISEMENT - CONTINUE READING BELOW
Heritage clothing concept Herman & Co. integrates artisanal, indigenous fabrics and textiles from various Philippine tribes into their unique collection, seamlessly weaving our culture into everyday wear. This woven top in particular hails from Namarabar Village in Abra, a province in Northern Luzon. Not only will this peice of clothing keep you comfy and fashionable while feasting on your third round of dessert, it also supports local artisans and celebrates Philippine craftsmanship! 
Available online.
Denim Jumpsuit (P2,995) from Bershka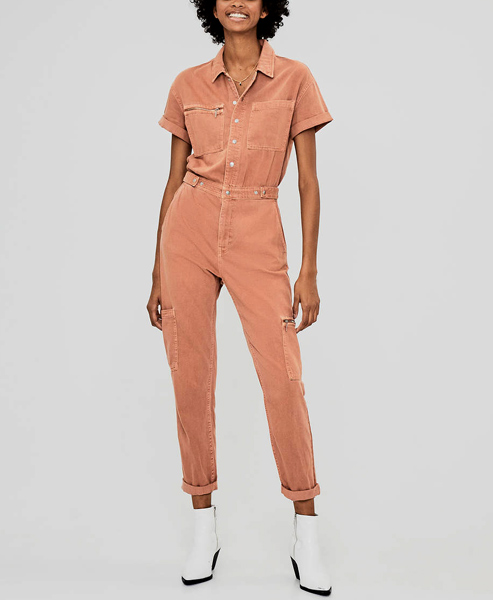 ADVERTISEMENT - CONTINUE READING BELOW
When Florentine artist and designer Thayaht created the first ever jumpsuit in 1919 for parachuters, sky divers, and aviators, little did he know that we'd be wearing it all over the world today…to jump right into our nth plate of assorted cheeses and crackers. This blush pink suit from Bershka looks great for any occasion, whether you're cosplaying Rosie the Riveter or hunkering down in your booth at the nearest unli-KBBQ joint.
See a list of Bershka stores.
Tweed Cotton Jacket (P2,995) from Mango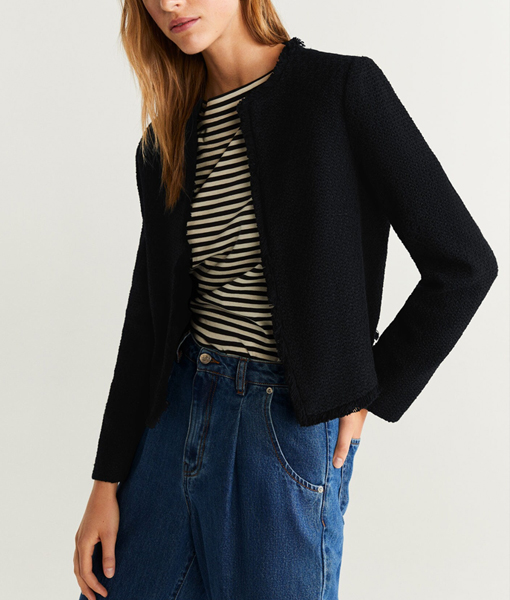 ADVERTISEMENT - CONTINUE READING BELOW
Dress up your outfit with this tweed jacket from Mango, which will help you stay cozy in the usually chilly buffet dining rooms. You can wear a plain white tee underneath and tuck it into your loose denim jeans. Throw in a cool pair of boots or heels and you're ready to conquer the buffet in style. 
See a list of Mango stores.
Share this story with your friends!
---
Help us make Spot.ph better!
Take the short survey
More Videos You Can Watch
Load More Stories