(SPOT.ph) Denim is eternal. It is fashion's unceasing shapeshifter—all at once casual and dressy, typical and rebellious, polished and disheveled, sexy and conservative, feminine and masculine. Everyone can wear jeans. Their versatility and universality means they can take on many different shapes, sizes, colors, and styles. As with other closet staples like white T-shirts, the key to picking out the right pair is in knowing what details to look at. Finding the right fit to flatter your form can elevate your entire look. Plus, you know by now that once you find a pair of jeans you truly love, you'll always be reaching for it.
Here's a handy, beginner-friendly guide to denim silhouettes that will help you find your next favorite pair of jeans:
Straight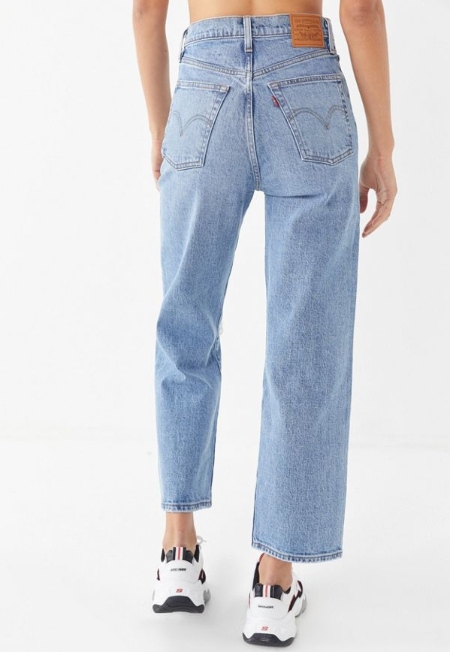 ADVERTISEMENT - CONTINUE READING BELOW
You may find when you're shopping for jeans that some of them are labeled "regular"—this normally refers to straight-cut pants, a timeless silhouette that is both casual and comfy thanks to the breathing room it leaves your knees, thighs, and backside. Straight jeans don't cling to the skin, but are still structured enough to show off your figure. This makes them a great option for many different body types. Plus, the comfortable fit allows your legs to remain agile and relaxed throughout the day. Check out this pair from Levi's if you want to give this look a try.
See a list of Levi's branches.
Skinny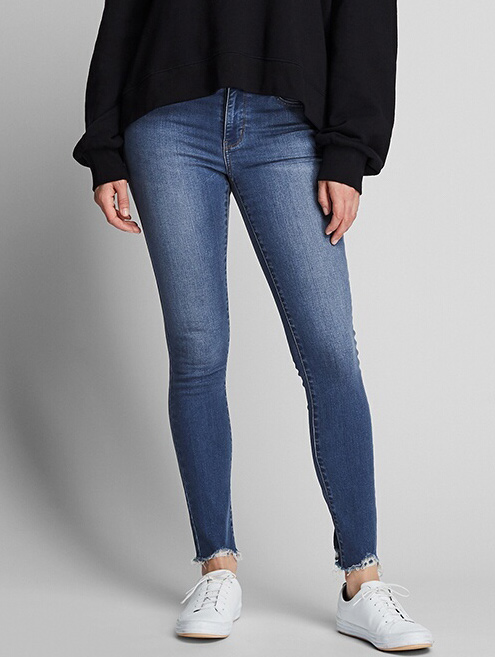 ADVERTISEMENT - CONTINUE READING BELOW
Recommended Videos
No, skinny and slim jeans are not the same. Skinny jeans fit tight around the body from waist to ankle. They're perfect if you really want to show off your shape, but note that they don't give you much allowance for movement. Opt for a pair with a lightweight, stretchy material like the Ultra Stretch pair from Uniqlo if you're looking for comfort and flexibility despite the snug silhouette. If you see pants labeled "super skinny," these up the ante with an even tighter, more body-hugging fit.
See a list of Uniqlo branches.
Slim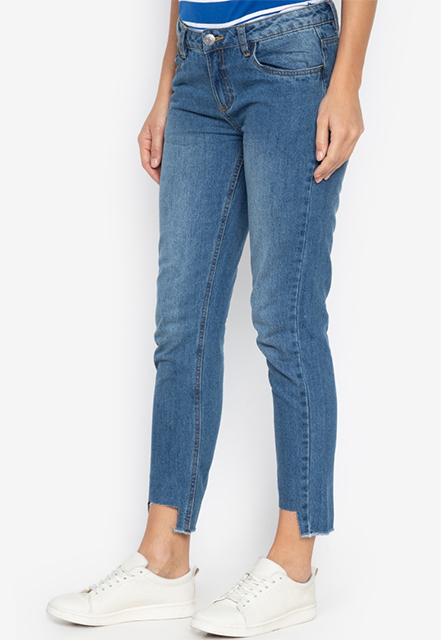 ADVERTISEMENT - CONTINUE READING BELOW
Slim fit jeans are similar to skinny jeans in that they're also snug around the hip and thigh area, but they have a slightly looser fit around the knees and fall straight down until the hem, leaving your ankles with a little more wiggle room. This subtle change in form makes these much more breathable on the leg area and makes them less likely to loosen and sag over time. Try the look with this slim pair from Bench, which has cool square cut-outs on the front of the ankle, lending a funky twist to the simple pants.
Available online and at Bench branches nationwide.
Jeggings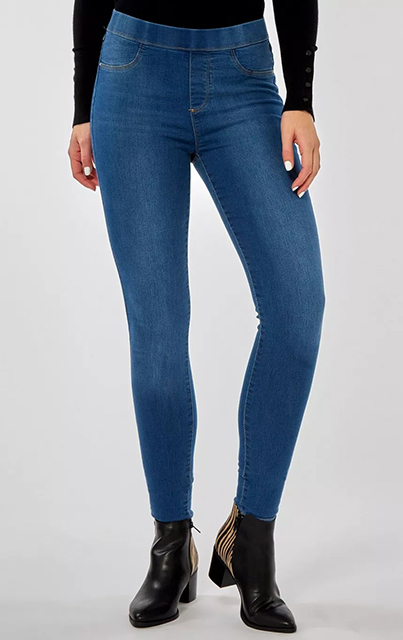 ADVERTISEMENT - CONTINUE READING BELOW
Jeggings are an offshoot of skinny jeans, though they're not technically jeans themselves as they're usually made from a blend of cotton and spandex. They feature a stretchy, body-hugging material that offers a similar snug fit to skinny jeans, but with more room for movement and stretching. You can keep a pair like this one from Dorothy Perkins in your closet and wear it with a sweater for days when you want to dress extra cozily.
See a list of Dorothy Perkins branches.
Wide Leg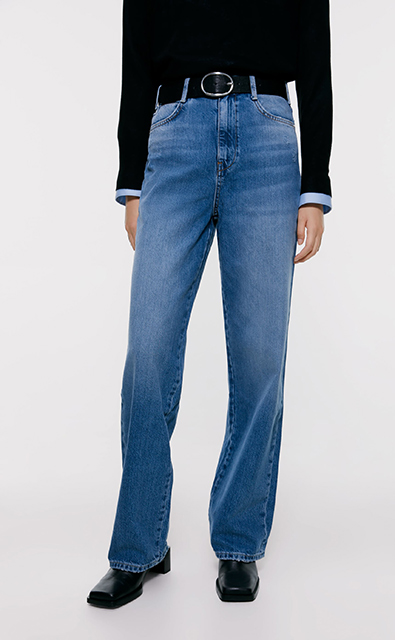 ADVERTISEMENT - CONTINUE READING BELOW
Wide-leg jeans, like this pair from Zara, feature a loose fit from the hips all the way down to the ankles, with the silhouette widening as it gets closer to the feet. They're great for highlighting the curves of your body. Their trouser-like cut tends to appear more formal than regular straight or skinny jeans, making them useful for tons of occasions. Plus, they can also help balance the frame if your body shape is wider or more heavy set on the shoulder or torso area.
See a list of Zara branches.
Flared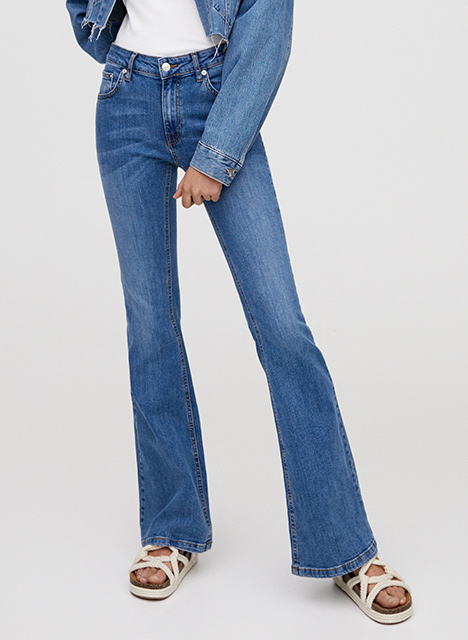 ADVERTISEMENT - CONTINUE READING BELOW
Flared jeans maintain a snug fit on the hip and thigh area, but loosen up at the base of the knee and get wider as they approach the ankles, forming a bell-like shape. This mid-waist pair from Pull&Bear is a great example. They tend to draw more attention to the lower part of your body, giving the illusion of a taller frame. You can dress them up with heels and a blouse or pair them with a casual tee for a vintage-inspired look. 
See a list of Pull&Bear branches.
Bootcut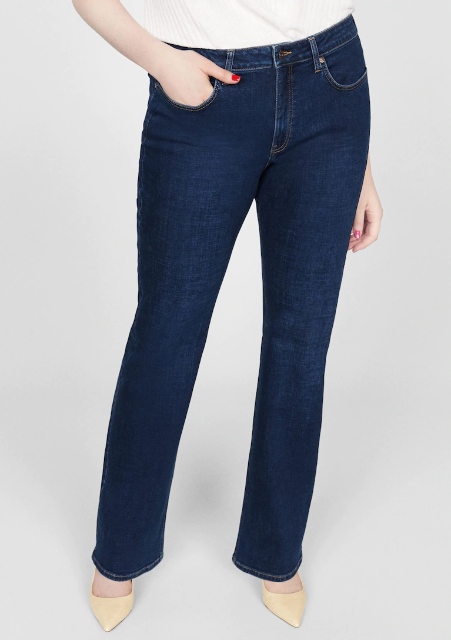 ADVERTISEMENT - CONTINUE READING BELOW
Bootcut jeans are similar to flared jeans, but they widen closer to the ankle rather than at the knee, offering a more subtle shape, but still elongating the legs. This pair from Mango feature the classic cut in a flattering dark wash. Wear them with heels or even booties for an elegant look that's fit for work and play. 
Available at Mango branches nationwide.
Boyfriend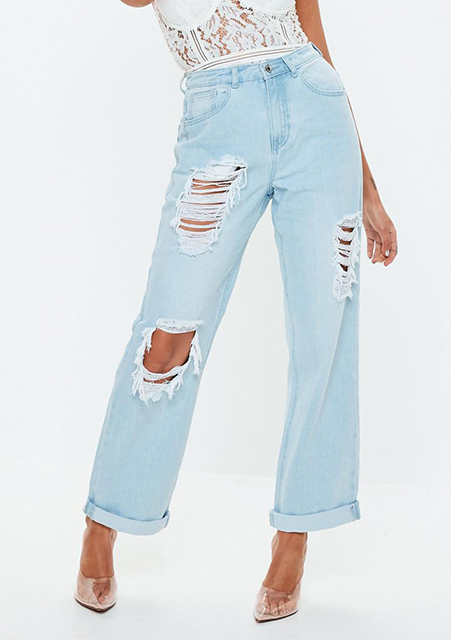 ADVERTISEMENT - CONTINUE READING BELOW
As the name suggests, boyfriend jeans are made to look like you pulled them out of your boyfriend's closet, which means their cut is similar to men's jeans—loose and baggy. The style offers a grungy, androgynous look that's effortlessly cool. For contrast, wear them with an ultra-feminine piece like a lacy top or flowy blouse or just wear them casually with a graphic tee. They're usually distressed like this pair from Missguided, which adds to their worn-in, messy-chic aesthetic.
Available online.
Mom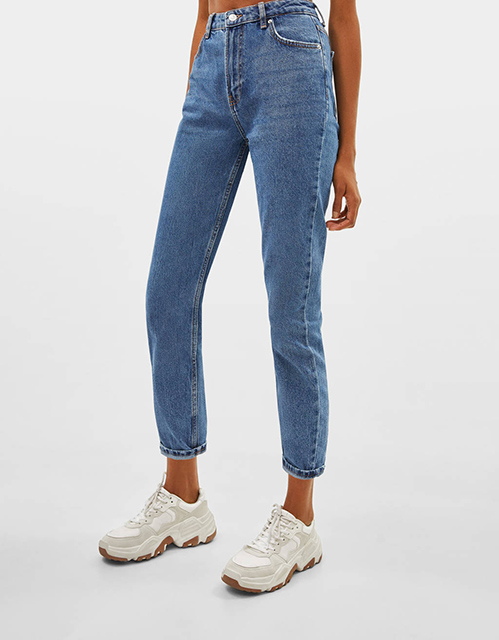 ADVERTISEMENT - CONTINUE READING BELOW
Mom jeans and boyfriend jeans often get confused for one another as they both have slouchy silhouettes. The former offers the same laid-back look with a more tailored, form-flattering shape, such as this pair from Bershka. Mom jeans are usually high-waisted with a relaxed fit around the zipper area that tends to lengthen the hip and waist area while flattening the backside. Though they're also loose, they usually taper more around the lower leg area, giving more structure to the overall silhouette.
See a list of Bershka branches.
Girlfriend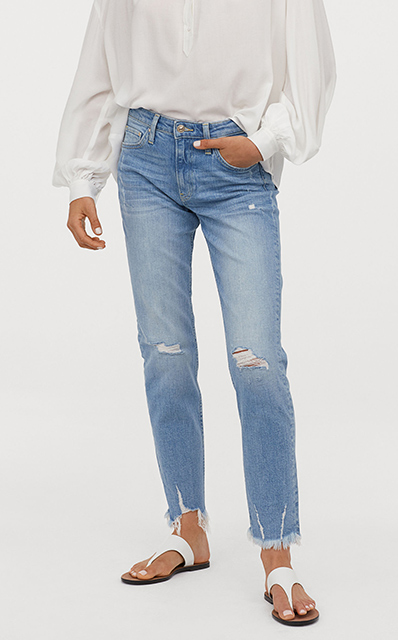 ADVERTISEMENT - CONTINUE READING BELOW
Girlfriend jeans are an evolved version of boyfriend jeans, made to be more flattering and natural to the curves of the female form due to the popularity of its predecessor. Try the look with these light-wash jeans from H&M. You can achieve the same grungy, effortless aesthetic as you would with boyfriend jeans, but a pair like this would be easier to match with different body types.
See a list of H&M branches.
Share this story with your friends!
---
Help us make Spot.ph better!
Take the short survey
Load More Stories