(SPOT.ph) White sneakers are an essential, but admit it, they can be a pain to keep them looking pristine. While some pairs do look better worn-out, sometimes it's nice to put on a fresh-looking pair. If you've been looking for a good place to have your sneakers cleaned, then you've come to the right place. We brought out our overused white canvas kicks and sent them to different sneaker-cleaning places around the Metro to see where your kicks can get a really good scrub down. We ranked them based on how long the service took, level of satisfaction, and value for money.
All SPOT.ph Top 10 lists are researched for, paid for, tested, and selected by the writers and editors. They are discreetly conducted without any notice made to the establishments or their owners.
Here are the 10 best sneaker-cleaning places in Manila, ranked:
10. Mr. Quickie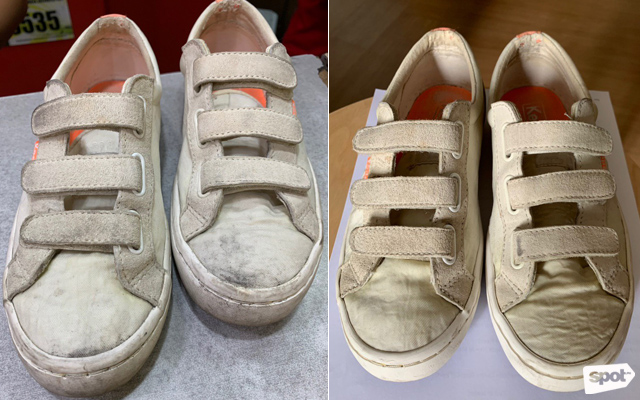 ADVERTISEMENT - CONTINUE READING BELOW
How much to shell out: P350/Canvas Cleaning
The lowdown: "The folks at Mr. Quickie were quick to manage expectations, telling me right off the bat that they would only be able clean my shoes as best they could. Fair enough, since my sneakers had gray mud stains on it. Service was perfunctory, and payment had to be made when I dropped off my shoes. One week later, my sneakers had pristine soles, but the canvas seemed to have turned slightly yellow and looked wrinkled, like the shoes had been soaked in water. Bottom line: I was glad it wasn't my favorite pair that they cleaned." — Joanna
The verdict: If you've got some old pairs lying around the house that need some refreshing, Mr. Quickie is where you can do it without breaking the bank. While they probably won't look shiny and new, your pairs will be visibly cleaner—perfect for those who are just too lazy to do their own washing at home!
See a list of Mr. Quickie branches.
9. Rem's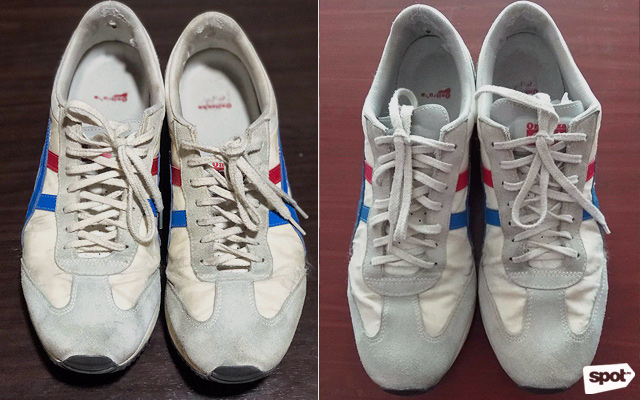 How much to shell out: P600/Basic Cleaning
The lowdown: "I went to Rem's satellite store in Timog. I availed of the Basic Shoe Cleaning Service (P600) and I think they cleaned my sneakers pretty well. As expected, they were able to remove mud stains and my sneakers actually smelled nice. Initially, they told me I could get my sneakers back in three to five days but there was a mix-up on their end and they weren't able to deliver my sneakers to the satellite store on time. To make up for the inconvenience, they offered to deliver my pair straight to my house and gave me a P100 discount." — Symon
ADVERTISEMENT - CONTINUE READING BELOW
The verdict: Rem's is a good option for those looking for a place that can give their pairs a good wash without going over your budget. Plus, your pairs will smell great once you pick them up! We recommend going to their main store to avoid mix-ups, but it's good that they know how to make up for it.
Rem's is at 3/F Glamsquad Salon, Timog Avenue, Quezon City and Unit 2, G/F Woodridge Apartment, McKinley Hill, Taguig City.
8. Shoe Crew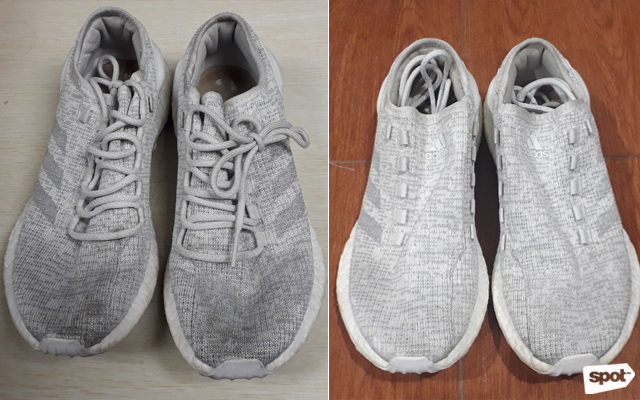 ADVERTISEMENT - CONTINUE READING BELOW
How much to shell out: starts at P249/regular cleaning
The lowdown: "Shoe Crew is different because it doesn't have an actual shop. You send your shoes over to their place in Mandaluyong then have them picked up again, meaning you have to pay for both the cleaning service and the transport—which is fair and pretty convenient when you've got an insane schedule. I paid P250 for their regular cleaning, plus around P100 for the courier service to bring my shoes to them. The service itself was satisfactory. My shoes are visibly cleaner and a lot whiter compared to when I sent them over to the store. The only drawback is that they weren't able to stick to their promised one to three days: I sent my shoes over Tuesday afternoon, and got it back Friday night. But gotta give them props for covering the delivery fee as compensation for the late return." — Milo
ADVERTISEMENT - CONTINUE READING BELOW
The verdict: No time to wash your sneakers yourself because you have a lot on your plate? Shoe Crew lets you send your shoes over to them so they can give them a clean wash and send them back to you when they're done—you won't even have to leave your house!
Shoe Crew is at 914 Banahaw Street, Mandaluyong City.
7. Kicksomatic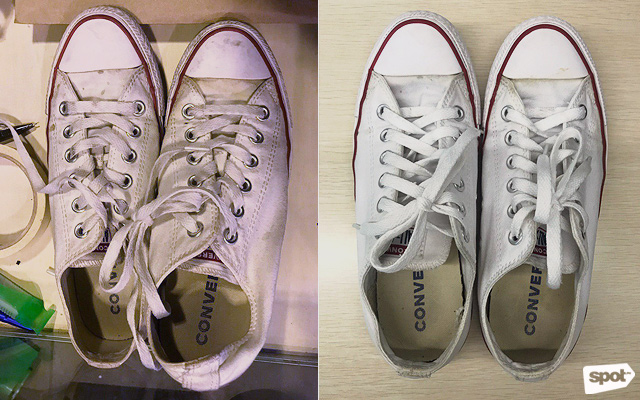 ADVERTISEMENT - CONTINUE READING BELOW
How much to shell out: P1,000/Deep Cleaning Service
The lowdown: "My white sneakers had already developed a grayish tone and they also had some prominent stains and a bit of yellowing on the edges. When I went to Kicksomatic, they recommended the deep cleaning service (P1,000) so that's what I got. When I got my sneakers back, many of the prominent stains were gone and the grayish tone was lightened so they did look cleaner, but not almost brand new. The yellowing on the edges weren't completely removed. However, the deep cleaning service also includes disinfecting, insole cleaning, and deodorizing so you get an overall cleaner shoe inside and out. I believe it's a good place to go for expensive or collectible shoes as the staff seem to have a clear understanding of how to clean and maintain sneakers. The price is not too bad and I think it's worth it for hard-to-remove stains and for sanitary purposes." — Ashley
ADVERTISEMENT - CONTINUE READING BELOW
The verdict: If you want to get an overall cleaning and you don't expect your shoes to look completely brand new, then you won't regret dropping your pairs off at Kicksomatic. Plus, your shoes will smell fresh and fruity when you pick them up—we're actually still sniffing them as of writing.
Kicksomatic is at D Strip Building, 20 United Street, Kapitolyo, Pasig City.
6. Repent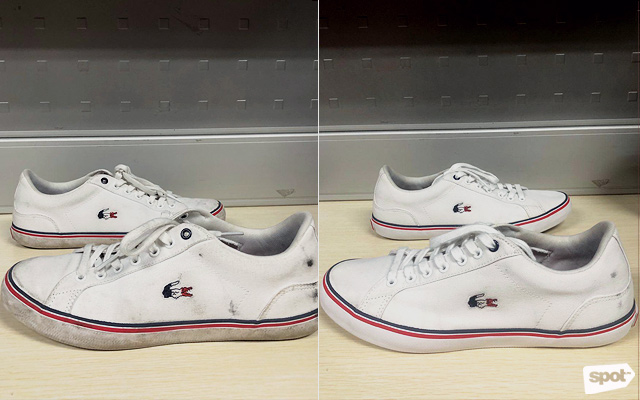 ADVERTISEMENT - CONTINUE READING BELOW
How much to shell out: P600/Basic Clean
The lowdown: "The sneakers I dropped off at Repent had some marker stains on them (don't ask) so I didn't expect them to get back to me squeaky clean. The staff at the store also informed me that it might be hard to remove some of the stains, which I completely understood, so my expectations were managed. I opted to go for just the Basic Clean service which costs P600. My sneakers were done in about a week and I was pretty satisfied with the results even if some marks could still be seen. I especially liked how they were packaged like brand-new sneakers minus the box!" — Josh
The verdict: You can count on Repent to take care of your shoes and do their best to get rid of all the stains and marks on your kicks. If you've got pairs that aren't too butchered and just have those usually grayish marks, you'll be surprised at what Repent can do to make them look like they used to.
ADVERTISEMENT - CONTINUE READING BELOW
See a list of Repent branches.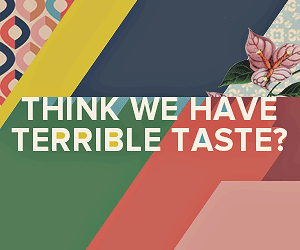 5. Kicks Manila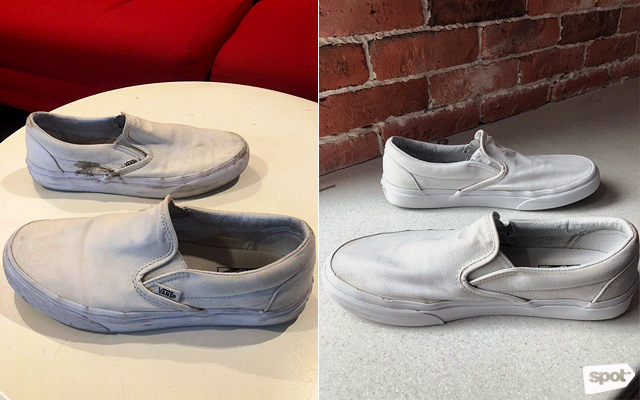 How much to shell out: P499/Premium Wash
The lowdown: "I had no time to drop my sneakers off at Kicks Manila's store but it was nice of them to allow me to send my pair via GrabExpress. I had to shoulder the additional expenses, of course. They're very quick to respond via text, so it was easy to communicate with them about the status of my sneakers. My pair had weird stains in certain places so I was excited to see just how clean they can get my kicks to be. The person I was talking to recommended that I get the Premium Wash, so I did. When I asked if I could pick up my sneakers three days after I had them dropped off, I was surprised that they were ready. I had my kicks picked up and paid for by someone else, which we had no problems with. For P499, they were able to exceed my expectations. While my sneakers don't exactly look brand new, they were able to get rid of the stains that bothered me. Everything about the service was quick and efficient, so I'm glad I only had to shell out about five hundred pesos for it." — Junie
ADVERTISEMENT - CONTINUE READING BELOW
The verdict: Kicks Manila offers excellent sneaker-cleaning services at reasonable prices. Plus, if you're the type who likes quick updates (and clean sneaks, of course!), Kicks Manila will not disappoint. They'll answer any question you have and even accept special requests, like having your sneaker delivered and picked up via courier service which is pretty neat.
Kicks Manila is at 6896 Washington Street, Pio Del Pilar, Makati City and 51 Marjorie Building, Magiting Street, UP Village, Diliman, Quezon City.
4. Grail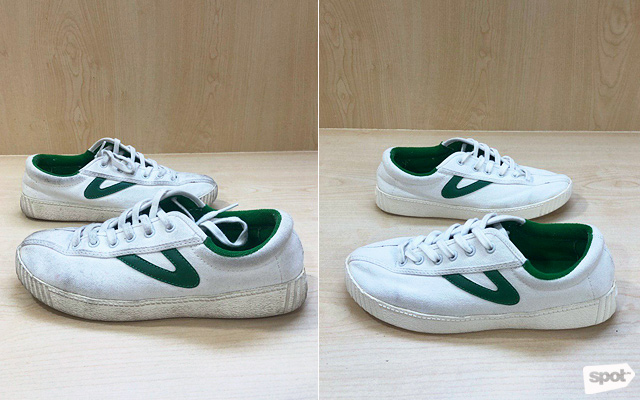 ADVERTISEMENT - CONTINUE READING BELOW
How much to shell out: P800/Premium Classic Clean
The lowdown: "My entire experience with Grail was a breeze, from the day I dropped of my sneakers to the day I picked them up. The staff explained to me that my sneaker falls under their Premium Cleaning category because it has a combination of canvas and leather materials and that it would cost P800 for a Premium Classic Clean service. They explained that only the upper and the midsoles will be cleaned but if I wanted to have everything cleaned (meaning laces and soles), I should opt for the Premium Deep Clean service which is P1,000. Since my sneakers weren't super filthy, I decided to just go for the Premium Classic Clean. The staff didn't pressure me to get the more expensive service, which is good. I was asked to fill out a registration form on a tablet before I left the store. After five days, I got a text from Grail saying that my shoes are ready for pick up—which gives them plus points because I didn't have to follow up myself. I had lost my receipt when I was going to claim my shoes, but I didn't have problems with the staff. They just asked for my name and the brand of my sneakers. I'm happy with how clean my sneakers turned out. It also looks like they washed my shoelaces anyway, so my kicks look good as new! I feel like my P800 was totally worth it considering their remarkable customer service and how clean my sneakers look." — Jamie
ADVERTISEMENT - CONTINUE READING BELOW
The verdict: If you don't mind paying a little extra for clean kicks and excellent customer service, then Grail is the place for you. You can tell that they know how to handle different kinds of sneakers and materials, so you'll rest easy knowing that your pair is in good hands. 
Grail is at 4/F The Podium, ADB Avenue, Mandaluyong City and B1 One Uptown Residences, Uptown Bonifacio.
3. Metropole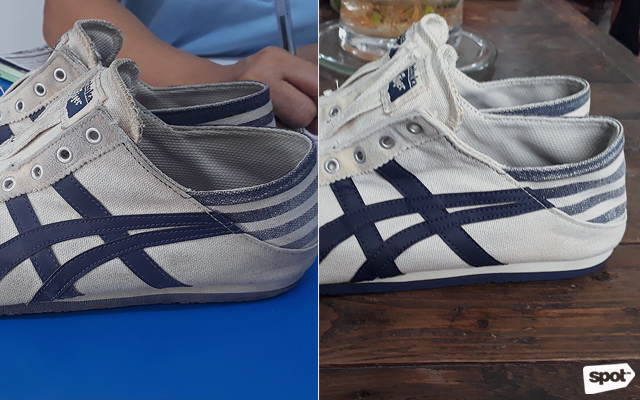 ADVERTISEMENT - CONTINUE READING BELOW
How much to shell out: P300/Basic Cleaning
The lowdown: "I've had this pair of Onitsuka Tigers for as long as I can remember, so I didn't have too many expectations for it. When I got to Metropole though, there was a poster explaining their UltraSonic Sneakers Cleaning Service that got me hoping. The Metropole employee took my shoes and gave them a once-over before handing me a waiver to sign, plus a claim stub she filled out with my contact details. The process would take at least two days, she told me, which was okay, and she explained some of the limits of their cleaning service, which included the hard stains and the worn-down soles. I thought it was nice that she leveled my expectations. I paid P300 for the service before leaving and came back two days later to a super-clean pair of shoes! It was much better than I expected—far from new—but also far from the tired-looking pair I left. Plus, if you really want your shoes to look even better, Metropole has a second, more intensive stage for shoe cleaning: As long as you're willing to pay an additional P700. I recommend their service for a reliable and easy cleaning." — Mia
ADVERTISEMENT - CONTINUE READING BELOW
The verdict: If you want to be pleasantly surprised with what P300 can do for your worn-out kicks, go ahead and drop them off for a good bathtime at Metropole. They get the job done really quickly, too! So if you need fresh-looking kicks in two days without having to spend thousands on a new pair, just leave them to the hands of the folks in Metropole and let them do their magic.
See a list of Metropole branches.
2. Besa's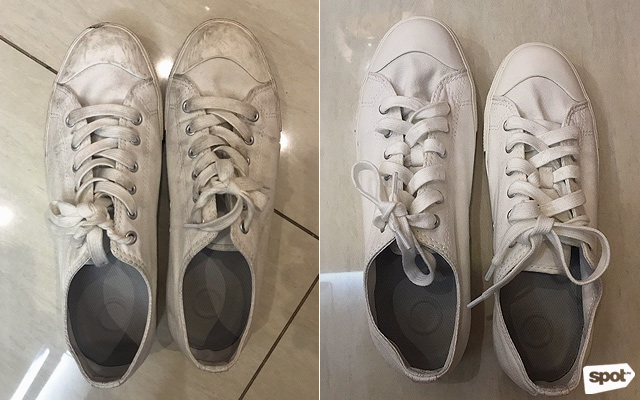 ADVERTISEMENT - CONTINUE READING BELOW
How much to shell out: P1,800/Basic Cleaning
The lowdown: "My white canvas sneakers were generally dirty all over and had already developed a grayish tone, but they didn't have any big stains. I had never tried a sneaker-cleaning service before this, but I have tried cleaning my own sneakers at home and I have never been able to make them look as white as when I first bought them. Initially, I didn't think the cleaning service would make much of a difference since there were no big stains to remove, but I can honestly say I was blown away by this service. My sneakers look as white as when I first bought them, as if they're brand new. It's on the pricier side at P1,800, but I would come back if I had a really expensive pair of shoes that I wanted to preserve." — Vivi
The verdict: Looking for a place you can trust with your expensive footwear? Besa's will take good care of your pairs and make them look good as new. While the cleaning service is on the pricier side, you won't feel like you blew cash for nothing once you see the results. 
ADVERTISEMENT - CONTINUE READING BELOW
See a list of Besa's branches.
1. Ethan Cash Sneaker Lounge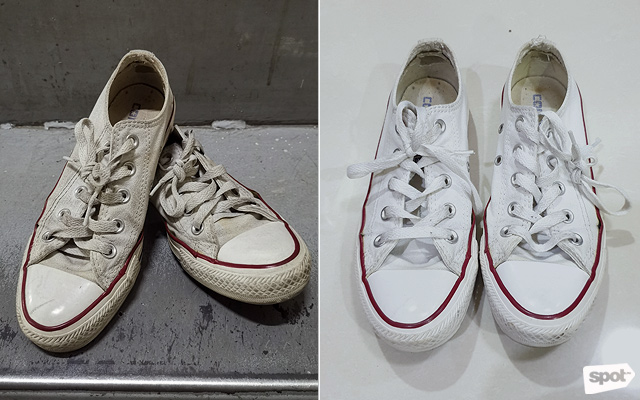 How much to shell out: P350/Standard Cleaning with additional P250/Extra Wash
The lowdown: "Upon entering Ethan Cash Sneaker Lounge in BGC, I noticed the shelves lined up with sneakers for cleaning and brown bags that are ready for pick-up. I walked up to the counter to inquire and was accommodated right away. They walked me through their line-up of services, starting with their standard cleaning at P350. They recommended two add-ons for my canvas sneakers: Extra Wash at P250 and Whitening at P300. I decided to just go with the extra wash since it was more mandatory than optional given that they will need to wash the canvas material. They prepared the job order, generated a QR code sticker for both my sneakers and my copy of the job order, took photos of my shoes, then collected my pair. I was then assisted for payment and was advised of the pick-up date. My five-year old pair of sneakers definitely looked better when I got them! It's a big improvement from regular washing at home. However, if you'd look closer, there are parts of the shoe laces that they missed, and you'd still see that it's a clean used pair rather than a brand-new one. If I had paid the extra P300 for whitening, maybe it would've looked brand new. I'd definitely come back to have my other pairs professionally cleaned. The regular service takes six business days, but they offer rush same-day cleaning for an additional fee, plus flipflops rental, meaning you can have the sneakers you're wearing cleaned within the day while being able to maximize your time in BGC." — Anya
ADVERTISEMENT - CONTINUE READING BELOW
The verdict: If you're looking for a sneaker-cleaning place with high-quality service but won't burn a hole through your wallet, Ethan Cash is just that and more. Heck, they make use of QR codes which is fancy for a shoe-cleaning place and you'll only have to shell out P350! It's good that their add-ons are also just as budget-friendly, so even if you avail all ofthem, you still wouldn't spend over a thousand pesos. Plus, they offer same-day cleaning, which is great for those who need clean kicks, stat!
Ethan Cash Sneaker Lounge is at Bonifacio High Street, Bonifacio Global City, G/F Alabang Town Center, Muntinlupa City, and G/F North Tower, SM North EDSA, Quezon City.
Share this story with your friends!
---
Help us make Spot.ph better!
Take the short survey
More Videos You Can Watch
Load More Stories