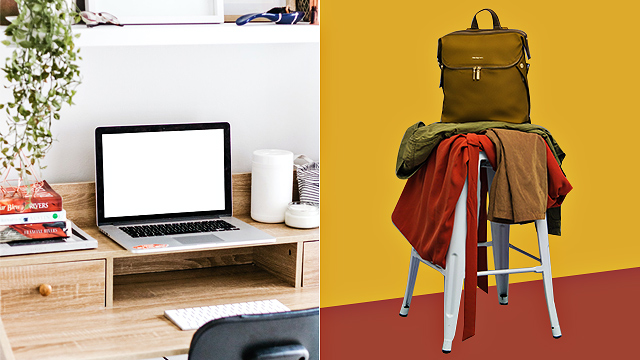 (SPOT.ph) Now that most people are staying cooped up indoors, and with some of us adjusting to remote work, keeping things organized at home is probably more important than ever. Just because your officemates can't get a full view of your space during video meetings doesn't mean you should continue to toss your things and hope they land in the right places. It's time to break bad habits and do yourself—and the people you live with, if any—a favor. You might be surprised by the productivity boost and stress relief a squeaky clean home can bring. A reminder: You can start off with one spot first!
ADVERTISEMENT - CONTINUE READING BELOW
If you have no idea where to begin, make decluttering easier by starting with these places:
Bag
You don't need to wait until the next time you head outside to declutter your bag. If you're noticing early signs of tita-hood (e.g., back pain), don't feel embarrassed by the need to dump any excess baggage. FYI: Your bag shouldn't exceed 10% of your bodyweight. It might be time to reassess the items you've been carrying around.
Desk
Don't let piles of paper and junk derail your train of thought while accomplishing your tasks for the day. You can maintain your own clean-desk policy at home by removing unnecessary accessories like figurines and picture frames, and making sure you clean your desk at the end of the day to ensure a fresh start in the morning. Take it up a notch by organizing your desktop, too! Clean up documents scattered on around your desktop into specific folders.
Vanity
In case you missed the memo, good personal hygiene is non-negotiable even if you're working from home. Yes, that means you still need to take a shower, wash your face, brush your hair—the works. Making yourself look presentable, especially if you are on remote work can be more manageable if you keep a spotless vanity. One trick is to keep the products you frequently use at the top of the drawers. You may also want place your beauty products in organizers and make sure to throw away expired ones for a less cluttered space.
Wallet
Someone else's wallet can also mirror a person's work behavior and organization, shares professional organizer Kacy Paide in the video. If you're the type of person who needs to keep receipts in your wallet, best to keep all of them in one pocket or side.
Closet
Sorry to break it to you: Shoving things in the closet is not considered organizing. But don't worry because there's still hope to flip things around. If your closet is about to burst from all the clothes and things inside, sort the items you still need according to type or color. Once you have identified the ones you rarely use, consider setting up pre-orders and selling them online. Or better yet, you can gather enough clothing pieces and donate them.
ADVERTISEMENT - CONTINUE READING BELOW
Shoe Rack
Maybe you've been through multiple rounds of bargaining whether or not you're ever gonna wake up one day and find out that your feet finally fit that pair of sneakers that's always been a teeny bit tight. If you can't give up some pairs from your prized collection of sneakers and sandals just yet, you can at least organize them with a shoe rack and keep them in mint condition using shoe cleaners. You might even want to get crafty and create your own shoe racks for your every need. Go ahead and watch the tutorial video and grab the art materials needed for your eco-friendly shoe rack and—you just might get a kick out of it.
Bookshelf
It's tough to resist the urge to hoard books. Who could possibly walk inside a quaint bookstore—especially one that offers good bargains—and walk out empty-handed? If you're a bookworm who's always satisfying your hunger for books, you can probably minimize your guilt by organizing your collection according to height, genre, or color. And get started on your unread pile too, while you're at it!
ADVERTISEMENT - CONTINUE READING BELOW
Pantry
While the entire world is still living in strange times, many of us surely stocked up on essential grocery items. You can start with a clean slate and remove everything from the pantry to wipe any dirt or spills. Then, you can proceed to categorizing the items you've got; transferring sugar, salt, cereal, oatmeal, and the like to containers; and even creating labels for them.
Bed
This might feel like a throwback to your childhood (or teenage) years, but it's really your responsibility to make your bed. Who doesn't want to climb into a clean bed with crisp sheets and fluffy pillows? For beds with shelves and drawers underneath, make sure to get rid of the clutter there, too. Remember: having a clean and comfortable bed can actually help you rest and recharge better. 
That Chair
There's no need to pretend—we all have it in one form or another: That chair where you pile clothes that are too dirty for the closet but too clean for laundry. What you can do instead is to find some hooks or hangers to air out the not-so-dirty clothes before wearing them again. You can even take it a big step further and completely get rid of the chair for good—or start using it for its legit purpose!
ADVERTISEMENT - CONTINUE READING BELOW
Share this story with your friends!
---
Help us make Spot.ph better!
Take the short survey
More Videos You Can Watch
Load More Stories