LEGO's First Ever Sesame Street Set Was Designed by a Filipino and We Got to Build It
All the small details and Easter eggs in the model will blow your mind!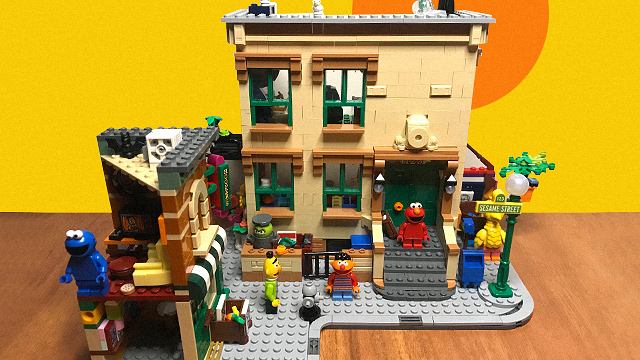 (SPOT.ph) If you grew up building entire cities out of LEGO bricks or enjoyed following instructions to create popular LEGO models like the Star Wars Millennium Falcon or the Harry Potter Hogwarts Castle, you may have once dreamed of creating your own LEGO set for a piece of pop-culture memorabilia near and dear to your heart. Well, Filipino artist and LEGO enthusiast Ivan Guerrero made it happen—and his impressive model is the first in LEGO's history to ever feature a certain beloved children's show from the 1960s.
Guerrero created the LEGO Ideas Sesame Street Set, which features memorable elements from the New York City neighborhood on 123 Sesame Street from Bert and Ernie's apartment to Big Bird's nest. It's the first LEGO product to ever depict the pop-culture icon created by Jim Henson.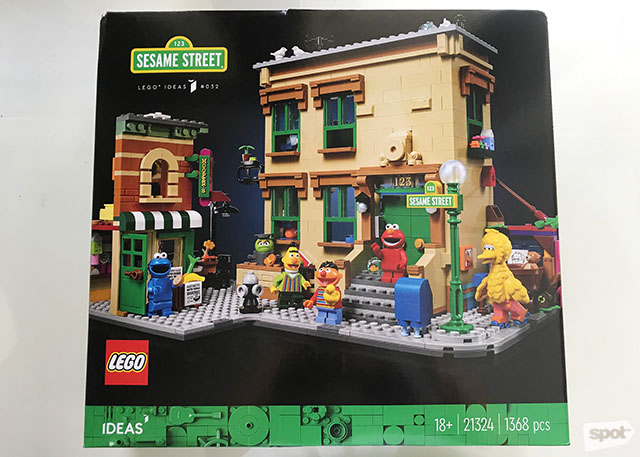 ADVERTISEMENT - CONTINUE READING BELOW
The LEGO Ideas Sesame Street Set was born out of Guerrero's love for the old-school children's show, which he calls his "first teacher" that "taught [him] how to read, write, count, and laugh." Some of his very first sets as a child included the LEGOLAND Police Car and LEGO Turbo Prop, a hobby he rediscovered in adulthood.
The Building Blocks of the Building Blocks
Guerrero shares that the LEGO Sesame Street model took months to build. "It was a great little hobby for a while," he says. "I would spend a couple of hours each week carefully researching the various rooms in the show's apartment building." His rigorous process included researching online, reading various Sesame Street books, watching old episodes and DVDs, and even studying screen captures to get the building just right. "Since I was dealing with a pop-culture icon, I had to dig in deep into my own childhood memories, as well as the rich history of the show."
CONTINUE READING BELOW
Recommended Videos
Guerrero notes, however, that despite the efforts to be as faithful to the show as possible, the design process also called for some artistic interpretation. "Since the building really only exists on TV, there were several portions of the set that I had to design from my own imagination. In order to translate it into a three-dimensional LEGO building, I researched old New York apartment buildings from the 1960s and 1970s and attempted to treat 123 Sesame Street as a building that was built around the same time."
ADVERTISEMENT - CONTINUE READING BELOW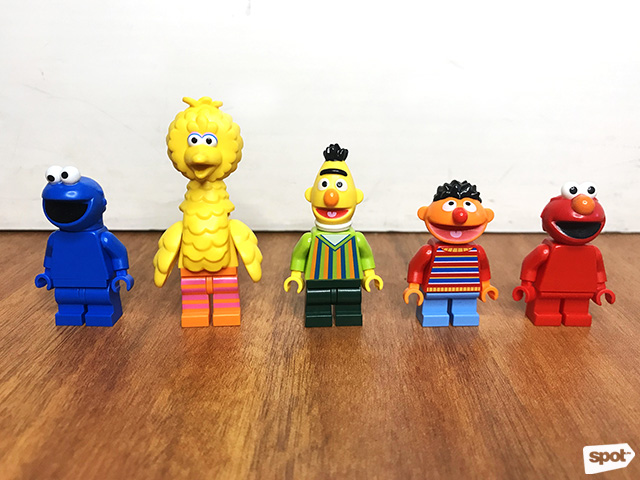 Of course, the Sesame Street building wouldn't be complete without its famous characters. The set comes with five of the show's most popular puppets, namely Big Bird, Elmo, Bert, Ernie, and Cookie Monster. LEGO sets normally only make use of already existing LEGO pieces, but Guerrero notes with excitement that the characters featured on the set are new sculpts, made particularly because of the "limitations to creating puppet-like fur, feathers, and hair using existing LEGO parts." The characters mark the very first time LEGO has created brand-new minifigures to fit into the model of a set. "It's a very special achievement," says Guerrero. "I think the minifigures in this set will be a real hit with collectors"
Brick and Building Basics
As any true LEGO fan would know, the best part of any set is putting it together and we got a chance to do just that. Here's what you need to know before you start assembling: The LEGO Ideas Sesame Street Set contains 1,368 pieces. According to the box, it's built for those who are 18 years old and above—you know a building block set is challenging when you have to be old enough to drink just to put it together. As with activities like jigsaw puzzles or Sudoku, it's the tedium of the task that makes it so fun.
ADVERTISEMENT - CONTINUE READING BELOW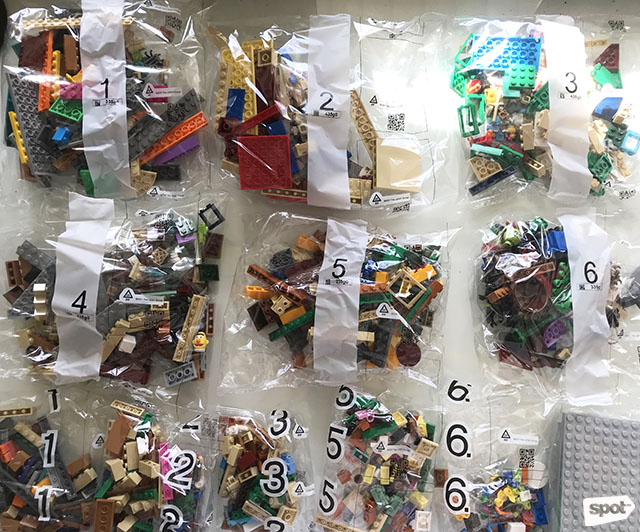 That being said, the sheer number of LEGO pieces, the 200 plus-pages long instruction manual, and the miniscule size of many of the blocks make it clear that this isn't one to buy for the little ones in your life. Instead, we suggest getting your nieces and nephews to build the set with you if you so please, being sure to watch out for the small pieces that may be scattered around—we all know stepping on a LEGO brick is a different kind of physical pain.
Putting It All Together
In total, it took us about 10 hours of work to finish the LEGO Ideas Sesame Street Set—by us, we mean the one person who dedicated a weekend to building this thing. For a pair or a group, you may be able to do it in less time. Plus, the great thing about leisurely tasks like this is you don't have to rush. Take your time and enjoy the fruits of your labor as you go along.
ADVERTISEMENT - CONTINUE READING BELOW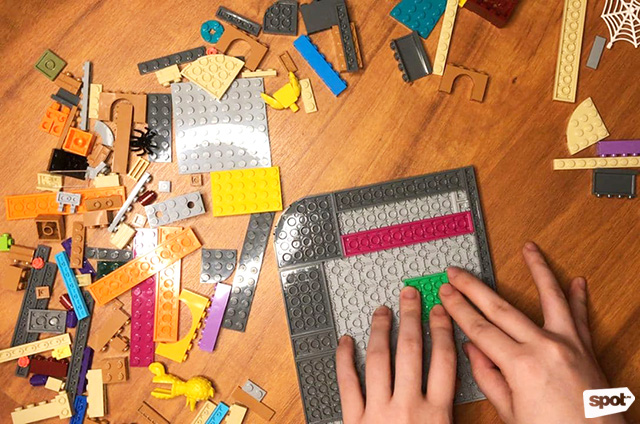 The instruction manual is divided into six parts, which means you can take breaks in between without having to stop in the middle and remember where you left off. You can leave your favorite sitcom playing in the background, blast your favorite tunes, or just have a nice conversation with your buddies the whole way through. There's an undeniable satisfaction you can get from watching small LEGO blocks and incremental steps turn into entire rooms, buildings, and even streets.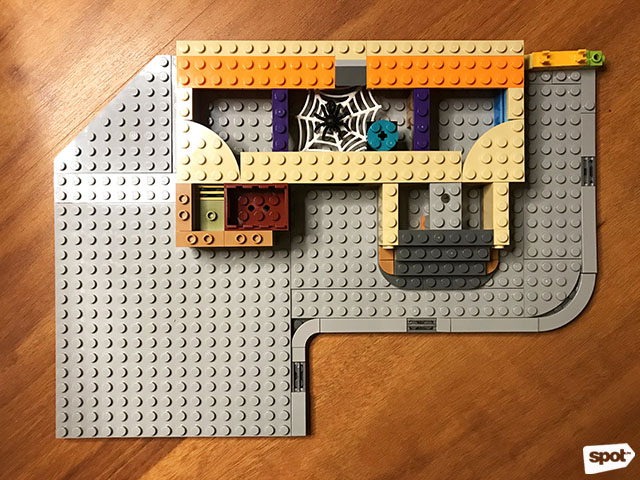 ADVERTISEMENT - CONTINUE READING BELOW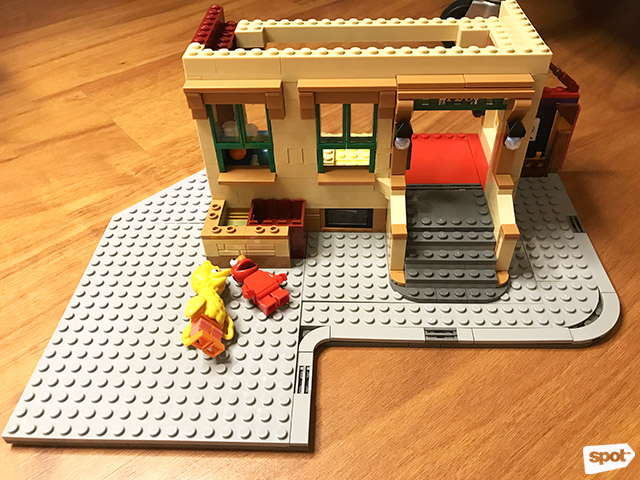 Here are some tips: First, we're not kidding around when we say this is back-breaking work. We suggest assembling your LEGO Ideas Sesame Street Set on a table to avoid being hunched over on the floor for hours. Have a good light source, too, so you can clearly see where each piece needs to be positioned, find the blocks you need without much fuss, and clearly read the instructions.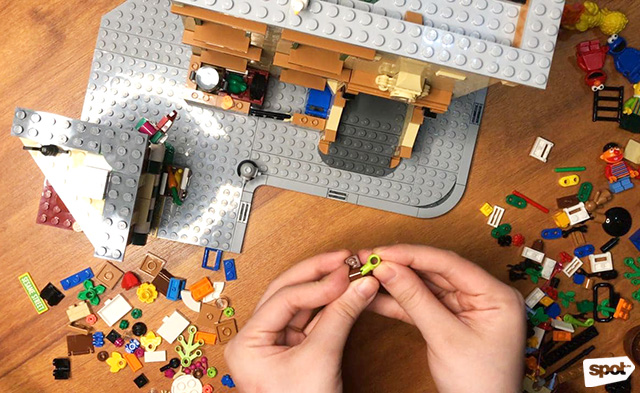 ADVERTISEMENT - CONTINUE READING BELOW
The Delight in the Details
If you were a fan of Sesame Street growing up, you'll enjoy the minute details that went into designing this entire set, all inspired by the famous children's show. Though the set comes with five LEGO characters to position around the building and street, you'll see other Sesame Street favorites like Grover, Oscar the Grouch, Count Von Count, and more in picture frames and posters adorning the site. "Not only does it feature beloved characters from Sesame Street, it also has a ton of Easter eggs and hidden references to different episodes and sketches from Sesame's past," says Guerrero. "There's an insane amount of detail made for the most discerning Sesame Street and Muppet fans." Try to spot them all!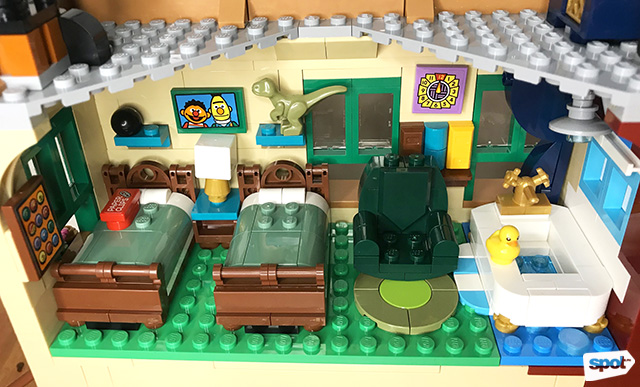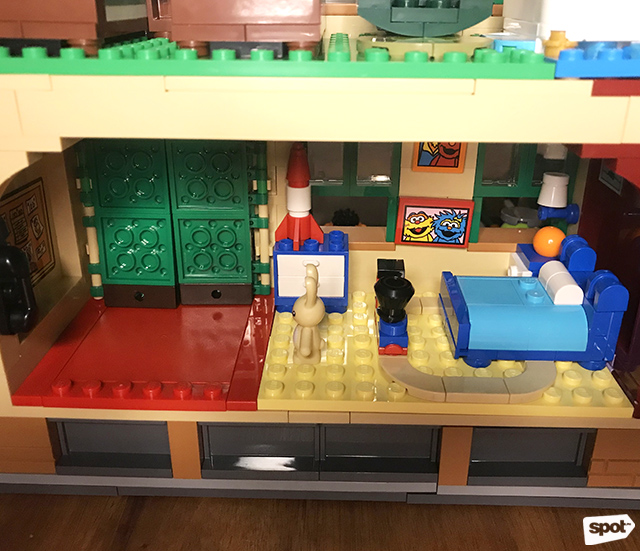 ADVERTISEMENT - CONTINUE READING BELOW
They say the devil is in the details, but in this case, it's the details that really make building the set worthwhile—a large percentage of the time you spend putting it together will go into finding, assembling, and positioning tiny items like lamps, windows, flower pots, and more. As you go along, you'll admire Guerrero's undeniable craftsmanship and the careful thought he put into every nook and cranny. Plus, the itty-bitty features make the up-close examination of the final product even more fun. We're not kidding, you could get lost in browsing each corner of the completed set!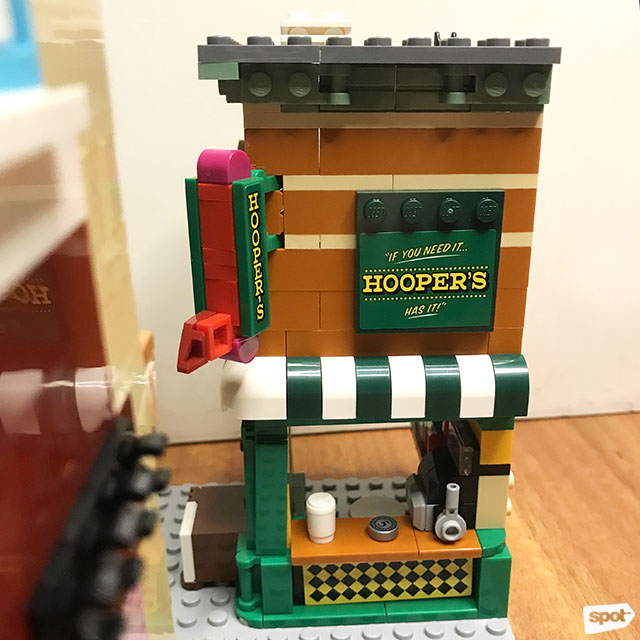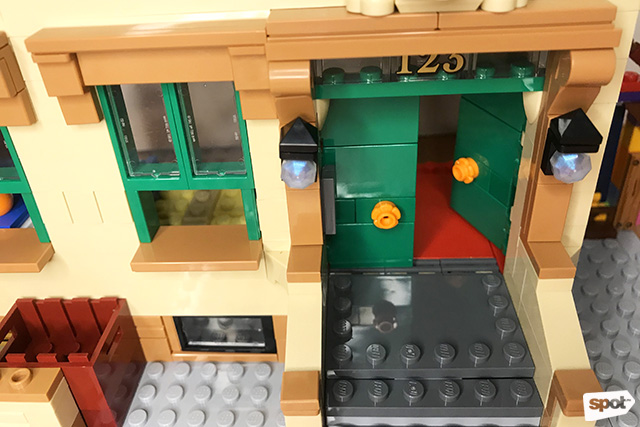 ADVERTISEMENT - CONTINUE READING BELOW
The Final Product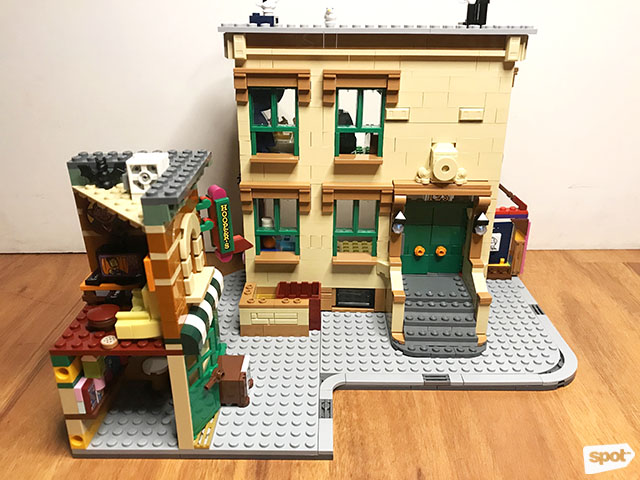 We can honestly say that after hours of sticking tiny bricks together (some smaller than your pinky nail) and reading through hundreds of instruction diagrams, the LEGO Ideas Sesame Street Set is enjoyable through and through and rewarding at the very end. Once you finish, take the time to admire your work and give yourself a pat on the back.
Take a look at the finished product, which we must say, we're quite proud of having accomplished: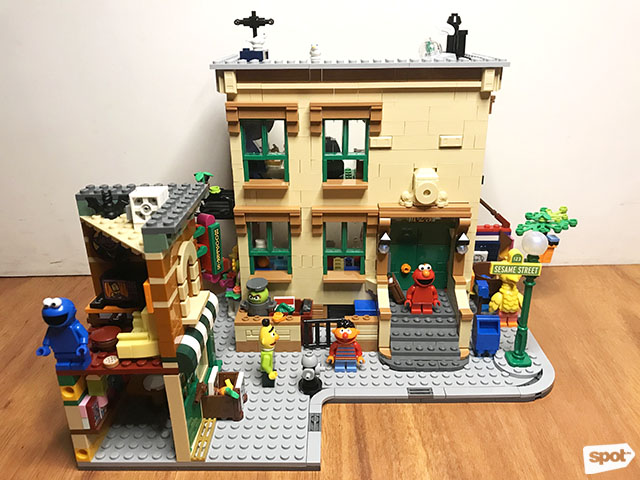 ADVERTISEMENT - CONTINUE READING BELOW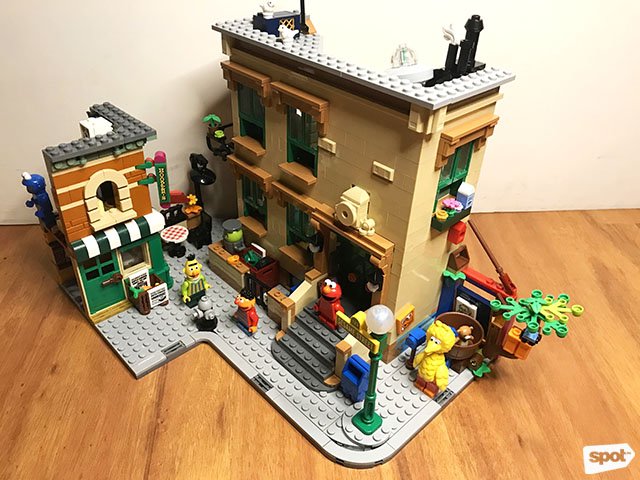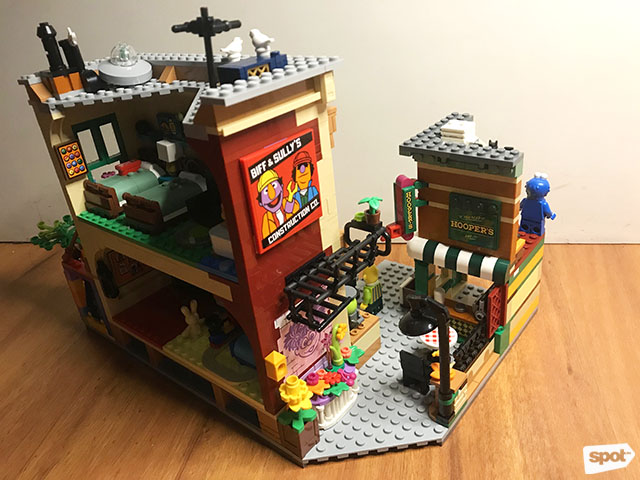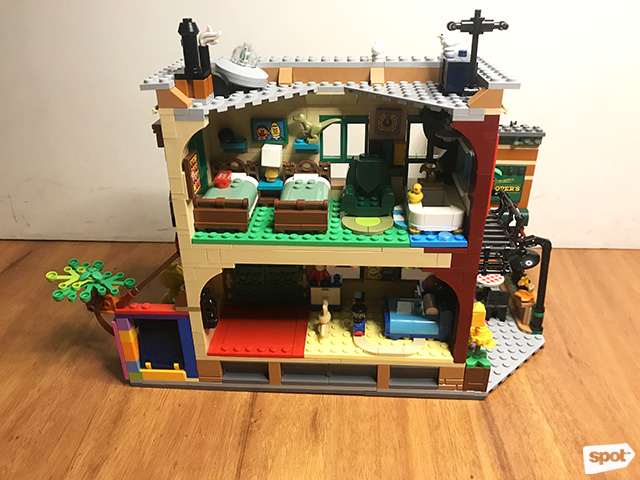 ADVERTISEMENT - CONTINUE READING BELOW
Whether you're looking for ways to kill time indoors, fun activities to do with your loved ones, or just solo ventures to take your mind off the hardships of the week, the LEGO Ideas Sesame Street Set is a delight for new and old fans of the show alike or for anyone who just knows how to enjoy the process. Guerrero's skilled and masterful design work is something that can inspire anyone and best of all, something we can all enjoy, one brick at a time.
The LEGO Ideas Sesame Street Set is available at LEGO Certified Stores for P6,999.75.
For more information, log on to LEGO Philippines' Facebook page.
UPDATE (November 21, 11:50 p.m.): The previous version of this article stated that Guerrero is the first Filipino to ever design a LEGO model. It has been updated to correct this information. The first Filipino-designed LEGO set was Leandro R. Tayag's LEGO Ideas Voltron Set released in 2018.
Hey, Spotters! Check us out on Viber to join our Community and subscribe to our Chatbot.
Share this story with your friends!
---
Help us make Spot.ph better!
Take the short survey
Load More Stories