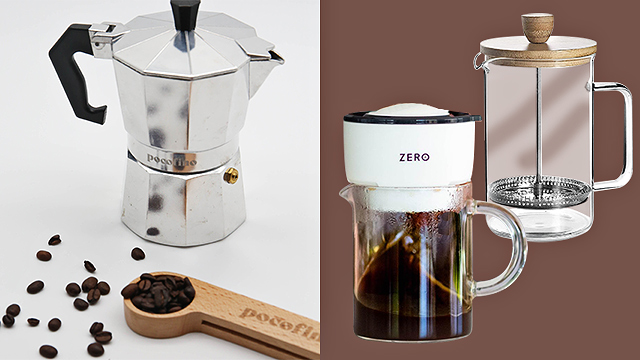 Small Coffee Makers
(SPOT.ph) It seems like everyone is becoming a full-blown home brewer in quarantine, both as a hobby and as a way of recreating the taste and feel of hanging out at a coffee shop—remember when that was a thing? You may be one of those caffeine addicts dreaming of building your very own home coffee nook stocked with all kinds of devices to help you brew the perfect cup each morning.
In case you don't have enough space at home to accommodate huge espresso machines, don't give up your dreams just yet because we've got just the list for you. Below, we list 10 cool coffee makers perfect for those with limited kitchen space and countertop real estate. Each uses a different brewing method, but all are effective in their own ways for making great cups of coffee with strong flavor. Best of all, they're easy to store, make space for, and even travel with.
ADVERTISEMENT - CONTINUE READING BELOW
Also read:
10 #Aesthetic Brewing Machines for Your Curated Coffee Nook
10 Coffee-Making Must-Haves That Will Level Up Your Homemade Brew
It's the Perfect Time to Try These Coffee Experiments
No space for bulky brewing machines? Try these small coffee makers:
AeroPress Go Travel Coffee Press (P2,600)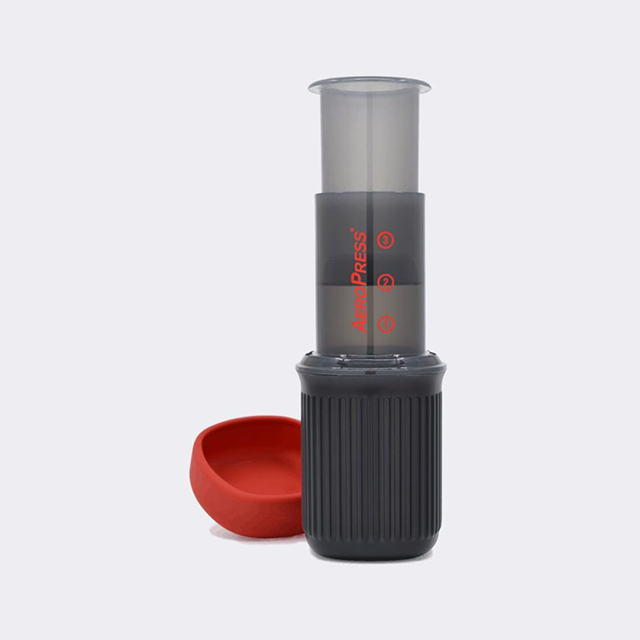 The AeroPress Go is a more compact version of the original device released in 2005 and it's made especially for traveling and easy storage—you can use it in your kitchen, at your office, or even on an out-of-town trip. To use the device, start by scooping medium to fine coffee grounds into the chamber and pre-infusing it with piping hot water—make sure to stir the mixture and let it sit for about 30 seconds so your grounds can be fully saturated. From there, fill your device up with the rest of your water, place the filter cap on top, and let it brew for a little longer. Once the infusion process is finished, press down on the Aeropress Go to release air and push the liquid into the bottom chamber. You'll end up with a strong cup of coffee that promises no grit, acidity, or bitterness.
CONTINUE READING BELOW
Recommended Videos
Available online.
Trinity Zero (P2,850) from Trinity Coffee Co.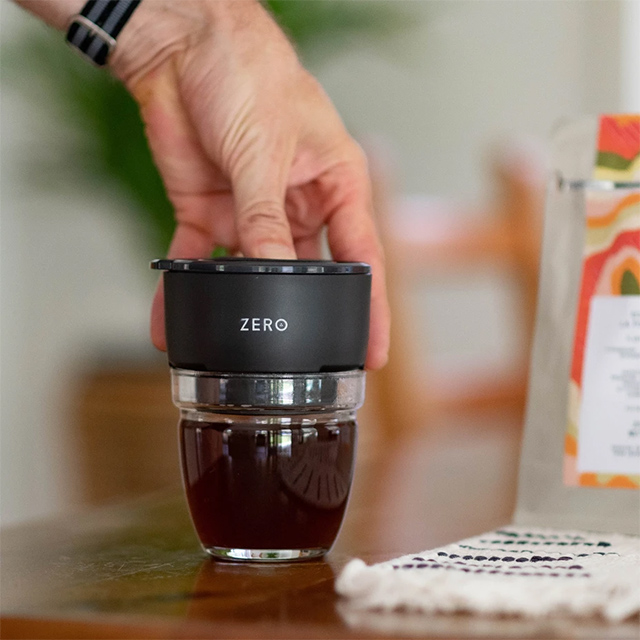 The Trinity Zero coffee maker from Trinity Coffee Co. lets you brew strong cups of coffee without the need for electricity, coffee filters, or lots of countertop space.Here's how it works: Start by filling the basket with the coffee grounds of your choice. We suggest going for a medium grind—not too fine such that water will get trapped in the basket, but not too coarse such that not enough flavor will be extracted. From there, fill the chamber with boiling water, then assemble all three pieces of the device together and position it over your coffee mug. Let the water sit over the beans for a few seconds just to let the pre-infusion process begin. After a few seconds to about a minute, slowly push down the pump. The pump will pressurize the inside of the chamber, forcing the water down through the grounds and out into the mug. You'll have to let go and press the pump a few times to get all the water out through the grounds. The end result will be aromatic, strongly flavored coffee that requires little time, no electricity, and no paper waste.
ADVERTISEMENT - CONTINUE READING BELOW
Available online.
Moka Pot (P800) from Pocofino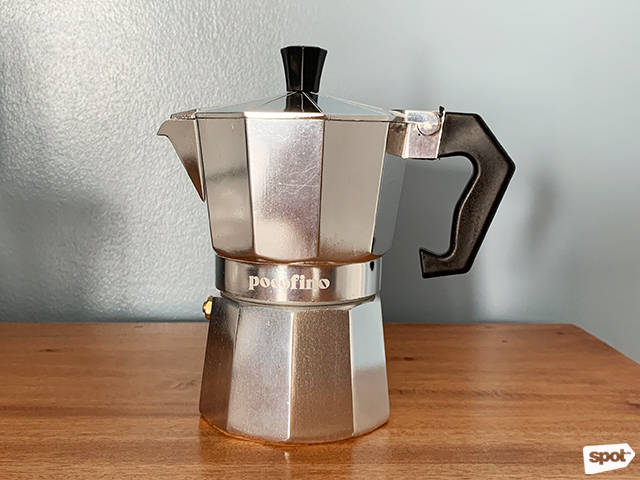 The moka pot is a coffee maker with Italian origins that dates as far back as the 1930s—and you can bet those Italians know a thing or two about brewing a great cup of joe. The device works by using steam to push boiling water upwards through ground coffee, resulting in a brew that's pretty close to what you might get out of a standard espresso machine. Try this moka pot from Pocofino if you're looking for one that's not too bulky—it has a three-cup capacity and can be used over the stove. All you have to do is fill the bottom receptacle with hot water and put coffee grounds in the middle chamber—don't go for too fine a grind to prevent the water getting trapped while being pushed up. From there, just leave the pot over the stove until your freshly brewed coffee flows into the uppermost chamber.
ADVERTISEMENT - CONTINUE READING BELOW
Available online.
French Coffee Maker Wood Lid (P995) from Lacor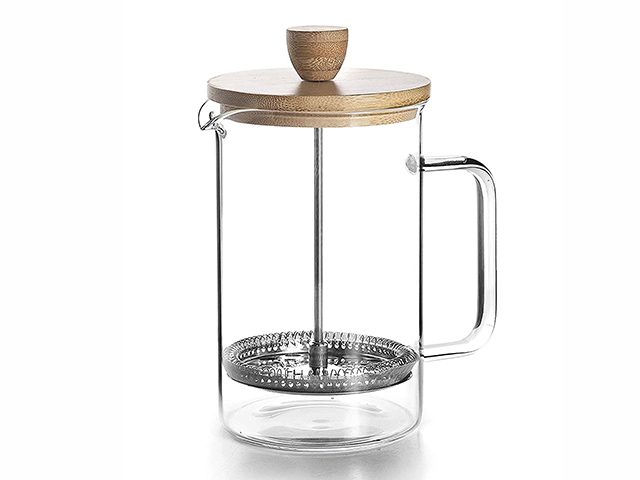 A French press coffee maker is a great option for those who like to keep their brewing methods simple while still getting lots of flavor out of their beans. We're currently eyeing this press from Lacor, which features a seamless glass container and wooden lid. The device works by infusing hot water and grounds together in a glass container—this steeping method allows you to extract a strong flavor and full-bodied taste since the absence of filter paper maximizes saturation. Once your grounds have been saturated in hot water for about a minute or so, you can push down the filter, and pour the coffee straight into your mug.
Available at Rustan's.
Portable Espresso Machine (P1,555) from Sweethouse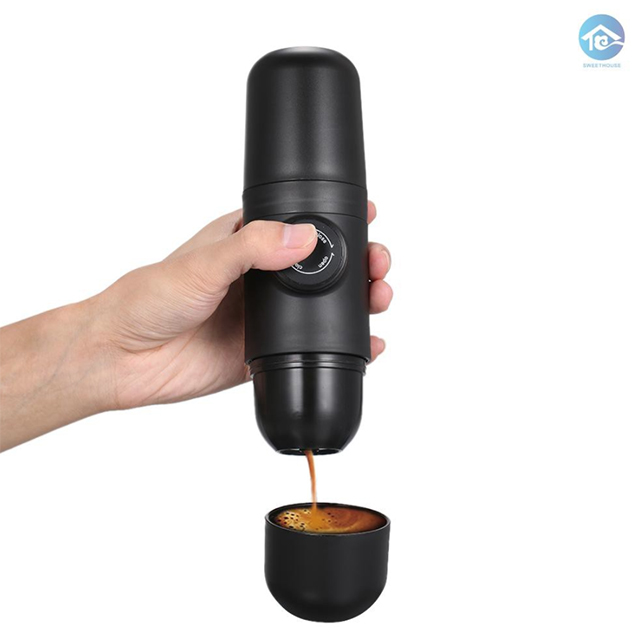 ADVERTISEMENT - CONTINUE READING BELOW
Believe it or not, this itty-bitty device from online store Sweethouse can brew strong, tasty, and aromatic cups of coffee—and it'll take up about as much space in your kitchen as a bottle of water. One side of the device has a chamber for your ground coffee of choice. Make sure your beans are finely ground and pressed tightly into the capsule just like you would need to do on a large espresso machine. On the other side of the pill-shaped device, fill the tank with steaming hot water. Once both sides of the mini machine are filled, hold the tap over a small cup and press the button on the center. It will manually push the hot water through the fine coffee grounds, mimicking the brewing process of a large, industrial espresso maker.
Available online.
ICM 100 Coffee Maker (P748) from Imarflex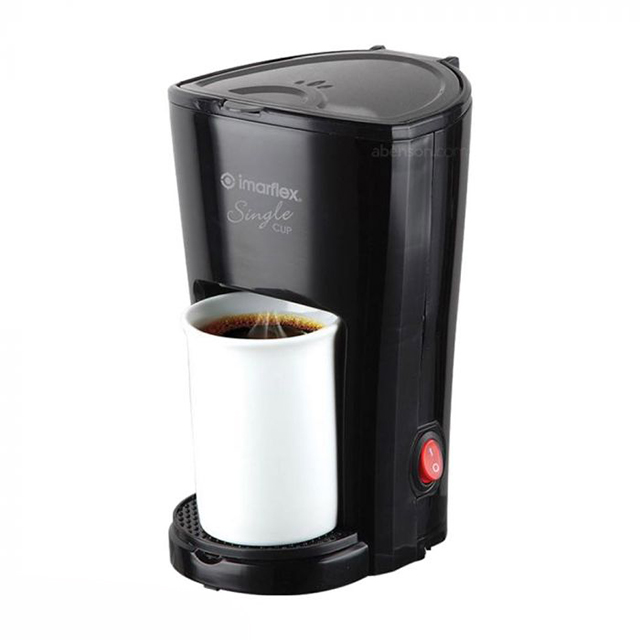 If you're a no-nonsense home brewer who's loyal to the classic drip coffee machine you would find in most homes, this Imarflex coffee maker would be a great option if you're hoping to avoid bulky devices. It gives you all the basic tools to brew a simple, reliable cup of coffee. The machine's one-cup capacity would be the perfect size for those who live alone or whose fellow home members don't consume caffeine. You'll only have to wash a small cup and filter after each use. Best part? It's only P748!
ADVERTISEMENT - CONTINUE READING BELOW
Available at Abenson.
Essenza Mini (P7,500) from Nespresso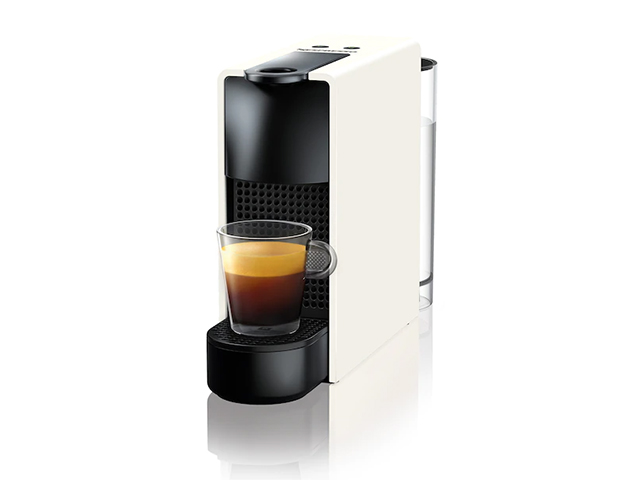 If you have your heart set on a capsule coffee maker—for the ease-of-use and wide variety of coffee-based beverages you can concoct—Nespresso's Essenza Mini is both a compact and budget-friendly option for newbie home brewers who don't have much countertop space. It has a slim frame that lets you squeeze the machine between appliances or display it on top of small tables. Nespresso offers capsules filled with grounds sourced from all over the world. All you have to do is put your capsule of choice into the device, fill the tank with water, hit the Espresso or Lungo button, and your coffee will be ready in seconds.
Available at Rustan's.
Vietnamese Drip Coffee Maker (P1,452) from Konco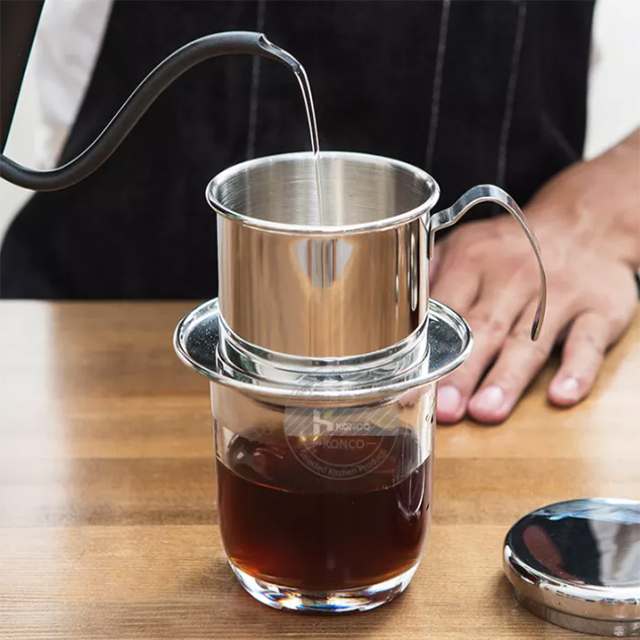 ADVERTISEMENT - CONTINUE READING BELOW
Vietnamese makers (a.k.a phin coffee makers) like this Konco device are a great way to brew strong (and we mean strong) coffee without the need for a bulky, expensive machine. To make Vietnamese coffee, start by filling your mug with sweetened condensed milk—this step is optional if you don't like sugary coffee, but try it out if you're going for an authentic flavor. Place the base dripper and phin body on the rim of your cup and scoop coffee grounds into the body—don't worry if a few smaller grounds fall into the mug; that's to be expected. From there, pour just enough boiling water into the receptacle to soak your grounds then firmly press the damper onto the grounds. Fill the phin with boiling water right over the damper and the brew will slowly drip down into your cup. Note that the drip should be very slow—about one drop every two seconds or so. If the water is dripping too quickly, press down on the phin to make sure the grounds are nice and tight. Once you've filled the phin with water, place the lid on top to keep it warm and let the rest of the brew drip through. It may take around four to five minutes to finish, but the results will be worth it.
Available online.
V60 White Ceramic Dripper (P1,100) from Hario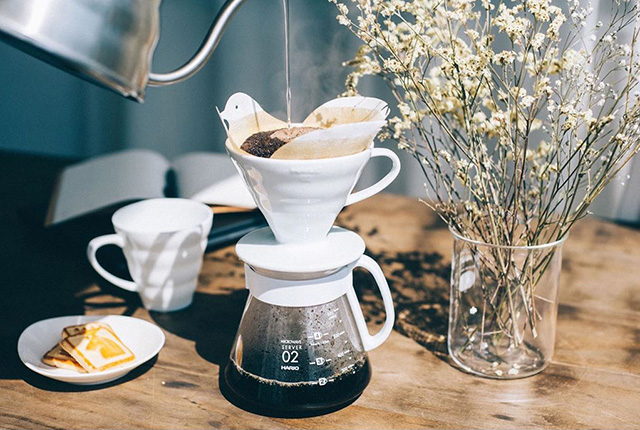 ADVERTISEMENT - CONTINUE READING BELOW
A ceramic coffee dripper like Hario's cult-favorite V60 lets you savor each step of the manual brewing process. It works much like an electric drip coffee machine, but with more room to customize your method. For one, if you have an electric coffee kettle, you can make sure your water is the exact temperature that you prefer and hot enough to maximize extraction from the grounds. Start by putting your coffee grounds (a fine or medium ground should be good) into the receptacle with a filter already placed into it then pour just enough hot water over to coat your grounds so the pre-infusion can process can begin. After about 30 seconds, you can slowly pour over the rest of the water, moving your hand in circles until you pour enough for your desired brew ratio. This method ensures that all grounds are evenly saturated—the slow trickle promises more flavor out of every drop of water compared to what you would get out of a plain old drip coffee machine.
Available online.
Coffee Steeper (P7,477) from Duo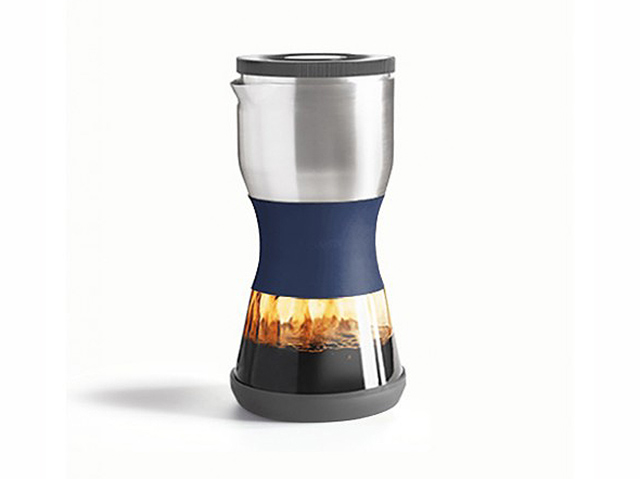 ADVERTISEMENT - CONTINUE READING BELOW
Think of the Duo Coffee Steeper as an updated version of the French press, meaning it lets you extract strong flavor from your beans without a paper filter getting in the way. As with the press, hot water and coffee grounds are mixed together to steep for a few minutes; in this case, they're placed in the upper chamber of the hourglass-shaped device. Once your brew is finished steeping, simply pull up the lock on top of the device to let the coffee pour down into the bottom chamber while the grounds are left on top. The Duo Coffee Steeper promises the same full-bodied flavor as the French press, but with less sediment.
Available at The Coffee Laboratory.
Cold Brew Pitcher (P950) from The Brewery Coffee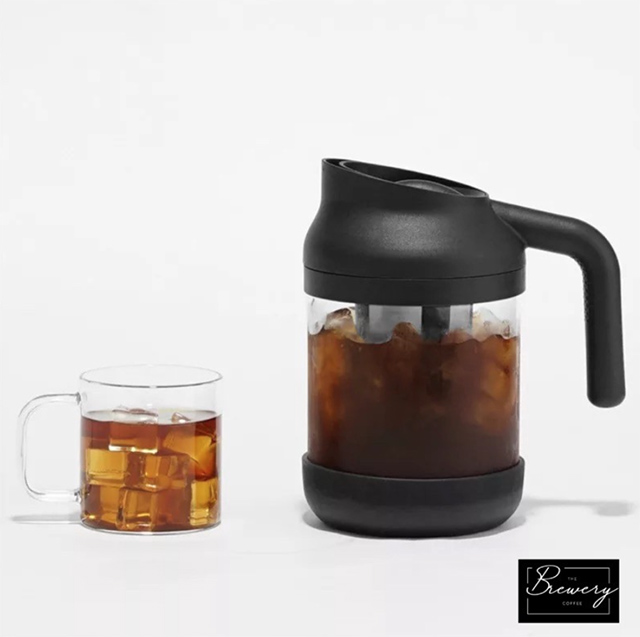 Cold-brew coffee is a great brewing method for those who don't have time to make coffee in the morning or just like to prepare ahead. This cute pitcher from online store The Brewery Coffee will help make the process even easier. All you have to do is fill up the filtered casing on the inside with coarse grounds, fill the pitcher with cold water, and let the mixture sit still for about eight to 12 hours—and that's pretty much it. Once you wake up in the morning, you'll have full-flavored, strong, non-bitter coffee that's ready to be served over ice. The pitcher lets you pour the brew straight into a glass without having to manually filter it over a strainer or mesh bag.
ADVERTISEMENT - CONTINUE READING BELOW
Available online.
Hey, Spotters! Check us out on Viber to join our Community and subscribe to our Chatbot.
We are now on Quento! Download the app on Google Play or App Store and enjoy more articles and videos from SPOT.ph and other Summit Media websites.
We are now on Quento! Download the app and enjoy more articles and videos from SPOT.ph and other Summit Media websites.
Your guide to thriving in
this
strange new world.
Share this story with your friends!
---
Help us make Spot.ph better!
Take the short survey
Load More Stories