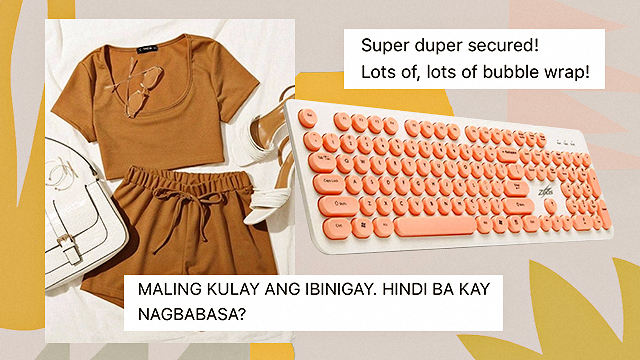 (SPOT.ph) In the online space, the comments section is often considered the, er, how do we put this nicely…the trash can of the Internet, if you will. It's the place where unfiltered thoughts and controversial opinions go to die; where anyone with a smartphone and a WiFi connection is free to say whatever is on their mind with little to no consequences. Where the comments section is an indispensable element of most social-media sites, the online shopping space has its own version: The review section.
ADVERTISEMENT - CONTINUE READING BELOW
The review sections of items listed on popular e-commerce platforms like Shopee and Lazada are an interesting place to explore—populated by a wide range of personalities armed with nothing but their (hopefully) honest opinions. In an ideal world, we scroll through these product reviews to get a better idea about the quality of the items in our carts. But this is the Internet, where the intended purpose of communal spaces and tools are almost always skewed and distorted in unimaginable ways—so it's no surprise that the review section becomes less like a critical, thoughtful forum and more like a strange wasteland of  irrelevant comments and passionate complaints. This is not to say that the review section isn't helpful at all, but it certainly requires a considerable amount of digging through.
Below, we list the 10 reviews you are bound to see on every Shopee and Lazada product listing. Sure, the review section is made up of a wild cast of characters, but many of them have turned into recurring archetypes. We bet you've seen (or even been) at least a few of these while shopping online.
ADVERTISEMENT - CONTINUE READING BELOW
Recommended Videos
These are the reviews you are sure to see on every Shopee and Lazada listing:
The Fast Shipping Praise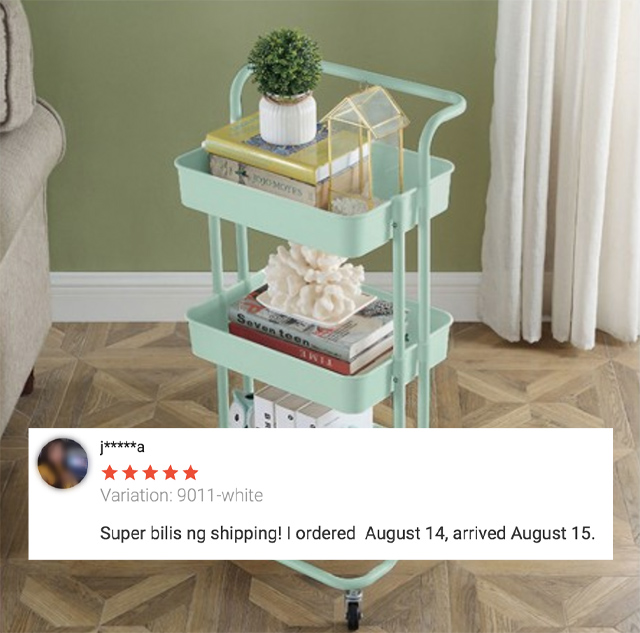 Don't get us wrong, we also love when our products arrive at our doorsteps right away—half the thrill of online shopping is the instant gratification, after all. However, we're usually more interested in knowing about the quality of the actual product and not just how quickly the seller can package and ship the item, especially considering platforms like Shopee and Lazada already offer an estimate of how long an order will take to ship. But hey, if you need your purchase ASAP—or you just can't stand waiting—these reviews praising fast shipping can be useful, too. Shoutout to this reviewer who posted a rating on this trolley from M&M—we're happy for you.
ADVERTISEMENT - CONTINUE READING BELOW
The Unrelated Photos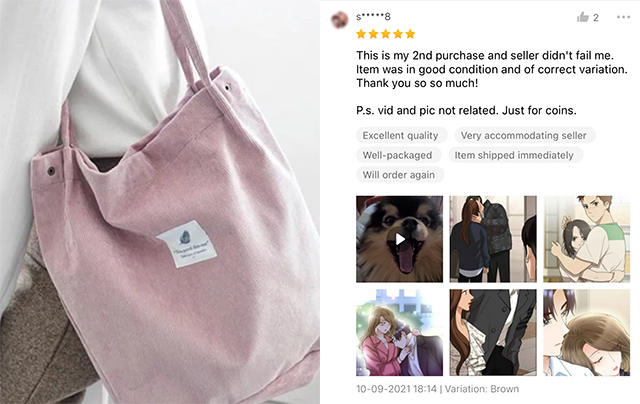 Online shopping platforms often let customers put actual photos of their purchased items to give other buyers a better idea of how the product would look in real life—you can even set the interface to only show you reviews that include media. So imagine the disappointment when you're hoping to see real-life images of the item you're eyeing and instead your screen is flooded with unrelated photos—anime screencaps or pics of K-Pop idols are commonly used, but we're not exactly sure why. Just check out this review posted under a stylish tote bag from Willet. We appreciate the honesty!
ADVERTISEMENT - CONTINUE READING BELOW
The Packaging Enthusiast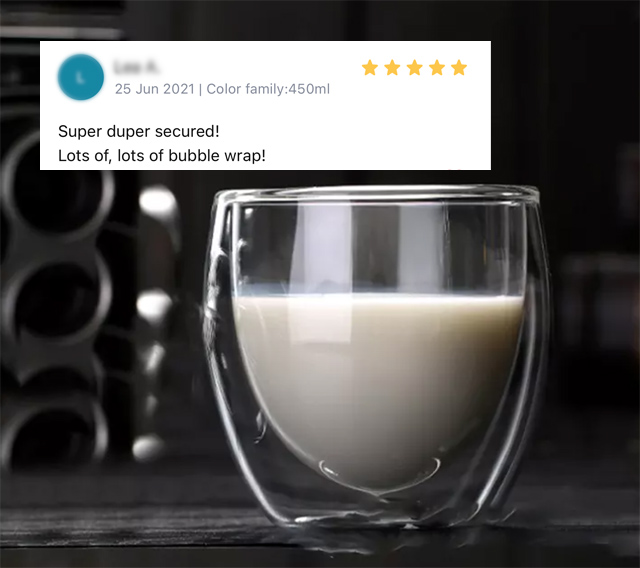 Many items that get delivered to our homes require hefty packaging whether it's layers and layers of bubble wrap, large cardboard boxes, or just a sh*t ton of tape. These packaging practices are typically reserved for fragile or breakable finds like this double-walled glass from Locaupin. A reviewer even noted the secure wrapping that his package came in and sure, we get why that matters, but the funny thing about the packaging enthusiasts on Lazada and Shopee is that they maintain their narrative even when the product in question isn't all that fragile to begin with. Did the scrunchies you ordered really need their own cardboard box? Was bubble wrap necessary for that cotton T-shirt you purchased? Yes, packaging matters, but someone needs to tell the review section that it's not always the most important thing to consider.
ADVERTISEMENT - CONTINUE READING BELOW
The Hopeful Review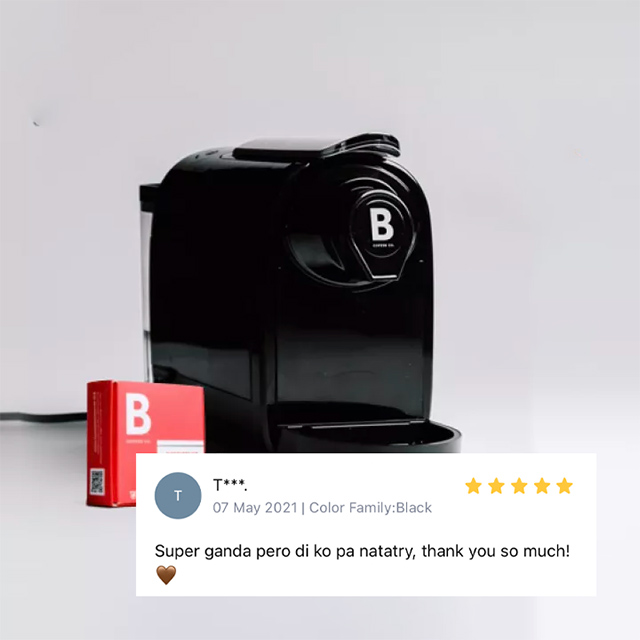 You have to admire the reviewers who leave a high rating based on first impression alone, though they're usually nice enough to say so. Sure, we're happy to know that your order showed up in one piece and looks good in real life, but we're always left guessing whether or not the actual product experience was worth the price. Oftentimes, folks will say that they'll edit their review after testing the product, and yet, almost no one ever updates the review—to quote that famous Tyra Banks meme, "we were all rooting for you!" But hey, this B Coffee Capsule Machine is an Internet-famous find, so at least you can count on reviews posted all over social media to get a better idea.
ADVERTISEMENT - CONTINUE READING BELOW
The Oversharer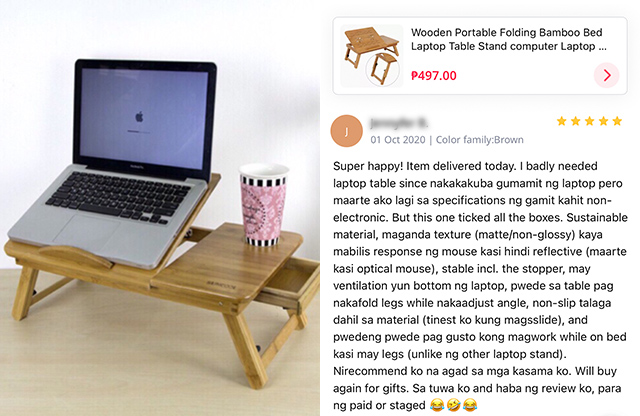 Sometimes, the review section of a product listing looks a little bit like an open forum a la Reddit—if you've ever seen an unnecessarily long or oversharing comment like this one posted under this laptop table stand from Shinecool Trading, you know what we mean. Don't get us wrong, we're not mad at folks who want to share their full experience (along with personal anecdotes and sometimes TMI facts) in the review section. We don't know what to do with the information that this anonymous reviewer has back problems and that they're a picky buyer, but we appreciate them clarifying that it's not staged.
ADVERTISEMENT - CONTINUE READING BELOW
The Rant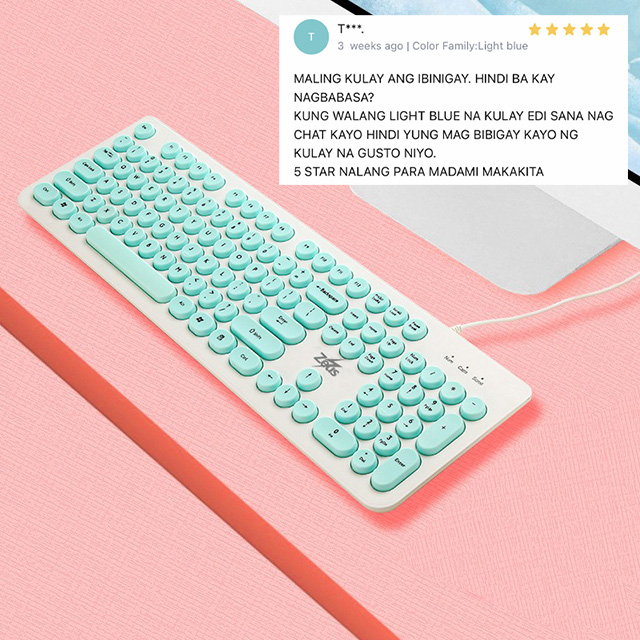 We'd be lying if we said that the angry reviews on Shopee and Lazada aren't at least a little bit entertaining. Take this review posted under a listing for a Zeus keyboard, for starters. It looks like the customer ordered the blue colorway and received a different shade and their disappointment is more than clear. The customer even left a five-star rating so his review could be seen by more people—that probably boosted the brand's average despite the less-than-satisfactory service though, so we're not sure if the reviewer really accomplished what they were going for.
ADVERTISEMENT - CONTINUE READING BELOW
The Forgiving Kind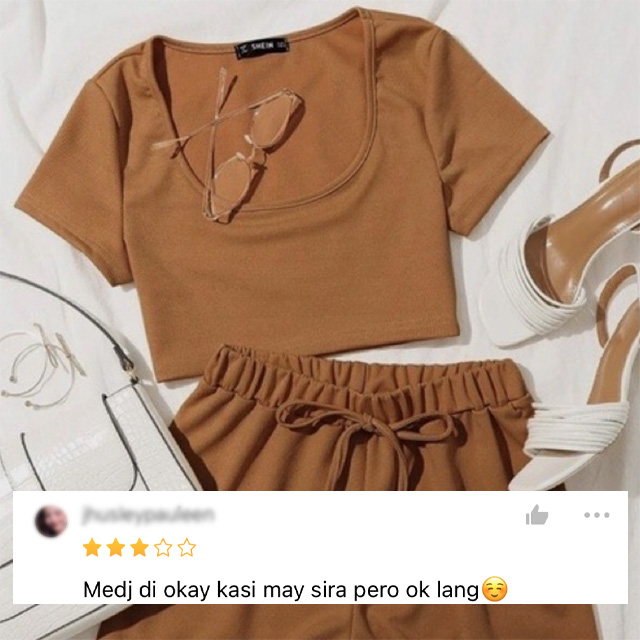 Where some customers choose to let out all their angst and emotions in an angry comment, others choose kindness despite not being totally happy with the product. Check out this review left on a listing for a shirt-and-shorts set from Buy More PH. The reviewer noted that the product came with a defect, but just as quickly said it was no big deal complete with a smiley face, even leaving three stars instead of just one or two. We aspire to have this person's patience and sense of inner peace.
ADVERTISEMENT - CONTINUE READING BELOW
The Helpful Review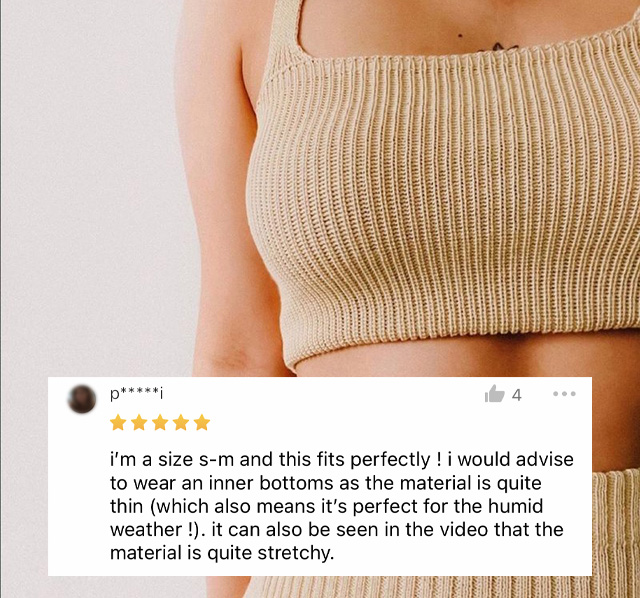 We all know this reviewer on Lazada and Shopee listings—that one person who goes into detail about all things you ought to know about the product before purchasing. They're often seen in clothing listings (such as these knitted coordinates from Glamorena), making notes about the product size, fabric quality, and silhouette, sometimes even providing photos of themselves in the pieces along with their own measurements to help provide other buyers with a better idea of what to expect. God bless these reviewers. If you have one of these reviewers in your life, keep them. Appreciate them. Don't let them go.
ADVERTISEMENT - CONTINUE READING BELOW
The Loyal Customer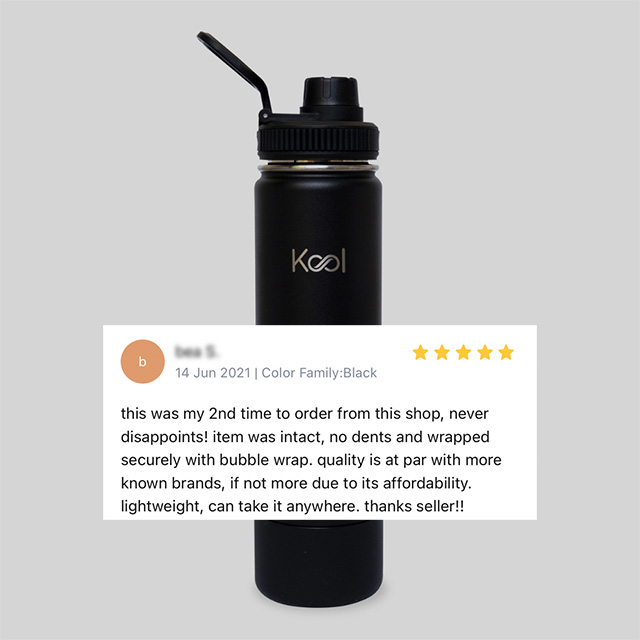 Customers proclaiming that they intend on shopping from a certain merchant again after a satisfactory purchase or stating that they've purchased items from the same seller before are the Internet equivalent of having a "suki" at your go-to tiangge. It doesn't tell us much about the quality of the product, but it's always nice to know that the brand shipping it to you is reliable. Customer service, after all, is an important part of the online shopping experience. Here we see that this buyer vouches for the reliability of this tumbler from Kool and has enjoyed all their transactions from the merchant so far.
ADVERTISEMENT - CONTINUE READING BELOW
The Nonsense Review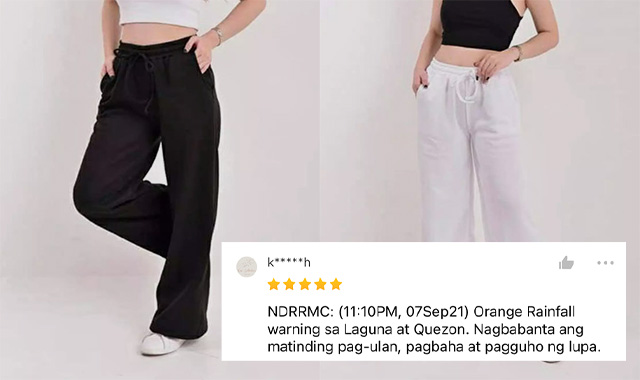 The nonsense review, as we'd like to call it, comes in many forms. Some people choose to throw in a long chain of keyboard smash, which seems to be a way to express strong feelings about the product, though what feelings exactly, we can't be sure. Others go for a more creative review—take this rating posted under these sweatpants from Juana Shoppe for example, which seems to have copy-pasted a weather forecast from September 7 into the review section for some reason. But hey, the reviewer left five stars, so maybe they actually enjoyed the product. As infruriating as these reviews can sometimes be—since they rarely help those of us trying to judge if an online purchase is worth the splurge—we can see why they exist. Leaving reviews, after all, comes with incentives like earning in-app coins, so maybe some people just prefer to keep their opinions private and fill the review space with whatever might come to mind.
ADVERTISEMENT - CONTINUE READING BELOW
Hey, Spotters! Check us out on Viber to join our Community and subscribe to our Chatbot.
Your guide to thriving in
this
strange new world.
Share this story with your friends!
---
Help us make Spot.ph better!
Take the short survey
Load More Stories