SPOT.ph Roadtest: Is the Samsung Sound Tower MX-T40 the Home Speaker for You?
With LED lights and a bass booster, this speaker can really pump up a party.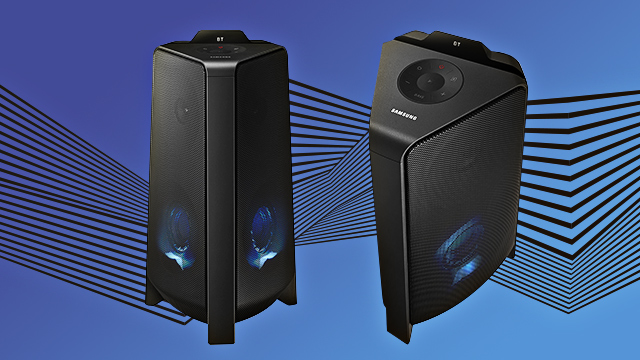 (SPOT.ph) You probably already have a portable Bluetooth speaker of your own—the kind you'd pack with you on a road trip, use to play tunes at a late-night hangout, or leave blasting on your beach mat while you chill seaside—and in this day age, some may even consider one a necessity. But while those travel-friendly devices are great to have when you're out of the house or just casually enjoying music, they're not exactly ideal for the kind of mind-blowing, heart-thumping, energy-inducing sound-trip you'd enjoy at a party, in a club, or at the cinema. For those occasions, you'll want to have a hefty, heavy-duty, ear-splittingly loud home speaker. Think about it: When you picture your dream home, is your 4K flat-screen TV plugged into an itty-bitty little speaker that needs to be recharged? Is your record player blasting old-school tunes through the type of audio device you'd use at a school presentation? We didn't think so.
ADVERTISEMENT - CONTINUE READING BELOW
There are many options on the market when it comes to home or party speakers—one you may be eyeing if you're looking to splurge on a great sound-system is the Samsung Sound Tower MX-T40, which was released in 2021. And we can't blame you for being curious about the device—it boasts a wide range of impressive features and sports a cool look that's perfect for a fun party or a big family get-together. But you may be wondering: how does the device actually perform? We know the hardcore audiophiles out there are skeptics when it comes to sound-quality claims—the proof is always in the listening. Luckily, we got a chance to try out the MX-T40. Keep reading to get our take.
CONTINUE READING BELOW
Recommended Videos
SPOT.ph Roadtest: A Trial and Review of the Samsung Sound Tower MX-T40
Fast Facts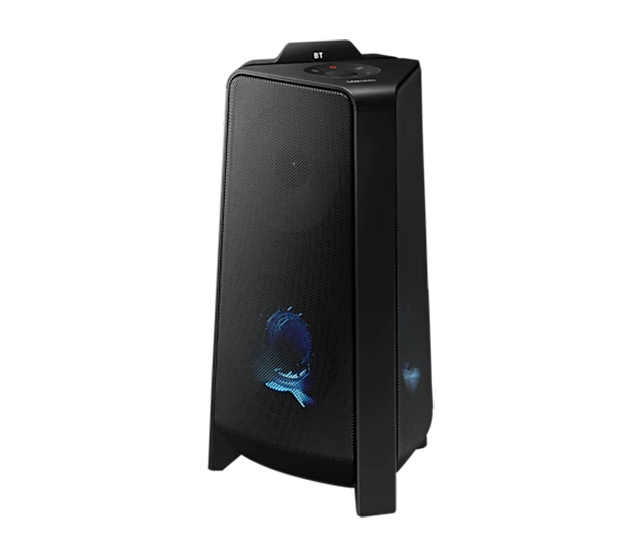 ADVERTISEMENT - CONTINUE READING BELOW
Price: P10,999
Where to Buy: Available on the SM appliances website, the Savers Appliances website, and at selected Samsung retailers.
Color: Black
Size: 291.5 mm wide, 530.5 mm tall
Weight: 6.8 kilograms
Notable Features: Bi-Directional Sound, Bass Booster, Group Play, LED party lights, 300W power output, remote control
First Impressions and Initial Setup
If you've never purchased a large home speaker—and our resident unboxer certainly never has—then unwrapping the Samsung Sound Tower MX-T40 is an oddly gratifying experience. Sure, new gadgets of any kind are always exciting, but seeing an audio device this large feels almost like a life achievement—think of the giddiness you felt when you first unpacked your oven or your air fryer. Size-wise, we'd compare the MX-T40 to that of a small traffic cone or a roadside fire hydrant. Though fairly tall as far as speakers go, you should have no problem making room for it at home. Ideally, you'd station the speaker in just one area of your home, but in case you ever need to move it around, it's easy enough to carry from place to place even with one hand.
ADVERTISEMENT - CONTINUE READING BELOW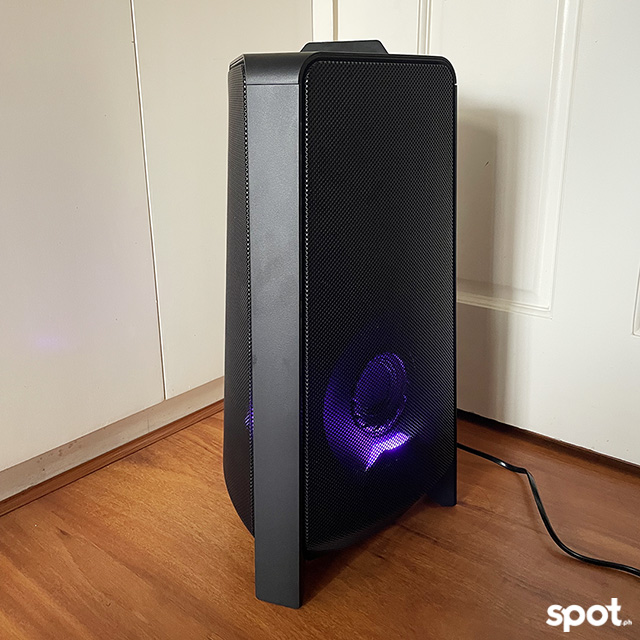 Looks-wise, the Samsung Sound Tower MX-T40 is as sleek as its photos promise. Decked out in matte black from top to bottom, the device would fit right into any space in your home without looking bulky or out-of-place. At first glance, the speaker may be quite intimidating—it's a pretty hefty model and may appear complicated to the not-so-tech-savvy—but we were pleased to find that the initial setup was pretty dummy-proof. Inside the box, you'll find the speaker, the instruction manual, the power cord, the remote control, batteries, and well, that's about it. Plug it in, turn it on, and you're pretty much good to go—no assembly required.
ADVERTISEMENT - CONTINUE READING BELOW
Controls and Connections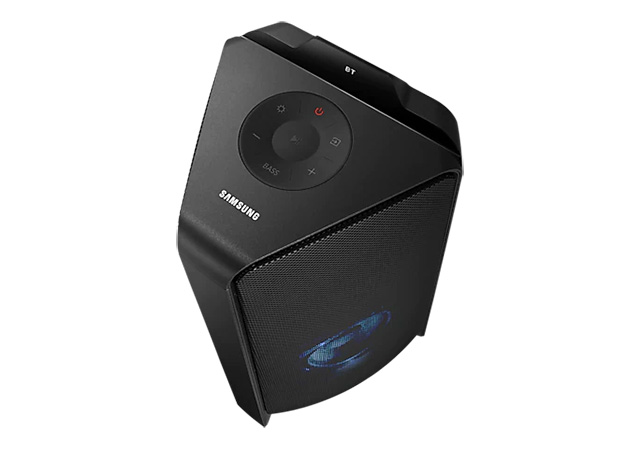 The speaker's main controls are situated on a circular panel up top. You'll find mostly basic controls that anyone can figure out—power on and off, play and pause, and volume control—along with a bass button for enabling the speaker's powerful Bass Booster, the source button to select which sound source should be playing out loud on the Sound Tower, and a button for switching between LED light modes. You can opt for a fast-paced, blinking light pattern for party settings, a slower, more ambient display for more laid-back scenarios, or no lights at all. You'll find the same controls on the device's remote control, so you can customize your settings even from afar.
ADVERTISEMENT - CONTINUE READING BELOW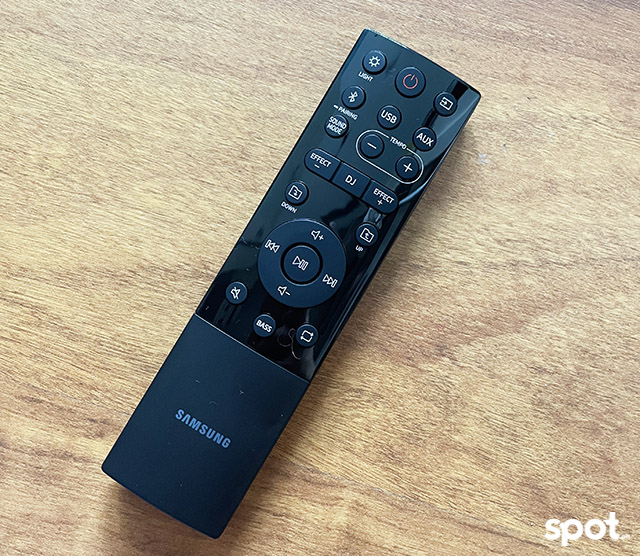 Sitting perpendicular to the control panel is a display window, which will show you the current status of your device as well as operating messages like which song is currently playing, which light mode you're on, whether the Bass Booster is enabled, and so on. Around the back, you'll find more technical controls. There's a button for enabling Bluetooth pairing (to connect new devices), one for connecting the device to another Samsung Party Audio model (so they can play in sync), and a switch to enable Group Play, which lets you connect up to 10 Samsung Party Audio devices to play in sync.
ADVERTISEMENT - CONTINUE READING BELOW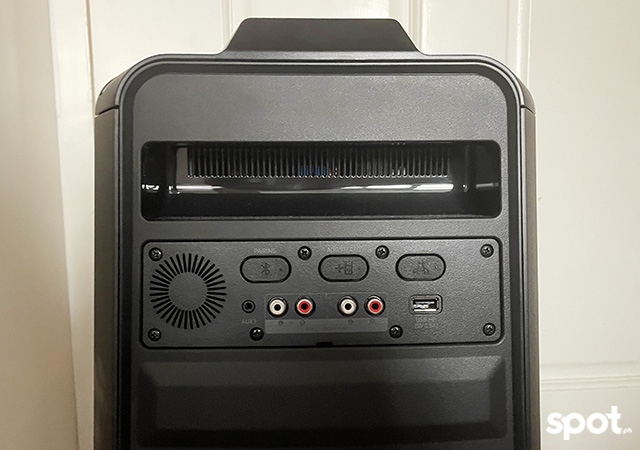 While playing audio via wireless Bluetooth connection is the default these days, you've got a variety of options for connecting sound sources. You'll find a basic aux jack at the back along with aux terminals (the multi-colored ports you'd find at the back of a TV or DVD player), as well as a USB port.
ADVERTISEMENT - CONTINUE READING BELOW
Sound Quality and Listening Experience
We tested out the Samsung Sound Tower MX-T40 with a variety of different media and, for music in particular, several different genres. As far as sound-tripping, the MX-T40 delivers with powerful precision. Starting out with the speaker's default setting—meaning the Bass Booster is turned off—music comes through with crisp and orgasmic separation among tracks. What we mean by that is that the instrumentals, the vocals, and the drum beats all manage to shine individually with none of the elements muddying together, nor competing against one another. That means whether you're listening to a particular song in order to sing along to the lyrics, vibe to the bass notes, or appreciate the instrumentals, you'll have a good time—and so will everyone else listening.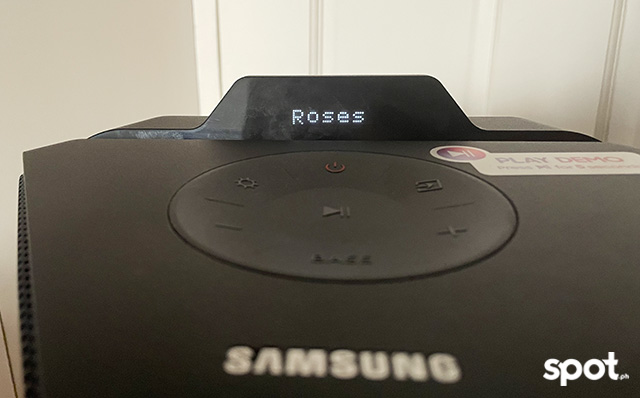 ADVERTISEMENT - CONTINUE READING BELOW
The Bi-Directional sound feature, which lets sound blast from either side of the triangular device's front panels, not only gives a 360-degree audio feel, but also creates a more balanced, true-to-production sound wherein the left and right channels are distinct from one another. It's similar to the way sound output differs on either side of a pair of headphones, but with less concentration on any particular side, such that the audio sounds the same no matter where you're standing. It should be noted, however, that if you're standing behind the speaker, there is a noticeable difference in terms of output quality, resulting in a slightly muffled effect. For at-home use, small gatherings, or even indoor parties, that shouldn't be much of a problem, but we'd recommend placing the speaker in a corner rather than in the middle of the room for best sound distribution.
ADVERTISEMENT - CONTINUE READING BELOW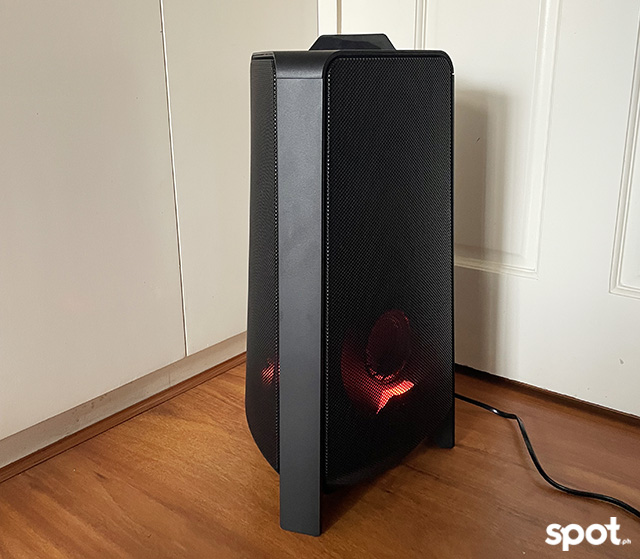 The quality held true for most genres—pop, rock, heavy metal, acoustic, hip hop, et cetera—but we especially enjoyed the speaker when it came time to blasting EDM tracks and dance tunes. This comes as no surprise as the MX-T40 is primarily a party speaker. And once we turned on the Bass Booster, the experience was damn near euphoric. We'll admit we closed our eyes for a few minutes pretending we were in the middle of a crowded club, despite testing the speaker out at around three in the afternoon. With the Bass Booster switched on, the drum beats and bass tones really popped—the kind of infectious, heart-thumping sound that will get your head bobbing and your hips shaking. You won't be able to resist the infectious sound. 
ADVERTISEMENT - CONTINUE READING BELOW
As far as other forms of media—podcasts, YouTube videos, TV shows, films, and the like—the Samsung Sound Tower MX-T40 still delivers great audio with the same crystal-clear quality and sharp detail among all the sound elements. It should be noted, however, that it may be a waste of the speaker's features to use it primarily for non-musical media. That being said, we wouldn't necessarily peg it as an ideal speaker for your home cinema or TV room. Although the sound quality does work well with epic film scores and explosive action scenes, it cannot be understated: Elevating the musical experience is the speaker's greatest asset.
Conclusion: Should You Buy the Samsung Sound Tower MX-T40?
If you're looking for a speaker specifically designed for music-listening, then we'd say the Samsung Sound Tower MX-T40 is a worthy choice—and for both its size and specs, the price is pretty reasonable in our book. It offers top-notch sound quality that is rich, dynamic, and hella loud without ever compromising all the little elements and nitty-gritty details that make your favorite songs so great. It's versatile enough to offer the kind of sound that would turn up the energy at a party, keep the good vibes going at a casual hang-out, or just just set the mood for an evening spent at home. 
ADVERTISEMENT - CONTINUE READING BELOW
For watching TV, streaming films, and marathoning your fave shows, the MX-T40 may not exactly be the best option—at least if that's the only thing you plan on using it for. Instead, we'd recommend you get it as your home's designated music blaster, but should the need arise, feel free to use it for watching blockbuster movies on the couch. 
Hey, Spotters! Check us out on Viber to join our Community and subscribe to our Chatbot.
We are now on Quento! Download the app and enjoy more articles and videos from SPOT.ph and other Summit Media websites.
Your guide to thriving in
this
strange new world.
Share this story with your friends!
---
Help us make Spot.ph better!
Take the short survey
Load More Stories