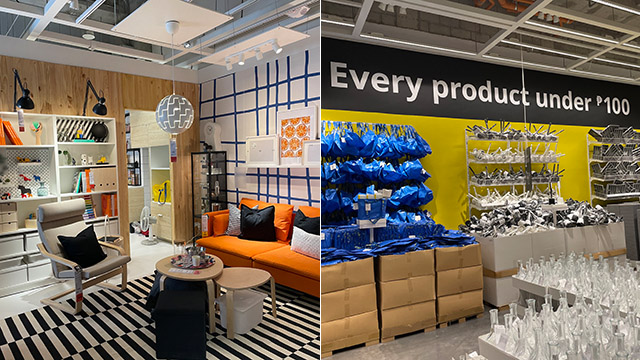 (SPOT.ph) The first-ever IKEA store in the Philippines—and the Swedish furniture retailer's largest outpost in the world—is finally opening to the public on November 25 at the SM Mall of Asia Complex in Pasay City. We recently got to take a peek inside the store ahead of its opening and hear us when we tell you: It's colossal. We suggest putting on your comfiest shoes, packing a bottle of water, and coming up with a shopping list ahead of time because you'll likely get lost in there for hours (more or less willingly so). With the sheer size of the store space and the over 9,000 products on display, we doubt you'll be able to truly explore everything they've got to offer on just one visit—but hey, at least you'll have an excuse to come back. That being said, if you'd like to make the most of your first visit, we round up 10 cool things you shouldn't miss at IKEA Philippines below and where to find them!
ADVERTISEMENT - CONTINUE READING BELOW
Keep in mind we won't be including any food-related sections of the IKEA store in this roundup. But worry not, we've got a handy guide to the Swedish restaurant, market, cafe, and more. 
Keep these handy tips in mind for your first visit to IKEA Philippines:
Hit up the fourth floor for all your furniture needs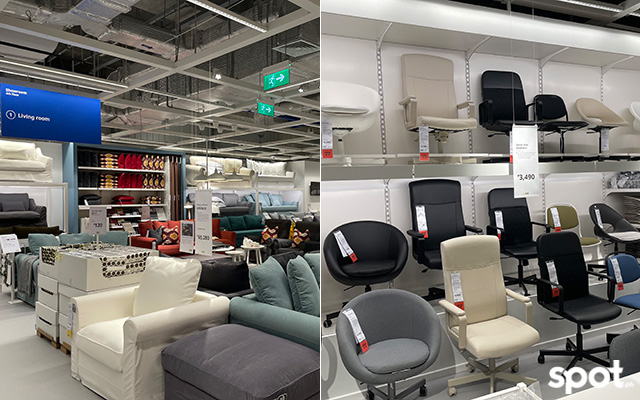 It goes without saying that any trip to IKEA is most likely going to turn into a furniture-shopping extravaganza. But like we said, it's best to go in with a plan, so here's where you need to know: The fourth floor of the IKEA building is where you'll find their coveted selection of large furniture pieces. The area is divided into nine sections: Living Room, Living Room Storage, Workspaces, Dining, Kitchen, Bathroom Furniture, Bedroom, Wardrobes and Storage, and Children's IKEA—they're laid out in that order, so as soon you enter through one side, you'll likely go through them in that exact sequence. If you're looking to shorten your walk between sections, you'll find shortcuts that lead from the Living Room Storage section to Children's IKEA and Wardrobes. Keep your eyes peeled for maps hung from the ceiling as well as signs that indicate which section you're currently in.
ADVERTISEMENT - CONTINUE READING BELOW
Small household essentials are located on the third level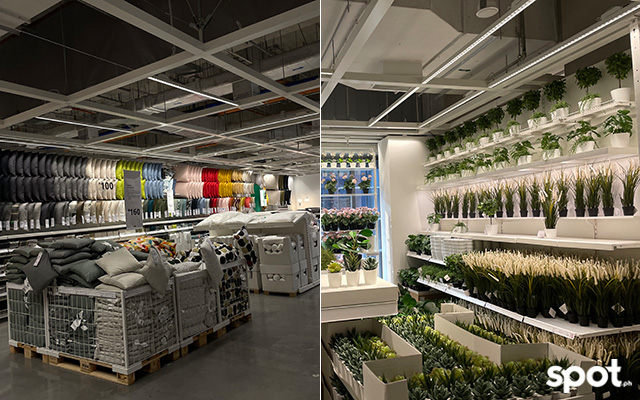 If you're not in need of any large furniture pieces, you probably won't get much out of the fourth level of the store—we'd still recommend you browse, but fair warning, you might end up leaving the store with a new bed or sofa you don't need. Stay safe out there. If small home essentials are on your wish list, then head straight to the third floor—known as the Market Hall—which is divided into 10 sections: Tableware and Cookshop, Textiles, Bed Textiles, Bathroom Accessories, Home Organization, Lighting, Wall Decoration and Mirrors, Home Decoration, Plants and Outdoor Furniture, and Rugs. You'll find shortcuts here, too—there are walkways that lead from Home Organization to Wall Decoration and Mirrors, Textiles, and Tableware and Cookshop.
ADVERTISEMENT - CONTINUE READING BELOW
Don't miss the "Every Product Under P100" area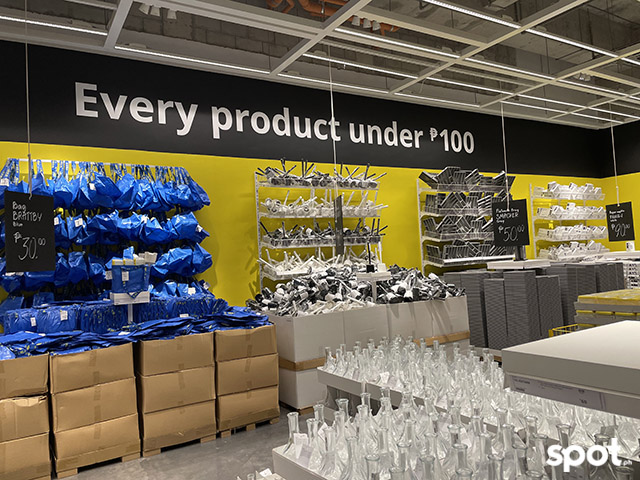 In case you're heading to IKEA on a budget, don't worry because the store is filled with budget-friendly finds both big and small. If you're rushing to find the best wallet-friendly deals, head on over to the "Every Product Under P100" area. As its name suggests, this section of the store is dedicated to finds you can get for one purple bill or less. We spotted hangers, plates, reusable bags, food containers, and more up for grabs. You'll find this spot on the third floor of the building—if you take the escalator down from the fourth level, you can't miss it. Plus, it's right by the shopping carts, so you'll have no problem grabbing everything that catches your eye.
ADVERTISEMENT - CONTINUE READING BELOW
Get home-improvement inspiration from the various Showrooms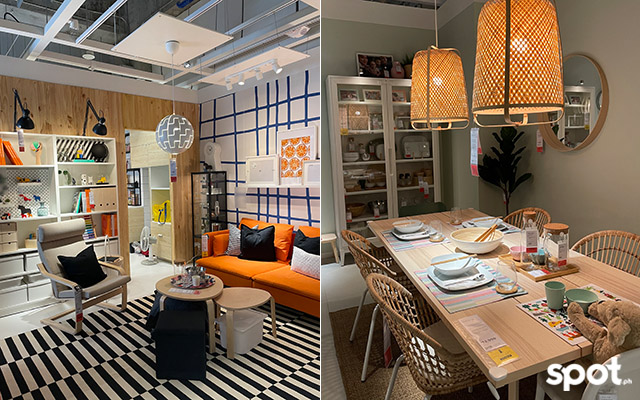 Scattered all over the fourth floor—which itself is called the Showroom level—are curated displays composed entirely of IKEA products. Once you enter the fourth level, these spots aren't exactly hard to miss. Those of you who like to shop as quickly as possible may think that browsing through these display rooms is time-consuming and impractical. Sure, you'll probably move faster if you head straight to the actual store shelves—but hear us out. The Showrooms can really elevate your IKEA experience, taking it from a basic shopping spree to an inspirational trek. Taking the time to view each room is a lot like browsing a glossy home magazine or scrolling through a cool Pinterest feed. Only IRL, as in complete with touch and feel. You'll be treated to eye-catching displays of kitchens, living rooms, bathrooms, dining rooms, and more that will inspire your own home-improvement ideas.
ADVERTISEMENT - CONTINUE READING BELOW
Drop by the Circular Hub for sustainable and budget-friendly finds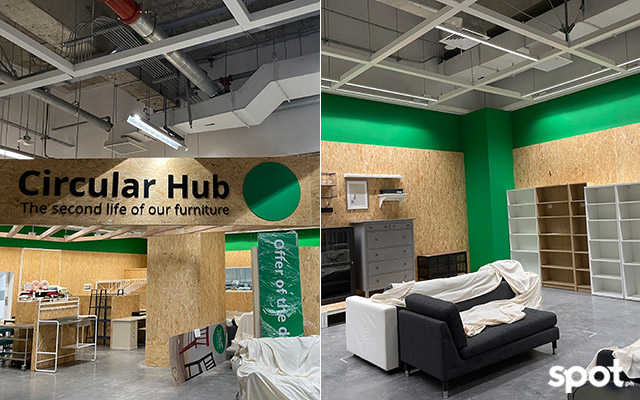 One of IKEA' s brand goals is to become a circular retailer by 2030—this means that they intend to keep products and materials in use for as long as possible, getting the maximum value out of things before discarding them. One way they're doing so is with The Circular Hub, located on the third floor right by the cashiers. This space seeks to "give new life to old things," according to IKEA's website. It's where you can find old products that were either previously used on display or have been discontinued so you can shop more sustainably. And yes, we can confirm the finds in this area are cheaper, too.
ADVERTISEMENT - CONTINUE READING BELOW
You can get textile customized at the Sewing Service area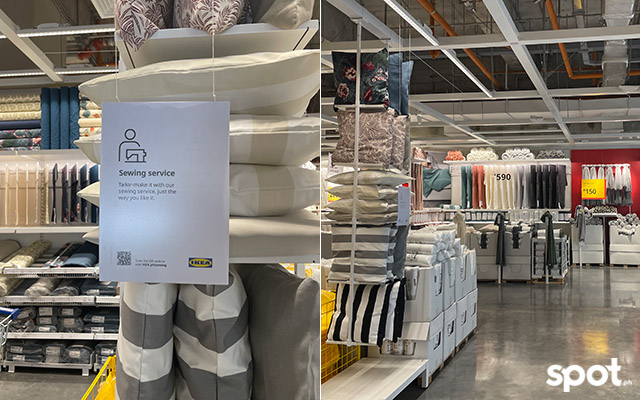 It was announced in February that IKEA teamed up with local social enterprise Rags2Riches; the latter is the furniture brand's official sewing partner in the Philippines. This means that Rags2Riches has its own space in IKEA's outpost where customers can have textiles customized. You can buy fabrics or fabric products (like curtains, bed sheets, pillow cases, and the like) directly from IKEA and have them altered to your sizing needs and design preferences right there in the store.
ADVERTISEMENT - CONTINUE READING BELOW
Gamers, there's a spot made just for you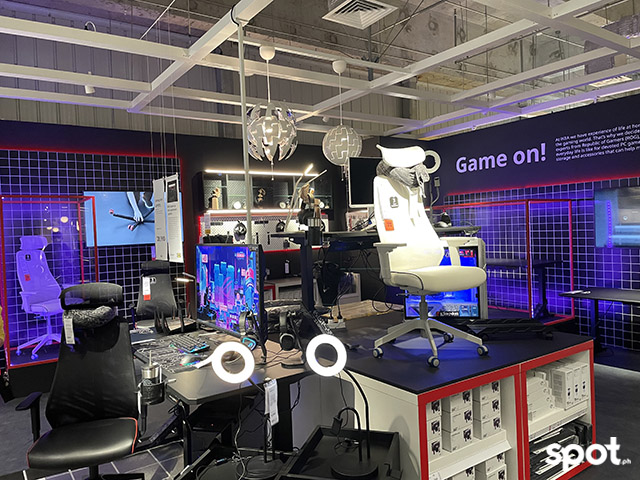 Though IKEA is best known for furniture and home finds that exude that timeless, Scandinavian look, that doesn't mean they aren't adapting to the needs of modern homeowners and condo dwellers. Case in point: the gaming room. Located on the fourth floor right by the escalators, this space stands out from other Showrooms and displays thanks to its futuristic design. It's filled end to end with gamer essentials such as adjustable tables, desk accessories, gaming chairs, and more nifty finds to level up your at-home setup.
ADVERTISEMENT - CONTINUE READING BELOW
Get office-designing tips at IKEA for Business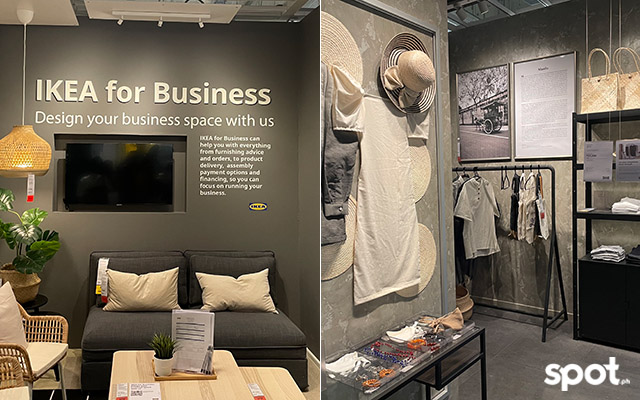 IKEA for Business is an in-store service that can help customers with furnishing advice, financing, assembly, and delivery for building their own chic but functional office spaces. It has its own dedicated space on the fourth floor which features sample office setups that the retailer can help you create. With many starting small businesses or growing mom-and-pop shops into full-blown companies, the service is great for local entrepreneurs looking to take the next step.
ADVERTISEMENT - CONTINUE READING BELOW
Children's IKEA has some pretty cool finds, too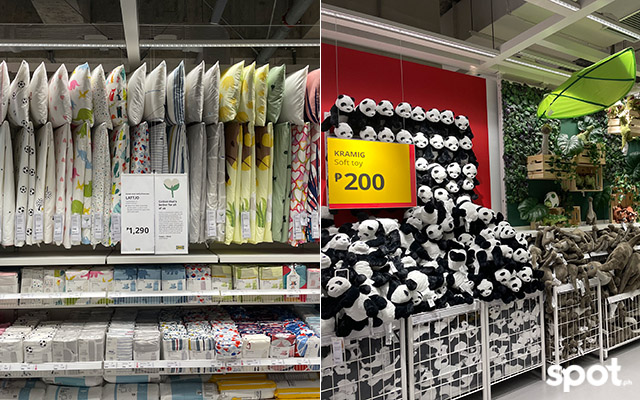 Those of you who don't have offspring of your own will likely assume that Children's IKEA, the kids' section of the furniture store, isn't worth a thorough search. Well, you'd be wrong. Even in our own visit to the store, the children's section totally had us swooning. It's a great place to find quirky and colorful home finds to brighten up your minimalist interiors. Not to mention, the Showrooms made for kiddos are a whole lot of fun—the kind of rooms you'd see on your fave sitcoms as a teen. Plus, with the holidays around the corner, you'll want to stop by and shop a little something for your nieces and nephew—their cute stuffed toys go for as low as P200!
ADVERTISEMENT - CONTINUE READING BELOW
Keep your eyes peeled for the "Lowest Price" displays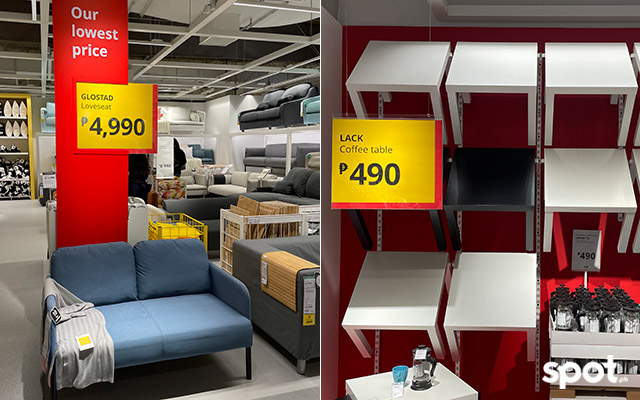 In each section of the store, you'll notice some furniture pieces and household essentials are displayed with a red sign up top that reads "lowest price." In some cases, those key words won't be there, but you'll still see that same red border against IKEA's signature yellow signage. Basically, if you spot red, don't just walk past it! The red border means that particular item is the cheapest in its category. In our snap above, you'll notice the sign posted on a loveseat as well as a coffee table, meaning in those specific furniture categories those specific finds are the lowest in price. In case you're looking for a specific item and would like to either buy the most budget-friendly version available or you'd like to get a gauge of how much it would cost you, these "Lowest Price" displays will be a big help.
ADVERTISEMENT - CONTINUE READING BELOW
Hey, Spotters! Check us out on Viber to join our Community and subscribe to our Chatbot.
Share this story with your friends!
---
Help us make Spot.ph better!
Take the short survey
More Videos You Can Watch
Load More Stories