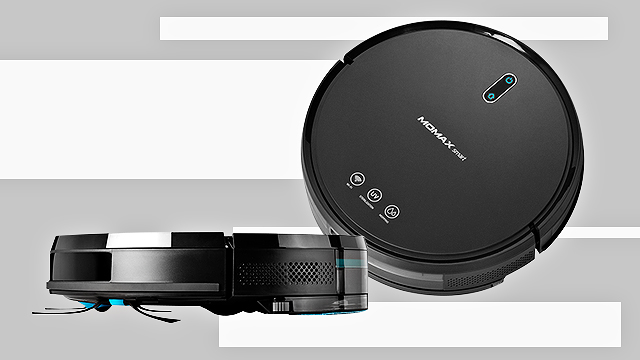 (SPOT.ph) Here's one sad truth about being an adult: You're almost always cleaning. Dirty dishes quickly pile up in the sink, used clothes fill up every laundry basket, and dust gathers in corners and under furniture much faster than you would think. And with only a few hours each weeknight and a few days every weekend to really rest and recover from work, cleaning often takes up way more time than most of us would prefer. To make the process easier, many folks have invested in helpful cleaning tools and appliances, most notably the popular robot vacuum. The device works by wheeling around your floor, sucking up dirt and debris as it goes, eliminating the need to constantly sweep and vacuum your space and saving you lots of time and energy in the process. There are many kinds out there and those of you who are especially particular about your cleaning process may be wondering just how well the appliance works. Well, so were we—which is why we jumped on the chance to try the Momax Trio-Cleanse IoT UV-C Vacuum Robot. Here's what went down.

ADVERTISEMENT - CONTINUE READING BELOW
A Roadtest and Review of the Momax Trio-Cleanse IoT UV-C Vacuum Robot
Fast Facts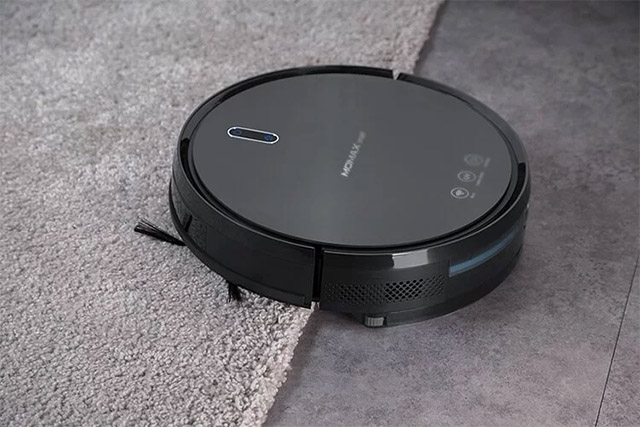 Price: P14,590
Where to buy: Available on Digital Walker's website and Lazada.
Color: Black
Size: 35 centimeters in diameter, 8 centimeters in height
Weight: 3.1 kilograms
Battery life: 110 minutes
First Impressions and Initial Setup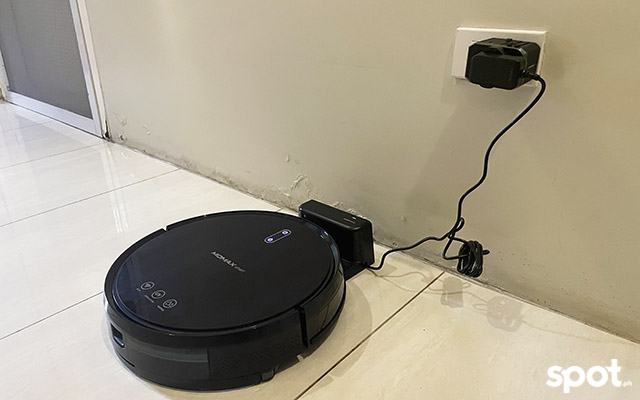 If you've seen robot vacuums on the Internet, neither the size nor shape should come as a surprise—Momax's version is pretty similar to other popular models with a fairly thick circular body that's about as wide as a standard vinyl record. Inside the Momax Vacuum's box, you'll find the main unit along with two side brushes, a filter, and a sponge—with an extra of each—as well as a charging component and cable. Set up is pretty straightforward, especially since most of the cleaning accessories are already attached to the vacuum in the box. All we had to do was attach the left and right brushes, plug in the charging component, and position the vacuum for charging. You should be able to do this in just a few minutes—the vacuum component is a bit on the heavy side, especially if you're used to smaller vacuums, so we suggest setting up in the place where you plan on charging it.
ADVERTISEMENT - CONTINUE READING BELOW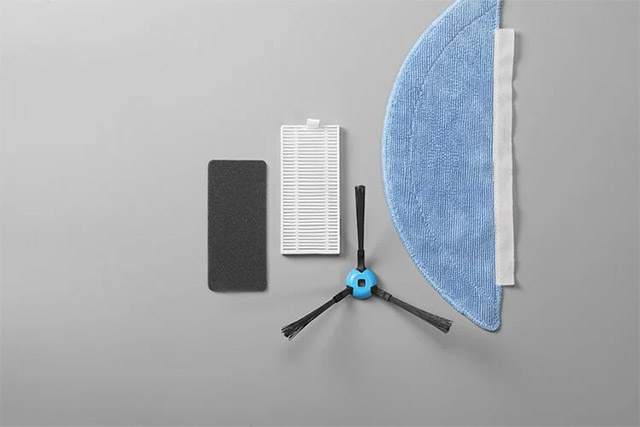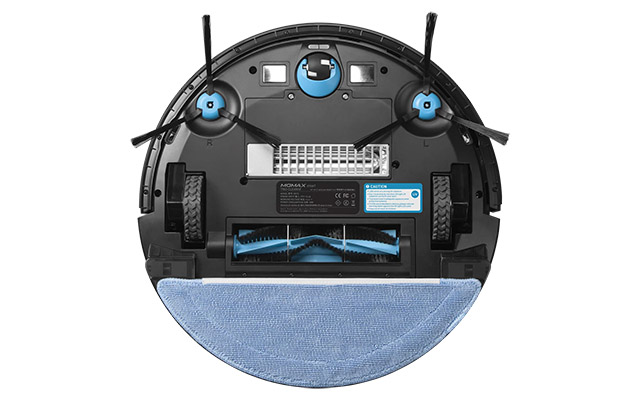 ADVERTISEMENT - CONTINUE READING BELOW
You'll want to find a spot with an electrical socket closer to the ground to avoid the charging wire hanging from any walls, though the cable is long enough to position the charging dock a distance away if you'd prefer. At 25 centimeters in diameter, the vacuum should be able to fit in any hallway or room as well as in most small corners. Take note that the vacuum needs to be placed and set up in an area with WiFi capability, so stick to parts of your house that have reliable Wi-Fi access. The smartphone you'll use to control the vacuum should be able to connect to the same WiFi, too. 
Once you place the device on the charging component, a voice alert will inform you that the vacuum is indeed being recharged. While the vacuum is charging for the very first time, you can download the Momax Smart app (available on the App Store and Google Play Store). This app allows you to control the vacuum directly from your phone and customize the way it cleans and moves around.
ADVERTISEMENT - CONTINUE READING BELOW
To connect the device to your phone, select "Trio-Cleanse IoT UV-C Vacuum Robot" on the Momax Smart app's main menu and you'll be given instructions for initial setup. After a quick pairing process that takes about a minute, you should have access to all the vacuum's main features.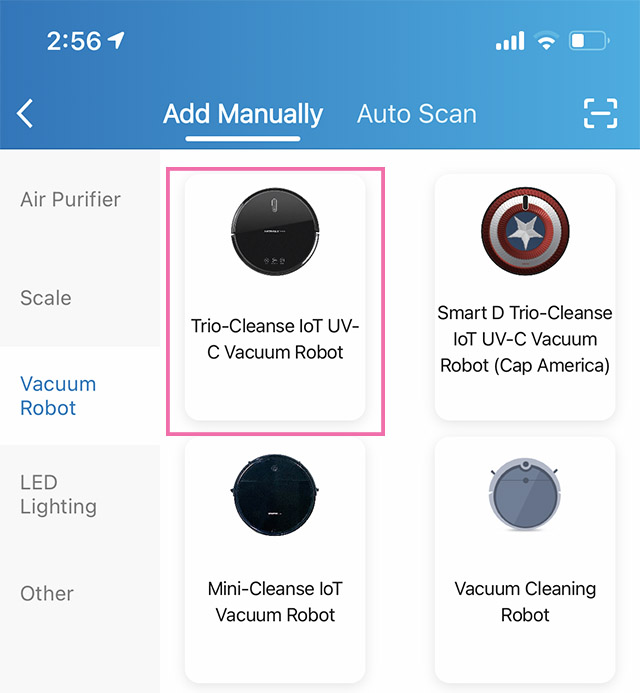 ADVERTISEMENT - CONTINUE READING BELOW
Take note that if you'd rather not set the device up on your phone right away, you can quick-start the cleaning process by pressing the power button up top. The vacuum will start moving around and cleaning as it goes. Though this isn't ideal if you want a more customized cleaning, it does work great if you're ever using the device without a smartphone or reliable Wi-Fi connection or if you just want to quickly tidy up a small space.
Controls
On the Momax Smart app's vacuum-control menu, you can see the device's battery percentage as well as its various modes and settings. You can control the strength of the fan, turn UVC on or off, enable or disable deep cleaning, or use Seek Robot, which, when selected, enables the vacuum to say "I'm here" in case you can't seem to locate it in your home.
ADVERTISEMENT - CONTINUE READING BELOW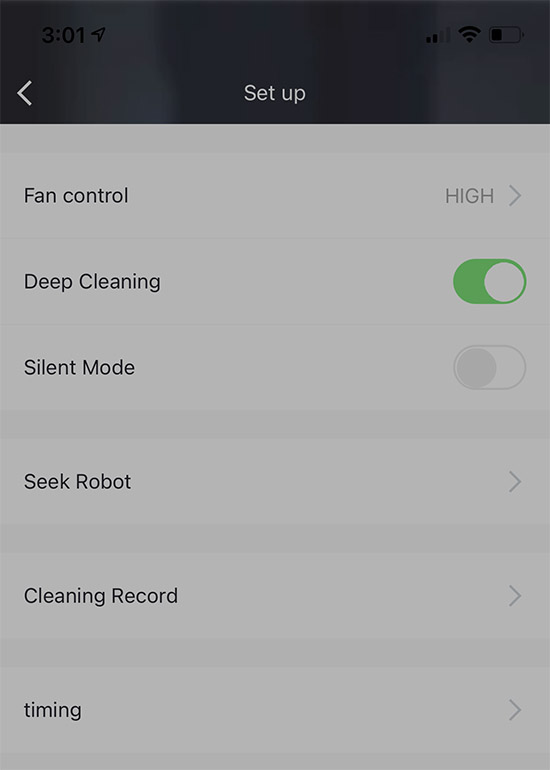 You'll want to start with the Smart feature. Place the vacuum anywhere in the room you'd like to clean—by a corner, wall, or door would work best—and hit "Smart" on the app. Not only will the vacuum start rolling through every inch of your floor, it will also map it out as you go. That way, the appliance will have a better idea of your space—where the walls and corners are, the spots it needs to avoid, and the overall layout. You'll see the app build a diagram based on your vacuum's path as it goes.
ADVERTISEMENT - CONTINUE READING BELOW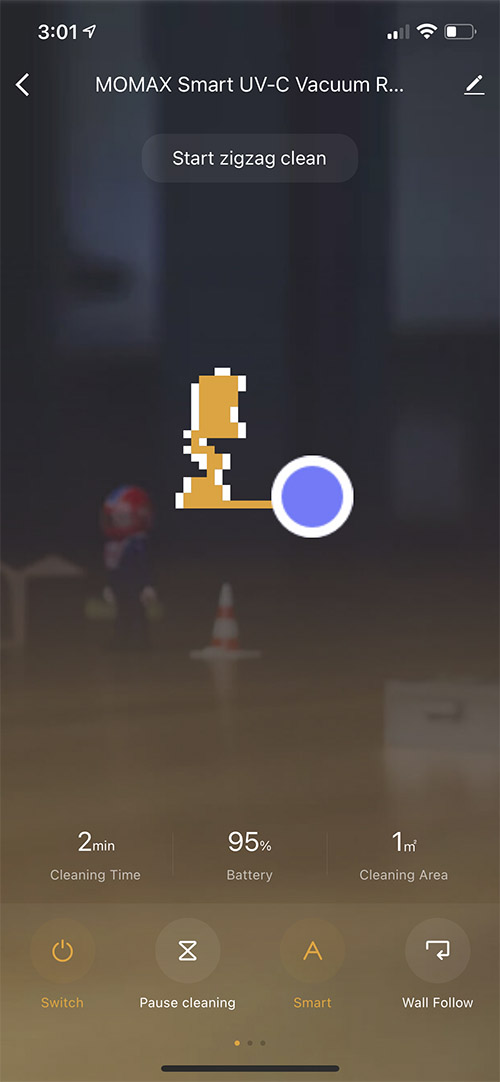 You can also go for Spiral mode, which lets the vacuum focus on a specific area for spot cleaning or the Wall Follow option, made specifically to let the vacuum stay close to the wall and clean the dust that gathers on the edge of the room. There's also Manual Mode, which lets the user control the direction of the vacuum with on-screen arrows—in case you want to concentrate on a particular spot or just have a very specific path in mind. 
ADVERTISEMENT - CONTINUE READING BELOW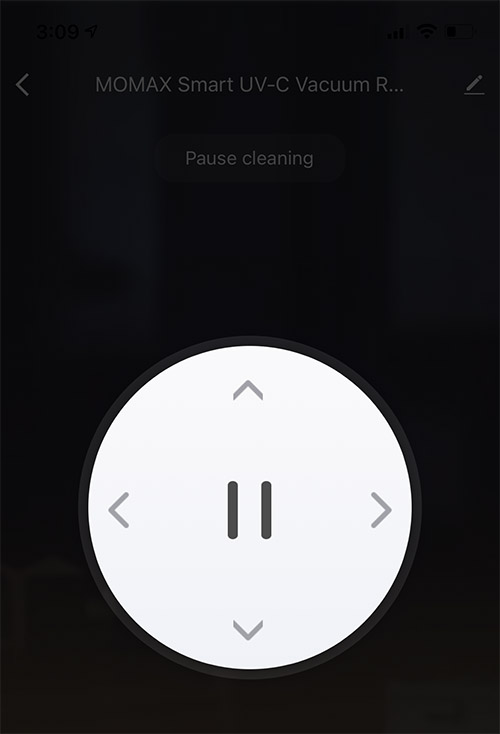 While there may be a short learning curve upon initial use, we'd say the app is simple enough to get the hang of in just a few minutes. That being said, it may require some patience—whereas a human would be able to see right away what spots need to be vacuumed, the Momax robot vacuum will need some time to learn the layout of your home and—because it will cover every inch of your floor—take a little while to get through a narrow hallway or small room than you normally would. 
ADVERTISEMENT - CONTINUE READING BELOW
Usage
We started by allowing the Momax vacuum to clean a fairly narrow hallway in a condo. We found Smart mode was the easiest way to go as the device will systematically move back and forth through each area of your floor. When it hits walls, furniture, or spaces that are too small to enter, it re-angles itself to move in a different direction, thus learning right away what spaces are off-limits. That means even if you aren't watching it, it should be able to get through most of your floor space unattended. We should note, however, that it may be wise to move some furniture around or to get some pieces out of the way when operating the vacuum—especially if you want the area that the furniture covers to be cleaned—in order to keep it from obstructing the vacuum's trail. You'll want to study the vacuum as it goes; figure out where it fits and where it doesn't. That way, you'll know if any furniture or decor pieces need to be moved when using the vacuum. We were able to clean a small room's entire floor in about 10 minutes, lifting up a few objects—office chair, electric fan, and storage boxes—along the way.
ADVERTISEMENT - CONTINUE READING BELOW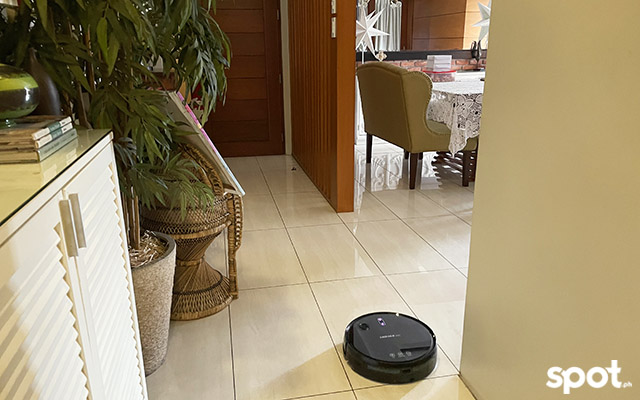 We found that the two spinning brushes attached to either side of the vacuum work to clean hard-to-reach areas like small nooks or wall corners that the gadget's body may not be able to get to. The brushes, which spin toward the vacuum, sweep small particles toward it, allowing the appliance to suck up a lot of stray dirt as it goes. After cleaning a small room—which was not particularly dusty but hadn't been swept that day—we noticed a substantial amount of dust and dirt gathered by the vacuum, most of which was the kind you don't see right away with the eye. With that in mind, we think the Momax vacuum is especially handy for everyday cleaning as it can effortlessly get rid of those smaller particles you wouldn't normally notice. However, while the vacuum is effective for cleaning the majority of your floor space, you may still find some dust in tight corners or near the bottom-most parts of furniture pieces such as table legs or trolley wheels.
ADVERTISEMENT - CONTINUE READING BELOW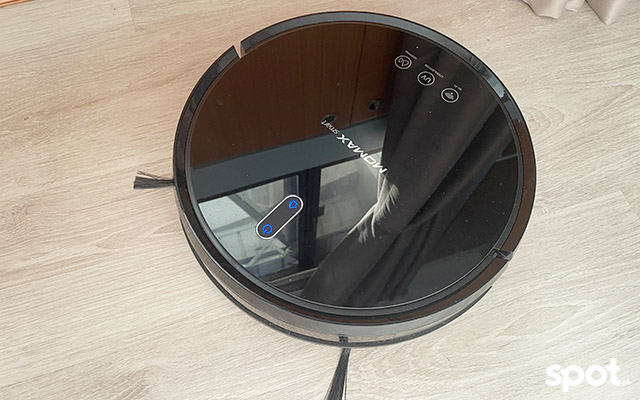 Cleaning Up After
All the small attachments of the vacuum—the sponge, the filter, and the brushes—are removable, which means they can easily be washed or replaced without having to maneuver the actual vacuum too often. The dust basket is located on the back of the component and can be pulled out like a drawer. Unlike some vacuums, pulling the basket out doesn't immediately expose the trapped dust to the air, which means you'll be less likely to accidentally spill the contents. You can get a good view of just how much dirt and debris the vacuum gathered as soon as you pull the drawer-like container out. From there, you can empty it, clean it, and put it right back with no fuss.
ADVERTISEMENT - CONTINUE READING BELOW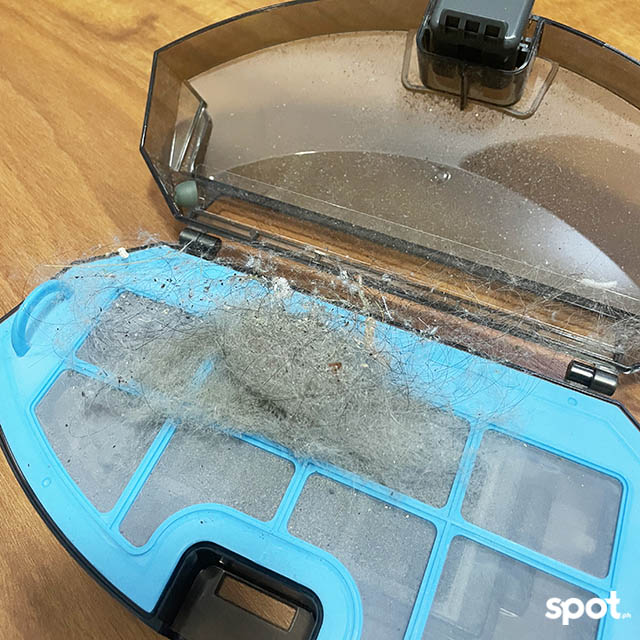 Once you're done using the vacuum, you can manually return it to its charging dock or use the Home button on the app (or the arrow button on the appliance itself) to instruct it to find its own way to the charger. This process may take a few minutes, depending on how far the vacuum is from the dock. If you're impatient, you can place the vacuum near the dock, press the home button, and let it plug itself in and start recharging.
ADVERTISEMENT - CONTINUE READING BELOW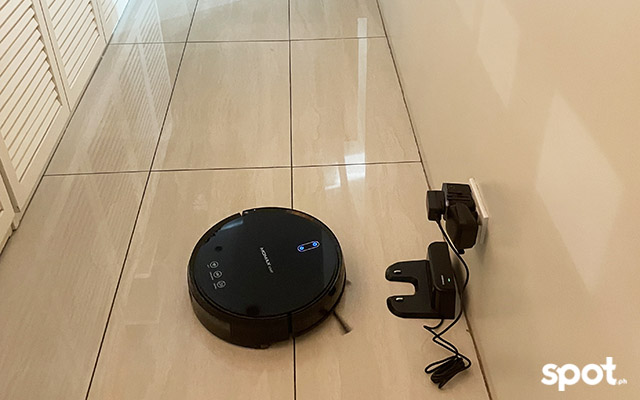 Conclusion: Should You Buy the Momax Trio-Cleanse IoT UV-C Vacuum Robot?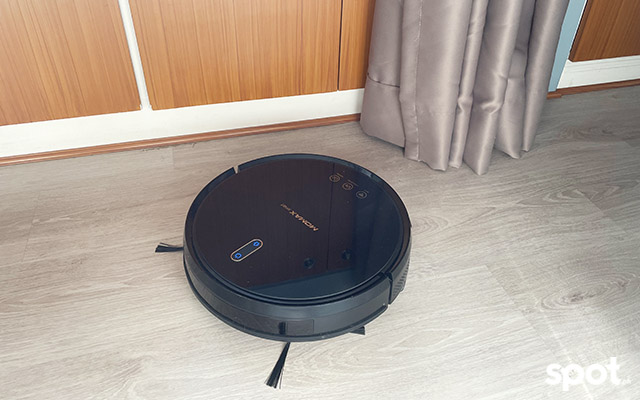 ADVERTISEMENT - CONTINUE READING BELOW
The Momax Vacuum Robot will work best for those looking to make everyday cleaning more convenient and less time-consuming. It'll be a lifesaver for getting rid of the undetectable dust and dirt that can slowly pile up in your home each day—especially in the areas that are most walked in or occupied. While it may take you some time to get the hang of it, especially if you're not used to automatic devices doing all the work for you, we'd say it'll be worth the effort. Give yourself a day (or a weekend if you need it) to figure out the device and let it learn your floor space and you'll be rewarded with the convenience of not having to sweep or vacuum every single day. Use it as often as you usually sweep or vacuum and you'll find that dust won't have built up to an uncomfortable level by the time Saturday comes around, making weekend cleaning a little less tedious.
ADVERTISEMENT - CONTINUE READING BELOW
That being said, we don't necessarily think the Momax vacuum will completely eliminate all types of floor cleaning on your part. Though the device is thorough when it comes to cleaning up most of your floor—specifically the wider, more open areas—you'll likely still have to sweep, dust, or wipe your tiles once a week or so, particularly those small spaces and hard-to-reach areas. So don't purchase a robot vacuum thinking that it's going to be a personal butler that can do it all. Instead, think of it as a helpful tidying companion and an investment for your day-to-day life—one that ensures a cleaner house, but also lessens your list of daily chores and gives you more time and energy each week.
Hey, Spotters! Check us out on Viber to join our Community and subscribe to our Chatbot.
Your guide to thriving in
this
strange new world.
Share this story with your friends!
---
Help us make Spot.ph better!
Take the short survey
More Videos You Can Watch
Load More Stories