Tumbler Smackdown: Hydro Flask vs. Klean Kanteen
Ever wonder which tumbler brand keeps water cold longer?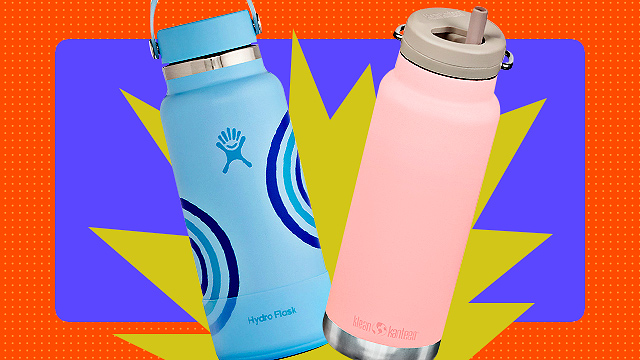 (SPOT.ph) Reusable water bottles have been around since at least the 1940s, but they first became something of a status symbol sometime in the early 2010s. Refinery29, citing trend-forecasting company WGSN's archives, notes that a company called Bobble originally put them on the map. Unlike the bulkier and heavier tumblers you'll see today, Bobble offered clear plastic bottles with a built-in filtration system attached to the nozzle, which came in a variety of colors. But while the Bobbles were a lot different than the tumblers we commonly see today, their bottles were, as R29 notes, "cool looking" and "add an element that seemed a little tech-y"—a combination that the biggest names in the reusable-bottle industry still offer consumers, usually in the form of vacuum-insulation that can maintain a beverage's temperature. Two notable names that come to mind are Klean Kanteen and Hydro Flask.
ADVERTISEMENT - CONTINUE READING BELOW
On the surface, Klean Kanteen's and Hydro Flask's tumblers are similar in almost every way. Both brands offer insulated tumblers—as well as food storage containers and travel essentials—in different colors and sizes that are as functional as they are Instagram-worthy. The choice between the two is often a matter of preference for small details like color, material, or lid type. In fact, some of you—much like this writer—may even own several bottles from each brand. Even so, we were curious about how their bottles would fare when directly compared. So, we went ahead and put them to the test.
Klean Kanteen Tumbler vs. Hydro Flask Tumbler: Which Performs Better?
The purpose of the experiment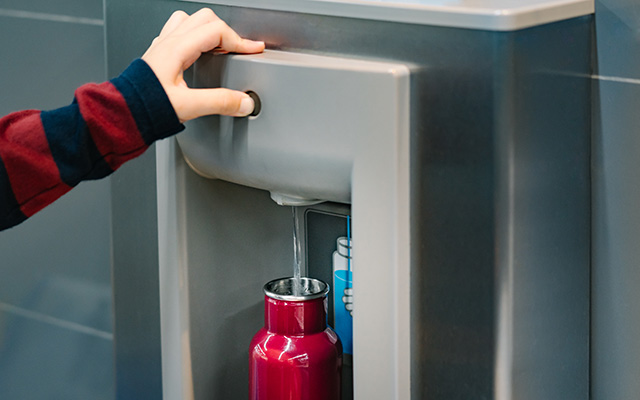 Outside of their promotion of wellness, sustainability, and an #aesthetic lifestyle, both Hydro Flask and Klean Kanteen tumblers have the same claim to fame: Their bottles can keep your drinks cold for hours on end and that's the main feature we wanted to test out. For this experiment, we're observing how long and how effectively these tumbler brands can keep water cold—they also work to maintain the temperature of hot drinks, but we figured cold water would be a more useful test in a tropical country.
CONTINUE READING BELOW
Recommended Videos
Though temperature will be the main point of observation, we'll also run down some of the other differences between the bottles in terms of size, design, price, and more just to give you a better idea of how the two compare overall.
The tumblers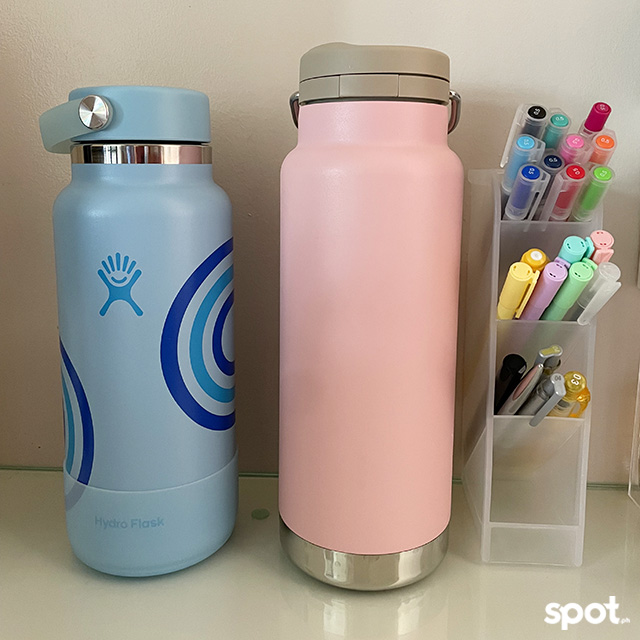 For this experiment, we tested out two tumblers that have the same liquid capacity and were released around the same time. On one corner, we've got the 32-ounce Hydro Flask Refill for Good tumbler (complete with Wide Flex Cap and protective boot) in the shade Geyser, which was released in July 2021. On the other is Klean Kanteen's Carnival Candy 3.0—the third iteration of the pink tumbler they release annually for Breast Cancer Awareness month in October, which also has a 32-ounce capacity. Upon release, the Carnival Candy was reported to be able to keep drinks hot for up to 24 hours and cold for up to 83. The Hydro Flask Refill for Good Tumblers, on the other hand, promise to keep beverages cold for up to 24 hours and hot for up to 12.
ADVERTISEMENT - CONTINUE READING BELOW
As far as the tumblers used in this experiment are concerned, Klean Kanteen's (P2,550) is significantly more affordable than Hydro Flask's (P3,290)—no doubt a factor many will consider when purchasing—and their other 32-ounce tumblers are about the same price as the Carnival Candy featured here. Hydro Flask's prices tend to be a little more varied—depending on the collection, lid type, or material—so while they do have other 32-ounce bottles priced similarly to the tumbler used here, they also have larger bottles (40 ounces) that go for less than P3,000. Plus, the Hydro Flask tumbler used in this experiment comes with a protective boot, which does a little more value to the purchase.
If portability is a concern, the Hydro Flask tumbler may be the better option, but only marginally. Though the bottles have the same 32-ounce capacity, the Hydro Flask is slightly shorter and even lighter by a few grams compared to the Klean Kanteen.
Setting up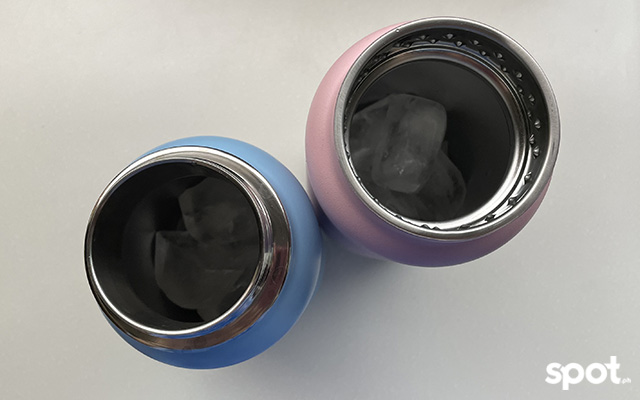 ADVERTISEMENT - CONTINUE READING BELOW
To begin the experiment, we filled each tumbler with 10 pieces of similarly sized ice cubes each along with 500 ml (almost 17 ounces) of room temperature water at 9 a.m on a Monday. For a tumbler of this size, 10 pieces of ice cubes may still be too little for some as they just barely filled up half of either 32-ounce bottle. The good news in that case is that you have plenty of room for ice if you like to add a lot, but the bad news is that you'll need a ton of ice in order to fill up the entire bottle—if you've got a limited supply at home, you can of course go for a tumbler smaller than 32 ounces. 
The first 15 hours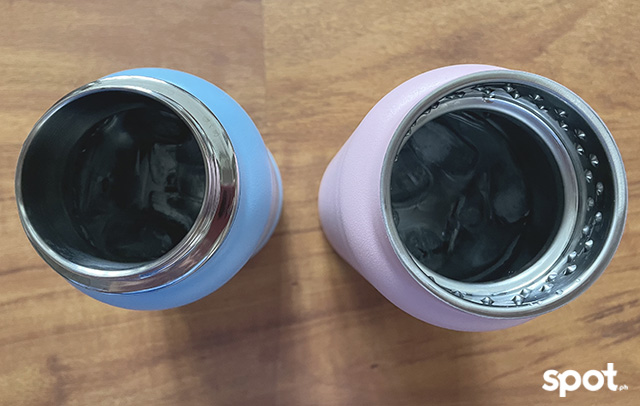 Once filled, the bottles were left to sit in a cool, dry spot. About four hours in (around 1 p.m.), the water inside both bottles was still ice-cold when sipped. Most of the ice was still present, but had melted to a significantly smaller size. By 9 p.m. (12 hours in), the ice cubes in each bottle were even smaller, but still present. We noticed that the Klean Kanteen had more pieces of ice (about seven or eight) inside compared to the Hydro Flask, which only had about two to three small pieces left in the water. However, the water was still cold in both bottles when drunk. In fact, the temperature difference between the two (when sipped) was minimal.
ADVERTISEMENT - CONTINUE READING BELOW
Based on this, we can observe that both bottles (even with only half their capacity of ice) should be able to stay cold for at least 12 hours—more than enough for a standard work day—though the Klean Kanteen may be more effective as far as keeping ice from melting. By midnight (15 hours in), all ice cubes in the Hydro Flask bottle were completely melted while the Klean Kanteen tumbler still had a few small pieces left inside.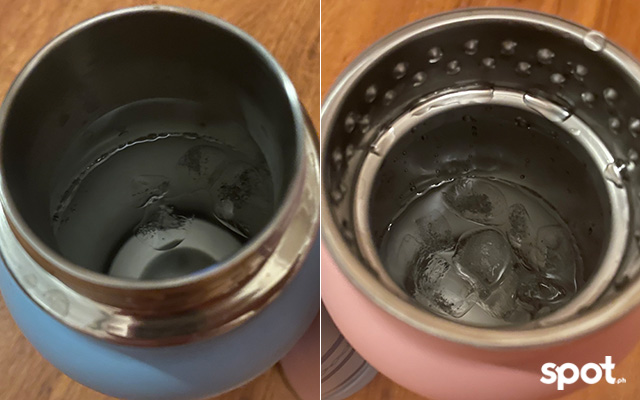 In other trials, however, we did notice that ice was likely to melt slower if there were more pieces inside the bottle—applicable to both brands, but especially effective for the Klean Kanteen bottle. As previously noted, it promises to keep your water cold for over three days—the claim itself is not untrue, but in order to maximize insulation, you'll have to make sure the water inside is as cold as possible with as much ice as can fit inside. While added ice was also effective at keeping water in the Hydro Flask bottle cold, ice cubes in it still melted quicker than they did in the Klean Kanteen tumbler.
ADVERTISEMENT - CONTINUE READING BELOW
That in mind, if you prefer to have lots of ice in your tumbler all day long, Klean Kanteen may be the better option, but that's with the caveat that it'll have to be filled to the brim with ice cubes to facilitate temperature maintenance. If you just need cold water (not necessarily iced water), ice amounting to about half the capacity of the tumbler should be fine for an entire day, whichever brand you choose.
The next day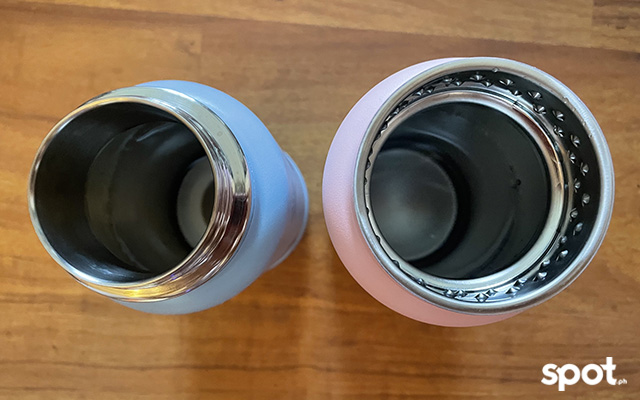 After 24 hours (9 a.m. the following day), both tumblers had zero pieces of ice left. However, the water inside both was still fairly cold—not ice-cold, but the kind of temperature you'd get if you left a glass of water inside the refrigerator for a few hours; still cool enough to be refreshing on a hot day. From there, the temperature slowly (but only slightly!) warmed up in the hours that followed. By 9 p.m. on the second day (36 hours after the start of the experiment), the water in both bottles was just barely cold, but at the same time, not lukewarm in the way it would be if you left a glass of it to sit out on the counter. There was still a slight coolness to both, but no major difference between the two. Even by 9 a.m. on the following day (now the third day of observation and 48 hours since setup), neither bottle had completely let the water in them rise to room temperature.
ADVERTISEMENT - CONTINUE READING BELOW
Conclusion
We found that these 32-ounce Hydro Flask and Klean Kanteen tumblers had pretty much similar results as far as keeping water cold. Both were able to maintain the water's temperature for at least an entire day with neither of the bottles allowing the liquid inside to become lukewarm even after two days. The Klean Kanteen tumbler was, however, more effective at keeping ice from melting too quickly and its performance can significantly be improved with the addition of more ice. The Hydro Flask tumbler's performance can also be improved with more ice—not as well as the Klean Kanteen bottle's can, but it does live up to its 24-hour promise.
That being said, if you're not too picky about how much ice is in your water bottle and you only need your drinks to be just-cold-enough throughout the day, neither the Klean Kanteen nor the Hydro Flask tumbler will let you down. However, if you prefer beverages that are filled with ice cubes all day long and ice-cold for as long as possible, then the Klean Kanteen may be your best bet—so long as you're willing to fill it up with at least around 15 pieces of standard-sized ice cubes.
Klean Kanteen is available online; see a list of stores and retailers.
Hydro Flask is available online; see a list of stores and retailers.
Hey, Spotters! Check us out on Viber to join our Community and subscribe to our Chatbot.
We are now on Quento! Download the app and enjoy more articles and videos from SPOT.ph and other Summit Media websites.
Your guide to thriving in
this
strange new world.
Share this story with your friends!
---
Help us make Spot.ph better!
Take the short survey
Load More Stories