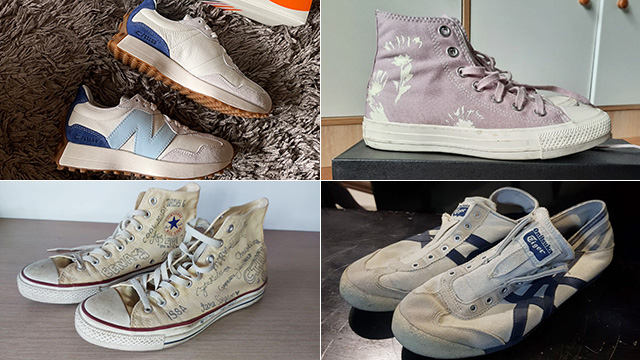 (SPOT.ph) We all have our favorite pair of sneakers. Sure, there are the pairs that are known for their "classic" status (think the OG Stan Smiths or the all-white Air Force 1s) as well as those huge releases that seem to capture everyone's attention (Yeezy 350s come to mind). But often, our real ride-or-die kicks are those that tend to leave an impression on us over time—through months or even years of wear, they prove just how comfortable, versatile, and stylish they can be. In the same way that our favorite foods are rarely the most popular, most expensive, or most extravagant—but rather the dishes that we always find ourselves coming back to—the sneakers closest to one's heart are usually the most unsuspecting pairs. Often without us realizing, they become our most reliable companions—the kinds of lace-ups or slip-ons we know we can count on for any and all occasions. Thus, it's no surprise that even the oldest, most worn-out sneakers in our personal collections can often be hard to let go of. 

ADVERTISEMENT - CONTINUE READING BELOW
With all that in mind, we, the SPOT.ph team, couldn't help but wonder: What are our favorite sneakers, and why are they our favorites? What makes a pair of shoes stand out among all others, at least for a bunch of typical, 20- to 30-something Metro Manila natives? Below, we, a team of writers, editors, video producers, and social media managers, each sought to answer that question and figure out what exactly makes our most beloved sneakers so special to us. Keep in mind we set no limitations here—each member of the team was allowed to choose any style, any brand, any color, and so on, as long as they could explain why that one pair means so much to them.
In no particular order, these are the SPOT.ph team's picks for the best sneakers they own:
Mia, Associate Editor
Onitsuka Tiger Mexico 66 Paraty in Navy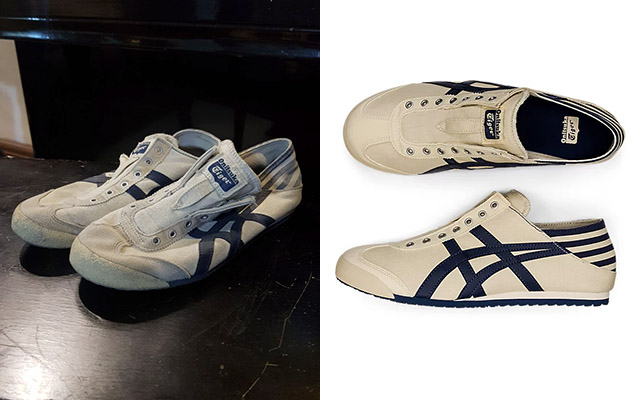 Retails for: P5,190
So, as you might be able to tell from the picture, this is my most loved pair of shoes. These Onitsuka Tiger sneaks—I think they're Mexico 66s but I can't recall or tell anymore—have taken me through a lot in life. From my college days to being a newbie in the workforce, through mall trips and outdoor treks, rainy days and Mondays, and all that, they've stood firmly by my side (or should I say, on my feet?).
What I love most about them is how comfy and efficient they are; you can easily slip them on and off, and the more I did it, the easier it got. Never mind that that may have messed with the pair's appearance and structure. I mean, hey, both shoes are still holding up even after all these years, right? Wish I could say the same for my brain cells. Still, apart from the function, this pair definitely had form to them, too. They may look beat up now and it's high time to throw them out, but I'll probably keep them a few years more.
ADVERTISEMENT - CONTINUE READING BELOW
Available online; see a list of Onitsuka Tiger stores.
Christa, Section Editor for News, Arts, and Travel
Converse Chuck Taylor All Star Floral Fusion in Himalayan Salt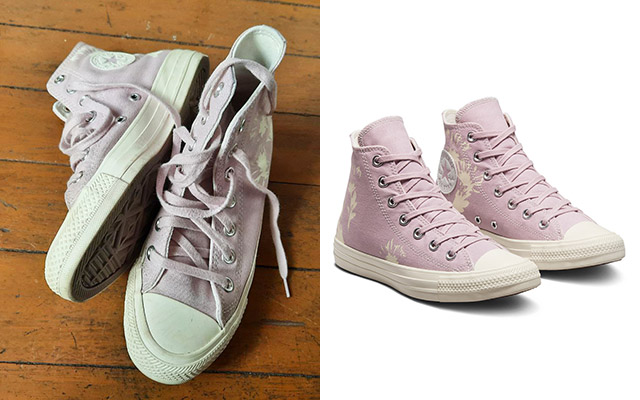 Retails for: P3,190
I've been wearing Converse's signature "Chucks" since college (and by college, I mean the early 2000s) because of their no-nonsense look, especially with my usual pants-and-shirt combo. I used to have the classic high-cut pair in black and in dark blue with the All-Star patch, the low-top varieties, and other printed designs that came out through the years. But my current favorite is the Chuck Taylor All Star Floral Fusion, which is in a shade of muted pink with touches of floral prints—perfect even for nude-colored dresses. It's also from their All Star 70 series, which means it has thicker cushioning—something that many people complain about in the old models.
ADVERTISEMENT - CONTINUE READING BELOW
As of writing, the Chuck Taylor All Star Floral Fusion sneakers in Himalayan Salt are sold out online.
Trish, Section Editor for Eat + Drink
Asics Gel-Excite 6 Twist in Peach Petal/White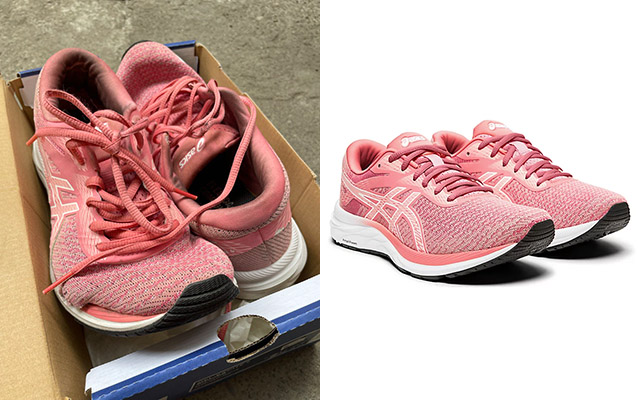 Retails for: Asics running shoes start at P4,590.
Cardio is a daily non-negotiable for me and in particular, I love doing the high-impact stuff (i.e., the kind that involves running, jumping, or basically bouncing off the ground) for about half an hour to an hour at a time. Given this, it's imperative that I go for sneakers with good cushioning to absorb the shock, especially as I've experienced getting stress fractures multiple times in the past. Over the past few years (since 2018, I think!) I've been going with Asics' Gel-Excite line of sneakers as they feel uber-comfy and deliver that perfect sorta bouncy sensation. It almost feels like I'm bouncing on a trampoline as my feet land on and propel off the ground—be it our wooden floors at home, or the asphalt roads of the UP Academic Oval. I scored this Gel-Excite 6 pair off Zalora in 2020, as a backup to another pair of the exact same model, but in a different colorway. I didn't get to use it until 2021 (when the other pair gave out for good), but since I did, it's carried me through for a little over a year and to this day.
ADVERTISEMENT - CONTINUE READING BELOW
On one hand, the pair's still relatively clean considering I've been using it multiple times a day, every single day—probably because I've been working out only at home given the pandemic. But it's definitely due to be replaced soon as there are already holes on the toe holes and the sole doesn't feel as cushion-y anymore. As of writing, I'm literally just waiting for its replacement to arrive—its newer (and hopefully improved) sibling, the Asics Gel-Excite 8 (P4,690), also on Zalora!
As of writing, the Asics Gel-Excite 6 Twist sneakers in Peach Petal/White are no longer available on Asics Philippines' online channels.
Ashley, Section Editor for Shopping + Services
New Balance x STAUD 327 Sneakers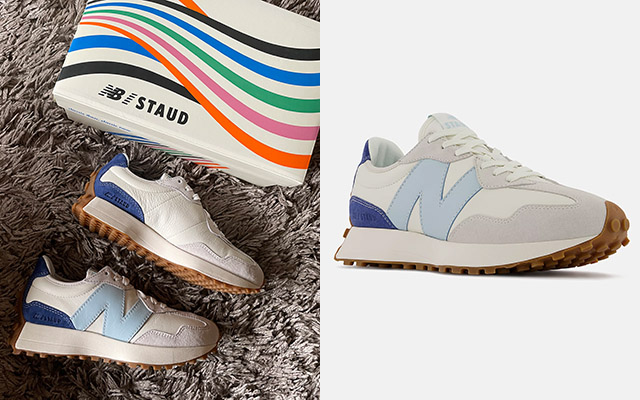 ADVERTISEMENT - CONTINUE READING BELOW
Retails for: P6,995
While this isn't the reason I love these New Balance 327 sneakers—which were a part of their 2021 collaboration with STAUD—let me, first of all, say that I've never gotten so many compliments on a pair of shoes until I wore these. Even strangers on Instagram have told me how stylish they are and I can't say I haven't enjoyed the kind comments.
I've always been a no-frills sneaker kind of person—I'm not typically one for bulky silhouettes or bold colors, especially since I'm a pretty low-key dresser. However, these 327 sneakers really changed my mind about what kind of lace-ups I can pull off and how even non-minimalist shoes can fit my personal style. The pair features a mostly white-and-gray design with blue accents along the heel and on the N logo on the outer side. It's finished off with a pretty hefty (but comfortable!) textured brown sole. When I first opened the shoe box, I had major heart eyes, which I wasn't expecting. But while I wouldn't call that moment love at first sight, I do think it was love at first wear. This is particularly because these kicks had zero break-in time—they fit well right away and didn't cause chafing around my heel. And once I realized how good they looked with most of my usual tank-top-and-jeans ensembles, they quickly became my go-to. I've even purchased bags specifically to go with the sneakers because I love wearing them that much.
ADVERTISEMENT - CONTINUE READING BELOW
Now, nearly a year since I first got them, these sneakers are one of my most worn pairs and I almost always find myself reaching for them over other styles in my collection. I've already considered buying several other colorways and should this pair ever fall apart, I will likely repurchase without a second thought.
The New Balance x STAUD Collection is available at their store in R2, Power Plant Mall, Rockwell Center, Makati City.
Janelle, Video Content Producer
Superga 2750 Kids' Easylite Sneakers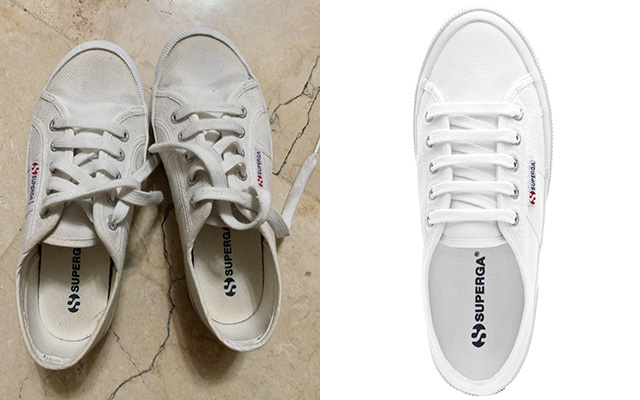 ADVERTISEMENT - CONTINUE READING BELOW
Retails for: P2,250
This was the first pair of sneakers my boyfriend ever got me, which I absolutely loved. I adore the simplicity of the design—it is, after all, just a no-nonsense canvas sneaker. I also love how I can easily wear it with anything. It looks nice with pants, skirts, and dresses. In fact, I like it so much that I even bought another pair for myself when my first pair felt worn out. Plus, I got the second pair for just P500 online. They were on sale and I got the kids' version in a size that fit me. Getting new Superga sneakers is probably going to be a yearly thing for me, although I'm thinking of switching to the Velcro version.
See a list of Superga stores.
Mig, Video Content Producer
Converse Chuck 70 Hi Vintage Canvas in Parchment/Garnet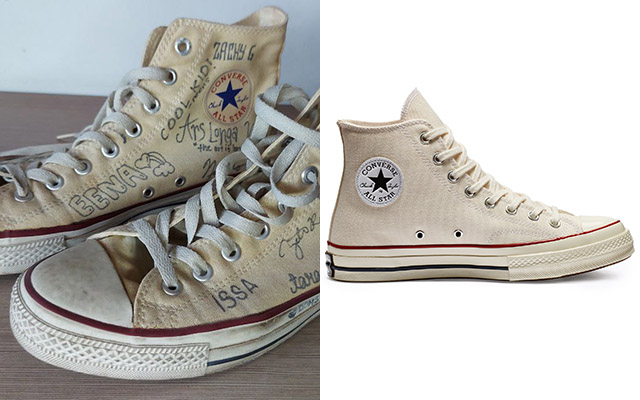 ADVERTISEMENT - CONTINUE READING BELOW
Retails for: P4,390
I've been wearing Chuck Taylors since the day I realized I was old enough to style myself. I was a bit late compared to my peers, but that's another story. Since then, I've gotten myself an array of high-cut styles for almost any occasion. I got an all-black pair for semi-formal events, maroon or blue iterations as my go-to's for everyday wear, and even special-edition versions for fun. Other than the style, the Chuck Taylor just felt the most comfortable and natural to me. As I'm a fan of personalized gear, I decided to buy a pair of off-white high-cut Converse as well as a fabric marker and spent a few weeks asking my friends to sign that pair before ever wearing it. At first, it was just a fun little project to have a one-of-a-kind pair of shoes that I can show off, but it ended up being a sentimental piece that I simply enjoy having in my collection. I use it on a few very special occasions, but otherwise, it hangs out in a special spot on my shoe rack.
ADVERTISEMENT - CONTINUE READING BELOW
Available on Lazada.
Marese, Social Media Strategist
Converse Chuck Taylor All Star in White Monochrome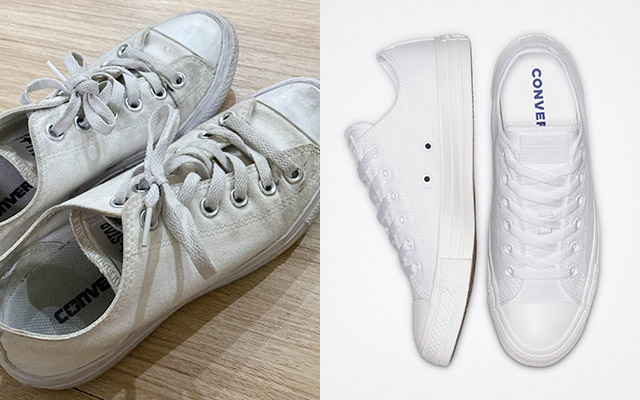 Retails for: P3,190
I was always a sneakers type of person. Because of that, I have already tried out different kinds, but these All Star White Monochrome kicks will always be my favorite. They pair well with multiple styles depending on what I am in the mood to wear and just give off that sophisticated-but-effortless look that completes the whole ensemble. In addition, I can walk around for hours in these sneakers and never have to worry about my feet hurting. Overall, I will continue to recommend this style to those looking for sneakers that provide both comfort and style.
ADVERTISEMENT - CONTINUE READING BELOW
Available on Lazada.
Pat, Managing Editor
Onitsuka Tiger Mexico 66 in Moon Rock/Vaporous Gray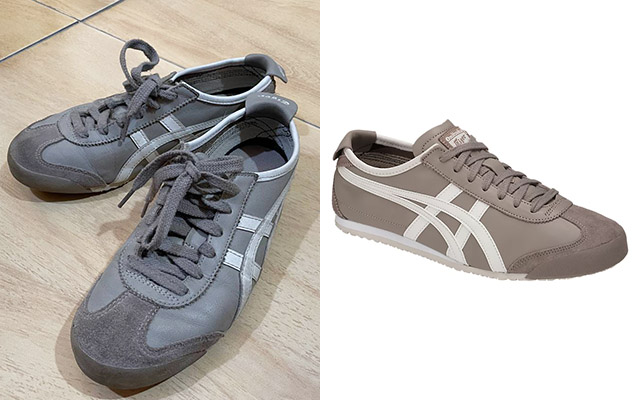 Retails for: Onitsuka Tiger's Mexico 66 sneakers start at P5,990.
What I like about this pair is its comfort level. I can go for hours walking in them and my feet won't hurt. Since they're mostly leather with just a tad bit of suede, they don't get dirty and can withstand the rainy season more compared to other styles—I hate it when my sneakers get wet because of the rain. Plus, the kicks have that purple-leaning gray-ish hue that makes them neutral, but at the same time, a statement pair.
ADVERTISEMENT - CONTINUE READING BELOW
As of writing, Onitsuka Tiger's Mexico 66 in Moon Rock/Vaporous Gray has been discontinued.
Hey, Spotters! Check us out on Viber to join our Community and subscribe to our Chatbot.
Your guide to thriving in
this
strange new world.
Share this story with your friends!
---
Help us make Spot.ph better!
Take the short survey
More Videos You Can Watch
Load More Stories