This Hot Sauce Stabs You...in the Taste Buds
The Undercover Eater sniffed out the hottest hot sauce and he found that it's just as sneaky as he is.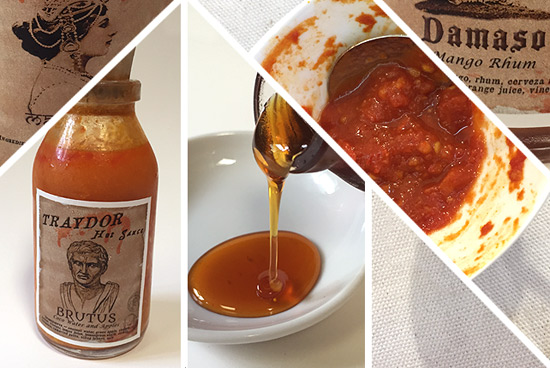 (SPOT.ph) What do Judas, Brutus, Padre Damaso, and Mata Hari have in common? History has dubbed them as selfish, cold-hearted traitors. At one point while reading Noli Me Tangere or watching The Passion of the Christ, you probably wanted to throw them off a bridge. But you have to admit: they brought a whole new level of excitement to the story.
History tries to repeat itself with the reincarnation of these four ruthless individuals; but this time around, less cold and a whole lot hotter-with an equal amount of excitement and even more impact. They take the form of hot sauces-sweat-inducing, hotter-than-the-summer-sun secret formulas packed in mini glass bottles: Traydor Hot Sauce.
Masterminds Toogy Clavecilla and JC Medina started Traydor as a solution to a problem they'd encountered plenty of times. Scouring local groceries for hot sauce, they never found the perfect one that appealed to their taste buds-it was either too sour, too spicy, too palate-numbing. Or it was just totally sad and did absolutely nothing. They took matters into their own hands and came up with four variants, each named after the famous traitors.
ADVERTISEMENT - CONTINUE READING BELOW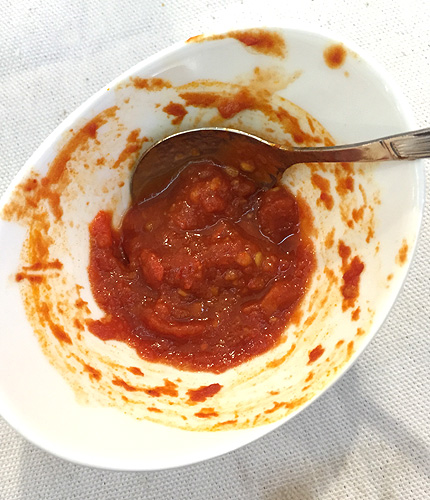 Judas
The main ingredient of all four sauces is the all-mighty, proudly Pinoy siling labuyo. The smallest ones are used for extreme heat and maximum impact. Judas, the classic, is made with all-natural ingredients, including roasted garlic, tomatoes, onions, bell peppers, orange zest, and seasonings. This would fit in very well on any dining table.
ADVERTISEMENT - CONTINUE READING BELOW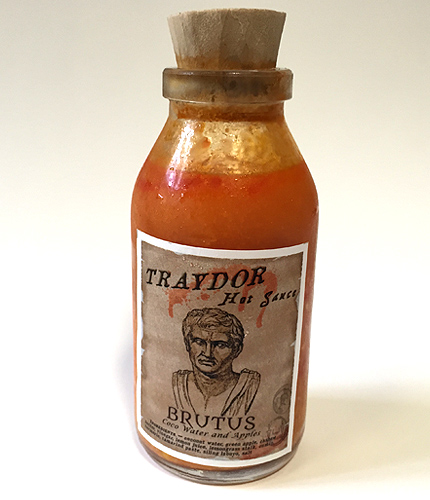 Brutus
If you're looking for something fruitier with an Asian twist, get Brutus. It's made with coconut water, apples, cashew butter, lemongrass stalk, and tamarind paste. I could imagine this one as a dip for tortilla chips and as a side to heavier dishes. If sweeter profiles are what you prefer, go for either the Damaso or Mata Hari. The former highlights mangoes, rum, cerveza negra, pineapple, and orange juice. It's a more exciting version of chutney that will pair well with inihaw (try it with adobo, too!). The latter, as its namesake suggests, has the sexiest profile. It's essentially spicy honey that you can drizzle over anything-think pizza, buttermilk fried chicken, or even steak.
ADVERTISEMENT - CONTINUE READING BELOW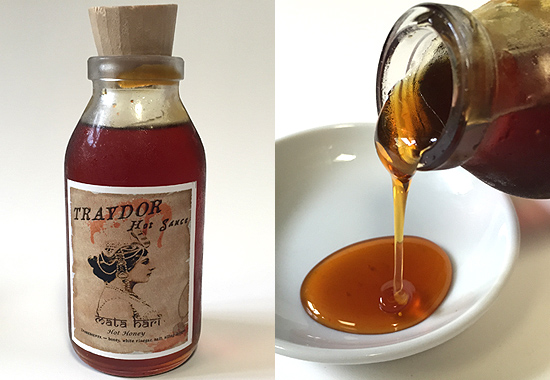 Mata Hari
These hot sauces don't seem to do much at first glance. I remember thinking: "I could eat a spoonful of Sriracha, no sweat. What harm could these 'little babies' do?" But I was wrong: There's a reason why they're named after traitors. Their well-developed flavor profiles are a great precursor to the level of heat you'll experience. It could be sweet and fruity at first, but wait until you get to the real deal.
ADVERTISEMENT - CONTINUE READING BELOW
They're something I would have loved to hate, but couldn't. And now, I hate that I love them so much.
For orders, contact Traydor at 0906-330-1292; traydorhotsauce@gmail.com; traydorfoods.com; www.facebook.com/traydorhotsauce. Each 120 ml bottle costs P200. Orders are for pick-up in Salcedo Village, Makati City.
The Undercover Eater works with food on a daily basis and hunts for hidden gems in his spare time. For this voracious and, dare we say, professional foodie, eating is more than a necessity-it's a vocation. Contact him at undercovereater.spotdotph@gmail.com.
CONTINUE READING BELOW
Recommended Videos
Share this story with your friends!
---
Help us make Spot.ph better!
Take the short survey
Load More Stories