Who needs Kisses when you have Skisses?
The Undercover Eater dishes out the details on these adorable homemade marshmallows.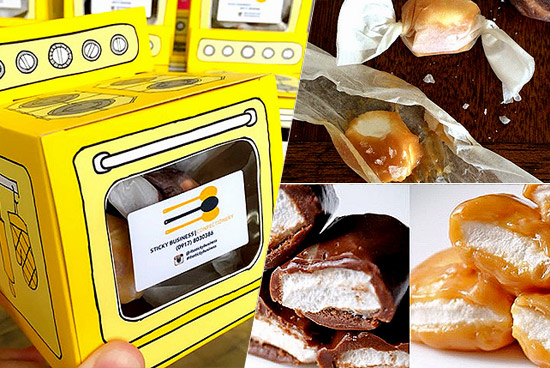 (SPOT.ph) Sometimes we come across the most marvelous things, the kind that are too good to keep to ourselves. I recently came across these magical delights dubbed as "Skisses," and I have this strange belief that they're a personal gift to me from the universe-a gift that I definitely intend to share with the rest of the world.
ADVERTISEMENT - CONTINUE READING BELOW
What the heck are Skisses? They're tiny tidbits from a big idea. Skisses are like sweet little clouds-bits and pieces of heaven, I'd like to think-in the form of homemade fluffy marshmallows covered in either butterscotch, Belgian chocolate, or cappuccino. Each flavor is bold and deliciously addicting. Skisses are the brainchild of passionate full-time mom-slash-home baker Marichris Quimpo Campa, who also happens to be the owner of home-based pastry business, It's Sticky Business.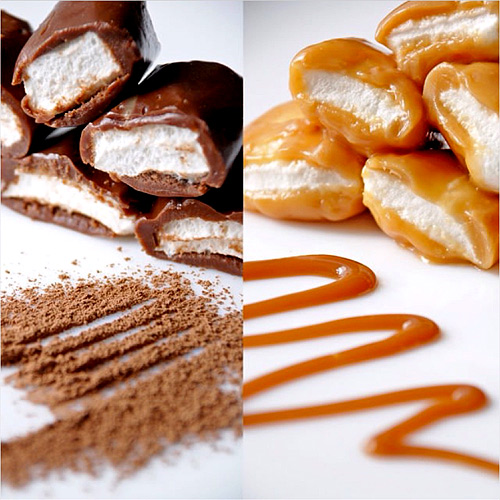 ADVERTISEMENT - CONTINUE READING BELOW
Looks like heaven wrapped in chocolate and caramel
Unassuming and, honestly, quite ordinary-looking in their parchment paper wrappers, you wouldn't think of taking a second look. But take a first bite. Then a second, a third, a fourth. This sticky-on-the-outside, delicately soft-on-the-inside treat perked my taste buds up right away. There's unbelievable depth in each morsel. Three minutes and six Skisses later, I still wanted more. Try sprinkling a bit of sea salt or fleur de sel, like I did, to boost those flavors further.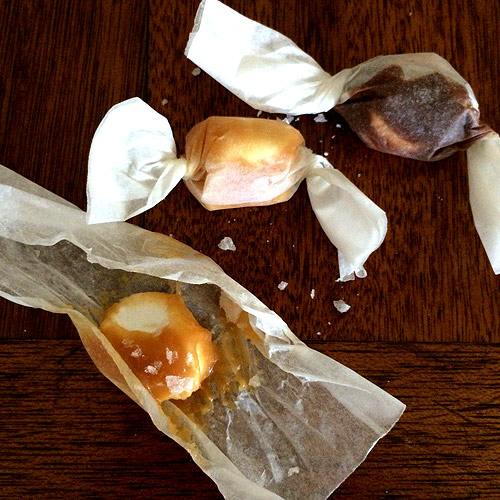 ADVERTISEMENT - CONTINUE READING BELOW
A dash of fleur de sel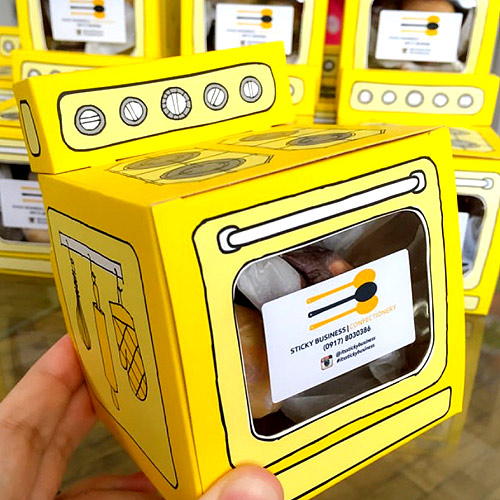 Adorable packaging
It took Marichris months-10, to be exact-before she perfected her special Skisses recipe. "If you've tried See's Candies' Scotch Kisses, you'll understand that those were what I was aiming for when I was coming up with my recipes. Put the two side by side though, and you'll notice that there's a difference in flavor thanks to a secret special ingredient that I throw in," says Marichris mischievously. "I'm working on a white chocolate strawberry Skisses flavor, too. See's doesn't have that!"
ADVERTISEMENT - CONTINUE READING BELOW
Besides her best-selling Skisses, Marichris also whips up other exceptional sweets like chewy food for the gods, milky polvoron, and something she calls "Sticky Icky Bars," which are an extra buttery mix of cheesecake, pastillas, and leche flan in one. They're all habit-forming in their own ways, of course. But it's with these teeny Skisses where I find myself stuck.
For orders, contact It's Sticky Business at 0917-803-0386 (Instagram @itsstickybusiness).
The Undercover Eater works with food on a daily basis and hunts for hidden gems in his spare time. For this voracious and, dare we say, professional foodie, eating is more than a necessity—it's a vocation. Contact him at undercovereater.spotdotph@gmail.com.

CONTINUE READING BELOW
Recommended Videos
Share this story with your friends!
---
Help us make Spot.ph better!
Take the short survey
Load More Stories