Sashy Brew Cold-Press Coffee beats this ridiculous summer heat
For the caffeine-crazed Undercover Eater, these cold-press bottles might just be the hot new thing.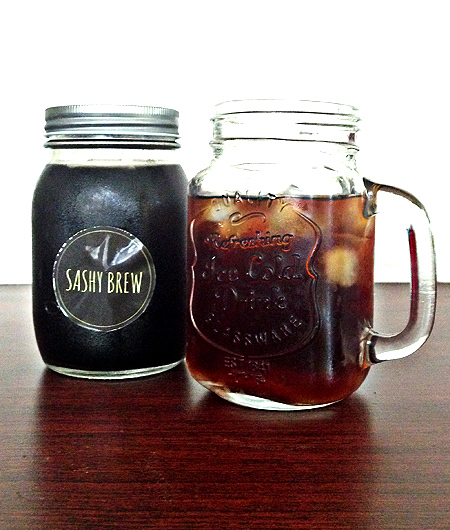 (SPOT.ph) Serious coffee drinkers are always on the lookout for the next caffeinated-big-thing, and lately—happily—we've never really had to look that far. Third-wave, artisan, handcrafted—there's always another peculiar coffee-related thing to try. The latest of which are cold-pressed bottles from home-based Sashy Brew.
Cold brews are quickly gaining appeal, maybe because this summer heat is making more people open to anything and everything cold. I usually get my kick from The Breadery's sparkling versions, but I couldn't resist trying Sashy Brew when it crept up on my feed.
ADVERTISEMENT - CONTINUE READING BELOW
What exactly is a cold brew? It's not iced coffee, for one. A bottle of cold brew is the output of a process that steeps coffee grounds for a long period of time. Lower in acidity than its freshly brewed counterparts, the concentrate is also sweeter and can be taken as is, or diluted with water or milk. A bottle also allows for fun drink experiments.
Sashy Brew peddles pint jars of cold-brew concentrate via an Instagram account (@sashybrew). A bottle can last up to two weeks, and hot afternoons are the perfect time to enjoy it. Pour the chilled cold-press concentrate into a glass and add water and/or ice to taste. It wouldn't hurt if you're lounging by a pool which, unfortunately, wasn't part of my own experience with Sashy Brew. In the comfort of my living room, I toasted to a drink that made my heart race not-too-literally with bold but smooth coffee flavor and barely any bitter aftertaste. There's a very subtle sweetness in there, but you can add sugar if you prefer a more dolce drink.
ADVERTISEMENT - CONTINUE READING BELOW
Sashy Brew is just the beginning and owner Sasha Chua does her own deliveries for now. She told my little spy that she uses only local beans—a fact that can only be deemed extra impressive.
Sashy Brew pints are priced at P240/bottle. For orders, visit instagram.com/sashybrew.
The Undercover Eater works with food on a daily basis and hunts for hidden gems in his spare time. For this voracious and, dare we say, professional foodie, eating is more than a necessity—it's a vocation. Contact him at undercovereater.spotdotph@gmail.com.

Recommended Videos
Load More Stories