How does one top a lobster roll?
The Undercover Eater is giving a lesson on sandwiches.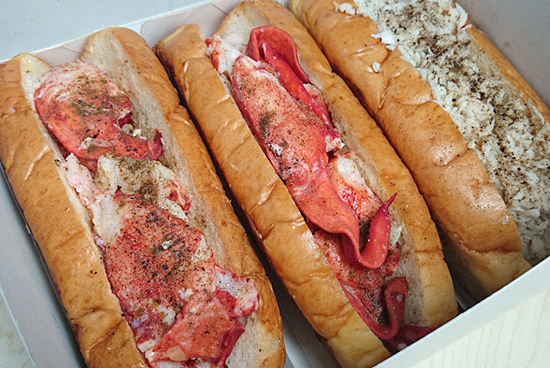 (SPOT.ph) The plain of life is punctuated by great moments that separate that continuous stream into timelines. Before and After. But it's not a straight line for Bun Appetit, whose sandwich lore began in 2014. Back then I thought they had made their mark with their impressive lobster roll—a glimpse of luxury in a market (okay, it's Salcedo Market); huge, whole mouthwatering pieces of that fancy crustacean tucked in a bun. But that mark was erased last week. By Bun Appetit themselves.
ADVERTISEMENT - CONTINUE READING BELOW
I learned that Lawrence and Iya Cua recently changed their lobster from tail to knuckle and claw—obviously making it known which side they're on in the great "best lobster part" debate. It was a risky shift. It made me realize one thing that I never noticed before: There was something wrong with all the previous Bun Appetit lobster rolls I've been eating. A bite of the 2.0 told me that the old ones could've been tenderer. They could've been sweeter.
Between that wonderfully fluffy, wonderfully buttery bun—made specifically for the couple's preferences—are wonderfully whole pieces of lobster. Bright and bold and—for lack of a better word—wonderful. You've probably seen these new versions on social media. Lawrence and Iya are as good spreading deliciousness on Instagram as they are at spreading butter on their special bread.
The roll is that signature stark sandwich. The pink chunks of lobster do most of the talking, but there's a very light touch of mayonnaise underneath—a proverbial lift to those subtle yet meaningful flavors. Everything comes together nicely: The yellow-tinted toasted bread are like clouds amid the heavenly dose of lobster. The sandwiches came with a spicy sauce, which I gladly relegated to the side. There's no need to dress it up. The minimalism already sets a profound impact.
ADVERTISEMENT - CONTINUE READING BELOW
It's not the success of these improved flavors that particularly made an impact. It's the couple themselves. Or, rather, their commitment to drive home to their customers the same experience they had with their first bite of a lobster roll in New York. (Read about Bun Appetit's history.)
They've truly made it their personal mission to deliver. And it's easy to admire any entrepreneur who's always on the lookout to be better—even when they're already great.
Bun Appetit's lobster rolls are priced at P595. They also have crab and shrimp variations for P295 and P395, respectively. Bun Appetit is available every Saturday at Salcedo Market, for pick-up or for delivery. Contact 0947-890-8010. Delivery is only available on Wednesdays, and an added P300 is required for areas outside Bonifacio Global City, Makati, Alabang, and Parañaque.
ADVERTISEMENT - CONTINUE READING BELOW
The Undercover Eater works with food on a daily basis and hunts for hidden gems in his spare time. For this voracious and, dare we say, professional foodie, eating is more than a necessity—it's a vocation. Contact him at undercovereater.spotdotph@gmail.com.
Recommended Videos
Load More Stories