Why You Can't Eat the Best Chocolate Crinkles in Manila
The Undercover Eater infiltrates the Asian Development Bank just for a taste of this revered treat.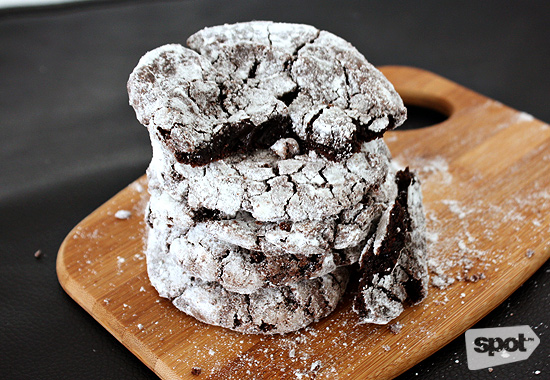 (SPOT.ph) For those of us who don't work there, attending a conference or a meeting at the Asian Development Bank (ADB) in Ortigas requires an appointment in the system, a photo ID taken on the spot, and a bout with two X-ray machines. But the bank's real treasures aren't in some vault, they're in plain sight—the ADB canteen offers scrumptious meals from several Asian cuisines at affordable prices, as well as a bakery that serves up all kinds of breads, pies, and pastries.
While the bibimbap, tempura bento, and walnut pie might all be worth breaking and entering for, the real crown jewels of the ADB canteen are the chocolate crinkles baked in-house daily. You hear about them—the cookies in that really strict building. They've become a legend on their own, and out of reach. And just like clockwork, a queue forms every day at mid-afternoon for these hockey pucks from heaven.
Time your appointment just right and fall in line for the chocolate crinkles (P14/piece). While you're at it, pick up some brewed coffee at just P11 (bring your own tumbler or shell out P10 for a paper cup!) and take your double handful of happiness out to a bench in the courtyard.
For the price, these crinkles are huge—each one is three inches in diameter and half an inch thick, with considerable heft to it. Pull a crinkle apart—it's very dense, and very moist. I love that it's really more like a half-baked, dollar pancake-shaped brownie than your typical small, dry, boring convenience store crinkle. The surface, lightly dusted with confectioner's sugar, just barely holds the structure together, and provides a subtle, cookie-like textural contrast to the chewy interiors.
ADVERTISEMENT - CONTINUE READING BELOW
Pop it in your mouth and you'll find that the dark, bittersweet chocolate is as rich and rewarding as it looks. There's no doubt that the bakers don't scrimp on the good stuff. In fact, these crinkles are so decadent, I have trouble finishing more than one at a time. They're the best I've had in Manila because unlike others, they're well-balanced—the sweetness is just right and isn't overwhelming, thanks to the good chocolate worked skillfully by the bakers, and the delicate touch taken with the confectioner's sugar.
I'd go through ADB's airport-level security just to have it over and over again.
CONTINUE READING BELOW
Recommended Videos
So if your work brings you to ADB, share the opportunity presented with a lucky few and grab as many as you can (which is strictly limited to 20 per person—I guess crinkle hoarding is a thing!).
The Undercover Eater works with food on a daily basis and hunts for hidden gems in his spare time. For this voracious and, dare we say, professional foodie, eating is more than a necessity—it's a vocation. Contact him at undercovereater.spotdotph@gmail.com.
Share this story with your friends!
---
Help us make Spot.ph better!
Take the short survey
Load More Stories