These are The Sexiest Cakes in Metro Manila...So Get Ready For Some Food Porn
The Undercover Eater is totally lusting after these naked cakes.
(SPOT.ph) Unless it's in the shape of some world wonder, I've never been particularly fond of fondant. I appreciate the art, of course, its malleability and versatility, its ability to keep well. But give me something coated in buttercream, and I will most likely ignore the six-foot fondant Eiffel Tower cake beside it.
Imagine my delight when I caught yet another new Facebook purveyor starting a (for now) small business selling the latest cake trend: naked cakes. Young owner and baker Jake Dolosa doesn't dawdle—something I like. His enterprise is named just that. Naked Cakes, and his versions are an Instagram dream. Single-stack beauties made with two inch-thick layers held together by fat, fluffy pipes of cream.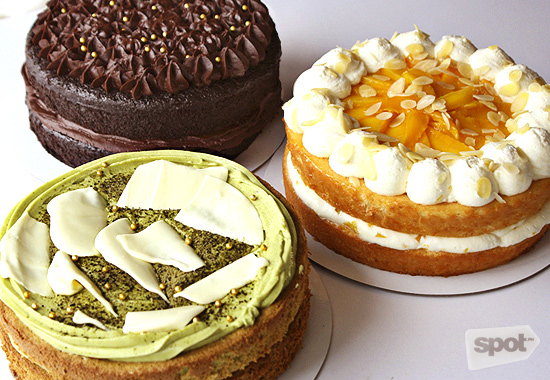 ADVERTISEMENT - CONTINUE READING BELOW
His cake story started with a carrot cake he made on his 17th birthday. "I was so amazed by the chemistry of mixing flour, eggs, sugar, and a whole lot of things to produce something so yummy!" Just like many others before him, his successes in the home kitchen led him to baking for family and friends, self-study, more baking for family and friends, and finally a business.
"I had time to kill and I was looking for other ways of earning money for some backpacking trips so I thought why not sell cakes," Jake says. He finds fondant too sweet, and he loves the homemade and unpretentious vibe of cakes that skip fondant.

CONTINUE READING BELOW
Recommended Videos
Naked cakes are designed for photography. I surmise it was a year or two ago when the first unclothed cakes began invading the wedding idea-ridden avenues of Pinterest. Whether it was a magnificent three-tier with sugar flowers or a bare two-decker with fresh fruit, they're rustic but still very chic. Couples usually opt for the taller, grander ones for weddings, so unless you wanted something small and intimate—yet another trend—then Naked Cakes is a viable centerpiece.
ADVERTISEMENT - CONTINUE READING BELOW
Jake currently has nine paralyzing flavors to choose from: four variations of chocolate (Chocolate Truffle, White Chocolate, S'mores, and Gluten-free), Red Velvet, Mangoes n' Cream, Green Tea and White Chocolate, Carrot and Granola, and Dulce de Leche. He uses already well-loved flavors and turns them into something much more amazing.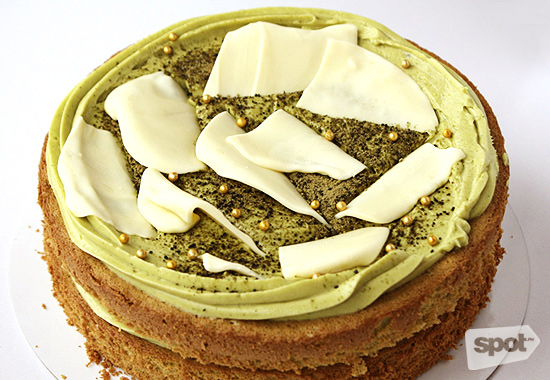 ADVERTISEMENT - CONTINUE READING BELOW
The Green Tea and White Chocolate (P890) is a stunner. The edges of the cake browns in the oven, developing this rather festive palette of green and tan. Moss-green matcha powder cushions rectangles of melted white chocolate and crunchy gold crispies. The green tea flavor is very subtle, which suits the incredible pillowy textures of the cake. White chocolate frightens me sometimes because it tends to get overly sweet, but there are just enough sheets to sweeten it lightly.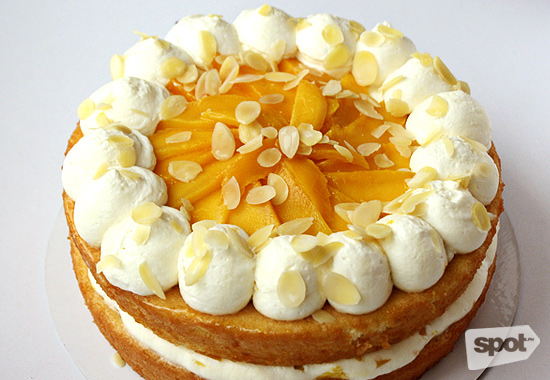 ADVERTISEMENT - CONTINUE READING BELOW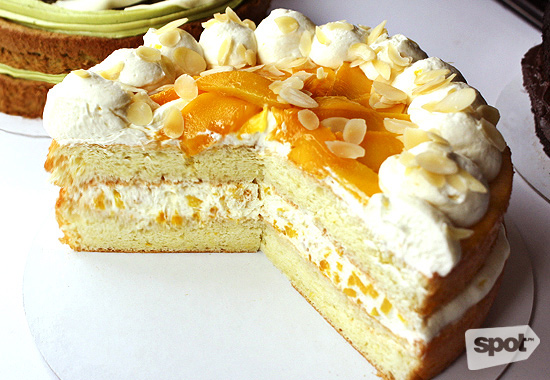 Crumbs in our faces and in between forkfuls of cake, someone remarked that the Mangoes n' Cream (P870) reminded him of a bakeshop chain's—but better, he was quick to clarify. Like a more sophisticated, more experienced, and definitely sexier older sister. The buttery cake is tinted with mellow citrusy notes, which adds to the zing of this impressively suave cake. The airy cream in the middle of the layers flaunts bits of mango, while slivers of almond join the fresh fruit that fan out on top. We're still sighing.
ADVERTISEMENT - CONTINUE READING BELOW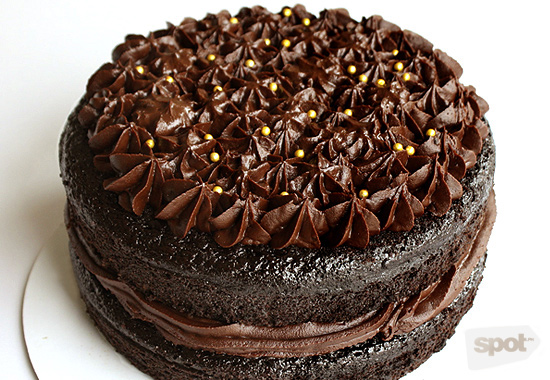 Then, there's Chocolate Truffle (P1,200), the fat lady in this delicious opera. It's a heavy, decadent, lovely thing. Chocolate through and through, compact but not overwhelming, intensely dark yet subtle. This is the wow. I was even more impressed when I learned that the mix is made from Goya Dark and semi-sweet Hershey's. It's amazing how Jake pulls out this depth of flavor and how he manages to find the line between the nostalgia that makes chocolate cake appealing and flawless execution. It's really just a darn good cake.
ADVERTISEMENT - CONTINUE READING BELOW
I can go on and on, but I only really have to say one thing. I like my cakes naked.
For orders, contact Naked Cakes at 0917-624-5584 or e-mail nakedesserts@gmail.com. Orders have to be made two days prior to pick-up or meet-up. Meet-up places are at McDonald's Southwoods and Jollibee Pacita. Delivery fees apply to Muntinlupa, Parañaque, and Santa Rosa. If you're from the north, trust us. It's worth it. For more information, visit Naked Cakes' Facebook page.
The Undercover Eater works with food on a daily basis and hunts for hidden gems in his spare time. For this voracious and, dare we say, professional foodie, eating is more than a necessity—it's a vocation. Contact him at undercovereater.spotdotph@gmail.com.
Share this story with your friends!
---
Help us make Spot.ph better!
Take the short survey
Load More Stories