This roast pork belly leaves me speechless...and quite smitten
The Undercover Eater is in love yet again. And this is looking like a most bizarre love triangle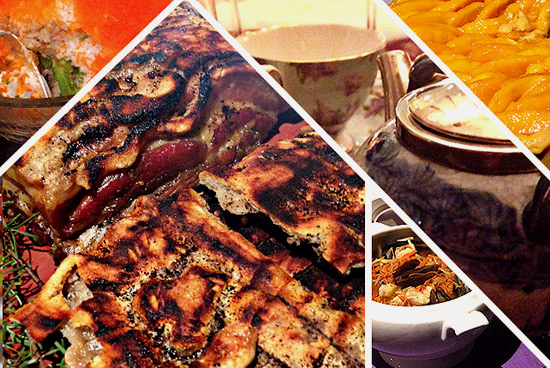 (SPOT.ph) When she giggles, she lowers her eyes shyly and her shiny curls bounce around her youthful face. Her girlish voice and bubbly ways catch me off guard as I walk in. For some unexplained reason, I had been expecting the host to be a lady in her late 50s. Perhaps I imagined that only a bored retiree could be the type to start a made-to-order food business from her spacious Makati penthouse. So I am a bit stunned—and admittedly captivated—by the pretty young lady who greets me at the door when I arrive for dinner (upon the invitation of a common friend, herself an accomplished part-time home cook and full-time doña).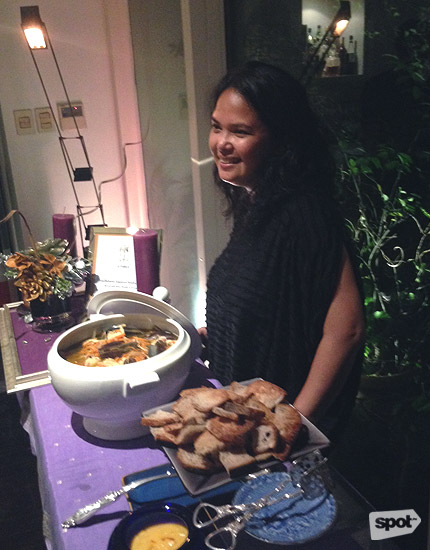 Ms. Dulce
But, alas, Dulce Magat-Gibb is taken—happily married to her British husband and a doting mother to teenagers. Therefore, I shift my focus to the spread of delectable starters laid out in her living room where a gathering of Manila's top food editors and writers are already busy feasting, obviously more than a tad buzzed from the Dalandan Don Papa Bellinis and wine.
ADVERTISEMENT - CONTINUE READING BELOW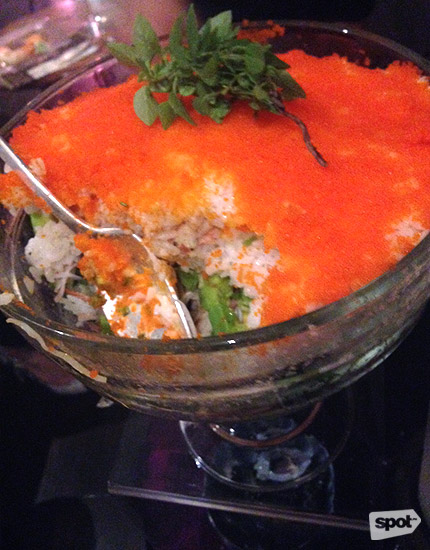 CONTINUE READING BELOW
Recommended Videos
Layered Sushi
After some coaching from the early birds, I scoop up some of the Layered Sushi, a trifle-like dish of kani, shrimp, sushi rice, mango, and ebiko, into a dainty cocktail plate. I go back for seconds and thirds as I pile it on with the spicy tuna sashimi, uni, and dollops of homemade kecap manis dressing. We then play a game of foodie musical chairs where I discover Dulce's homemade ricotta terrine—the bottom layer is flavored with pesto and piquillo, the upper layer has sundried tomatoes—which I spread on some cheddar crackers. My favorite discovery, though, is the smoked salmon rillettes, simply because smoked salmon and cream cheese are meant to be together forever.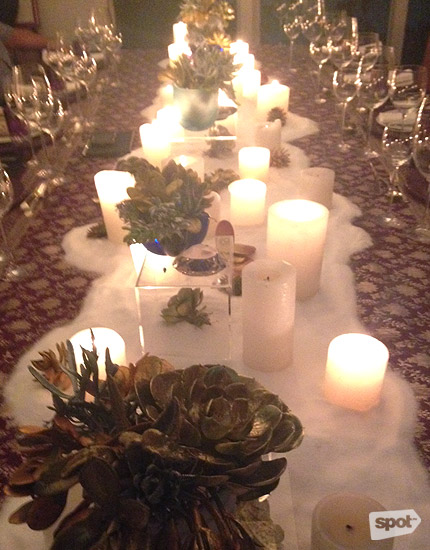 ADVERTISEMENT - CONTINUE READING BELOW
Setup
With the group complete, we move to the dining room, which is adorned with lovely Moroccan lamps, the table whimsically embellished to look like it had been snowing in the Sahara.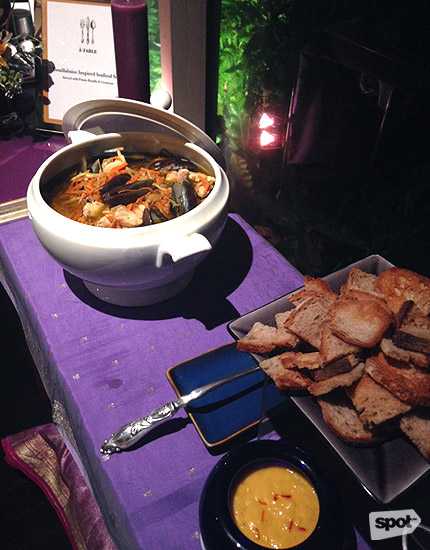 Bouillabaisse
With glassfuls of Pouilly-Fume, we are served hearty bowls of Bouillabaisse, a French seafood soup accompanied by spoonfuls of rouille and thin croutons. The cubes of white fish and shrimp are perfectly cooked, the broth delicate and fragrant. A beautiful start.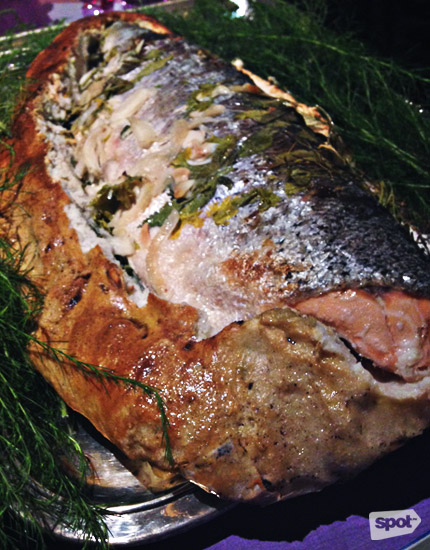 ADVERTISEMENT - CONTINUE READING BELOW
Salt-crusted Salmon
"You need to come closer," Dulce tells us as we gather around her and the Salt-crusted Salmon. "The smell is amazing." After she cracks open the browned crust with a giant version of a fish knife, we are engulfed by the intoxicating smell of aromatics and dill. There is more than enough for everyone, and I get spoiled with a serving of the baked salmon belly with soft onions. For added flavor, Dulce starts handing out sauces: chimichurri, shallot creme, calamansi brown butter, and egg-yogurt tartare.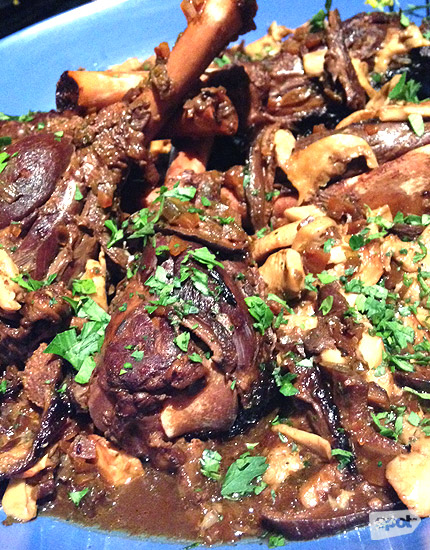 Braised Lamb Shank
I wanted a second serving of Omega-3, but I thankfully save room because next up is the Braised Lamb Shank cooked in wine and wild mushrooms. She flavors this dish with herbs from her own terrace garden. While having a smoke, I discover the massive rosemary plant outside which delicately laced the meat dish with an earthy aroma. This dish comes with spätzle, a Central European pasta, which nicely soaks up the light jus.
ADVERTISEMENT - CONTINUE READING BELOW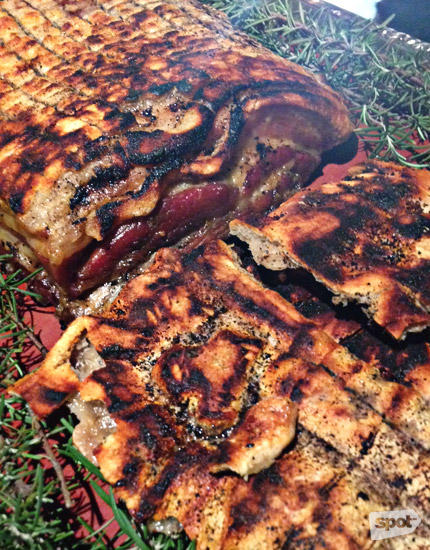 Roast Pork
Now that all are unabashedly drunk from the Malbec, we amuse ourselves with silly stories as we await the main event. Although I'm crushing on the lady of the house, what really brought me here are tales and photos of her roasted pork belly flooding my Instagram feed. "One of the first things my husband asked me to cook for him was roasted pork belly," Dulce shares. "So, I got two small slabs of liempo and popped them in the oven, thinking it should be enough for the two of us. Let's just say (my husband) Mike was underwhelmed."
Well, let's just say that she has since redeemed herself. The platter is adorned with sprigs of rosemary, large enough to cover most of the service table. Simply seasoned with salt and pepper, the crackling is bubbly and browned from the intense heat of what we all assume to be a massive oven. I thought that there are two slabs of pork, but Dulce explains, "Oh, that other one is just pure pork crackling." I wanted to marry her right there and then.
ADVERTISEMENT - CONTINUE READING BELOW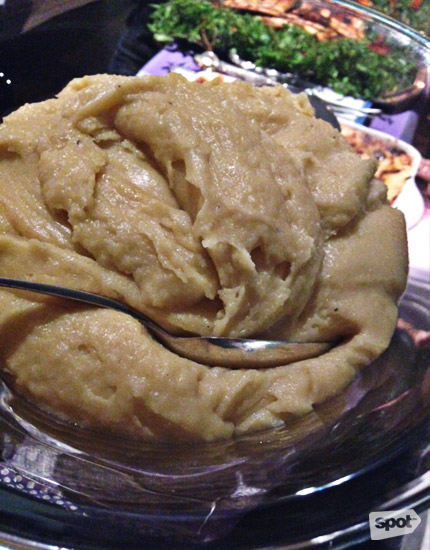 Creamy Mashed Potatoes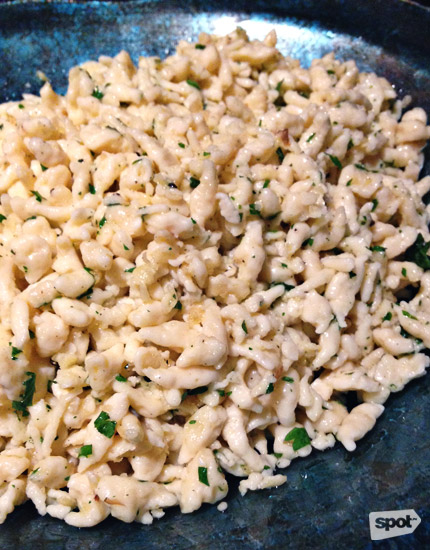 Spetzle
The meat is juicy, soft, and dripping with unapologetic porky flavor. The crispy rind crackles in my mouth like honeycomb, then sticks to my teeth like only good chicharon would. They serve it with homemade apple sauce, which is all we need to temper the fattiness of the pork. On the side is a cauliflower gratin and—as expected from any self-respecting English household—exemplary mashed potatoes.
ADVERTISEMENT - CONTINUE READING BELOW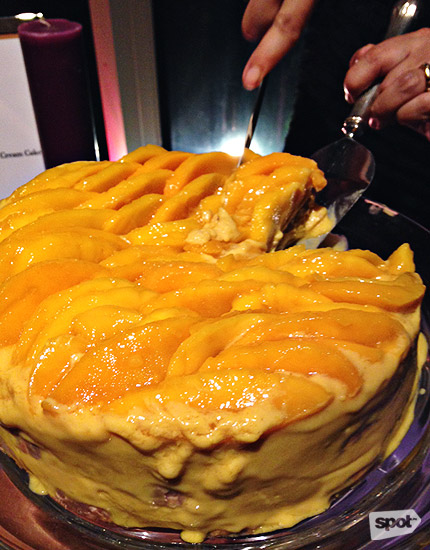 Mango Cake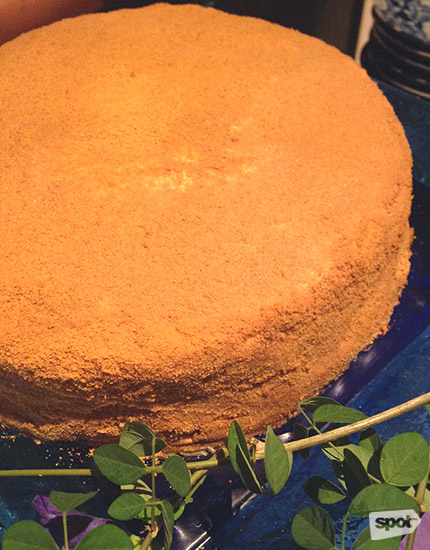 Honey Cake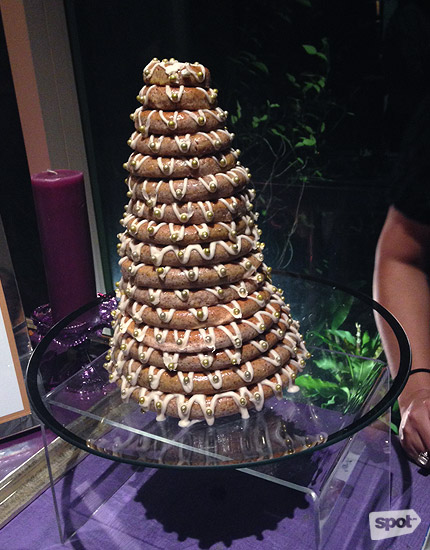 ADVERTISEMENT - CONTINUE READING BELOW
Kransekake
After that dish, some of us continue polishing off our glasses of wine, while some have surrendered and are pleading for some tea or hot water. But Dulce isn't done yet. She wraps up dinner with four desserts—Mango Cake, Honey Cake, Chocolate Mousse with orange slices and raspberry sauce, and Kransekake. The most memorable is that delicate Honey Cake, so elegant in its simplicity, allowing that high quality cream to shine. It gently sobers me up as I sip on some herbal tea.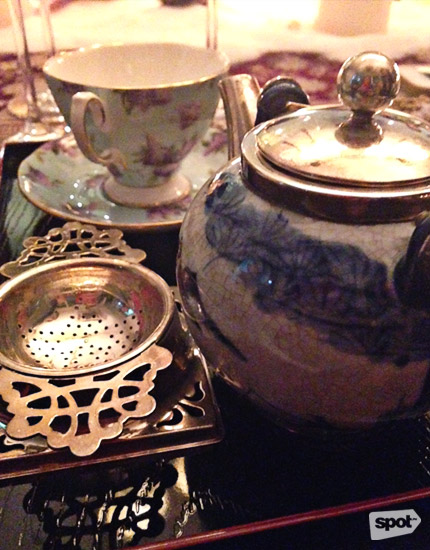 Tea time
Dulce admits that she is still in the process of costing her dishes so turning her hobby into a business is still in the works. But, she promises to announce the launch of her gourmet-to-go business, Ā Table, very soon. I leave Dulce's home that evening with a bag of homemade yogurt with lemon curd and cornflakes. The next day, as I tuck into the jar of yogurt, I think about that decadent pork belly dish and how it would make a killing this holiday season. I also feel the empacho being soothed and realize the yogurt doing its job. I thought to myself, "Darn it, she really thought of everything."
ADVERTISEMENT - CONTINUE READING BELOW
What a woman.
For inquiries on Ā Table's menu and price list, contact Dulce Magat-Gibb at 0917-862-1800; dulcemagatgibb@yahoo.com.
The Undercover Eater works with food on a daily basis and hunts for hidden gems in his spare time. For this voracious and, dare we say, professional foodie, eating is more than a necessity—it's a vocation. Contact him at undercovereater.spotdotph@gmail.com.
Share this story with your friends!
---
Help us make Spot.ph better!
Take the short survey
Load More Stories