Eating at a stranger's house is a great way to make new friends
The Undercover Eater tries Plato.ph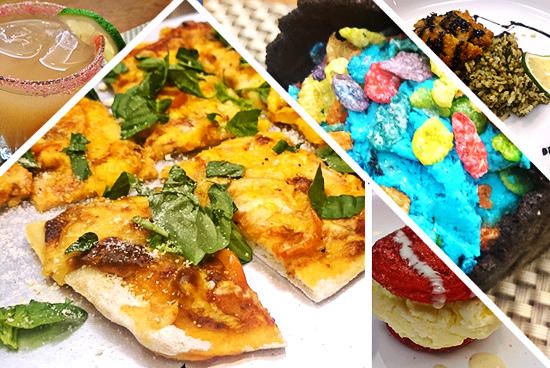 (SPOT.ph) Plato.ph is a curious concept. When I browsed through the website, I imagined something akin to Traveling Spoon. Think Airbnb, but for dining. You pick through a roster of hosts and cuisines, book one, and enjoy.
The whole idea is the brainchild of Laurence Espiritu. Like most passion projects, it started as a hobby. The 21-year-old is an adventurous eater and a home cook. "Whenever my friends and I want to hang out but feel too lazy to go out, we would end up chilling in my house and whipping out something from the refrigerator." It was during one of those fridge raids that the concept came to him.
"People could have a more immersive dining experience that enables them to not only eat good quality food, but also converse, meet the chefs behind the dishes, and share the dining table with their peers, dates, and even new faces," Laurence explains.
Thus, I find myself traveling deep into Quezon City, twisting and turning towards a large house inside a subdivision within a subdivision. Among three cuisines (I realize that they now offer four), I had chosen Italian, under the name "Cibo," which instantly appealed to me. It's served by a young self-taught man who, according to his page, refused to be "bound by rules" and "runs on a creative fuel." I didn't know what to expect.
The host, Lanz Castillo, answered the door. He was in flipflops, a button-down shirt, and shorts—as casual as can be. Had we not just met, it felt exactly like stopping by a bro's house of some snacks. His home (his parents', he joked) smelled richly of cinnamon, which I assumed hinted at the meal we were going to have (I was wrong, but more on that later). Lanz gave me a tray of truffle-topped crackers to entertain myself with as he bustled about the kitchen and we waited for the rest of the guests to arrive.
ADVERTISEMENT - CONTINUE READING BELOW
According to Laurence, each Plato Chef controls their own bookings, dates, price, cuisine, and number of available seats (all on the website). "Plato.ph is strictly a platform for hosts to connect with interested diners, using our services to their convenience," explains Laurence.
Once the last guests arrived, Lanz told us that he had some extra pizza dough and that we should try making our own margheritas. He already had one pie bubbling in the oven so in the event of a catastrophe, our dinner would be safe. He likes his pies extra thin and with a lot of cheese. Fine by me. More pizzas, even imperfect ones, are a blessing.
CONTINUE READING BELOW
Recommended Videos
There was not a lot of fanfare to Lanz's dinner. There was no candlelight or floral centerpieces, no hired hand to wait tables or a violinist in the background (in fact, his mood-music playlist ranged from ABBA to Taylor Swift). Plates were passed out as if on a picnic and in the middle of the table was a pack of paper towels. This isn't to say the young chef wasn't prepared. Exactly the opposite.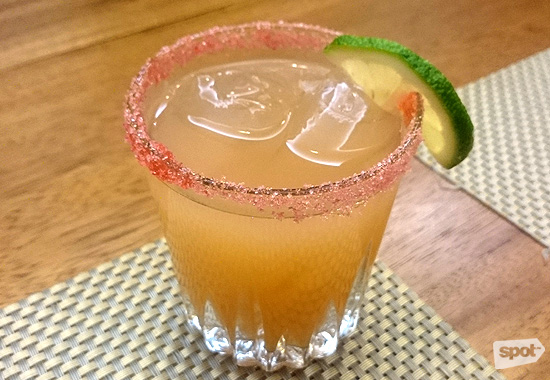 ADVERTISEMENT - CONTINUE READING BELOW
Freshly made spiced iced tea
By 7 p.m., he started serving his freshly made spiced iced tea. It's a refreshing little concoction made with lavender tea and spices. He even took the time to delicately coat the glass with pink rimming sugar, which not only made it look pretty, but added a nice sweet flavor to every sip.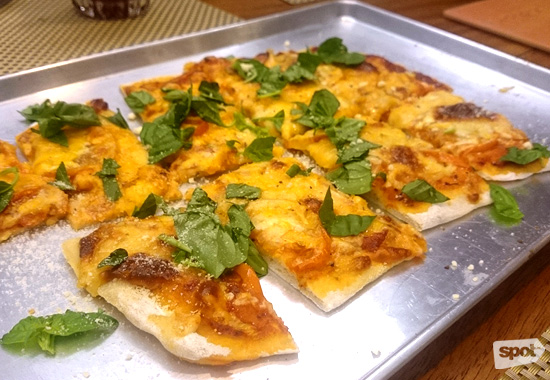 Pizza
The pizza came next—classic save for the touch of spiced honey. The messy, flaky crust buckles under the weight of the cheese, but the crushed basil leaves give it the lift it requires. With this kind of balance, this is the type of pizza that you can have a lot of—and still have room for more.
Lanz excused himself to start prepping the main course, crispy Parmesan chicken with balsamic reduction on pesto pilaf. He settled behind the counter across from the dining table (their house was built for entertaining—an open plan, with the living room on one side and a dining space that extends to an outdoor patio). It's not every day you see a burly 22-year-old artfully arranging slabs of golden fried chicken and painting zigzags of balsamic reduction.
ADVERTISEMENT - CONTINUE READING BELOW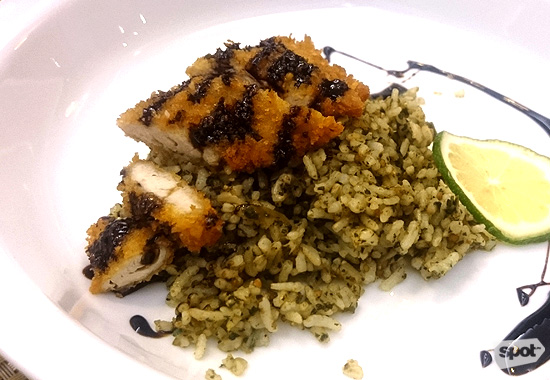 Parmesan Chicken
There's a lot of rice on this dish, but each grain is dressed in enough pesto to make every spoonful interesting. Lanz knows how to put dimensions in his dishes, and his thick reduction is the loud soloist in his ensemble. It makes everything else sound or, in this case, taste better.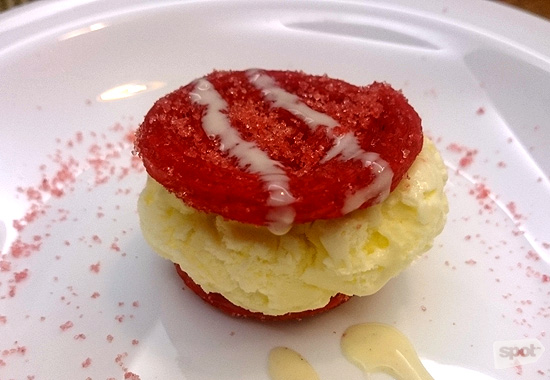 ADVERTISEMENT - CONTINUE READING BELOW
Red Velvet Churro Ice Cream Sandwich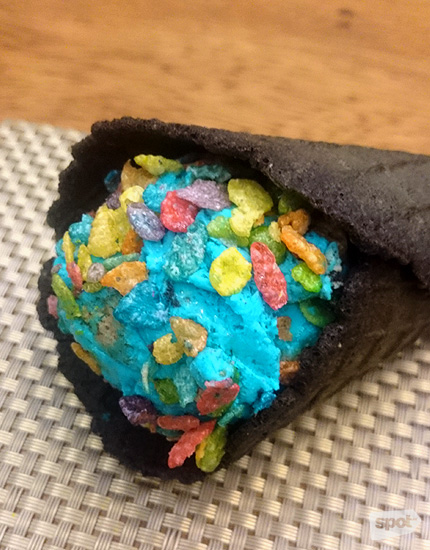 What Lanz makes regularly for his business, The Bark
Lanz shared that he loved cinnamon and the smell I noticed earlier wasn't for his guests, but for a food market that he was joining. He makes churro ice cream sandwiches and other desserts for a living, and he had been making handmade burnt cinnamon (it tastes better than it sounds) waffle cones. Dessert is his specialty and for us, he whipped up the most gorgeous red velvet churro sandwich. The churro has this pleasantly chewy texture. I'm not the biggest lover of red velvet, so I prefer that this one isn't too sweet. He didn't make the ice cream from scratch (although he does for his other business), but he coats it with fruity cereals to give it a more distinct flavor and to recreate that crunch.
He pointed at the napkins on the table. "They're really messy, so be ready!" he said with glee.
ADVERTISEMENT - CONTINUE READING BELOW
It may take Filipinos some time to warm up to the idea of dining in other people's homes, but if you're open to meeting new people and trying new experiences, it's not difficult to warm up to the chefs. Plato.ph is as young as its founders. But there's great potential, too.
For orders, bookings, or if you simply want to look around, visit Plato.ph.
The Undercover Eater works with food on a daily basis and hunts for hidden gems in his spare time. For this voracious and, dare we say, professional foodie, eating is more than a necessity—it's a vocation. Contact him at undercovereater.spotdotph@gmail.com.
---
Help us make Spot.ph better!
Take the short survey
Load More Stories