It's about time you met Pedro
The Undercover Eater makes a new drinking buddy.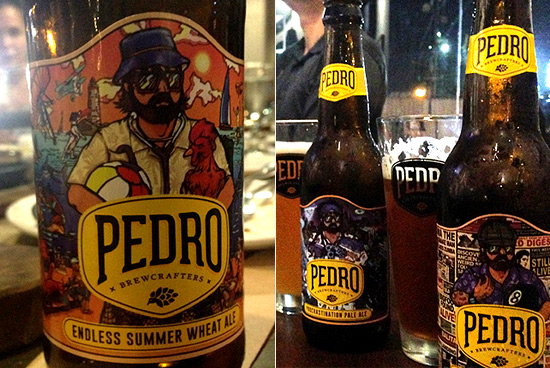 (SPOT.ph) When you're stuck on the road for two hours and have another two hours of carmageddon ahead of you, a pit stop is in order. That's what I did the other night, dropping by Perfect Pint in Bonifacio Global City to drown my stress in good food and a cold beer (or two, or three).
I pulled in for a quick bite, but I also made a new friend named Pedro, who's one of the most relatable characters I've ever met. Pedro, however, isn't a person; it's a beer.
Brewed in San Pedro, Laguna (hence the name), Pedro is produced by one of the few commercial-level craft breweries in the country, Pedro Brewcrafters, which is managed by Jill Borja, Jaime Fanlo, Nadine Howell-Fanlo, and Rochee de Leon. Its aim is simple: to give Filipinos a top-notch craft beer that could rival those offered abroad.
I started my escape from the gridlock with a bottle of Endless Summer Wheat Ale, which has an IBU of 13 and ABV of 5%. It's light, bitter, and familiar (it could remind you of the usual bottle of San Mig), but its rich flavor tells you that this isn't your ordinary beer. I enjoyed this bad boy with some Calamari Negra (P280) for starters. The crisp, citrusy, and fruity flavor of the beer really helped cut through fatty, fried food.
Just staring at Pedro (the Zach Galifianakis look-alike on the bottle label) chilling on the beach with some lechon and acoustic jamming had me daydreaming I was at the beach; but the resto door swung open, and the honking cars outside snapped me back to my urban reality.
ADVERTISEMENT - CONTINUE READING BELOW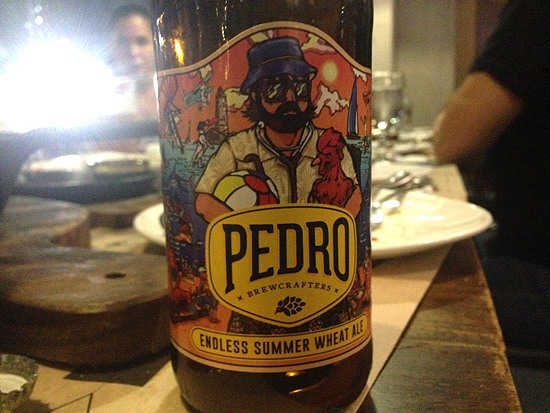 CONTINUE READING BELOW
Recommended Videos
Hello Pedro!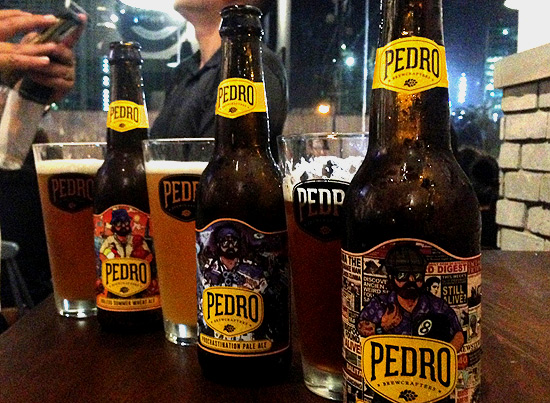 Three's a party!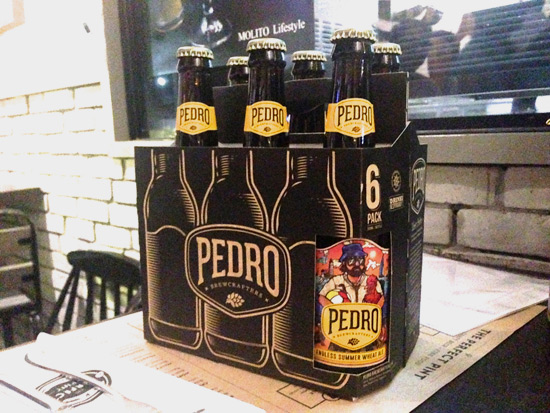 ADVERTISEMENT - CONTINUE READING BELOW
And because I want some for home, too!
My second beer was the Procrastination Pale Ale, which was a beer I immediately felt a strong connection to from the name alone. But that wasn't the only thing strong in this beer. It had a much more potent herby aroma as compared to the previous beer. Its IBU was 27, making it a lot bitterer than the Endless Summer Wheat Ale. I paired it with hearty meat dish, The Perfect Pint Sausage Platter (P650), which could match the beer's flavor. The combination made me feel right at home, ready to do absolutely nothing.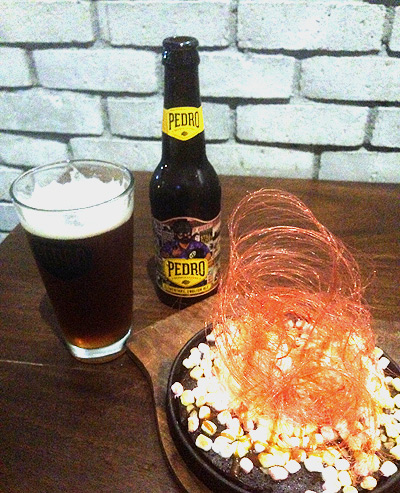 I need to show that dessert off.
Traffic was still absurd outside so I grabbed some dessert. I tried the Freshly Baked Caramel Brownie Smores with Rhum Raisin Ice Cream (P320) and paired it with another Pedro beer: the Elementary English Ale. Boom, talk about your just desserts. The Elementary English Ale is dark, thick, and heavy. It has a nice roasted aroma and flavor to it, like you're drinking a cup of dark alcoholic coffee. It's the perfect beer to end the night with.
ADVERTISEMENT - CONTINUE READING BELOW
Pedro made for some great company that night, and for that, I owe him another visit. Maybe next week, or the week after. Heck, who am I kidding—I took home a six-pack of Pedro beer right after my meal.
A bottle of Pedro beer costs anywhere between P180 and P250. To meet Pedro, visit Pedro Brew Crafters' Facebook page, Instagram @pedrobrewcrafters, or www.pedrobrewcrafters.com.
The Undercover Eater works with food on a daily basis and hunts for hidden gems in his spare time. For this voracious and, dare we say, professional foodie, eating is more than a necessity—it's a vocation. Contact him at undercovereater.spotdotph@gmail.com.
---
Help us make Spot.ph better!
Take the short survey
Load More Stories