This is what Adam Richman ate in the Philippines
The Lechon Diva has a new degustation menu and The Undercover Eater tells us why it might just be her best one yet.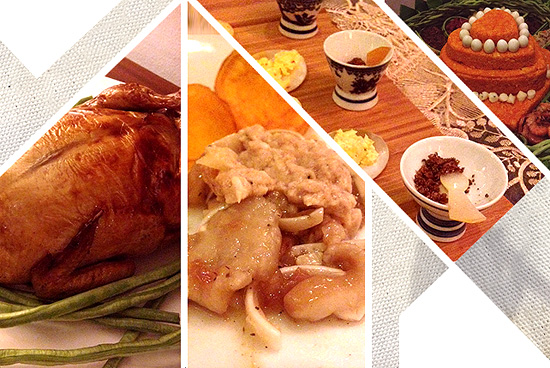 (SPOT.ph) Usually, I see no reason for me to get out of my shorts and tsinelas to eat Filipino food. I cook a mean adobo and an edible tinola, and when I don't feel like laboring over a hot kaldero, I head over to my parents' house for their cook's beef kaldereta or ginataang manok.
Of course, when you get an invite from Dedet dela Fuente, you air out your best, take a shower, slap on a tie, and make your way to her house for a multi-course dinner that, so far, has never failed to impress and satisfy. (Which is why you have to dress to impress, too.)
She calls her menu the Richman's Degustacion. It is, in many ways, like the others that have come before it—undeniably Filipino, but refined and spiffed up for the ball. The Richman's though, a set she put together for Man v. Food host Adam Richman, when he came to dinner a couple of months ago, is the most opulent of them all. It uncannily shows some seasoned restraint from the charming home cook which I haven't really witnessed before.
More on that later, though. Let's talk about dinner.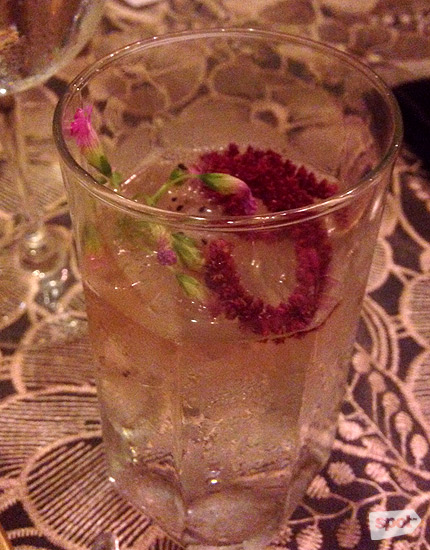 ADVERTISEMENT - CONTINUE READING BELOW
Enter the Dragon
Meals at Dedet's are usually kicked off with a cocktail. This time it's the cheekily named Enter the Dragon. The pretty spritzer adorned with pink flowers is spiked with dragonfruit liqueur from the centuries-old Distilleria Limtuaco.
An old favorite makes an appearance in the form of the Ginseng Egg, which is actually a reimagining of Dedet's Balut Salpicao. She thoughtfully omits the duck embryo, sautéing the more approachable yellow yolks in a subtle garlic sauce. Simply garnished with scallions, it adds brightness to the rich duck egg. Since I grew up on the stuff, I don't have any prejudices to tackle. I simply tuck in and enjoy it for what it is—a nicely-balanced, flavorful appetizer.
CONTINUE READING BELOW
Recommended Videos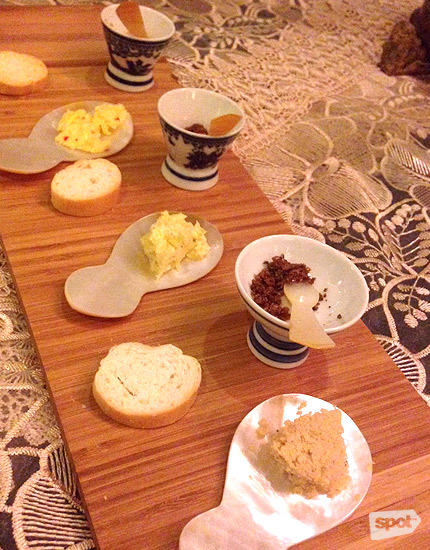 Pinoy Nibblers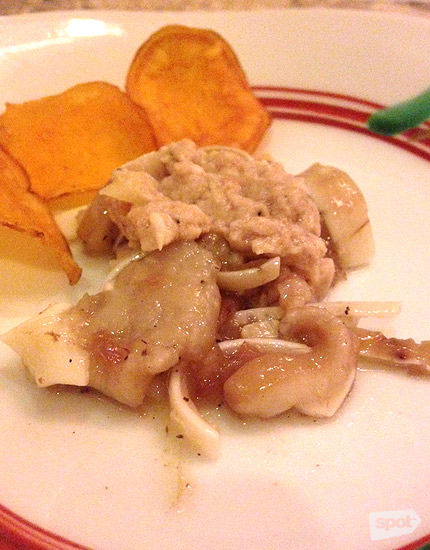 ADVERTISEMENT - CONTINUE READING BELOW
Heaven in My Ears
The Pinoy Nibblers is an assortment of dips and spreads, but really, it's just a precursor to one of my favorite dishes of the evening—Heaven in My Ears. Dedet plays coy and simply tells us to "enjoy." This I definitely did—and you will too, if ox brain and pig ears are your thing. The creamy brain is complemented by crunchy cartilage. I know this sounds a bit "zombie apocalypse," but believe me when I say that it is both flavorful and luxurious.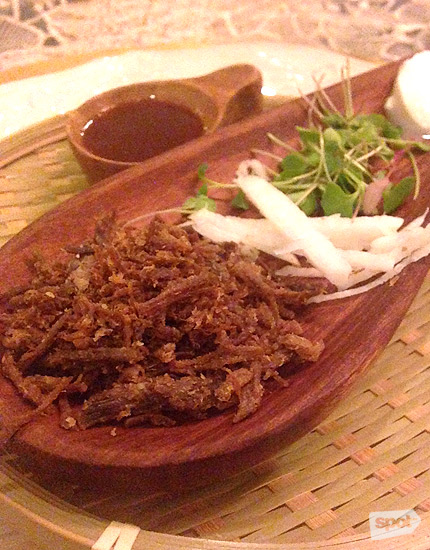 Jardin de Bacolod
The Jardin de Bacolod is all about simple and very familiar pleasures. Inspired by a visit to the City of Smiles, the native salad is composed of crispy kansi flakes, baby arugula, singkamas, and kesong puti, then drizzled with a winning mangosteen dressing.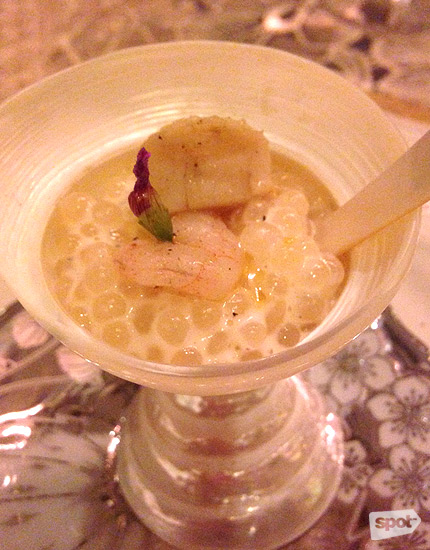 ADVERTISEMENT - CONTINUE READING BELOW
South Sea & Pearls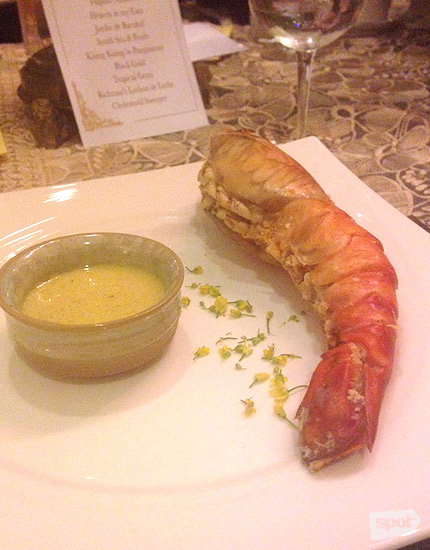 Kising Kising in Pangasinan
The meaty yet surprisingly refreshing dish acts as primer to the subsequest dishes, which flaunt varying levels of richness and intensity. The South Sea & Pearls, taken from one of Dedet's earlier degustations, is tapioca in coconut milk and embellished with a tiny shrimp and local scallop. She shows perfect form in the gata game with a river prawn dish christened Kising Kising in Pangasinan. These massive crustaceans may have been from Northern Luzon, but the thick, aromatic sauce is purely Bicolano. "That's where my dad is from," Dedet demurely explains. "So this is what I learned to cook." I accept her offer of rice, if only to flood it with that glorious sauce.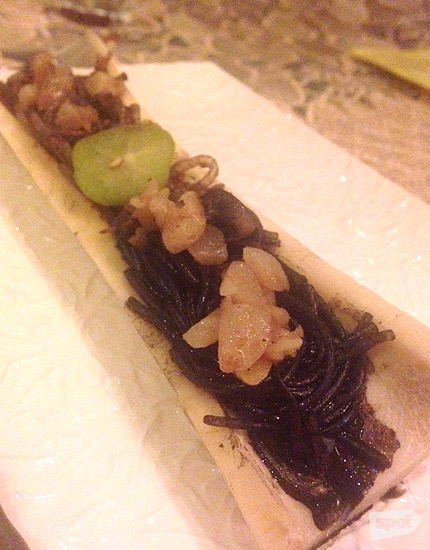 ADVERTISEMENT - CONTINUE READING BELOW
Black Gold
Black Gold—vermicelli noodles soaked in dinuguan and squid ink, then topped with bone marrow—could have been a brilliant reinterpretation of a surf and turf, but it was served cold, with the sauces becoming waxy or masebo. The bone marrow, unfortunately, suffers the same fate.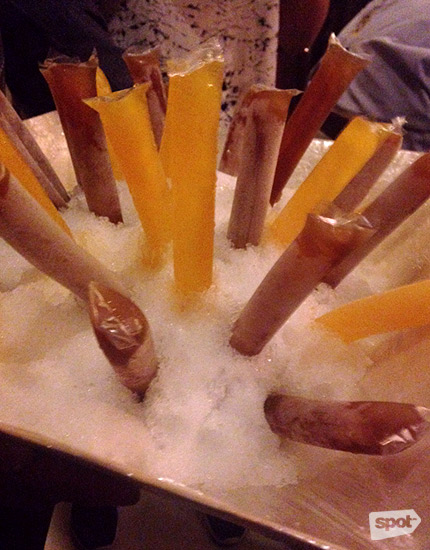 Tropical Gems
To rid our palates of the traces of the previous dish—and to prep for the main event—we are served ice candy in either ginger or dalandan flavos. The latter was sweet and densely flavored with the aromatic citrus.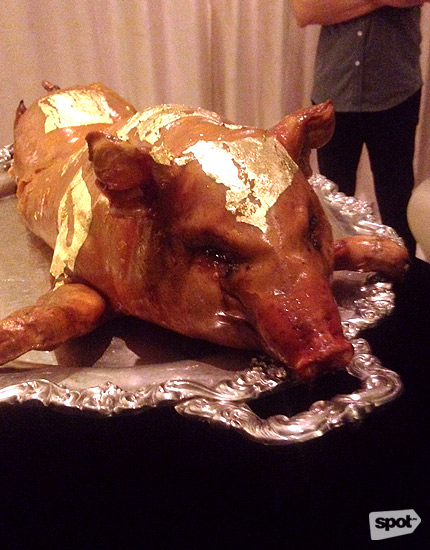 ADVERTISEMENT - CONTINUE READING BELOW
Lechon de Leche
I get up to stretch my legs and my...er, stomach, because I know the lechon de leche is coming up. I hear the usual "oohs" and "aahs" as the pig is presented, but I am not prepared to see its glistening skin pimped to the max and adorned with gold leaves. It's stuffed with Dedet's legendary black truffle rice, but she doesn't stop there. "It also has foie gras," she reveals. At this point, my jaw drops and I start to drool. The skin, thin and crisp, cracks with a light tap—like the torched top of a creme brûlée. The stuffing is aromatic and dense, the fatty goose liver having melted into the sticky rice. I sit back, dizzy from the cholesterol yet drowning in bliss, and I wonder: "How do I come back from this?"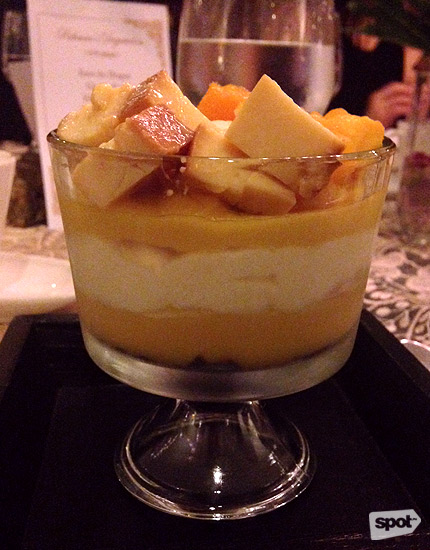 Mango Trifle
I fall back to earth with a thud once they bring out the Cholesterol Sweeper—a modest portion of oatmeal. God bless Dedet for trying to save us from ourselves. However, I couldn't even muster even a little bite of the stuff since it sits next to solo portions of her Mango Trifle. Layers of custard and cake topped with leche flan and sweet mangoes...Come on. There really is no contest.
ADVERTISEMENT - CONTINUE READING BELOW
When asked how she comes up with her dishes, Dedet humbly but confidently answers: "I cook what I know and I know Filipino food." With the combination of new dishes and her classic favorites, the Richman's Degustacion shows how far Dedet has come. The menu is well-curated, pleasingly balanced, and adventurous without overwhelming—a sign of her growing confidence as a bona fide chef.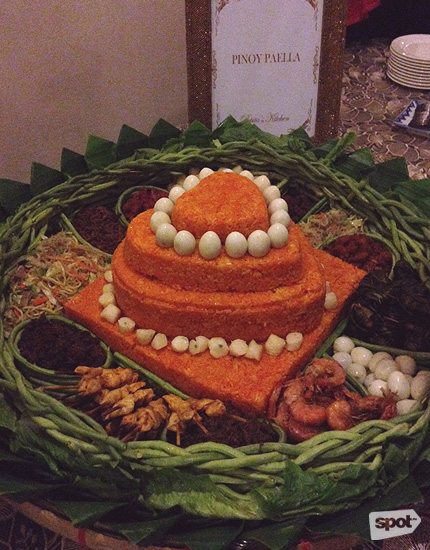 Pinoy Paella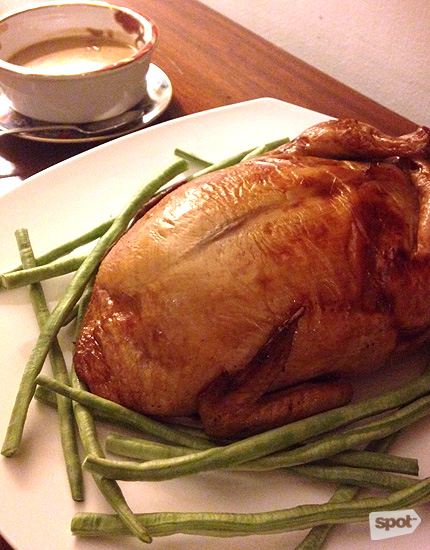 ADVERTISEMENT - CONTINUE READING BELOW
Chicken Relleno
P.S. Since her kitchen ran late during the dinner, she also served her new to-go dishes: Pinoy Paella and Chicken Relleno. One is a fun, over-the-top spin on a Spanish classic; the other a traditional rendition of a Filipino party staple. Both are worthy centerpieces for your next family get-together.
The Undercover Eater works with food on a daily basis and hunts for hidden gems in his spare time. For this voracious and, dare we say, professional foodie, eating is more than a necessity—it's a vocation. Contact him at undercovereater.spotdotph@gmail.com.
Share this story with your friends!
---
Help us make Spot.ph better!
Take the short survey
Load More Stories