Neighborhoods: UP Village
We take a walk on UP Village's famous Maginhawa Street to sample culinary delights and soak in some culture.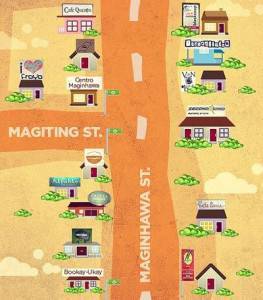 Good vibes come easy at UP Village-"or at least as far as the roads are concerned.
This is because all streets are named after positive Filipino qualities, from Matahimik (which either means peaceful, quiet, or a combination of both) to Malambing (affectionate).
But of the many circuitous, long-winded streets in the area, none can match the importance of Maginhawa, which could mean "refreshing" or "prosperous". The street's whole stretch-"which can become V. Luna Road depending on how far you go-"can bring you to an area just a block away from Philcoa to the corner of East Avenue in Quezon City.
Strangely enough, depending on your location, the street becomes either parallel or perpendicular to UP's C. P. Garcia Avenue, everyone's favorite short cut to/and from Katipunan Avenue and/or C-5.
But Maginhawa's charms aren't just for motorists looking for the quickest and least-congested routes across Metro Manila. It happens to be one of the most happening streets in UP Village, featuring lesser known but interesting establishments that only UP Village residents know about.
ADVERTISEMENT - CONTINUE READING BELOW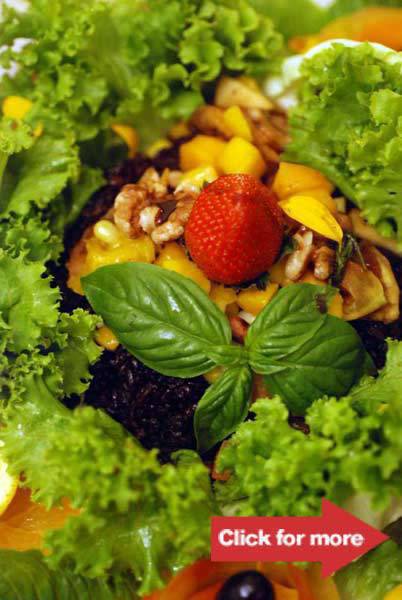 Van Gogh is Bipolar's Picasso Lovers Set Meal. Click for more photos.
CONTINUE READING BELOW
Recommended Videos
Dining out
As early as six in the morning, Bread and Breakfast-"one of the newest establishments along Maginhawa-"is ready to welcome patrons. Although it just opened the weekend before the May 10 elections, the shop offers a fairly extensive array of baked goods and pastries, including empanadas and ensaymadas. Besides its variants of pan de sal (regular with or withour sugar and wheat with or without sugar) the shop also sells bottled tea and juices.
If you're more of a brunch person, you check out Cafe Quezon, which offers sandwiches, pastries, and rice and egg breakfast combo meals. Its most popular dishes are Longanisang Lukban and Pancit Habhab, which it sells either by single order or by bilao. It also serves regular brewed coffee, hot chocolate, and a variety of other drinks. If your tab reaches P150, you can get free Wi-Fi all day.
ADVERTISEMENT - CONTINUE READING BELOW
Those hankering for lunch and supper places while caught in the village need not worry. They can drop by Blacksoup Cafe + Artspace and savor pasta dishes and special salmon and lamb specialties. A must-try for vegetarians is the big, juicy Tofu Burger (P90). Besides hosting art exhibits, the cafe also sells a number of original, hard to find DVDs of local and foreign films. Since it's run by a five-member film collective, the restaurant is also the venue for its workshops.
Van Gogh is Bipolar, which is located on the same lot as Blacksoup Cafe + Artspace, offers mood-soothing food such as Larry Flynt's Cabbage Experience (P415). The resto is owned by artist Jetro Rafael and the resto is actually his home, which he has turned into a munch spot-cum-art gallery.
For more inexpensive but continental dishes, very few can beat Tomato Kick, an alfresco restaurant cum bar that serves tasty lunch and dinner items. Customers' favorites are Chicken in Red Wine Sauce and Chicken Alfredo, which both come with rice and vegetables.
If your taste buds are hankering for something sort of foreign, you can check out Friuli. Styled as an Italian eatery, it serves an assortment of pizzas and pastas. If you're trying to quit eating red meat, go for Antonio's Pizza (P170), a 10-inch pie which is good for two.
Want Mediterranean food? The curiously-named Alfahkr's is a good bet. You can treat yourself to Lamb Chops (P155) or Beef Kebab (P110), which are both served with grilled tomatoes. The resto also boasts of nicely-executed graffiti art on its walls.
ADVERTISEMENT - CONTINUE READING BELOW
To provide a fitting end to these great meals, I Heart Froyo offers great yoghurt desserts. Imported from either Australia or Italy, the yoghurt is served in various sizes-"the largest costs P70-"and can be topped off with fruit (mango, kiwi) and sweets such as Oreos, Reese's, Chocnut, and choco mallows. Located on Magiting Street-" less than a block off Maginhawa leading to C. P. Garcia Avenue-"I Heart Froyo is worth the mini detour.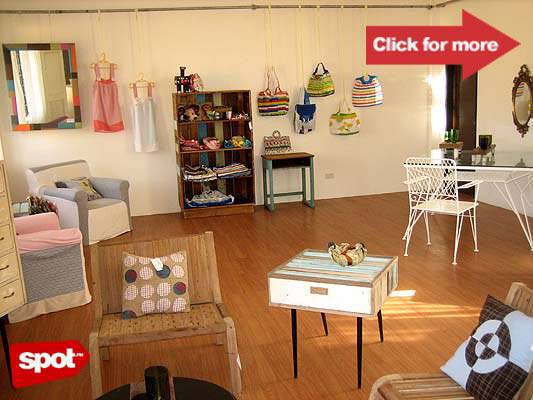 Arts and culture
But Maginhawa Street is not all food and drinks. Various shops have sprung up, catering primarily to specialized interests and needs of its residents, including UP students, teachers, and artists.
Take Bookay-Ukay, just about the only bookstore in the village. Besides selling used but in good condition popular books and classics, it also offers novelty items-"bookmarks, T-shirts, cloth bags, and cheap film cameras.
If books can be read again and again, so too can old furniture be used and recycled. Which is exactly the idea behind Resurrection, a furniture and found objects gallery. Opened last April, the shop looks more like an art exhibit because of its spacious layout and aesthetically pleasing yet functional objects-"chairs made from old wood, refurbished tables and bureaus, and votive candle holders made from wine bottles cut in half. Inexpensive items include bags crocheted so nicely that they don't look at all like they're made out of plastic grocery bags.
ADVERTISEMENT - CONTINUE READING BELOW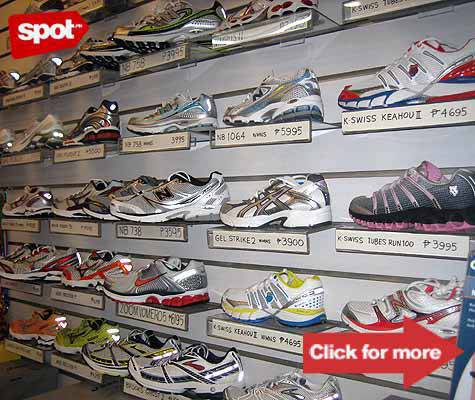 Foot and fashion brigade
Second Wind: The Running Store is for the physically-active. The store has taken advantage of its proximity to UP's academic oval, perhaps the Philippines' most popular running spot.
It sells specialized gear for runners, professionals and otherwise, such as elastic shoelaces, which help triathletes slip in and out of their footwear as quickly as possible without the hassle of tying and untying them. The shoes are a bit steep though since prices start at P3,500.
For those looking to buy other kinds of footwear, especially the leather kind, drop by Our Tribe's outlet store. Although it doesn't sell all the products offered by all its mall outlets, prices of its leather goods-"from sandals to key fobs, laptop bags, and cases-"are marked down.
Clothing shop Vida Doria also has an outlet store nearby. The establishment, which used to be a split-type bungalow house, has three separate shops-"a bazaar center offering imported ready to wear clothes (jeans and shirts) for men and women, a small airconditioned boutique featuring its signature lines for both genders (Inaro for men and Vida Doria for women), and a store for made to order formal wear such as gowns. And yes, they accept credit cards.
ADVERTISEMENT - CONTINUE READING BELOW
Health and wellness
Two houses down the street from Vida Doria is Ngiyan Spa, a spa and massage center that offers, among others, the Ventusa massage-"a five-peso coin is wrapped in a piece of tissue, burned, and placed in a drinking glass. Six such glasses are prepared, one for each section of the client's back.
Once the fire is put out, the glass-"still filled with smoke-"is then inverted and placed on one's back, a process that will suck out the "coldness" from one's bones and flesh, masseurs say. The less adventurous could try the spa's dry infrared sauna. To enjoy Ngiyan's jacuzzi, customers need to make a reservation at least an hour before arrival.
Meanwhile, for those inclined to refresh both body and soul, Pino yoga classes are available by appointment at the Centro Maginhawa. Located right beside a laundromat and a barbershop, the establishment offers acupuncture and hosts a makeshift store that sells organic food-"from malunggay-based premium pancit canton noodles to malunggay-based kropeck.
All these establishments prove that Maginhawa Street has something for everyone.
Photos by SPOT.ph and courtesy of Van Gogh is Bipolar, Blacksoup Cafe + Artspace, Friuli Trattoria, Alfahkr's and Combi.
Share this story with your friends!
---
Help us make Spot.ph better!
Take the short survey
Load More Stories