Neighborhoods: BF Homes, Parañaque
SPOT.ph explores BF Homes, Parañaque for great finds, chow points, and other cool places.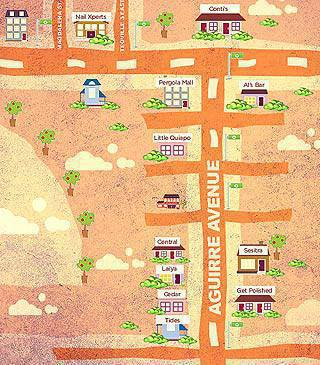 Life in BF Homes, Parañaque City just keeps getting better and well, busier.
Composed of 76 associations, BF Homes spans 765 hectares and has access to three cities-"Parañaque, Las Piñas and Muntinlupa. But BF's streets are not just busy because of motorists taking the quickest routes.
This southern hub also houses all types of establishments, making it a one-stop shop for residents and frequenters. President's and Aguirre Avenues show a healthy mix of local and commercial establishments that continue to co-exist despite tight competition. BF offers dining, partying, pampering, and shopping experiences very distinctive of the southern BF lifestyle.
Another main ingredient to the BF flavor is the crowd. Though BF is known to be home of well-off families and celebrities, the atmosphere is generally "steady" (which in southern lingo means laid-back) and never flashy. People can be seen in casual getup while hanging out in the numerous restaurants, bars, salons, spas and shops in BF.
ADVERTISEMENT - CONTINUE READING BELOW
This bustling spot in the south definitely has a life of its own with a unique crowd to boot and an array of establishments that offer total value for money.
DINING OPTIONS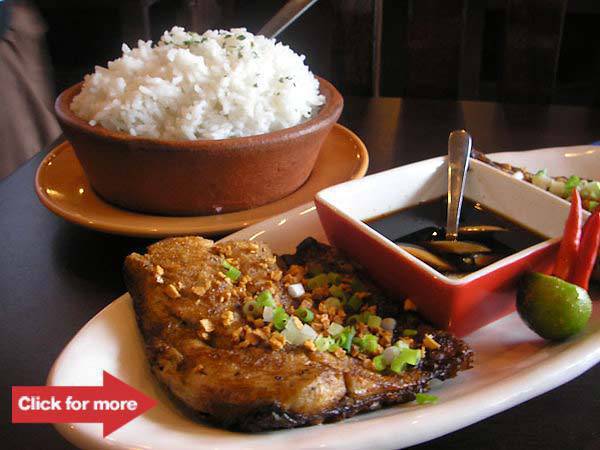 CONTINUE READING BELOW
Recommended Videos
Fire Roasted Boneless Bangus from Chi's Brick Oven Kitchen. Click for more photos
BF is overflowing with dining establishments so you'll ever run out of choices. The neighborhood certainly strikes a balance in dining with the tried-and-tested oldies and the innovative newbies.
Nobody can go wrong with Conti's Pastry Shop and Restaurant. This well-established family restaurant, with branches in Greenhills, Serendra, Trinoma, Greenbelt II, and Solenad NUVALI in Laguna, has its humble beginnings in BF. Patrons enjoy the wide selections of appetizers, salads, meat entrees, pastas, sandwiches, and of course, the desserts. Prices are a little steep with single entrees going for more than P300. But with the quality food and service, it is all worth the money.
ADVERTISEMENT - CONTINUE READING BELOW
It is definitely a-must to try Chi's Brick Oven Kitchen where every meal is baked pugon style. The conventional wood-fired brick oven used to bake pandesal is given a new look and the usual food are given new twists at Chi's. Adventurous dessert lovers can try the different Dessert Pizzas (P110-P135) and the special Brick Oven Chocolate Cake ala Mode (P130).
Diners scouting for some authentic Filipino food should definitely try Little Quiapo. With a very serene ambiance, diners can enjoy their favorite local dishes and be reminded of home. This spot is also famous for its Halo-Halo (Regular-P90, Special-P110 and Fiesta P120), competing with some of Manila's bests.
When it comes to Spanish cuisine, Amalia's is the way to go. With the intimate setup, soft lighting and relaxing Bossa Nova music, the place is ideal for couples and friends who want a night of good food and good talk. Among the must-try dishes are the paellas (P440 to P2200), steaks (P355 to P2425) and pollos (P245 to P1225). Prices can shoot up to over P2,000 for groups of ten.
As one of the newest additions to the numerous restaurants in BF, Rempah makes its mark with its scrumptious Thai, Vietnamese, Malaysian and Filipino dishes. Fresh from opening last April, the restaurant already has a number of regulars who keep coming back for their bestsellers like the Pad Thai-Shrimp (P220), Green Curry-Chicken (P185), and Bagoong Fried Rice (P140).
For those who love to pair their coffee with delectable sweets, Café Boheme is the right place. The dessert crepes like Enya (P95), Romeo (P120), and Juliet (P110) go well with their hot/iced coffee (P75 to P115), ice blends (P125 to P140) and espresso cocktails (P125 to P145).
ADVERTISEMENT - CONTINUE READING BELOW
For the health conscious, there's no limit in indulging at Serenitea Cha Kitchen. The menu is divided into categories like Fresh Brewed Teas (P55 to P65), Special Tea Mixed (P75 to P80), Serenitea's Finest (P80 to P85), Milk Tea (P70 to 85) and Tea Latte (P80-P95). Drinkers can choose the level of their drinks' sweetness from small sugar percentages to a full hundred percent.
Looks can really be deceiving especially in the case of Gourmet's Palate. Even with its simple exterior and small interior, this joint serves superb charbroiled burgers (P67 to P78) that are juicy, tender and filling to the hungry stomach. With just a budget of P100, diners can get themselves stuffed-"definitely a cozy space where people can satisfy their big appetites with a small budget.
With a staff that is ready to serve 24/7, Sinangag Express has a pool of customers (residents, students, businessmen and party-goers who want to sober up) who enjoy the ever dependable silog meals at about P65. The open-air setup is a plus for those who enjoy a more humbling atmosphere. Currently, there are two branches in BF, one along President's Avenue and another along Aguirre Avenue.
NIGHTLIFE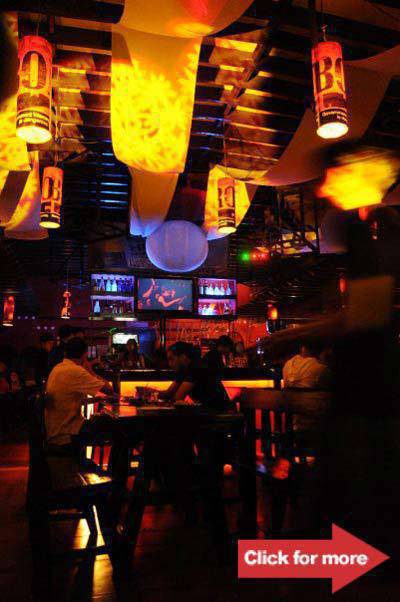 NLOs Bar Restaurant. Click for more photos.
ADVERTISEMENT - CONTINUE READING BELOW
In this side of the south, the nightlife requirements are pretty simple: good food, good drinks, good music, good crowd, and most importantly, sturdy tables and chairs. With the "steady" attitude of southerners, strobe lights and dance floors are not exactly necessary to have a good time.
Perhaps what the south runs short of, compared to its counterparts in the north, are places with live bands. In BF, Al's Bar is good place to have some drinks while listening to live bands, both unsigned and professional. Well-known bands like Up Dharma Down, Paramita, Radioactive Sago Project, and Taken by Cars have performed here. For an entrance fee of P150, music and booze lovers can have more than their money's worth.
NLOs Bar Restaurant guarantees the perfect food and booze equilibrium. The delectable dishes (including the bestselling sizzlers) go perfectly with the wide selection of drinks-"staple house mixes like 50/50, 911, 69 and Zero.0, the usual cocktails, and beers. The place even serves beer for as low as P25 during happy hour.
From its humble beginnings in the south, Central Bbq Boy Grill has expanded-"with branches even in Pioneer, Mandaluyong and Ermita, Manila-"thanks to its regulars who enjoy the more casual atmosphere. Goers get a good run for their money with food and booze that are generally affordable.   Among the bestselling house mixes sold by the pitcher are Bad Boy (P180), Bad Girl (P180), Bad Trip (P190) and Squeeze Me (P180).
Laiya Grill, located next to Central, offers a more relaxed environment. With its kubo inspired interior and impressive menu, guests are reminded of the beach. Among the must-try drinks (in pitchers) are Biyaheng Langit (P225) and Bahamamama (P225). When it comes to sizzlers, Laiya's sizzling sisig selections (P145 to P165) are worth the visit.
ADVERTISEMENT - CONTINUE READING BELOW
Tides Bar and Restaurant is another beach-inspired bar in BF. The lighting and interior decorations all add to create an ambiance of nightlife by-the-beach. Guests should not be fooled by the charming and colorful fruit-flavored drinks (in pitchers) like Hurricane (P190), Tsunami (P190), and Red Tide (P190) because these drinks can definitely deliver.
Another interesting night out site along Aguirre is the Lebanese-inspired bar called Green Cedars Grill. Large groups, who want to have an all-out Lebanese dining experience, can avail the Lebanese Set (P1,799) complete with food, drinks and a complimentary shisha. The dishes also come in smaller servings and the bestseller in the menu is the Kofta Kebab Platter (P245). Beer promos are also available (P240 to P999) for beer and pulutan combinations that really hit the spot.
Mediterranean food lovers can also try Le Souk Grill Mediterranean Cuisine and Bar. For a budget of P150 to 350, guests can have a quick fix of their favorite dishes from sizzlers to kebabs. Local beers are sold for P29. Imported beers and house mixes are also available.
As one of the newest additions to the long line of bars along Aguirre, Avenue 75 Sports Bar is quickly gaining patrons with its unique and creative offerings. Aside from live streaming of the hottest sporting events, the food is just simply something to experience. Avenue 75 offers fusion of Filipino, American, and Japanese cuisines that can tickle the taste buds of even the most non-adventurous foodies.
BEAUTY, HEALTH, AND WELLNESS
ADVERTISEMENT - CONTINUE READING BELOW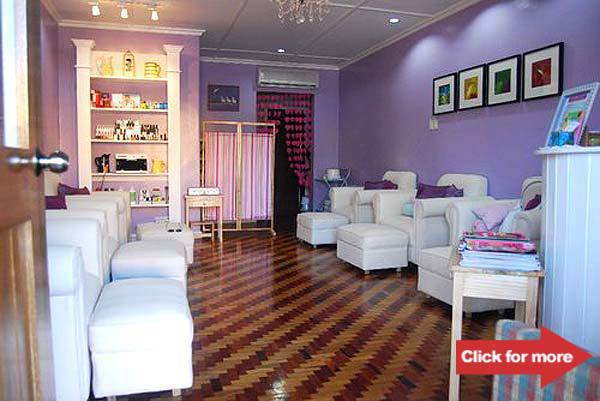 Get Polished! Nail Spa. Click for more photos.
Salons and spas are almost in every corner of BF and business for these establishments is never slow with the beauty and health conscious residents and non-residents who come in regularly.
The relaxing ambiance created by the blue and white interior of Tips 'N Toes Nail Salon really preps clients for an ultimate pampering session. The salon offers services like manicure (starts at P190), pedicure (starts at P220), sculptured nails (starts at P1,200) and nail art (starts at P40/nail), among others.
California Nails and Day Spa is no doubt one of the busiest nail salons not just inside BF but also in the Metro. Services include manicure and pedicure (P405 and up), facial (P480 up) and massage therapy (P295 for 30 minutes). The predominantly pink interior of the salon exudes a very feminine but still professional vibe fit for women on the go.
ADVERTISEMENT - CONTINUE READING BELOW
The Nail Xperts Spa Lounge and Mobile Spa offers a variety of services like manicure (P140), pedicure (P150), hand spa (P200 to P350), foot spa (P250 to P400) and waxing (P100 to P550). The salon also has spa packages (P500 to P850) for a complete pampering session. A must-try though is the foot reflexology service (P100 to P200) not usually offered in other salons.
Get Polished! Nail Spa welcomes its clients with its bright purple and yellow interior. Though the salon is quite small and can only accommodate six clients at a time, the service is nevertheless high-end. Rates start at P100 for the Natural Manicure and P120 for Natural Pedicure, and can reach P450 for the Totally Polished Spa Manicure and P525 for the Totally Polished Spa Pedicure.
Still in its dry-run, Anahata Nail Salon and Spa is bound to offer pampering services-"manicure, pedicure, foot spa, waxing and massage-"that are at par with other salons in BF. Mothers and daughters can enjoy bonding moments as Anahata's services include the special Princess Manicure and Pedicure for little girls. Rates are from P50 to P380.
Since it opened in 2003, Salon One has been providing clients quality service with their beauty and pampering offerings from head to toe. The salon offers various services like hair care, nail care, foot spa, hair removal and massage. But perhaps one service that really stands out is their hair and makeup package (P1,200) that can compete with Manila's best salons.
I-LASH Extensions Salon is one of the few salons that specialize in eyelash extension services. The staff is composed of trained specialists who perform the painless procedure.   I-LASH assures clients of extensions that can last for two months (or longer) with proper care and regular retouching. Rates are from P550 to P1,500 and can double for colored extensions.
ADVERTISEMENT - CONTINUE READING BELOW
Clients enter a relaxing world once they step inside the Chocolate Mint Spa thanks to the welcoming scent of chocolate and mint. Services offered include massage, body scrub and hair spa that range from P300 to 850. Every visit also entitles the client to a free use of the sauna. Retail items (scented oils, aromatherapy oils and slimming oils), VIP cards, and gift certificates are also available.
The Sesitra Day Spa lives up to its name by continuing to provide clients with the "royal treatment" they deserve. Services include different massage therapies (starts at P350 per hour), body scrubs (P600 and up), facials (P300 and up), foot spa treatments (P350 and up), waxing and spa packages (P800 and up). Appointments are preferred since the spa is fully booked on most days.
FITNESS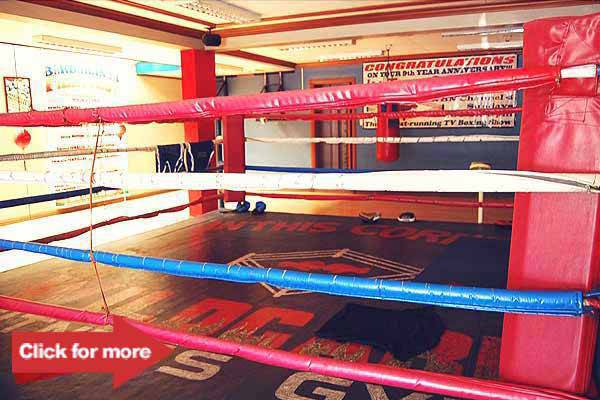 Rod Nazario's Boxing and Fitness Gym (Wildcard Gym). Click for more photos.
ADVERTISEMENT - CONTINUE READING BELOW
Aside from jogging around the BF villages, where the streets are not that busy, health conscious residents and even those who live near the area can try some fun fitness activities in these establishments:
Health and fitness buffs can leave the traditional gym for a while and try Rod Nazario's Boxing and Fitness Gym (Wildcard Gym). For only P150 per session clients can have a personal trainer to teach them the ins and outs of the boxing ring. Five sessions (with flexible hours) are all it takes to feel like a pro in the ring.
Symmetry Dance Studio offers services like dance workshops, studio rentals and private classes. Workshops offered are Ballet, Jazz, Funk, Hip Hop, Belly Dance, Pole Dance, Ballroom, Cheer Dance, Gymnastics and Contemporary. Mentors are from renowned dance groups like the Philippine Allstars, Ballet Philippines, Hotlegs, and the Manoeuvres.
FUN FINDS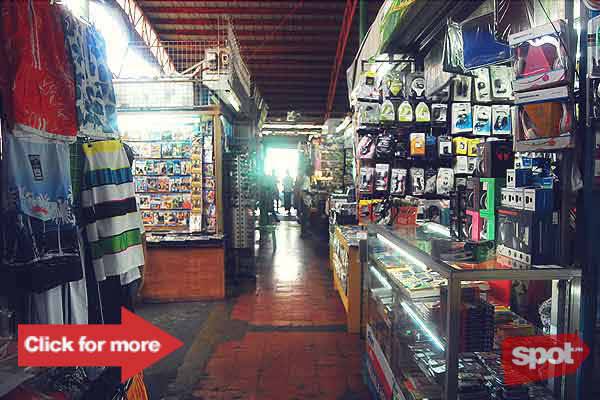 Ruins Night Market. Click for more photos.
ADVERTISEMENT - CONTINUE READING BELOW
Some local shops also thrive in BF because of their fun and fashionable products.
Step Rite! has a wide variety of footwear like flipflops, sandals, flats and wedges in all colors, shapes and sizes. Originally from Pagsanjan, Laguna, the owners decided to open a shop in BF years ago to cater to customers from Alabang, Muntinlupa and Parañaque. With the good quality and cheap prices (as low as P200), the shop continues to attract buyers.
The little store of My Bead-a-holic is heaven to those who fancy making accessories and adding accents to their clothes. Beads, stones, charms, laces, wires and ready-made accessories, both local and imported, are available for very reasonable prices.
Shopping in Ruins Night Market is a-must to experience. Clothes, shoes, accessories, gadgets, and, of course, DVDs can be bought at bargain prices. The shopping budget basically depends on the shopper's haggling skills.
As if having numerous establishments is not enough, BF also has its own mall called the Pergola Mall. The mall has its own Timezone, Gloria Maris, Figaro, Rosemary Fried Chicken, ElFav Ice Creamery, Pier One Bar and Grill, Sugarhouse, David's Salon, and California Nails and Day Spa, among other establishments.
Those at the Pergola Mall can also access Robinsons Supermarket which continues to promote wellness. Handyman and Robinsons Appliances are also located in the area for your home improvement and appliance needs.
Artwork by Warren Espejo. Photos by Jean Natividad (Salon One, Little Quiapo, Step-Rite, Snack Bar, Sesitra, Rempah, Tides, Cafe Boheme, Tides by Niro, Le Souk, Bead-A-Holic, iLASH Extensions Salon, The NailXperts Spa, Wildcard Boxing Gym, Pergola Mall, ElFav Ice Creamery, Symmetry Dance Studio, Central BBQ Boy Grill and BF Ruins).
ADVERTISEMENT - CONTINUE READING BELOW
Additional photos from Chi's Brick Oven Kitchen's Multiply, Conti's website, Avenue 75's Facebook, Chocolate Mint Spa's Multiply, Al's Bar's Facebook, Central BBQ Boys' website, Sinangag Express' Facebook, Nlos Bar's Facebook, Salon One's website, Tips 'N Toes' website, and Serenitea's Multiply.
Share this story with your friends!
---
Help us make Spot.ph better!
Take the short survey
Load More Stories