Weekend Escape: Singapore
What's on the other side of the fence? Spot.ph takes a quick peek at what our neighbor has to offer.
(SPOT.ph) Metro Manila is home, no doubt about that. We love it and we will keep coming back to it. Every once in a while though, it's nice to step out and take a peek at our neighbor's yard. And when your neighbor is inviting you over for a cup of coffee or tea, wouldn't it be rude to say no?
The Singapore Tourism Board has partnered with Cebu Pacific, extending an invitation to a little summer escapade south west of the Philippines. In the spirit of being helpful, here's a quick guide to Pinoy favorites in Singapore.
SIGHTSEEING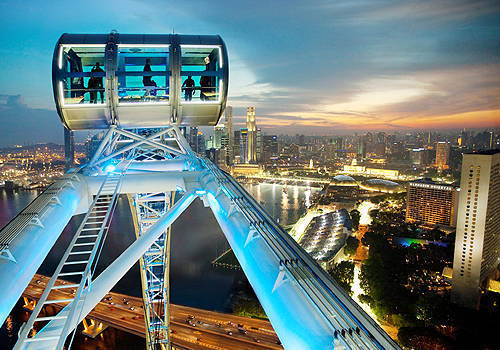 ADVERTISEMENT - CONTINUE READING BELOW
While it's famous for being no bigger than Quezon City (you have no idea how many times we've heard this comparison, and here we are perpetuating it), there's no shortage of things to see in Singapore. Filipino tourist favorites include Universal Studios, Sentosa, Night Safari, and the Singapore Zoo.
For those who've been there, Singapore has recently developed Gardens by the Bay and Marine Life Park. Gardens by the Bay is their answer to the common comment of tourists about the warm weather. It's a modern walk with nature to keep your body cool and mind relaxed. Marine Life Park is the world's largest oceanarium, perfect for those enthusiasts of the deep sea (read more about it below). They're also developing a River Safari, where they plan on taking you to the most famous rivers of the world (in one go!).
CONTINUE READING BELOW
Recommended Videos
Cebu Pacific Deal: Present your boarding pass from February 15 to September 30, 2013 and get a 10% discount on up to six tickets in Marine Life Park.
ADVERTISEMENT - CONTINUE READING BELOW
SENTOSA
A five-minute tram ride from the city, Sentosa is home to Resorts World and several other parks that would be a hit with kids, along with three beaches (one of them named Palawan) and nature trails that make for great hiking.
Places to Stay
Resorts World Sentosa is probably most well-known for its casino, but it's also got a great mix of shopping places and eating choices. RW has six hotels, each with a different theme: Festive Hotel, Equarius Hotel, Crockfords Tower, Beach Villas, Hotel Michael, and the Hard Rock Hotel Singapore.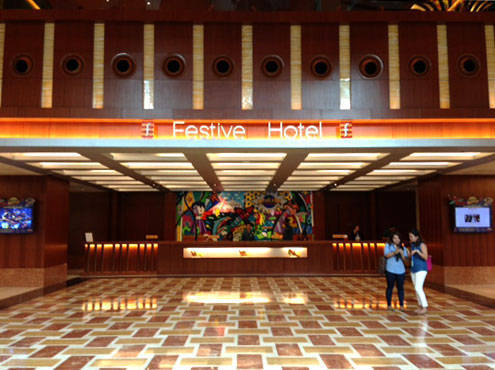 ADVERTISEMENT - CONTINUE READING BELOW
The family-friendly Festive Hotel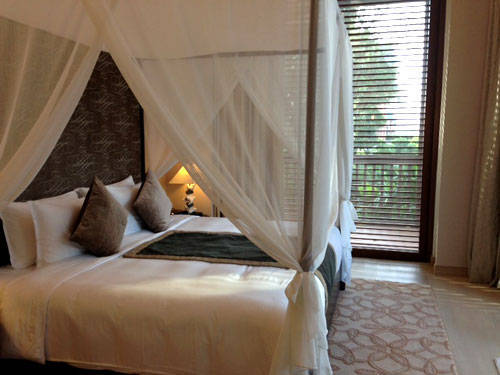 Recommended for honeymooners: Equarius Hotel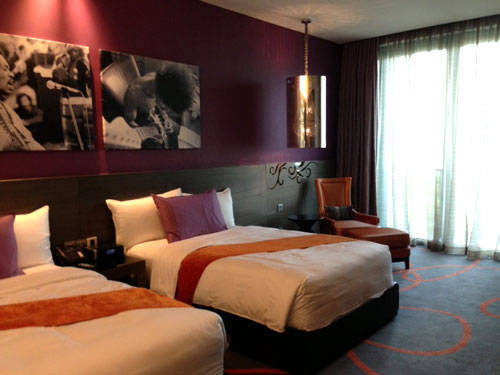 ADVERTISEMENT - CONTINUE READING BELOW
Hard Rock Hotel Singapore
Things to Do
Universal Studios Singapore
The movie-buff haven opened its newest ride, the Sesame Street Spaghetti Space Chase, in February, and characters from the show like Ernie and Bert, Elmo, and Oscar the Grouch regularly mingle with the crowd for photo ops. The park also has rides based on the Transformers, Battlestar Galactica, Jurassic Park, and Shrek.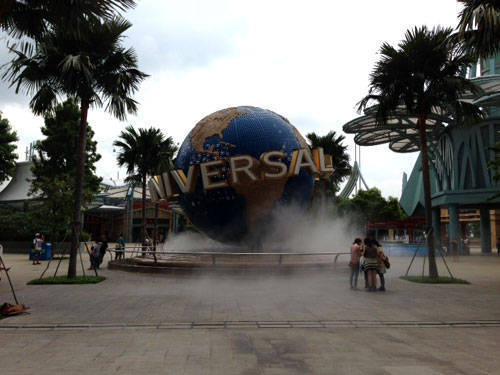 ADVERTISEMENT - CONTINUE READING BELOW
Universal Studios Singapore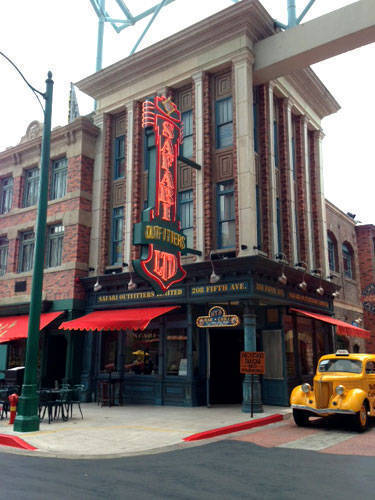 A bit of NY in SG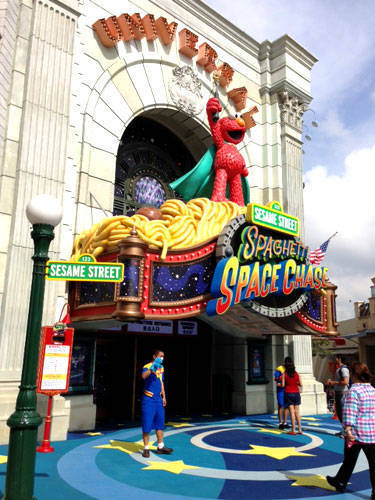 ADVERTISEMENT - CONTINUE READING BELOW
Out-of-This-World Cuteness: Sesame Street Spaghetti Space Chase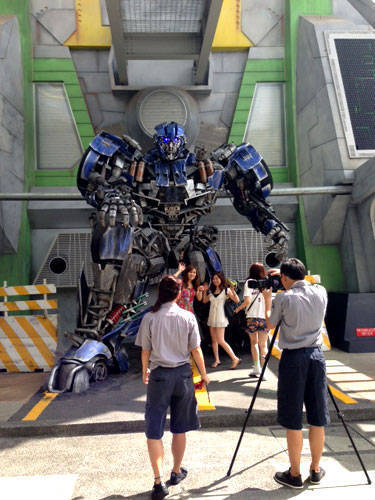 Photo op with Jolt
S.E.A. Aquarium
Marine Life Park recently opened the world's largest aquarium, and it features a gigantic, awe-inspiring window into the underwater home of more than 800 species of marine life. Visitors can view cool sharks, hypnotic jellyfish, and manta rays in varying sizes-to name a few.
ADVERTISEMENT - CONTINUE READING BELOW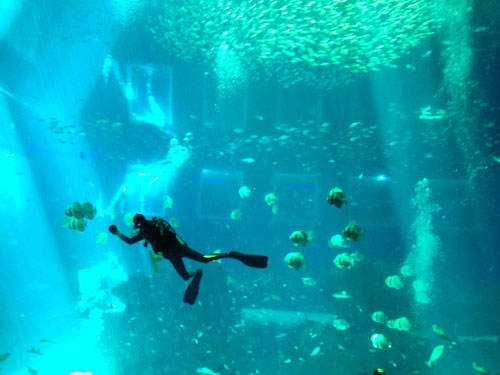 S.E.A. Aquarium
Adventure Cove Waterpark
Vacationers can escape the scorching summer heat at this park with pools that let you swim with the fishes (literally), or bring out your inner daredevil on the Riptide Rocket, the region's first hydro-magnetic coaster (read: a slide that feels like a roller coaster!).
For more information, check out RWSentosa.com.
ADVERTISEMENT - CONTINUE READING BELOW
SHOPPING
This year's Great Singapore Sale is happening on May 31 to July 28, 2013. Singapore's also a place to go for gadgets during their IT Fair. Not that there's a shortage of places to shop here in Manila but a little change of place and pace is part and parcel of growth.
FOOD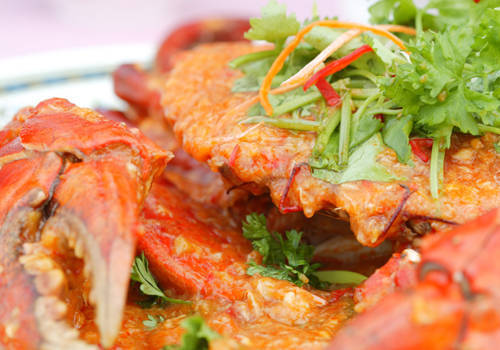 ADVERTISEMENT - CONTINUE READING BELOW
What's a trip without going local? Here in Manila, we've got Mercato and Mezza Norte and other open-air food markets where you can find yummy Pinoy delicacies. In Singapore, you can visit their version of that called Hawker Centers and eat some Chilli Crabs or Claypot Chicken Rice. According to the Singapore Tourism Board, Filipino tourists really go for these local treats and they adore us for being the little adventurers that we are. They also noted that we do like to indulge ourselves when we can and we do get caught eating at the Sky Dining Flight.
If you're planning your itinerary, see the Philippines in Singapore as the Jolly Jeeps street food cart during the World Street Food Jamboree happening on May 31 to June 9, 2o13.
Cebu Pacific Deal: Present your boarding pass from March 28 to July 31, 2013 and get a 15% discount on a four-course finding dining menu at Sky Dining Flight. With a dedicated butler, for extra fine dining.
ADVERTISEMENT - CONTINUE READING BELOW
ENTERTAINMENT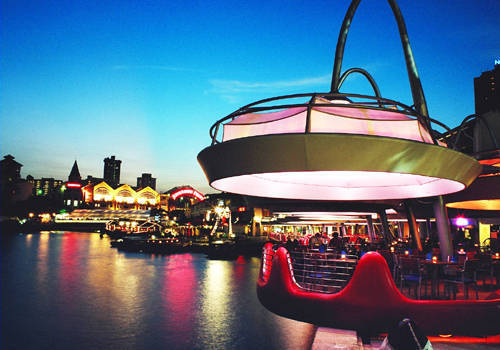 We've partied with some of the best foreign acts out there and if you'd like to see how Singapore compares to the wild side of Manila, they have everything from rock concerts to broadway musicals. They've staged Wicked and The Lion King and Sigur Ros played for them just last year.  You can also visist Avalon and St. James Power Station to check out what the nightlife in Singapore is like.
ADVERTISEMENT - CONTINUE READING BELOW
Visit the Cebu Pacific website to check out the lowest rates for the daily flights they have to Singapore from Manila. Check out their Hot Deals page for special offers if you fly with them to Singapore. Visit the Your Singapore website to plan the itinerary of your trip.
Share this story with your friends!
---
Help us make Spot.ph better!
Take the short survey
Load More Stories