(SPOT.ph) Dumaguete in Negros Oriental is a pretty popular city, but it is still massively overlooked when it comes to the local tourist trail, which is a shame because the small but bustling university city has a lot to offer in terms of experiences for the soul and for the stomach.
This isn't the first time I've been to the City of Gentle People, nor is it the first time I've written about its sights and eats, but there's so many things to do and so many restaurants to try that it's very easy not to repeat myself.
Stay
The trip was sponsored by Sta. Monica Beach Club, an old dive resort that has recently come under new management, and is now run by the same group that runs Amorita and Momo Beach House resorts in Bohol. The rooms are spacious and designed to be comfy, chic, and modern. Mine was dominated by a queen-sized bed, a flat-screen TV mounted on the wall across it. Beside it, in a nook near the bathroom, is an open cabinet where you can store your luggage, hang your clothes, and keep your shoes.
The bathroom is tiny, but efficiently designed, with a glass wall separating the shower from the rest of the room without making the space look tiny. The resort is trying to be green, and uses soap and shampoo from Ritual, both held in pump bottles whose iconic rectangular bodies used to hold a popular brand of gin. Outside, all rooms have a porch with white washed wooden furniture to lounge in.
ADVERTISEMENT - CONTINUE READING BELOW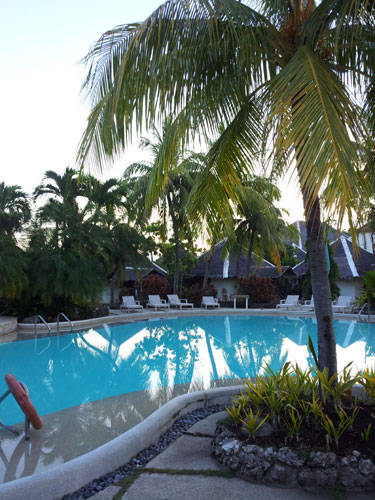 The pool at Sta. Monica Beach Club
The resort is only a few minutes away from the city, but is far enough to afford guests peace and quiet. Sta. Monica Beach Club has a lot of activities that guests can try, including banca rentals for island hopping, arranged trips to exotic locales, and a tour of Dumaguete's culinary hotspots.
Swim
It is impossible to get bored in Dumaguete. The city is laid back, but not as relaxed as the beaches and mountains around it. We headed to Manjuyod Sand Bar, which is a long stretch of sand in the middle of the ocean and not a night spot near the beach, though that can be arranged, too. Majuyod is a two-hour drive from Dumaguete, plus a 20-minute banca ride to get to the sandbar itself. There was a quick stop at the Manjuyod market to buy fresh seafood to grill for lunch. At this particular sand bar, the speed of the water level's rising depends on the time of the year. It tends to rise faster in the summer, when low tide is at about 5:30 a.m., so that the water was already more than waist-high when we got there at 10 a.m.
CONTINUE READING BELOW
Recommended Videos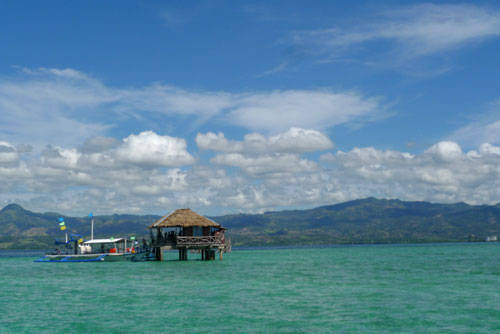 Manjuyod Sand Bar
The local government of Manjuyod built four stilted structures on the sand bar so that visitors can relax and enjoy the ocean, even with the water rising around them. The water is a clear blue, with schools of small fish swimming about. I wasn't planning on swimming, but ended up diving into the water from the balcony (it got that deep!) anyway, wearing my shorts and t-shirt, classic Filipino swimwear. When you have a chance to swim in waters that beautiful, all sense of shame goes out the window.
For lunch, Sta. Monica's Executive Chef Syl Malenab made us a simple feast of grilled squid, grilled lapu lapu, and the most drool-worthy shrimp sinigang I have ever seen, not to mention the most tart that I have ever tasted. Paired with plain white rice, washed down with ice-cold regular Coke, with drippy sweet ripe mangoes for dessert, the feast may be simple, but is deeply satisfying. We spent the whole afternoon in our cottage, some of us reading, some of us napping in the structure's single room or on the deck, some of us swimming.
ADVERTISEMENT - CONTINUE READING BELOW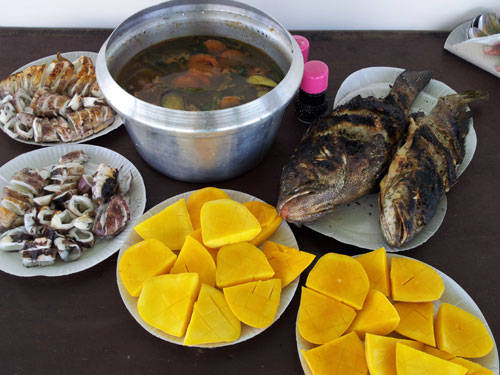 Lunch at Manjuyod Sandbar
Rental for both the banca AND the hut for an afternoon costs about P3,000; not bad, especially if there are a lot of you. You'll have to bring your own food and water, of course, and though all the cottages have kitchens, it is only equipped with a grill and a coal stove, so you'll have to bring your own fuel as well. The cottage also contains a bathroom and toilet, and each person is given enough water for one day for bathing and dishwashing. The cottages can be rented overnight, though charging of technology is not allowed, because the lights are solar powered and there is only so much energy to go around. So if you plan to stay overnight in this beautiful spot, make sure you really, really like the people you're going to hang out with.
Before we headed back to the resort, we stopped by the Dumaguete Public Market to pick up some fresh (and cheap!) seafood for dinner, as well as some suman sa budbod, the local glutinous rice cake wrapped in banana leaf that cost P10 a pair and is best eaten with ripe mangoes and hot cocoa, the latter of which Sta. Monica Beach Club makes a mean cup. As in forget your name mean. As in you will want to kidnap the chef and take him home to be your personal hot cocoa maker mean. They actually told us how they make their hot cocoa, but I'm going to leave it to you to head there and find out how good it is for yourself.
ADVERTISEMENT - CONTINUE READING BELOW
Savor
Here's the part where I list all the food we tried in Dumaguete. This list does not, by any means, constitute the whole of the Dumaguete food scene, but if you're going on a culinary journey, these crowd favorites are good places to check out.
We start, of course, at the Sta. Monica Beach Club, where people from the city go to dine on fresh seafood, cooked in myriad ways. We feasted on Grilled Fish, Buttered Prawns with Garlic, and Chili Crab. They have excellent Sinuglaw, which is a combination of sinugba (grilled pork belly) and kinilaw (ceviche), the whole thing seasoned with spices and drenched in coconut milk. We were told that locals love their version of Crispy Pata, but we weren't able to try it.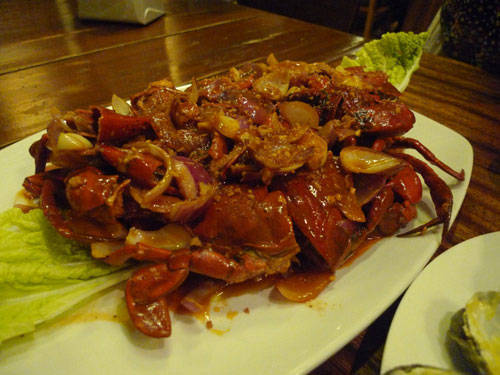 Chili Crab
About town, no trip to Dumaguete is complete without stopping by Sans Rival, whose buttery smooth silvanas (P15 per slice and P125 per pack of 10 for the original butter flavor) have become the city's unofficial pasalubong. The restaurant offers more than dessert, and a peek at their menu will show a long list of traditional Spanish dishes, all inherited by Executive Chef Carmeli Teves Valera from her grandmother. They just recently opened an extension in the old building that fronts Rizal Boulevard. Head there and dine al fresco on their lovely terrace if you like to people watch.
ADVERTISEMENT - CONTINUE READING BELOW
Sans Rival
If you're a large group looking for a comfy place to grab a bite and hang out, you might want to try Mooon Cafe, whose Mexican-inspired dishes are quite barkada friendly. Aside from Mexican staples like burritos and quesadillas, they have a variety of pizzas, pastas, and sizzling plates. Standout dishes include the Gambas a la Luna (P159), tiny shrimp in spicy oil, and the fall-off-the-bone Mexican Baby Back Ribs (P199).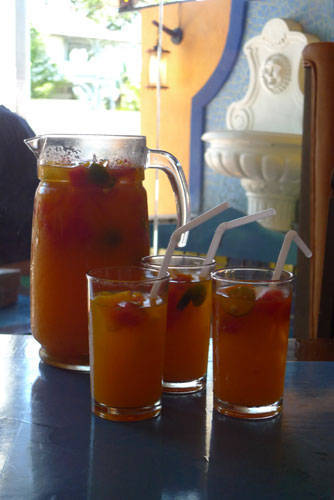 ADVERTISEMENT - CONTINUE READING BELOW
Sun Cooler at Mooon Cafe
It can get pretty hot in Dumaguete, and when that happens, the locals head to Panda Ice Cream, a local shop that has been making and serving ice cream and snacks both hot and cold since 1995. Aside from regular flavors like strawberry and chocolate, Panda Ice Cream has more exotic ones like durian, blueberry, and choco chili. All of their ice cream is made with fresh fruit, something that owner and manager Royani Dy is proud of. Royani says that her family decided to go into the ice cream business in response to El Niño, and hasn't turned away since. Their Ice Cream Cake (P15) is a bestseller, as is their Rainbow Cake (P7). They also have a list of sundaes and splits. They also make their own soy milk (P25-30 for 325 ml), which they offer in different flavors, melon being the most popular with kids and mocha for adults.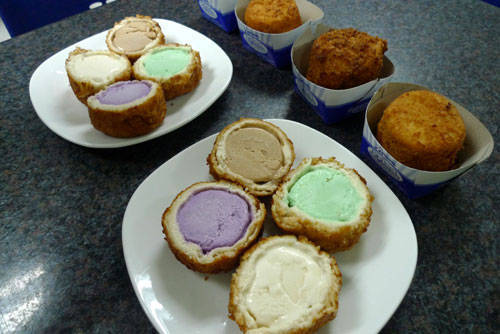 ADVERTISEMENT - CONTINUE READING BELOW
Fried Ice Cream
I first came across Jo's Chicken Inato in Cagayan de Oro, but later learned that it originated in Dumaguete. People flock to this restaurant for their tasty chicken, which is paired with rice and is best eaten by hand. The Chicken Inato (P97 for one piece with unlimited rice) not your regular chicken barbecue, and it's not chicken inasal, either. The meat is covered with a sweet glaze, and is easily picked apart by hand (you *are* going to eat it by hand, aren't you?) and is lovely paired with white rice and atchara. If you like, you can dip the chicken in the patis (fish sauce) and sili (bird's eye chili) that comes with it, or make your own sauce by adding toyo (soy sauce) and suka (vinegar). The restaurant was started by Josephine Bejar Ng, hence the "Jo," who named her popular chicken recipe "inato," meaning "our chicken."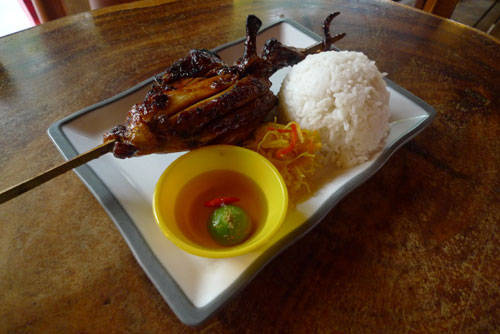 ADVERTISEMENT - CONTINUE READING BELOW
Jo's Chicken Inato
Come nightfall, most people head to Rizal Boulevard to partake of the numerous street food carts that line the area. Vendors set out low tables and chairs where diners can relax while they have a quick meal. But if you have a long night planned, chances are, you're going to end up in Lab-As, which is a short tricycle ride away. Lab-As is next to Hayahay Tree Restaurant, which is next to Taco Surf Sushi and Steak Bar. Lab-As is one of the best seafood restaurants in the city. They have a rather thick menu that covers everything from grilled to sizzling to sauced every which way, all of them likely to make you overeat, because hey, seafood!
Next to Lab-As is Hayahay, a Dumaguete hotspot if you're looking for live rock music that you can enjoy with good food and fortified drinks (friends optional). The bartender handed me a Jack Coke that was so strong it could probably fuel a car. A good sign. Hayahay means "relax" in Bisaya and that's all they want you to do there--chill out while getting sloshed listening to good music and chowing down on top notch bar food. They are especially proud of their pizzas, all of which are baked in a coal-fire oven for extra flavor.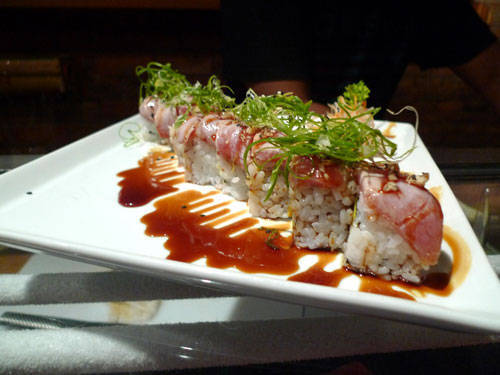 ADVERTISEMENT - CONTINUE READING BELOW
The Bruce Lee Roll
Not to be missed is Taco Surf, a tiny little Japanese fusion joint to the side of Hayahay opposite Lab-As. Nosh on owner and Executive Chef Jay Garife's sushi selection, some of which, like the excellent Bruce Lee Roll (avocado or mango, cucumber, crab stick, mayo, tuna, garlic, eel sauce, P300) involves Jay firing up the blow torch to give the tuna a light broil. Jay trained in South America, and you can see its influence in his use of chimichurri, an Argentinian sauce, as well as the heavy meat offerings such as the wagyu steaks (sirloin P550, surf and turf P695, rib eye P720) and the incredibly soft, incredibly rich Ossu Bucco (P315). Oh, and they have tacos, too.
Good food, gentle people. The only problem with coming to Dumaguete is that you have to leave.
Share this story with your friends!
---
Help us make Spot.ph better!
Take the short survey
Load More Stories