Weekend Escape: Ilocos Norte
Historical churches, windmills, and sand dunes are just some of the sights you'll see in this northern tourist destination.
(SPOT.ph) The province of Ilocos Norte is steeped in history-and not just the kind you see in museums. Ancient Spanish churches, homes of revolutionary heroes, and Marcos monuments stand side by side with burgeoning business establishments. Here, the past doesn't seem far away at all.
We suggest this itinerary for touring Ilocos Norte. The itinerary is best spread over three days, if only so you have a chance to recover. But hey, Mad Max, if you're all about pushing the envelope, it can be done in two.
HOW TO GET THERE
An economical mode of transportation is the Florida sleeper bus to Batac, Ilocos Norte. Make sure you account for weekend traffic! Bring a blanket and a back cushion. You'll be sharing bed space with your bags, so if it's bulky, put it in the luggage compartment before you board. If you're not that picky, you can even save more money by taking the Deluxe bus, which has La-Z-Boy seats, or even the regular bus.

If you want to get there faster, fly straight to Laoag via Cebu Pacific or PAL. The trip is only an hour long, so you can easily squeeze it into your schedule. Keep your eyes peeled for seat sales.
WHERE TO STAY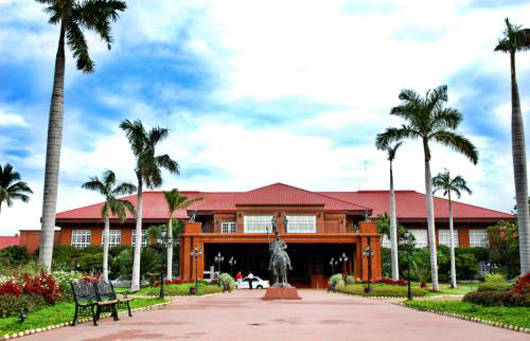 ADVERTISEMENT - CONTINUE READING BELOW
Fort Ilocandia
Barangay 37 Calayab, Laoag City, Ilocos Norte
Tel. No. (63-77) 670-9001 to 15
There's always the old standby, Fort Ilocandia. There's plenty to do on the grounds, and if you've got enough energy (and cash), you can gamble in the casino after sightseeing.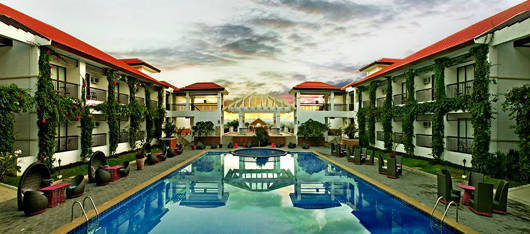 CONTINUE READING BELOW
Recommended Videos
Plaza del Norte Hotel and Convention Center
Barangay 41, Balacad, Paoay, Ilocos Norte
Tel. No. 812-3456 local 3529 / 804-3140
If you want something more comfortable than a hostel and you don't need the grandeur of the Fort, try the relatively new Plaza del Norte Hotel and Convention Center.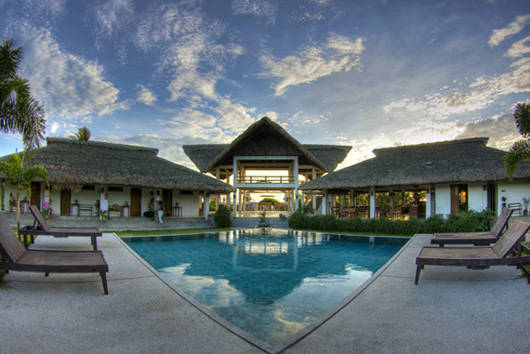 ADVERTISEMENT - CONTINUE READING BELOW
Kapuluan Vista Resort
Sitio Baniaran, Barangay Balaoi, Pagudpud, Ilocos Norte
Tel. No. (63-77) 676-0075 / 697-6597
Check in at Kapuluan Vista Resort and enjoy their delicious organic food. Take basic surf lessons with their guides, or just chill out on their patio overlooking the beach. Soak up the serene scene before heading back to the noise and bustle of Manila.
Balay Travel Lodge
Roosevelt Street, Baranggay 12 San Blas, Paoay, Ilocos Norte
Tel. No. 0927-373-2977
For budget accommodations, stay at Balay Travel Lodge, a tiny hostel beside Paoay Church. Rates depend on the size of the room and if you want an en-suite bathroom.
WHERE TO GO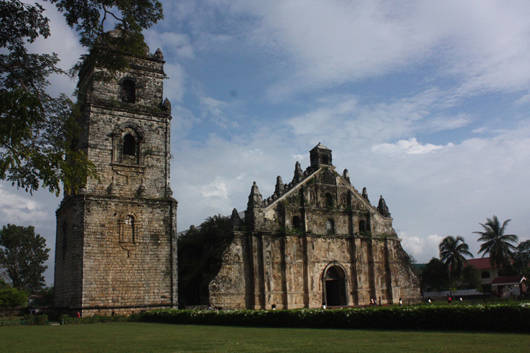 Paoay Church
Paoay, Ilocos Norte
This huge church is famous for good reason. It was completed in 1710, which means it's been standing and serving as a hub for Paoay life for 303 years! It's also a UNESCO World Heritage Site and one of the most well-preserved Baroque churches in the Philippines. Want a good vantage point for taking pictures? Head over to Herencia de Paoay, the small plaza across the church, and stand on the embankment. Taking shots from the sides work well, too, and there's less of a chance of stray cars photobombing your shot.
ADVERTISEMENT - CONTINUE READING BELOW

Don't forget to walk around the church! There's a sweet little garden on the left side, behind the bell tower, and the ruins of a convent across the road.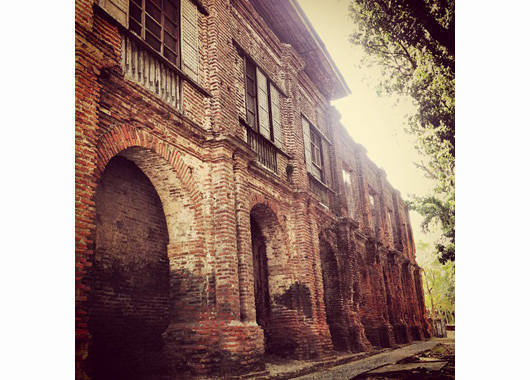 Photo by Gretchen Que
Sarrat Church
Barangay San Leando, Sarrat, Ilocos Norte
While Paoay Church is the biggest and most well known, the other churches in the area have their own charm as well. Sarrat Church (the Church of Santa Monica) is especially beautiful. Irene Marcos chose to get married here, reportedly because it had the longest aisle. Imagine how much she paid for the flowers she flew in to fill the river. You can also visit the Santa Monica Parish Museum, which houses church artifacts and memorabilia.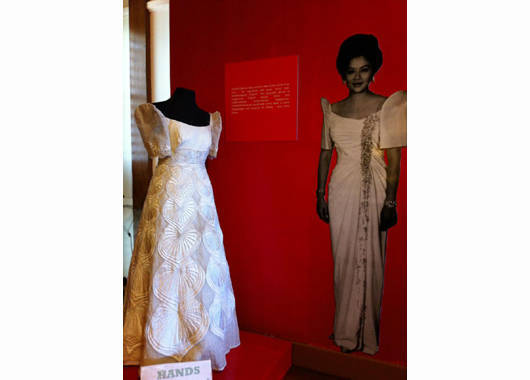 ADVERTISEMENT - CONTINUE READING BELOW
Photo by Claire Jiao
Malacañang of the North
Suba, Paoay, Ilocos Norte
Museum fee: P20
Open daily from 9 a.m. to 5 p.m.
The Marcos stamp is all over Ilocos Norte, and one of the best reminders of this is the Malacañang of the North. Previously a home base for the family when they were in town, this rambling mansion overlooking Paoay Lake has been converted into a museum that anyone can enter for a small fee.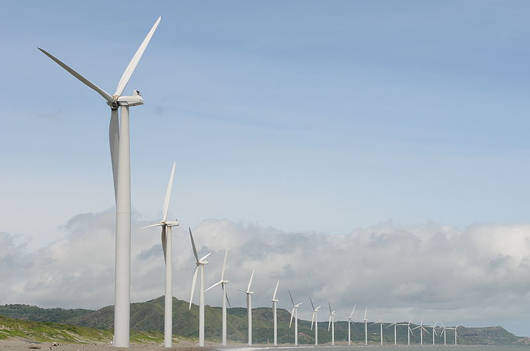 Bangui Wind Farm
Bangui, Ilocos Norte
Instagram, eat your heart out. The wind turbines here are just as elegant as they are functional. While undoubtedly manmade, the turbines seem to belong to, rather than disrupt, the environment. It's hard to imagine that the refreshing breeze you're enjoying as you stroll along the beach also contributes to a big chunk of Ilocos' electricity, thanks to these babies. Walk along the sand, try to fit everything into the frame, and take as many jump shots as you can before your legs give out.
ADVERTISEMENT - CONTINUE READING BELOW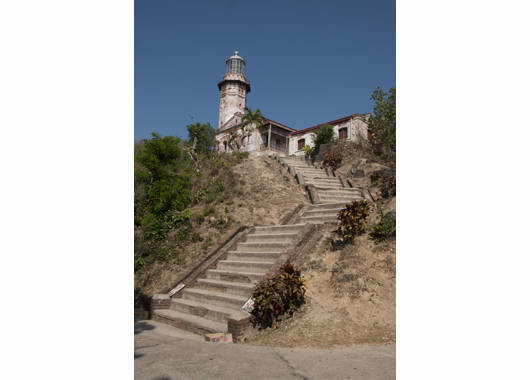 Cape Bojeador Lighthouse
Burgos, Ilocos Norte
While this was built in 1892, the lighthouse is still in operation, giving visitors an opportunity to see how the past and present collide in Ilocos. The small museum on the ground floor is a great appetizer before you ascend to the lantern room. As long as you're not afraid of heights, the view is spectacular! Don't forget to let the lighthouse keeper know you're around so he can let you in.
WHAT TO DO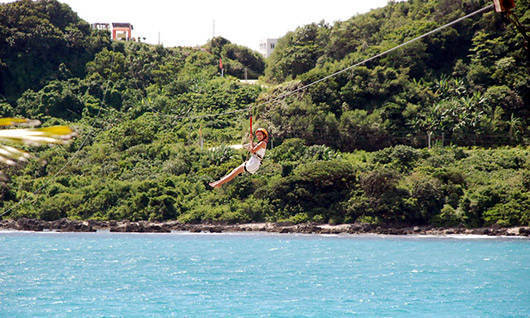 ADVERTISEMENT - CONTINUE READING BELOW
Go ziplining
Make your way even further North to the Blue Lagoon beach in Pagudpud. If you're brave enough, you can take the longest zipline over water (a little over 1km long!) down to Hannah's Beach Resort (or just wait for the car to make it down-no judgment).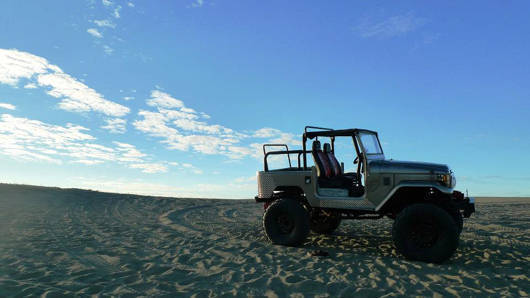 Photo by Dianne Yorro
Drive down sand dunes
Get ready to explore the other side of Ilocos. Be sure to wear comfortable clothing, and head to either the Masintoc or Suba sand dunes for 4x4 rides and sandboarding! The best time to go is 4 to 5 p.m., so the sand isn't too hot. Try to time your visit so you're on the 4X4 by sunset-ask the driver to slow down and enjoy your very own sweeping landscape.

Tip: Tell your driver if you want a serene trip across the endless dunes, or if you want a no-holds-barred death-defying trip as he barrels up and down sand cliffs. Without notice, they tend to err on the side of MacGyver-esque tricks.
ADVERTISEMENT - CONTINUE READING BELOW
WHERE TO EAT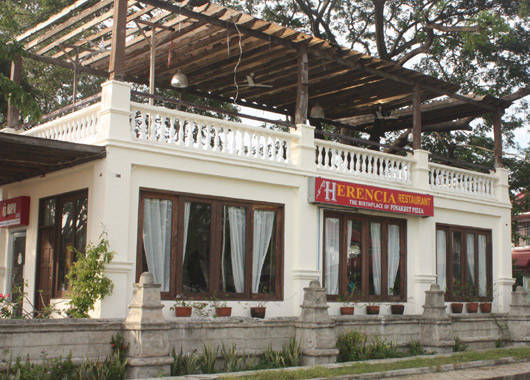 Herencia Café
McArthur Street, Barangay 14, Sangladen, Paoay, Ilocos Norte
Tel. No. (63-77) 614-0214
Home of the famed dinuguan pizza, this cafe also has other Ilocano specialties served on a pie (pakbet or bagnet pizza, anyone?). The rest of their local food is good, too. Relax here and take advantage of the free Wi-Fi while uploading your photos.

Souvenir stores and a small food court are located behind it. Take the opportunity to enjoy local miki (noodles with egg and bagnet) with the locals from the center stall. The only ATMs in Paoay are located here as well, so get more cash if you need to.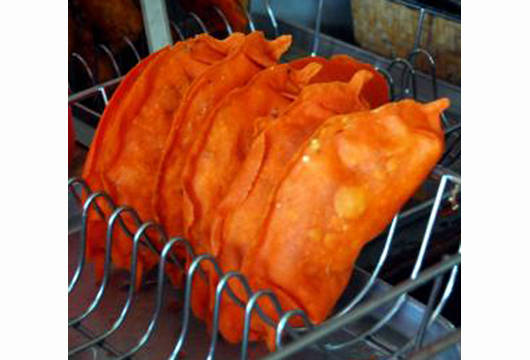 ADVERTISEMENT - CONTINUE READING BELOW
Glory's Empanada
Caunayan, Batac, Ilocos Norte
Tel. No. 0916-358-2597
Batac Empanada is nothing like the empanada you know from Red Ribbon. The empanada is bright orange, and huge-more of a meal than a light snack, considering everything that's in it. Insiders swear by Glory's Empanada and detour here just to get the real thing.


Share this story with your friends!
---
Help us make Spot.ph better!
Take the short survey
Load More Stories