The SPOT.ph Guide to MRT Stations - Ayala
Explore some options for impromptu eating and shopping while in transit.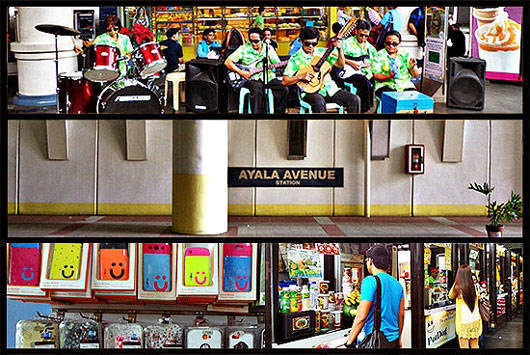 (SPOT.ph) Love it or hate it, the Metro Rail Transit (MRT) makes commuting more convenient for car-less people. Though you have to deal with people invading your personal space, you can avoid the hassle of traffic and get from point A to B in more or less 30 minutes.
One of the busiest stations is the Ayala MRT station, which is located in the heart of Makati CBD. Take a look around and you'll notice that the station is actually a small shopping center. Check out these food and shopping finds inside the Ayala MRT station.
ADVERTISEMENT - CONTINUE READING BELOW
ALSO READ:
10 Awkward MRT Positions, Usually Seen During Rush Hour
DO THIS, NOT THAT: The MRT Rush Hour Edition
SPOT.ph's Streetsmart Guide: The MRT Survival Manual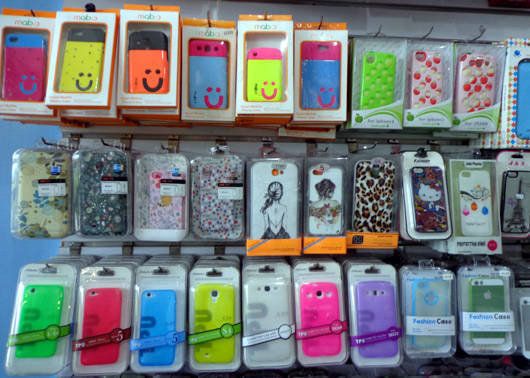 Cell phone shops
Majority of the shops sell mobile and tablet cases, with prices ranging from P250 to P500 for mobile cases and P300 to P600 for iPad cases. The designs are cute and they vary in every store. Mobile accessories such as chargers, batteries, power banks, and earphones are also available. The stores have also set up repair/service centers for cell phones, laptops, and other gadgets. Plus, there's CD-R King, a one-stop electronics shop.
ADVERTISEMENT - CONTINUE READING BELOW
List of shops: Vakek'z, Fone Arena, SMB gadgets and service center, MTD cellphone shop, Ellzbee service center, Ejama's Trading, Nicole Kristine cellphone central, Yellowzone cellphone shop, Mel Alex cellphone and accessories, GSR electronics and gadgets, CD-R King.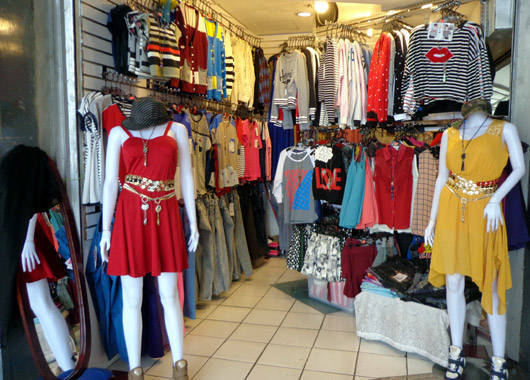 Tiangge
You can add the MRT shops to your list of tiangges to frequent. Abenoja's Boutique has a good selection of T-shirts, skirts, pants, dresses, jackets, and button-down shirts from Bangkok, all for P100 to P600. RVC sells flats (P250), slippers (P50), wedges (P380), and heels (P580). Jama's Ukay-ukay offers shirts for P100 to P200, as well as jeans, jackets, backpacks, and shoes. Uncle Bills Limited carries household and personal care items priced at P66, while Mishmash has affordable novelty and gift items.
ADVERTISEMENT - CONTINUE READING BELOW
List of shops: RVC, Abenoja's Boutique, Jama's Ukay-ukay, Red Logo, Sophie Paris, NoBON footwear and RTW boutique, Uncle Bills Limited, Follow Your Heart, Mishmash, HBC.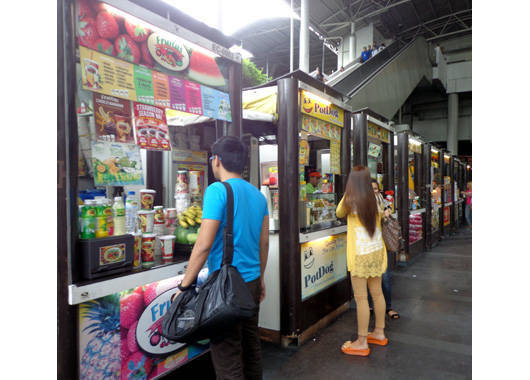 Food stalls
If you're feeling peckish, stop by one of the numerous food stalls scattered throughout the concourse and street level of the MRT station. From siomai to shawarma to ensaymada, there's something for everyone.
ADVERTISEMENT - CONTINUE READING BELOW
List of food stalls: De Original Jamaican Pattie, Holy Kettle Corn, Julie's Bakeshop, Siomai House, Tik-tok, Magic Melt Ensaymada, Master Siomai, Mister Donut, Eggbucks streetfood, The Original Empanada Especiale, El Bonita's Ultimate Pizza Experience, Takuyaki, Waffle Time, Rice in a Box, Coconut Republic, Potato Corner, Zagu, Hen Lin, Buko Juan, Dimsum Frito Express, Quickly, Dunkin Donuts, Gudsilog, Fruitas, Fanny's Pasalubong, Khaleb Shawarma, Hong Kong Style Noodle, Kwin's Kakanin, Street Coolers, Hotdog on Sticks, Potdog, McDonald's dessert station.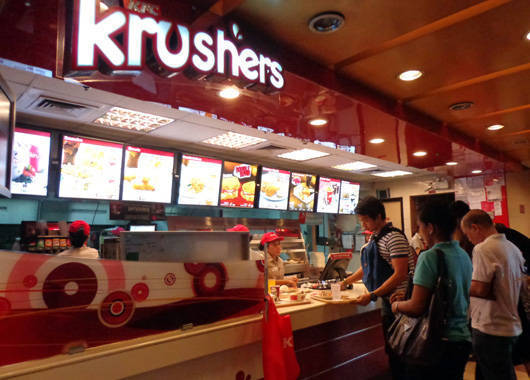 ADVERTISEMENT - CONTINUE READING BELOW
Fast food restaurants
For something more filling, you can opt for KFC or Mang Inasal, both of which are located on the concourse level.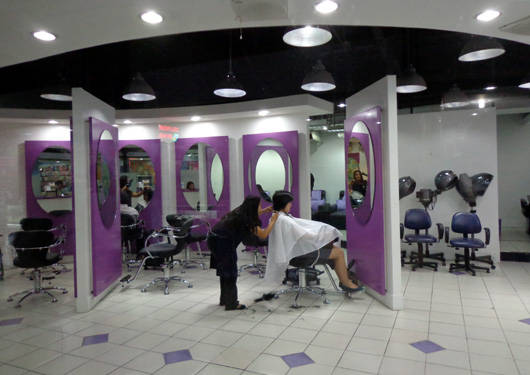 Salons and facial centers
We know commuting can be stressful-take a break by having a massage or foot spa at Pahulay Spa. Salons and facial centers are just a few steps away, if you want to pamper your skin or get your hair done.
ADVERTISEMENT - CONTINUE READING BELOW
List of salons/facial centers: Freshaire Salon, Kevin's Kut, David's Salon, Pahulay Spa, Facial World Skin Whitening Center, Skin Central.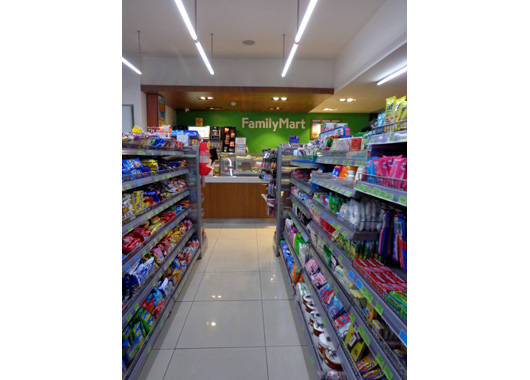 Convenience stores
FamilyMarts have been sprouting up all over Manila, including one at the Ayala MRT station. Filipinos have come to embrace FamilyMart's Japanese snacks and ready-to-eat food, and its soft-serve ice cream. Meanwhile, good old Mercury Drug has a branch here, in case you need to stock up on medicine and toiletries.
ADVERTISEMENT - CONTINUE READING BELOW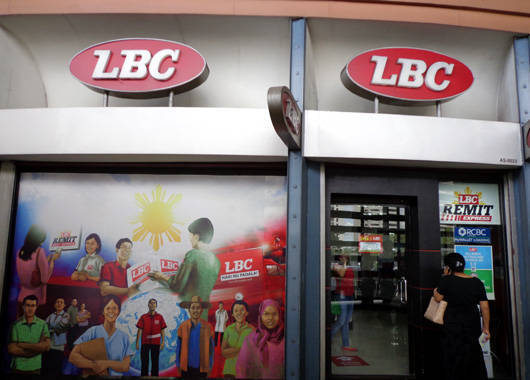 Service centers
The Ayala MRT station has an LBC for cargo and courier services, a ticket office, pawn shop, photo-printing shops, Internet cafe, and cell phone loading stations for your convenience.
List of service centers: LBC, Ticket Express, LTO Driver's License Renewal Center, M Lhuillier, Picture City, Tronix Imaging Center, Netopia, Post & Load, Voice Sun Loading Station.
ADVERTISEMENT - CONTINUE READING BELOW
ATM
If you're short on cash, there are available ATMs for PS Bank, RCBC, Landbank, and BPI.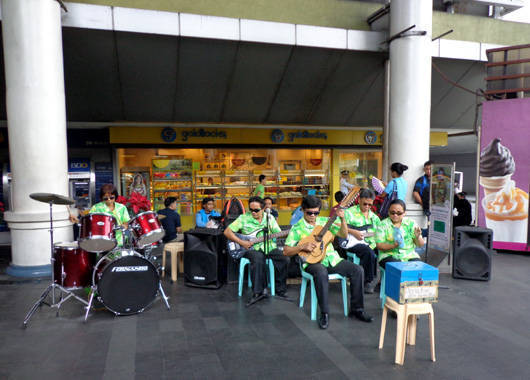 Entertainment
Street musicians find the MRT to be an ideal busking spot. At the Ayala MRT, a band of blind musicians entertains the crowd with lively music.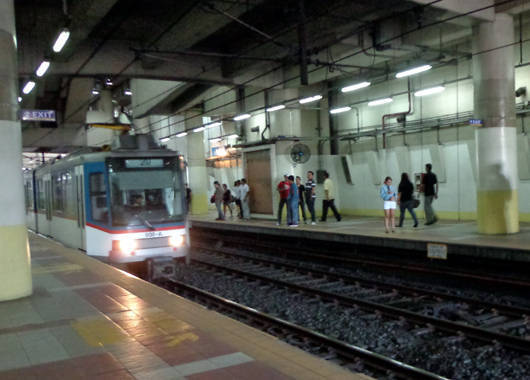 ADVERTISEMENT - CONTINUE READING BELOW
Commuting tips
Be alert. The long lines can merge and diverge very quickly, especially since the fare gates are prone to breaking down. People also tend to cut in line. Keep an eye out and stick close to the person in front of you so you don't fall out of line.
Be patient. Allot time for waiting, which is a given during rush hour. Bring a fan because it gets hot inside the station. Tempers flare up as people push to get in and out of the trains and everyone gets jammed up inside the train like sardines. Try to keep a cool head and avoid getting into arguments, so your morning commute won't ruin the rest of your day.
Take a round trip. If you're going North and have time to spare, take the southbound train which will go through Magallanes and Taft before turning back and heading North. It will take you longer to reach your destination, but you'll also have a better chance of getting a seat.
ADVERTISEMENT - CONTINUE READING BELOW
Recommended Videos
Load More Stories