Neighborhood Guide: Cheat Eats at Pearl Drive and Amethyst Street in Ortigas, Pasig
Affordable thrills for the diner on the go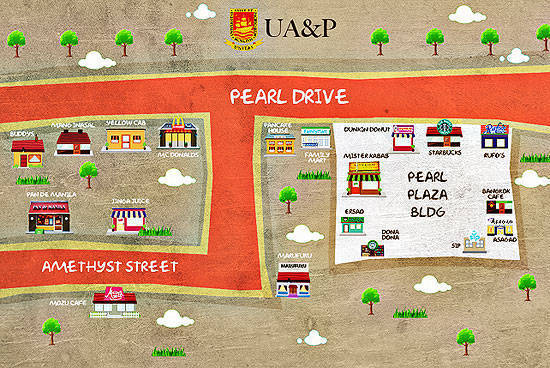 (SPOT.ph) Big-name food establishments flock the perimeter of Pearl Drive and Amethyst Street, but its vicinity to office areas makes it a magnet for smaller food joints that, thanks to their friendly price tag, often find themselves packed with customers. Their dishes are a scale above standard canteen fare, but they won't break the bank. Good things can turn up out of nowhere and the same may be said about food. We've scoured one of the busiest office spots in Manila, Ortigas (Pasig), for quality eats that will help you save your hard-earned salary.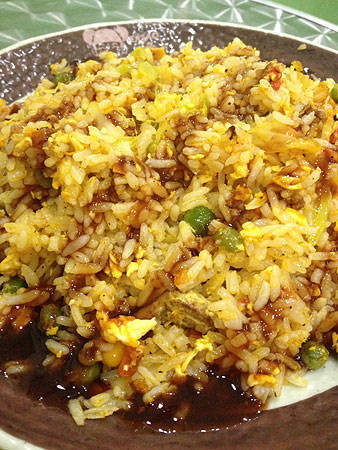 Pork Chao Fan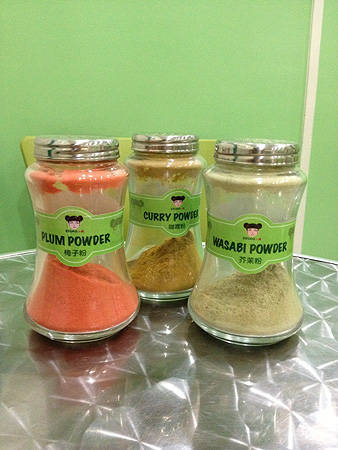 Seasoning Powders
Ersao
Pearl Plaza, Pearl Drive
Open from 10:30 a.m. to 9 p.m. (Monday to Friday)
A huge chunk of Taiwanese cuisine is centered on street-style eat so Ersao has what most people on the go look for: fast and filling meals like rice toppings, noodle soups, milk teas, and fruit shakes. Things are tight in the 15-seater joint, but the point is to eat and run. Seasoning powders like wasabi, lemon, seaweed, and plum are available to spice up your food and take them to another level.
Budget: P100 to P200
Must-tries: Pork Chao Fan (P120), Spicy Chicken Rice (P85), Spicy Squid Rice (P85), Wanton Noodles, Dumpling Noodles and Beef Kamto Noodles (P90 to P195)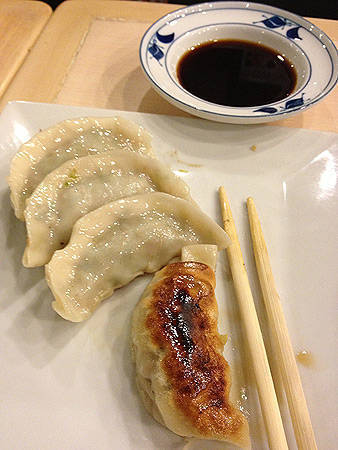 Nicely fried gyoza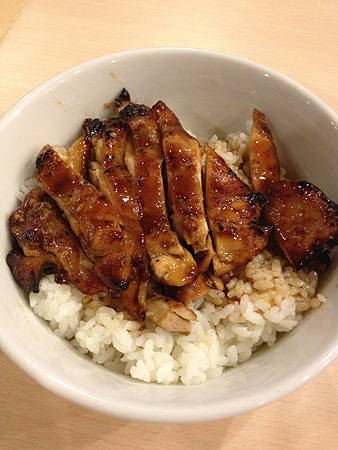 Grilled Chicken Teriyaki Donburi
Asagao
Pearl Plaza, Pearl Drive
Open from 11 a.m. to 10 p.m. (Monday to Friday); 11 a.m. to 6 p.m. (Saturday)
Tucked in a shady corner of the building is a Japanese eatery that impressively offers 27 kinds of donburi, eight types of sushi, and four varieties of ramen. It's a surprising setup for a place with a small kitchen, but Asagao does a good job. Case in point: the Grilled Chicken Teriyaki Donburi has only three main components, each prepared to perfection-soft and supple Japanese rice, tender chicken lightly kissed by the grill, and a sauce that brings out just the right touch of sweetness.
ADVERTISEMENT - CONTINUE READING BELOW
Budget: P150 to P300
Must-tries: Pork Gyoza (P115), Grilled Chicken Teriyaki (P160), Beef Brisket Noodle with Rice (P270), Philly Roll (P180), Sesame Chicken (P210)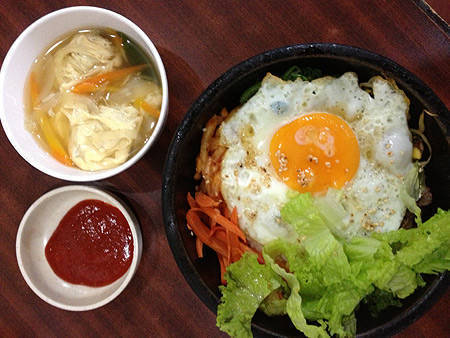 Dona Dona's Bulgogi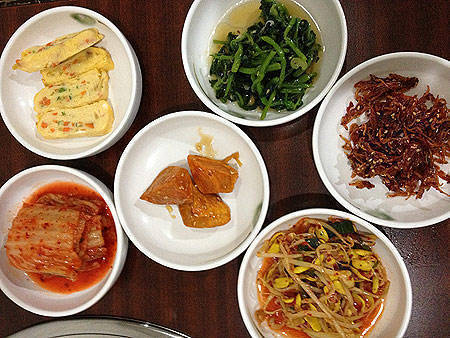 Banchan
Dona Dona Korean BBQ
Pearl Plaza, Pearl Drive
Open daily from 10 a.m. to 10 p.m.
You can't leave Dona Dona empty-stomached. They're generous with the banchans (side dishes), even for a Korean joint, and you can already consider them a meal. You get a set of six even for a single order of Dolsut Bibimbap (P280). Their lunch sets (P220 to P250), however, have smaller portions of banchans, but a generous amount of rice, salad, soup and your choice of main-chapchae, galbi, chicken, or bulgogi. As for grilled meats, Dona Dona has thinly sliced pork belly, sliced beef, marinated pork short ribs and roast beef cutlets, which is great for those office lunches.
Budget: P300 to P400
Must-tries: Bulgogi (P350), Pork and Kimchi Stew (P230), Rice and Broiled Eel with Sauce (P300), Beef Short Rib Stew (P350)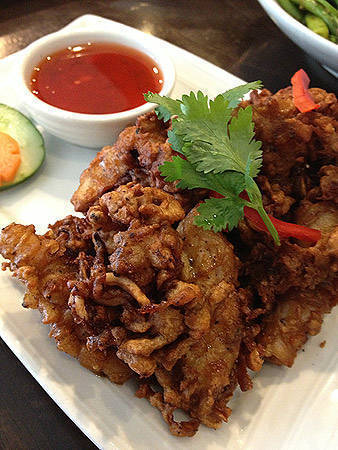 Fried Garlic and Pepper Squid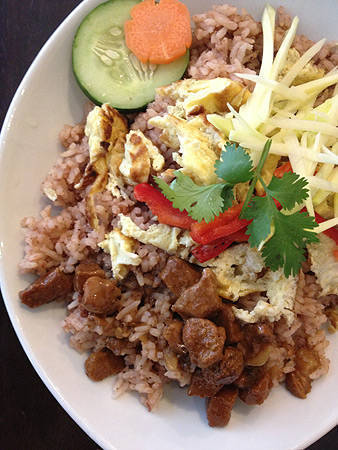 Thai Bagoong Rice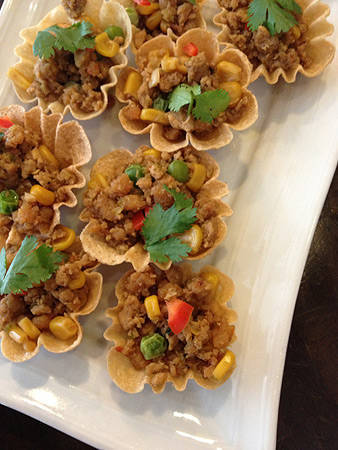 Krathongthong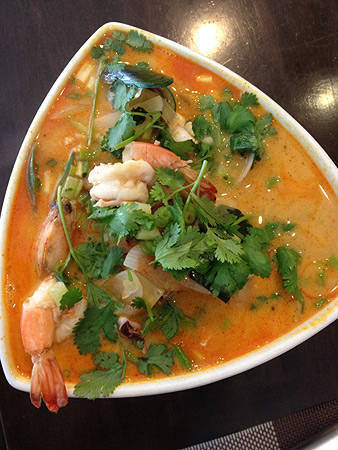 Mixed Seafood Sour Soup
Bangkok Café
Pearl Plaza, Pearl Drive
Open from 10 a.m. to 10 p.m. (Monday to Saturday); 10 a.m. to 9 p.m. (Sunday)
It's hard not to get noticed after cooking Thai food for 25 years. Kris Aquino has already taken note of Chef Anton Alcazar's skills. For such a modest kitchen, the menu runs to no end, with several dishes giving you options between chicken, pork, beef, and shrimp. Whatever you choose, you're sure to get what you pay for: servings are enough for sharing and Chef Anton only uses fresh ingredients to coax out authentic Thai flavors.
ADVERTISEMENT - CONTINUE READING BELOW
Budget: P300 to P500
Must-tries: Krathongthong (ground chicken and shrimp in crispy pastry shells, P218), Poh Taek (mixed seafood sour soup, P318/small), Tod Grathiam Prig Thai Meuk (fried garlic and pepper squid, P238)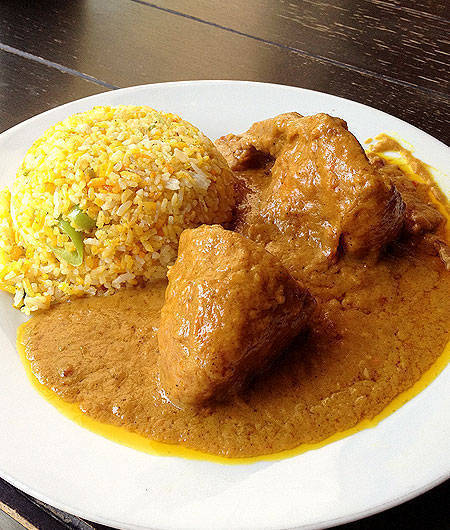 Chicken Biryani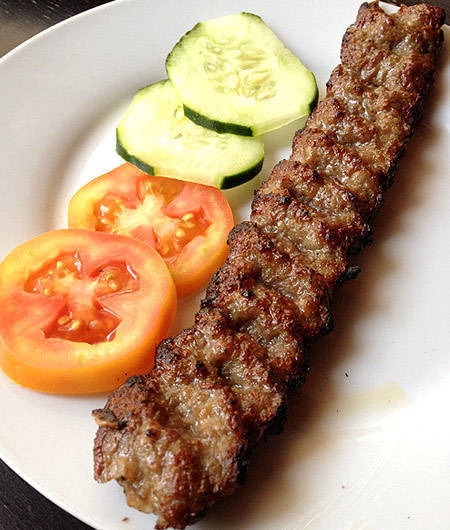 Chelo Kabab
Mister Kabab
2/F Pearl Plaza, Pearl Drive
Open daily from 10 a.m. to 12 a.m.
Fans of Mister Kabab's West Avenue branch in Quezon City can confirm the affordable satisfaction delivered by this (former) hole-in-the-wall. Mister Kabab serves Middle Eastern and Mediterranean dishes that are so simple and tasty. Short order options on beef, chicken, seafood, and lamb are rampant and in true Middle Eastern tradition, they have halal, too. prepared in many different ways and some are even halal. Desserts are just as varied: Sansrival, Lava Cake, and Green or Blue Velvet Cake. Mister Kabab has been enjoying moderate success for 25 years-so much success that they've expanded to more stores. The meals are filling but reasonably priced which is their primary draw.
Budget: P150 to P300
Must-tries: Special Chelo Kabab (P159), Chicken Biryani (P215), Shish Kabab Sandwich (P110), Shawarma Plate (P125)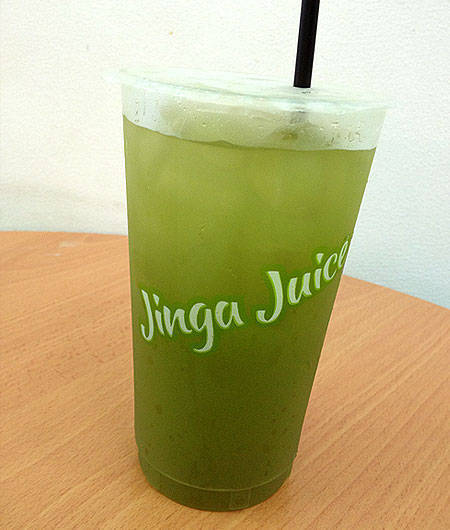 Jinga's "magic potion"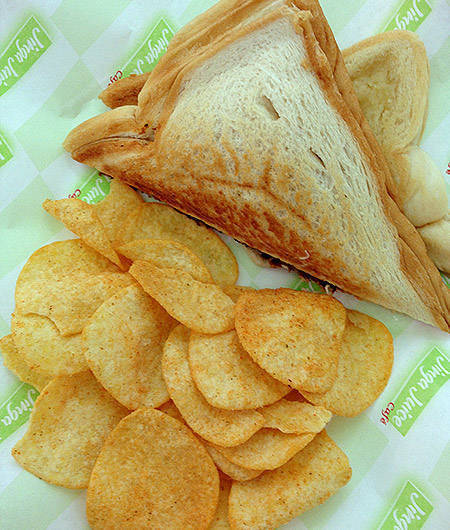 Simple Chicken Sandwich
Jinga Juice Cafe
Amethyst Street, Tycoon Building
Open from 11:30 a.m. to 11 p.m. (Monday to Saturday) and 1 p.m. to 10 p.m. (Sunday)
The specialty is an eponymous drink that's also been reworked to a milkshake, milk tea (with pearls), and smoothie (with mango). The Jinga Juice is a delightful and refreshing drink made from wheatgrass and guyabano. It's healthy and lipsmacking, always a faultless combination. To work with their signature juice, the cafe also offers savory dishes and dessert. Rice toppings like Caldereta, Pork Adobo, Chicken Curry, and Bicol Express share menu space with sandwiches like Grilled Cheese, Tuna and Chicken, and pastries such as Ensaymada, Decadent Chocolate Cake, and Choco Chip Muffins.
ADVERTISEMENT - CONTINUE READING BELOW
Budget: P100 to P300
Must-tries: Jinga Juice (P80), Pork Adobo (P100), Bicol Express (P100), Chicken Sandwich (P75)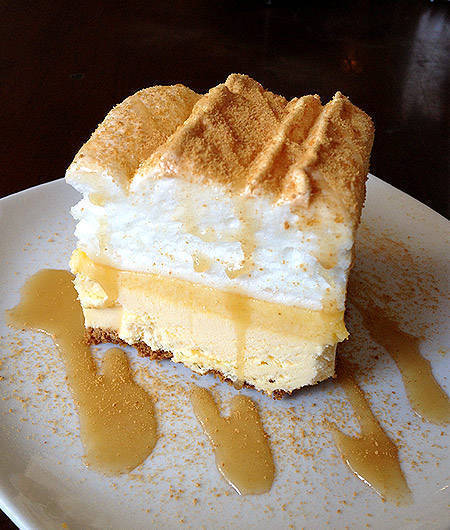 Frozen Brazo de Mercedes
Mozu Cafe
Amethyst Street, The Linden Suites
Open from 8 a.m. to 12 a.m. (Monday to Friday), 10 a.m. to 12 a.m. (Sunday)
People come here in droves to drink and hang out. Perhaps the reason for this is a beverage list-with beer, wine, whiskey, vodka, tequila, cocktails, and shootes-that's twice as long as the actual carte du jour (featuring mostly amazing bar grub). Drinking sessions are made more fun with food like Sisig, Crispy Pata, Calamares, Sausage Platters, and Salpicao. Mozu also has something called "rice fillers" in flavors like Beef Sinigang, Crispy Pork Binagoongan, Beef Teppanyaki, Crispy Kilawin Tadyang, and Roast Beef.
Budget: P200 to P400
Must-tries: Lechon Laing (P170), Bagnet Salad (P175), Bistek Tagalog (P170), Frozen Brazo de Mercedes (P140)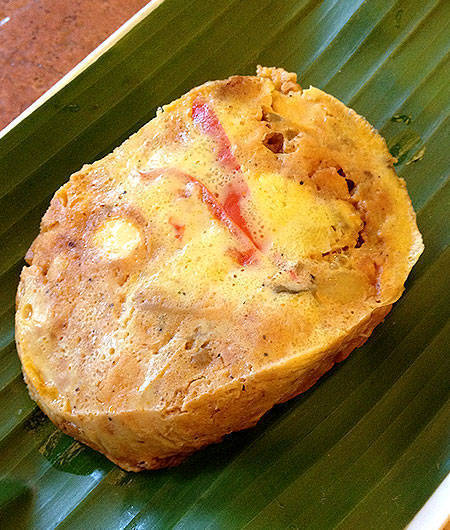 Buddy's Hardinera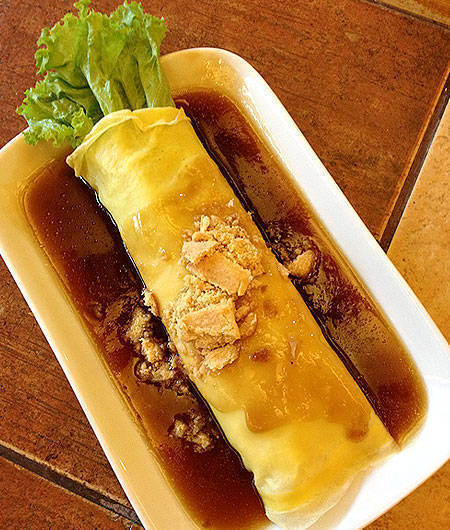 Lumpiang Ubod
Buddy's
Tycoon Building, Pearl Drive
Open from 9 a.m. to 9 p.m. (Monday to Saturday)
Buddy's has been serving Filipino food for 28 years-and they're not even close to slowing down. Iconic Buddy's dishes are pancit, longganisa, and spaghetti, but there's still a lot of menu to cover (Buddy's has almost every Filipino food you're looking for). Delicious noodle classics like lomi, bihon, palabok, and canton, as well as sizzling dishes of squid, tuna, bangus, beef steak, and shrimp ampalaya are definitely worth coming back for. Whatever time of day, the place is usually crowded with groups of diners. Their signs do say "Dito parang laging fiesta."
ADVERTISEMENT - CONTINUE READING BELOW
Budget: P150 to P300
Must-tries: Pancit Lucban (P185), Longsilog Lucban (P115), Hardinera (P110/small), Lumpiang Ubod (P75), Beef Bulalo (P145), Halo-halo (P80)
Load More Stories