Catch Manila Transitio 1945 for Art, Music, Food, and a Tour by Carlos Celdran to Commemorate the Battle of Manila
The event will also feature a video exhibition and a labyrinth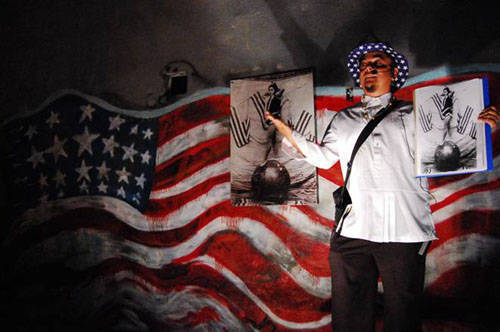 (SPOT.ph) February 3 to March 3, 2014, marks the 69th anniversary of the Battle of Manila. Revisiting this critical episode is an event on Friday, February 21, billed Manila Transitio 1945, which features a tour by cultural activist Carlos Celdran, to be capped by an exhibit and a concert with various artists and musicians.
ADVERTISEMENT - CONTINUE READING BELOW
CONTINUE READING BELOW
Recommended Videos
The Battle of Manila marks a gruesome transition in our modern history. The American advance in this very city they had planned was in sharp contrast to the Allied forces' liberation of Europe, including its prized heritage (the subject of a new Hollywood film). But the most terrible price of this episode was its toll on human life and dignity, in the hands of the Japanese army. For a retrospective account, check out this Inquirer story.
Also log on to Malacañan Palace's Official Gazette.
SPOT.ph contacted Carlos Celdran to discuss the Manila Transitio's aims in revisiting this period.
What does the tour aim to impress upon its audience? Can we say that highlighting the contrasts between Manila before and after this dark chapter is an important aspect of this tour?
Highlighting forgotten history is the main objective of this tour. During the Battle of Manila in February 1945, the city was destroyed, 100,000 civilians were murdered, and our cultural and historical core was devastated by American and Japanese forces. Manila was never the same. Manila had TRANSITIONED from being a city of civility and beauty into what it is today-lost with no real center. No one remembers this moment in history. It's not of any focus in any academic curricula, there is no public holiday, not even a proper memorial.
ADVERTISEMENT - CONTINUE READING BELOW
Transitio Manila 1945 hopes to be a cultural event that will focus on remembering the Battle of Manila and restore hope that the city can still rise up from the ashes of war and subsequent apathy. Transitio Manila 1945 hopes to remember the Manila that was and celebrate the Manila that will be.
Are there any lessons from this chapter in history that the government and the Filipino people must learn (and which the tour perhaps will emphasize), considering that the nation at the time was really caught in circumstances beyond its control?
Yes. One of the reasons why I call it Transitio is because I want to focus on the city and its future and not on the blame. I do not want to point fingers at the Japanese nor the Americans for destroying our city. War is war and war will always be hell. What's important is that we remember and we move on.
ADVERTISEMENT - CONTINUE READING BELOW
Would you say that this tour is most relevant to the people in government, since they are in a direct position to realize a progressive vision for Manila and the rest of the country?
Yes. Leaders should remember this important moment in our history. I wish they would declare a proper holiday for the Battle of Manila. They should build a proper memorial and put more focus on school curricula on this tragic time back in 1945.
There is a general interest and pride in our country's past, perhaps to the point of nostalgia. But perhaps this appreciation has not really been channeled into concrete action among the citizenry. Can the 5th Manila Transitio, with its partnership with artists, lead to something like restoration efforts (probably involving the art and business sectors), which are badly needed among our remaining landmarks?
Hopefully Transitio will inspire Filipinos of all generations to take a deeper look into the History of Manila. That would be the most important step: the first one.
ADVERTISEMENT - CONTINUE READING BELOW
How have the youth, particularly those who've joined your tours, been responsive to your cultural advocacies?
A great number of my tour guests are students. They give me hope. They are living in a very interesting time. Their voices are free and they are passionate. I'm looking forward to what they can do for this nation.
The Manila Transitio tour on February 21 begins at 3:00pm. Meeting place is at the Fort Santiago Ticket Booth. The tour is P1,100 and (for students) P600. According to Celdran, the concert/art event following the tour is "P200 SUGGESTED. You can pay what you can!"
Are you sure you want to delete this list?

Load More Stories