Neighborhood Guide: Aguirre Avenue, BF Homes, Parañaque
This is the eat street south of Manila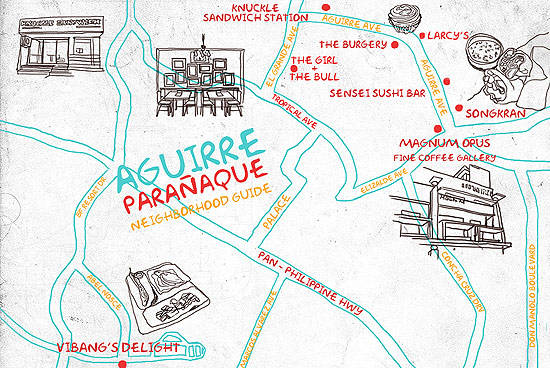 (SPOT.ph) The South has always been its own world, with its own pace, style, and identity. But as Metro Manila's number of eating establishments grew, they weren't too far behind. The South is to San Francisco's laidback and relaxed atmosphere, as the North is to New York's hustle and bustle. We hear the traffic's better there, too!
If you're in the mood for foodie adventure, take the drive. Parañaque is the first city we're eating our way through.
Art by War Espejo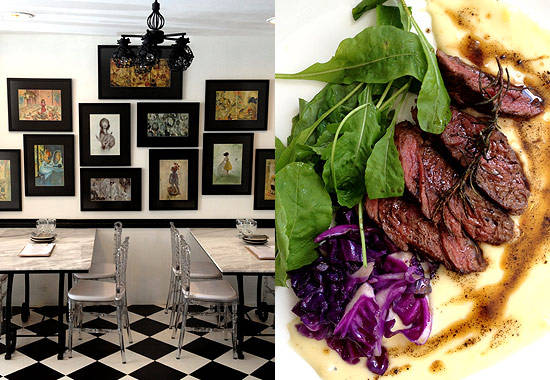 The Girl +The Bull
346 Aguirre Avenue, BF Homes Parañaque City
Tel. No. 0905-572-2556.
Open from 12 p.m. to 3 p.m. and 6 p.m. to 9 p.m. (Thursday, Friday, and Monday); 12 p.m. to 3 p.m. and 6 p.m. to 11 p.m. (Saturday and Sunday)
"Bull-headedness" crossed over to unrelenting passion. That's the story of The Girl + The Bull. The Bull is 21-year-old Gab Bustos, an artist who, after dropping out of college three times, decided to make food a medium for expressing himself. The Girl is his partner, Thea de Rivera, 22. The menu is curated (with around 10 dishes and not all available at once), with inspirations from Italian, Vietnamese, and Korean cuisines. The place itself is a cozy art hub with works by the pair as well as by their friends and family.
ADVERTISEMENT - CONTINUE READING BELOW
Must-tries: Buttermilk Fried Chicken (P 410) served only on Saturdays, Wild Arugula Salad (P 230), Grilled US Flat Iron Steak (P 435), Homemade Faux Twix Bars with Sea Salt (P 160)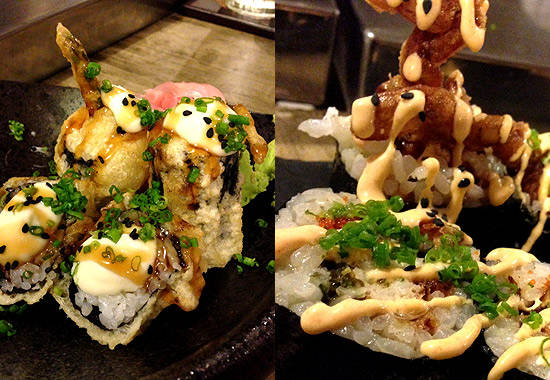 CONTINUE READING BELOW
Recommended Videos
Sensei Sushi Bar
268 Aguirre Avenue, BF Homes, Parañaque City
Tel. No. 0917 515 7018
Open daily from 11 a.m. to 12 a.m.
This is Chef Bruce Ricketts' playground. The menu is an everchanging adventure and the dishes-which are updated every few days depending on the fresh ingredients in the kitchen-are made upon ordering. But Chef Bruce knows when to pull the reins on his creativity. For example, his ramen is kept simple and spicy because "ramen is good as it is." For what you get (really amazing innovations on Japanese food), prices are reasonably affordable. Sit at the bar so you can see the master at work. There's no corkage fee too, so feel free to BYOB.
Must-tries: Crispy Philly Roll (P 185), Sensei Seafood Pasta (P 240), Gyoza (P 155), Spicy Pork Ramen (P 315), Braised Pork Belly (P 510), Chef's 12-course Omakase: (P 2,500/head), Half Baked Chocolate Cake (P 200)
ADVERTISEMENT - CONTINUE READING BELOW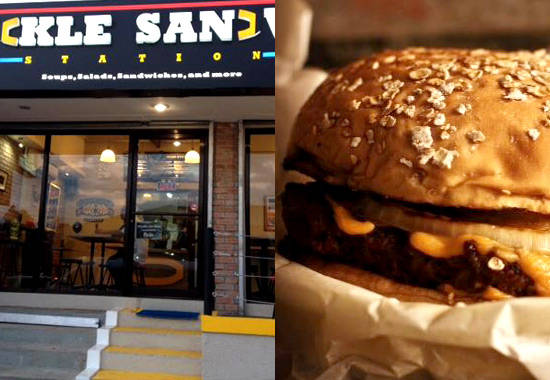 Photos from The Knuckle Sandwich Station's Facebook page
The Knuckle Sandwich Station
308 Aguirre Avenue, BF Homes, Parañaque City
Tel. No. 425-2007, 0915-647-6209
Open daily from 7 a.m. to 9 p.m.
The Knuckle Sandwich Station describes itself as: "The first boxing-themed gourmet sandwich restaurant south of Manila." The menu reflects the theme perfectly: Undercards are soups and salads, Main Event is sandwiches (with K.O. Burgers), Chilla in Manila list desserts (ice cream sandwiches, of course). Their drinks are sourced from the Global Beer Exchange, offering a comprehensive roster of brews perfect for subs. This sandwich station easily stands out with its fun and knock-out quirks and a price range that happily falls within P100 to P275.
Must-tries: Julio Cesar Sandwich (P 180), Philly Cheese Burger (P 185), Little Red (P 130), Brockton Mac Buster (P 130)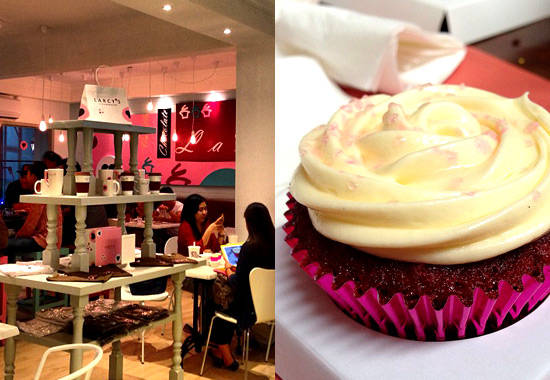 ADVERTISEMENT - CONTINUE READING BELOW
Photos from Foodspotting.com
Larcy's Cupcakery Cafe
178 Aguirre Avenue, BF Homes, Parañaque City
Tel. No. 799-4174.
Open from 11 a.m. to 11 p.m. (Monday to Thursday, Sunday) and 11 a.m. to 12 a.m. (Friday and Saturday)
Husband and wife Gatchi and Larcy Gatchalian first delved into the restaurant business when they opened Blugre Coffee Business in Davao back in 1998. When their daughter went to college in Manila, they decided to uproot themselves, closing Blugre and opening Larcy's instead. The cupcake shop screams vintage chic, with trendy flavors like Sweet Tamarind, Quezo de Bola, and Fruity Cupcakes that may just be their ticket to staying in the industry for a while. A full-fledge cafe, Larcy's also offers sandwiches, entrees, pasta, and a very well-loved ice blend called Larcy's Freeze.
Must-tries: Pink Velvet (P 65), Valrhona Triple Chocolate (P 75), Larcy's Frozen Hot Choco Velvet (P 175), Three Cheese Pimiento Sandwich (P 145), Mushroom Truffle Pasta (P 225)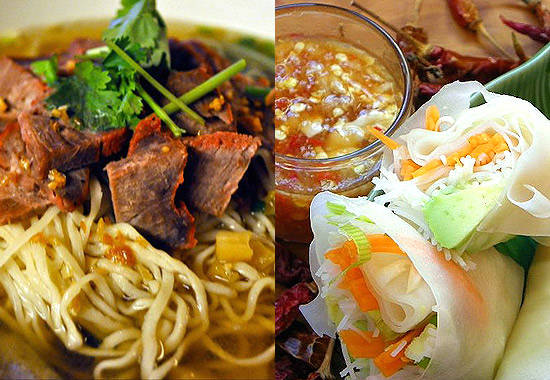 ADVERTISEMENT - CONTINUE READING BELOW
Songkran
249 Aguirre Avenue, BF Homes, Parañaque City
Tel. No. 829-2963
Open daily from 10 a.m. to 2 p.m. and 6 p.m. to 10:30 p.m.
Songkran used to be a house that a Thai national named Tum converted into one of the most sought-after Thai haunts in Metro Manila. Tum, who has been living in the Philippines for 10 years, specializes in Thai street food that are as flavorful as they are authentic. Even the menu is in Thai (with helpful English descriptions below). Reflecting the culture of the cuisine it represents, Songkran features a loud and vibrant facade that makes it all the more inviting.
Must-tries: Mint and Lemongrass Tea (P 95), Crispy Catfish Mango Salad (P 215), Tom Yum Goong (P 255), Bagoong Rice (P 165), Pork Spare Ribs (P 225), Pad Thai (P 205), Tapioca in Pandan Cups (P 90)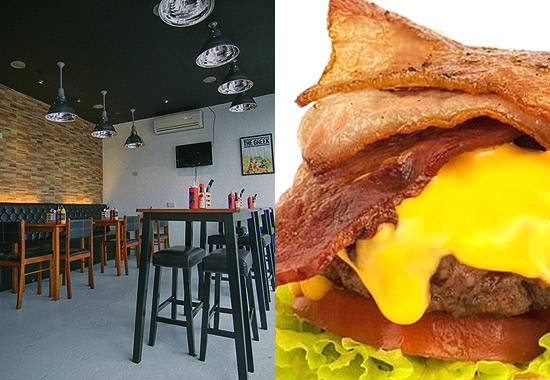 Photos from The Burgery's Facebook page
The Burgery
231-C Aguirre Avenue, BF Homes, Parañaque City 
Tel. No. 0917-501 6640
Open from 3 p.m. to 12 a.m. (Sunday to Thursday) and 3 p.m. to 2 p.m. (Friday and Saturday)
ADVERTISEMENT - CONTINUE READING BELOW
They're the "Bad Boys of Burger" and they prove it with devilishly good burger incarnations from villains in pop culture like Asiong Salonga (chorizo, beef patty, Filipino-style barbecue sauce, fried egg) and Fat Tony (1/3-pound pure beef patty, onion relish, lettuce, tomato, hickory barbecue, and bacon), The Hook (beer-battered fish, fries, and tartar sauce), Billy Fingers (chicken fingers with honey pepper mustard sauce). The list of bad guys continue. What works best with burgers? Booze! They have Corona, Heineken, Stella, Margarita, Mojito, Amaretto Sour, Black Label, Jack Daniels, Vodka, and Tequila.
Must-tries: Asiong Salonga (P 135), Fat Tony (P 145), Crazy 6's (P 178), Billy Fingers (P 128), The Hook (P 125)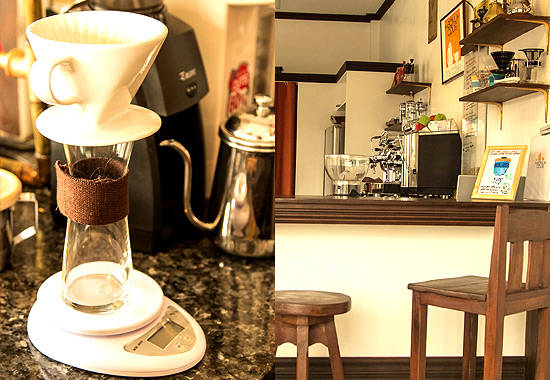 Magnum Opus Fine Coffees
115 Aguirre Avenue, BF Homes, Parañaque City
Tel. No. 0939-920-0701
Open from 10:30 a.m. to 11 p.m. (Tuesday to Sunday) and 4:30 p.m. to 11 p.m. (Monday)
This third-wave cafe makes an art out of handling their beans: carefully roasted and handcrafted for customers to get a fuller flavor in their cups. Owner Jonathan Choi says that magnum opus means "great work" in Latin and that's exactly what the cafe showcases with their drip and siphon station, the espresso machine, and the barista creating your cup as you sit on the stools by the bar. Magnum Opus serves espresso-based drinks such as lattes, cappuccinos, and espresso shots served hot or ice-dripped (any way you like: drip, siphon, or pour-over). They stock three to four beans for drip coffee and one bean for espresso-based drinks. Magnum also requests that suppliers roast beans only upon order. "Freshly roasted, freshly ground, and freshly brewed. That's how it should be."
ADVERTISEMENT - CONTINUE READING BELOW
Must-tries: Belgian Heartbreaker (P 175), Ethiopia Sidamo (P 150), Wafflegato (P 160), Latte (P 150), Mondrian Toast (P 55)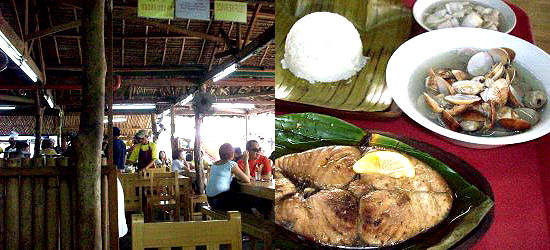 Photos by Mark Cabuloy of Manila Food Finds
Vibang's Delight
Abel Nosce Corner Aventine Streets, BF Resort Village, Talon Dos, Las Piñas City
Open daily from 9 a.m. to 10 p.m.
This place isn't technically in Parañaque, but it's close-just cross a street and drive a few more blocks. Vibang's offers Filipino food the way it should be offered: home cooking with great value for money. It's a neighborhood hole-in-the-wall that relies on word-of-mouth to spread their spot-on flavors. The whole place is decked in nipa, kind of like a modern-day kubo. The main restaurant is carinderia style, but they also have a section where you can select meats and fish to be fried on the spot. Their bevy of kakanin has its own cult following, so don't be surprised if you see guests driving all the way to Vibang's simply for an order of pichi-pichi. Orders here cost an average of P150 to P200-that includes dessert.
ADVERTISEMENT - CONTINUE READING BELOW
Must-tries: Beef Caldereta, Ginataang Chicken, Buko Pandan
Share this story with your friends!
---
Help us make Spot.ph better!
Take the short survey
Load More Stories