Weekend Escape: The Grape Farms of La Union
Get your Keanu on. This is a whole new adventure-a fruity kind.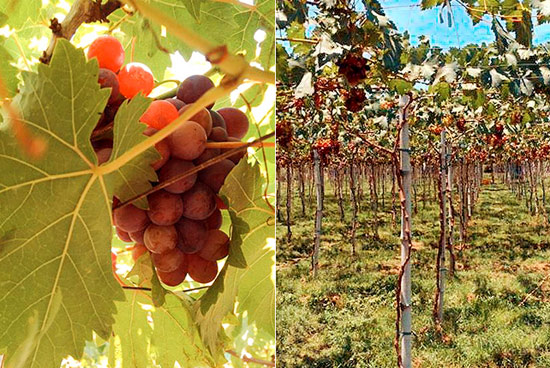 (SPOT.ph) There are grape farms in the Philippines. Pockets of greenery spread throughout La Union, some just a few hundred square meters, others as big as 20 hectares. Green vines heavy with tight bunches of deep red baubles wrap themselves around six-foot-high trellises. The fruits have a thick skin and a sweet bursting core. Seeds, yes, but they don't factor in much amid that juicy sweetness.
There are grape farms in the Philippines, did you know? And they've been around since 1972-only 15 minutes away from the province's popular surf resorts.
The long and short history
Back in 1972, Avelino Lomboy of Lomboy Farms planted 20 grape cuttings procured from Cebu as a hobby. When the venture turned out to be lucrative, he closed down his piggery business and quit his job to focus on grapes full time. During Marcos' time, his former 500-hectare farm supplied 90% of the country's grapes. "When imported goods started coming in, we had to diversify," he said. To adapt to the new environment in the '80s, he started developing guapples, then dragon fruit, mangoes, bananas, and papayas.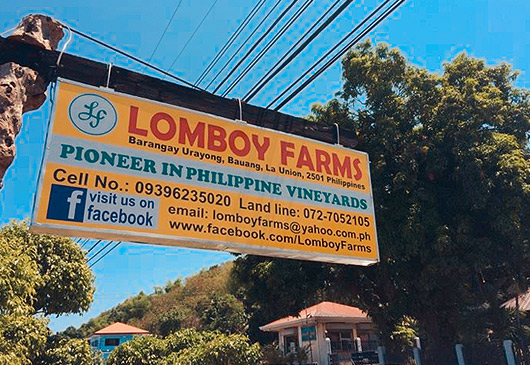 ADVERTISEMENT - CONTINUE READING BELOW
Don't forget that Lomboy is the reason we have grapes here.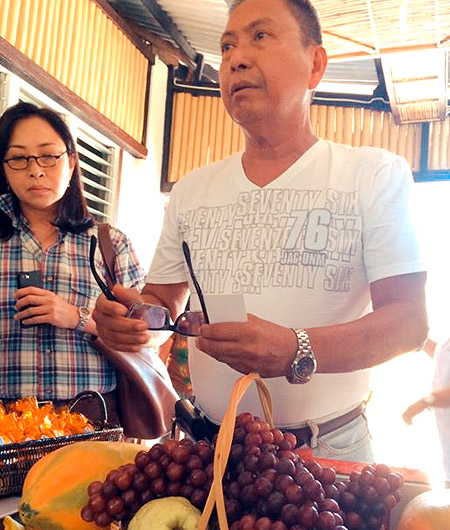 CONTINUE READING BELOW
Recommended Videos
The King of Grapes with his produce. (We can't take our eyes off the papaya.)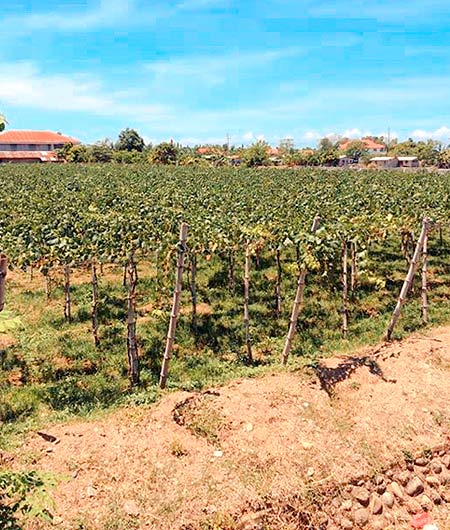 Calica Farm, one of the many vineyards in La Union, has the table grapes variety.
His farm in La Union is now only 20 hectares, but he has more around the Philippines. Lomboy, who's currently growing 50 varieties of grapes, is considered the "Philippine Grape King," pioneering many of the methods adopted by succeeding viticulturists.
ADVERTISEMENT - CONTINUE READING BELOW
The other farm
Gapuz Grapes Farms received their first cuttings from Lomboy and they've turned it into a profitable business on their own. Of their 2.5-hectare property, 75% is dedicated to grapery. The grapes, harvested thrice a year, are sold from P150 to P170 depending on the quantity.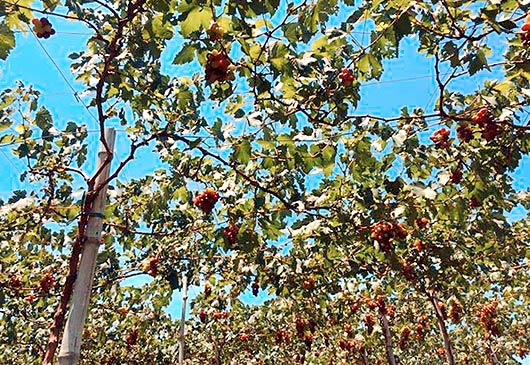 Summer is the best time to harvest grapes.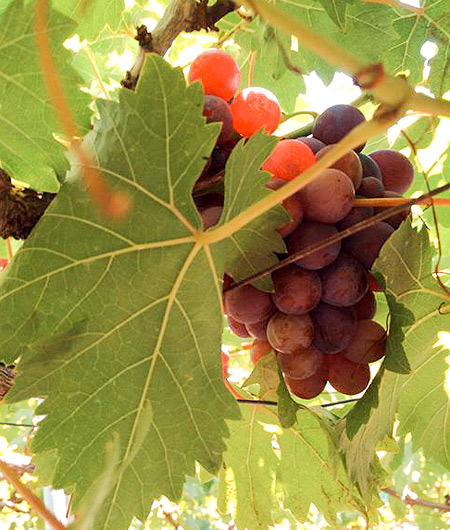 ADVERTISEMENT - CONTINUE READING BELOW
Grapes that are ready to be picked are those that are dark red from top to bottom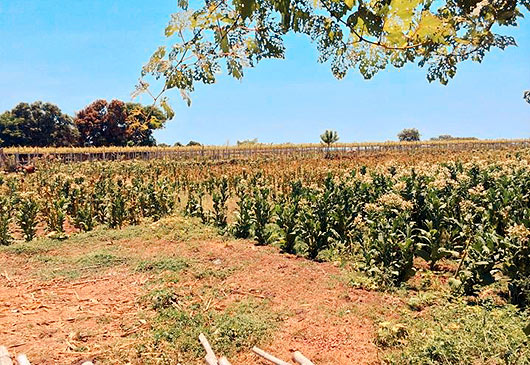 The rest of the Gapuz Grapes Farms
When Joe Gapuz returned to the country from California in 2010, he picked up where his dad and brother left off. Vendors had dropped the value of grapes so he had to find a different way to market it. Instead of selling just the produce, he started selling the "vineyard"-which he affectionately calls "The Porch Life." He promoted it in social media, organized picking events, and created packages for tours. He started selling cuttings for people to plant in their own homes. Grapes can actually thrive in heat, he said. "The warmer the better."
A different kind of adventure
This isn't some kind of Keanu Reeves movie, but the farms are just as picturesque. Lomboy Farms charges P400 for a tour of their scenic vines. There's an extra charge for grapes picked by guests, with the price depending on weight. Here, you can learn about the history of graperies in the Philippines as well as the methods that the Lomboys have developed.
ADVERTISEMENT - CONTINUE READING BELOW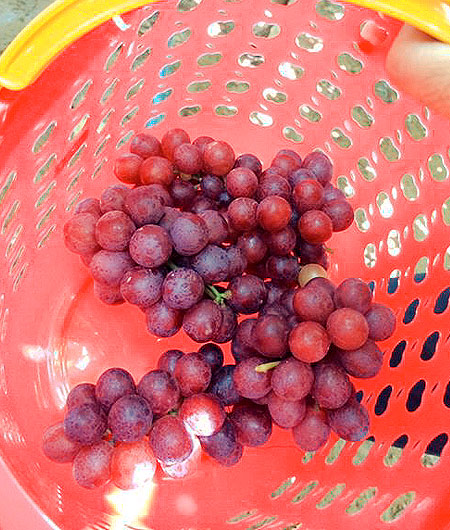 Pick and Pay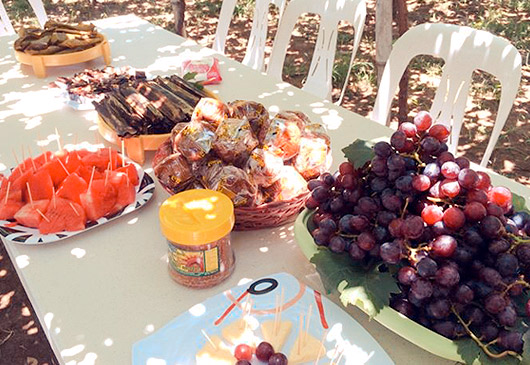 A very small sample of the boodle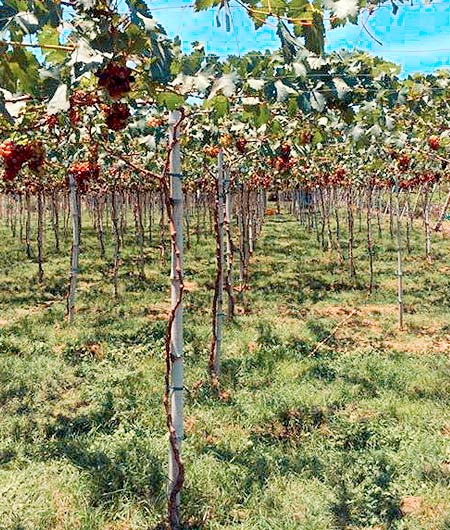 ADVERTISEMENT - CONTINUE READING BELOW
Yes, take a selfie. You know you want to.
A relaxed setup for a quiet weekend getaway can be found at The Porch Life. Gapuz skips signage and converts their family farm into a true adventure by making guests look for it. Staying is free except for the grapes, which are also charged by weight (cuttings are P200 apiece). They also offer Boodle Fight packages (starting at P1,500 for 10 people) should backpackers want to bask in the shaded ambiance of the grape farms.
In case you're wondering why you never knew the country grows our own grapes, it's probably because stocks run out as soon as they reach Baguio. "They don't even reach Tarlac and Pampanga," says Gapuz. Our advice? Go directly to the source and pick your own. Summer's the best time.
Lomboy Farms is at 68 Urayong, Bauang, La Union; Tel. Nos. 705-2105 or 705-3205; e-mail lomboyfarms@yahoo.com.ph. Gapuz Grapes Farms is at 78 Urayong, Bauang, La Union; Tel. No. 0915-888-6724; e-mail gapuzfarm@gmail.com.
To get there, take the Partas bus to La Union and ask to be dropped off at the Bauang Arch. It's walking distance from there. Follow the smell of the grapes or ask one of the fruit vendors.
Share this story with your friends!
---
Help us make Spot.ph better!
Take the short survey
Load More Stories