10 Things to Do This Weekend: July 25 to 27
Rediscover old and modern Italy through a series of films, celebrate 75 years of your favorite superhero, sign up for a unique luxury tea experience, and more.
(SPOT.ph) What's happening in Manila this weekend? SPOT.ph zeroes in on the events you shouldn't miss.
Check out SPOT.ph's gig guide: 10 Gigs and Parties to Go to This Week: July 23 to 26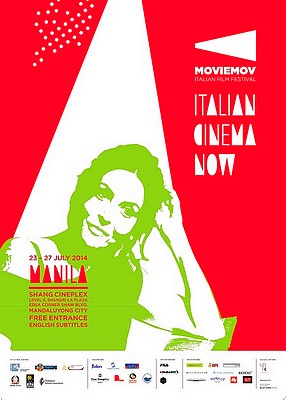 Look into the different facets of both old and modern Italy with a fresh set of eyes in Moviemov 4: Italian Cinema Now, a film festival organized by Playtown Roma, in collaboration with the Italian Embassy in the Philippines, the Italian Ministry of Culture, and the Italian Chamber of Commerce.
Realizing the palpable similarity between Italian and Philippine cinema, festival creator and director Goffredo Bettini aims to highlight our shared love for the beauty of life, the festive nature of our customs, and our undeniable affinity towards culture and art-envisioned through seven of the most successful contemporary Italian films today, screening from July 23 to 27 at the Shang Cineplex.
Included in this festival are The Great Beauty, South Is Nothing, Those Happy Years, Fasten Your Seatbelts, Human Capital, I Can Quit Whenever I Want, Benur - Un Gladiatore in Affitto, and A Tutto Tondo. Check out SPOT.ph's Guide to Moviemov 4: Italian Cinema Now, Screening at Shang Cineplex from July 23 to 27.
ADVERTISEMENT - CONTINUE READING BELOW
Movies will be screened for free on a first-come-first-serve basis. For inquiries, call 370-2500 local 597 or click here.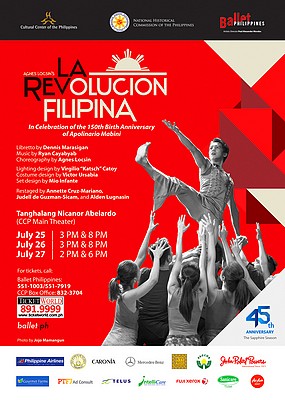 CONTINUE READING BELOW
Recommended Videos
Don't miss Agnes Locsin's La Revolucion Filipina, opening on July 25, 3 p.m., at the CCP Main Theater. The production will run through July 27 at 3 p.m. and 8 p.m. showtimes.
La Revolucion Filipina is an original full-length ballet production by Ballet Philippines choreographed by Agnes Locsin with libretto by Dennis N. Marasigan and music by Ryan Cayabyab. Originally staged in the 1990s as part of the Philippine Centennial Celebrations, it will be performed again as Ballet Philippines 45th season opening production and in commemoration of the 150th birth anniversary of Apolinario Mabini, upon whose work the title of the ballet comes from.
In La Revolucion Filipina, the vicissitudes of the nascent Philippine nation are played out with Emilio Aguinaldo, Andres Bonifacio and Apolinario Mabini as the main characters. The ballet moves from the triumphant declaration of Philippine Independence to 1898, to the foundation of the Philippine Republic in Malolos and the ensuing conflict with the new American colonizers. In Mabini's view, the defeat of the Filipinos was largely due to the internecine conflicts among themselves , a lesson our present-day society may well learn from.
ADVERTISEMENT - CONTINUE READING BELOW
Tickets are priced at  P1,545 (P2,575 on July 26, 8 p.m.), P1,236, P1,030, P721, P618, P515, and P412. Check out SPOT.ph's The Dancing Paralytic: Agnes Locsin's La Revolucion Filipina.
For ticket inquiries or reservations, call 891-9999.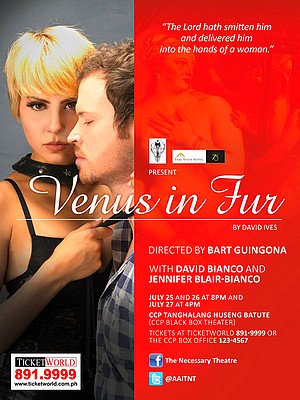 Make sure to catch the intriguing Venus In Fur, opening on July 25, 8 p.m., at the CCP Studio Theater. It will also be shown on July 26, 8 p.m., and July 27, 4 p.m.
Thomas Novachek is the writer-director of a new play, an adaptation of a novel that inspired the term Masochism. He is on the telephone lamenting the inadequacies of all the actresses who showed up that day for the auditions when, at the last minute, new actress Vanda Jordan bursts in, the exemplar of every fault he has decried: Needy, Crude, Compliant, Desperate. She convinces him to read through his play, she as Wanda and he as Severin von Kushemski. During this reading, Vanda shows astonishing insights into the novel and her character, and the balance of power shifts as the actress establishes total dominance over the director, exactly as in the novel.
ADVERTISEMENT - CONTINUE READING BELOW
Tickets are priced at P1,250, P833, and P625.
For ticket inquiries or reservations, call 891-9999.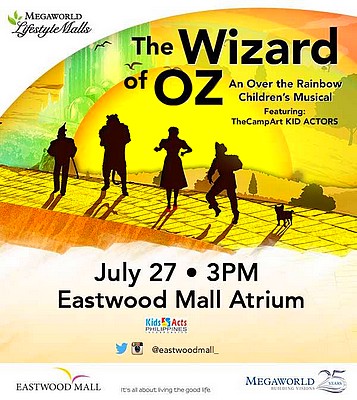 Bring the entire family to the Eastwood Mall Atrium on July 27, 3 p.m., and catch the The Wizard of Oz: An Over the Rainbow Children's Musical! For a minimum of P2,000 single receipt purchase from any Eastwood Mall establishments within the promo period, customer is entitled to one (1) ticket to the theatrical play. This production features TheCampArt Kid Actors.
For more information, click here.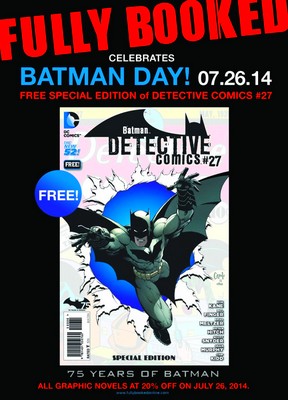 ADVERTISEMENT - CONTINUE READING BELOW
Join Fully Booked in observing Batman Day on July 26, 10 a.m. Celebrate 75 years of The Dark Knight!
This year, comic fans around the world are celebrating Batman's 75th anniversary. Along with comic book shops around the world, select Fully Booked and Comic Odyssey branches are giving away free copies of the anniversary issue, Detective Comics #27. The comic features a reimagining of Batman's 1939 comic debut, designed by Chip Kidd, with a script by theNew York Times best selling author Brad Meltzer.
In addition to free comic giving, graphic novels and manga titles will be on sale at 20% off in all Fully Booked branches (please see number 7 for sale items details). There will also be some Batman-related activities on this day!
For list of participating branches and more information, click here.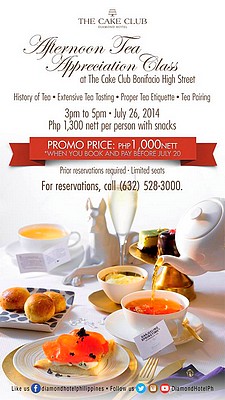 Sign up for the Afternoon Tea Appreciation Class at The Cake Club in Bonifacio High Street, held by Diamond Hotel Philippines and The Cake Club. It will be on July 26, 3 p.m.
ADVERTISEMENT - CONTINUE READING BELOW


Together with Ronnefeldt Germany, Diamond Hotel has designed a special Afternoon Tea Appreciation session for guests and this unique tea time offers more than the usual luxury tea experience. It is a three-hour event where each attendee will be guided to know the History of Tea, different kinds of Tea and Infusions, proper Tea Tasting Ceremony, the difference of Afternoon Tea and High Tea, the Dos and Don'ts of Tea Etiquette, and proper Tea Pairings. 


Registration is priced at P1,300 nett, inclusive of snacks. Slots are limited.
For inquiries and reservations, call 528-3000 local 1121.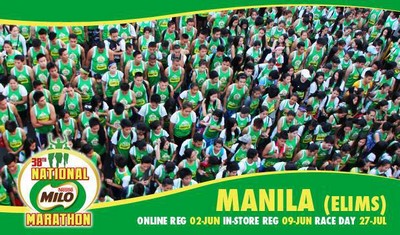 Try your hand once more with the 38th Milo Marathon Manila Elimination, happening on July 27 at the SM Mall of Asia Grounds (Corner  Bayshore Avenue and Seaside Boulevard).
Registration is priced at P80 (3K), P110 (5K), P530 (10K), P630 (21K), and P730 (42K). You may download the registration form from here and proceed to the following venues:
ADVERTISEMENT - CONTINUE READING BELOW
Toby's (SM Mall of Asia, Shangri-La, and SM North EDSA)
RUNNR (Bonifacio High Street)
MOVE (Bonifacio High Street)
For more information, click here.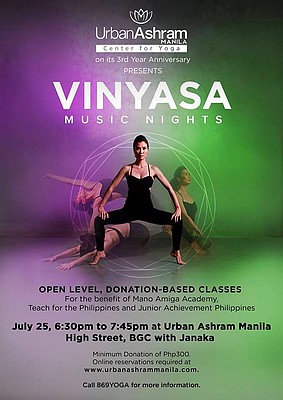 Celebrate Urban Ashram's third anniversary with Vinyasa Music Nights! Enjoythree fun-filled classes with excellent music and superb quality yoga, all for the benefit of Mano Amiga Pilipinas, Teach for the Philippines and Junior Achievement of the Philippines, Inc. - A Member of JA Worldwide. The classes are scheduled on:
July 25 (6:45 p.m.) at Bonifacio High Street
August 8 (6:45 p.m.) at 6780 Ayala Avenue
August 29 (7 p.m.) at Brixton, Kapitolyo
To register, click here.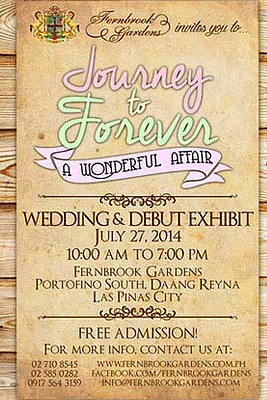 ADVERTISEMENT - CONTINUE READING BELOW
On July 27, 10 a.m., Fernbrook Gardens will be holding Journey to Forever: A Wonderful Affair, a bridal and debut fair in Fernbrook Gardens. The exhibit will give you all the options for your most special day, as you'll get to meet suppliers who'll be showcasing their products and services.The first 50 participants to register will receive a special gift from the Fernbrook Gardens. Admission is free.
To pre-register, click here. For more information, call 710-8545 or 585-0282, or click here.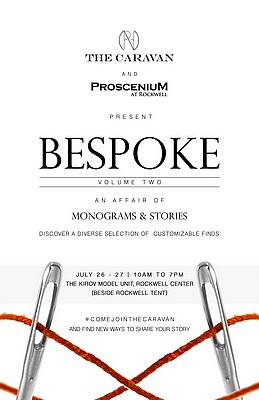 Follow the tale of the thread and find something just for you with the second installment of The Caravan: Bespoke, An Affair of Monograms and Stories, happening on July 26 and 27, 10 a.m., at The Kirov Model Unit (beside The Rockwell Tent). Drop by and discover a diverse selection of customizable finds!
The brands that will be featured include Aranaz, Maureen Disini, Stockton Row, The Best Impressions, Adorno, Camille Villanueva, Michelline Syjuco, The Urban Alchemists, Kiele, NCLA, Crow's Nest Handmade, Risque Designs, Adamant Eve, Lost + Found, Toni & Guy, Your Local, and more!
ADVERTISEMENT - CONTINUE READING BELOW
For more information, click here.
Share this story with your friends!
---
Help us make Spot.ph better!
Take the short survey
Load More Stories