10 Things to Do This Weekend: August 1 to 3
Celebrate 10 years of independent filmmaking, let your favorite chocolate take you on the ultimate throwback, check out the first indie music-fest inside the Walled City, and more.
(SPOT.ph) What's happening in Manila this weekend? SPOT.ph zeroes in on the events you shouldn't miss.
Check out SPOT.ph's gig guide: 10 Gigs and Parties to Go to This Week: July 30 to August 2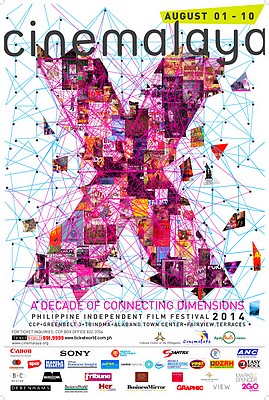 The Cinemalaya Independent Film Festival and Competition, billed as Cinemalaya X this year, marks its 10th anniversary as it runs from August 1 to 10 at the Cultural Center of the Philippines, its main venue, and at satellite venues in Greenbelt, Alabang Town Center, Trinoma, and Fairview Terraces.
The achievements of Cinemalaya over the past 10 years are summed up in the Festival's theme: A Decade of Connecting Dimensions. The theme highlights Cinemalaya as a flourishing network of individuals, groups, and institutions with a common goal of developing and promoting Filipino independent filmmaking.
Special events and new festival features will add to the excitement of Cinemalaya X.  These include the launching of the Cinemalaya X book, announcement of the Cinemalaya Logo Contest winner, the introduction of the Cinemalaya Achievement Award, and special exhibitions that will document the story of Cinemalaya's first decade, a Cinemalaya X Retrospective.
ADVERTISEMENT - CONTINUE READING BELOW
To see the entries, check out The SPOT.ph Guide to the 10 Short Feature Entries in Cinemalaya X and The SPOT.ph Guide to the 10 New Breed Full Length Features in Cinemalaya X. Passes are priced at P2,500 (Films in Competition) and P3,500 (Festival).
For more information, click here.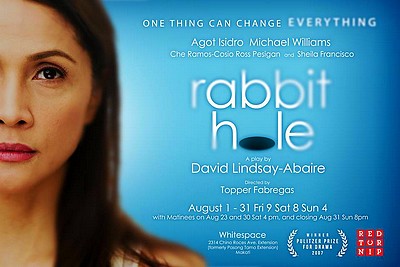 CONTINUE READING BELOW
Recommended Videos
Catch the opening of Red Turnip Theater's latest production, Rabbit Hole, on August 1, 9 p.m., at Whitespace. The production will run through August 31.
The story revolves around Becca and Howie, a couple who lose their four-year-old son in a car accident, and the grief that slowly threatens to tear them apart. Shifting between humour and heartbreak, Rabbit Hole explores the way people deal with loss and how this affects those closest to them: their families. The Manila premier has film and television star Agot Isidro in the role of Becca with theater veteran Michael Williams as her husband Howie.
ADVERTISEMENT - CONTINUE READING BELOW
Tickets are priced at P2,084 (August 1), P1,563, and P1,042.
For ticket inquiries or reservations, call 891-9999.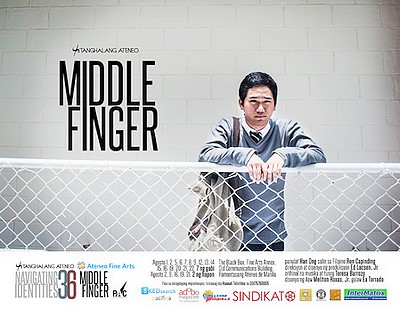 Book your tickets now to Tanghalang Ateneo's Middle Finger, opening on August 1, 7 p.m., at the Fine Arts Black Box Studio at the Ateneo de Manila University. The production runs through August 22.
This is an adaptation of the famous German play Spring Awakening by Frank Wedekind. Featuring a bilingual script using the original by Han Ong and a Filipino translation by Ronan B. Capinding, Middle Finger is a coming-of-age story centered on two Filipino teenagers, Jakob Rodriguez and Benjamin Lunga, studying in a Catholic school in America. In a world dominated by adults and social constructs, they attempt to find control and establish themselves as individuals.
For more information, call (0916) 480-2195 or email ta.mpc78@gmail.com.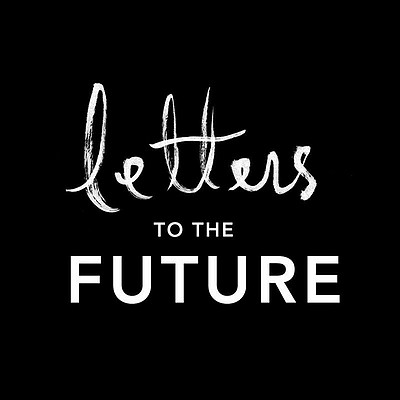 ADVERTISEMENT - CONTINUE READING BELOW
Take your friends and family to a screening of Letters to the Future on July 29, August 2, 5, and 9 at the U-View, Fully Booked Bonifacio High Street.
Letters to the Future is a 30-minute documentary by director Bia Catbagan that asks 20-somethings a simple question: What would you say to your future self? The film seeks to capture a generation at its bravest and most vulnerable. "I want it to show what's really on the minds of people, and not the façades on social media that we see," Catbagan says. The film explores a generation's stories, aspirations and hopes for the future through the eyes of 44 young people of different social backgrounds. Letters to the Future serves a time capsule, a candid record of what it's like to be young in Manila in 2014.
For tickets, call (0998) 977-2027.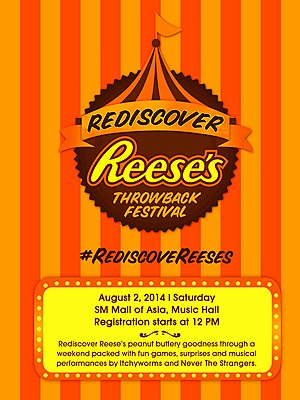 Travel back to the best memories of your childhood with Reese's chocolate, a perfect combination of chocolate and peanut butter, through a fun-filled throwback fair. Join the Rediscover Reese's Throwback Fair on August 2, 10 a.m., at the SM Mall of Asia Music Hall to find out what makes Reese's one of the world's best loved chocolate brands.  Bring back the fun and excitement of the festival fairs of your childhood days and revisit the rich history that made Reese's a classic chocolate brand.
ADVERTISEMENT - CONTINUE READING BELOW
Explore how H.B. Reese started his chocolate hit, Reese's Peanut Butter Cups, through a series of Reese's themed booths and games. Journey through the Reese's themed fair trail, complete all the fun fair activities and be rewarded with loads of Reese's chocolate products and special Reese's merchandise.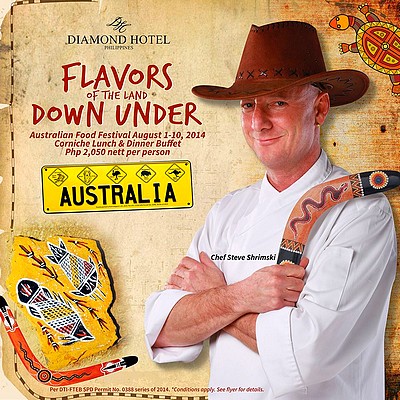 This August, take delight in savoring the Flavors of the Land Down Under at Diamond Hotel Philippines. Corniche restaurant offers an extraordinary Australian buffet feast from August 1 to 10 at P2,050 nett per person.  Join the celebration of Australian culture integrated into modern food artistry with the culinary creations of guest chef Steve Shrimski.
Featured Aussie chef Steve Shrimski, a seasoned taste master, will prepare an array of dishes - amazing appetizers, meat barbecued to perfection and seafood specialties complemented by red or white wine, to well-loved desserts.  Savor specialties like Akadjura Parsnip and Bush Tomato Soup, Oysters with Warrigal Greens and Macadamia Nut Pesto, Vegemite and Rosemary Braised Lamb Shanks, Salmon Burger on Vegetable Spaghetti with Lemon Butter Sauce and Bush Tomato Chutney, Macadamia and Lemon Myrtle Encrusted Barramundi Fillet with Bush Tomato Sauce, Sticky Date Pudding with Butterscotch Sauce, Praline Pavlova with Strawberries and Cream, and more. For those with an adventurous palate, Braised Crocodile and Chorizo Jambalaya with Risotto, Kangaroo Carpaccio with Munthari Dressing, and Grilled Ostrich with Balsamic Honey Jus are just some of the few remarkable selections that will satisfy your exotic food craving.
ADVERTISEMENT - CONTINUE READING BELOW
For inquiries, call 528-3000 or email bizcenter@diamondhotel.com.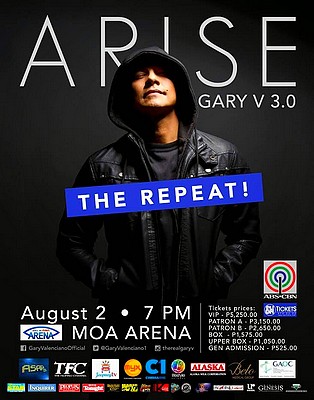 Catch ARISE: Gary V 3.0 The Repeat, happening on August 2, 7 p.m., at the SM Mall of Asia Arena. After his successful two-night anniversary show on April 2014, "Mr. Pure Energy" Gary Valenciano returns for a repeat concert.
Tickets are priced at:
VIP 1: P5,250
VIP 2 and Patron: P3,150
Lower Box A: P2,625
Lower Box B: P1,575
Upper Box: P1,050
General Admission: P525
For ticket inquiries or reservations, call 470-2222.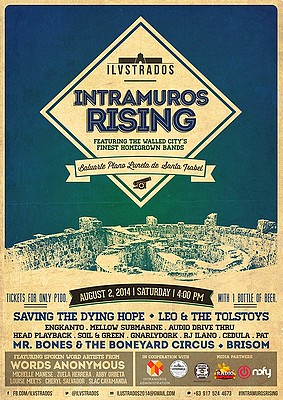 ADVERTISEMENT - CONTINUE READING BELOW
ILVSTRADOS, an Intramuros-based collective, launches Intramuros Rising, an independent music festival within the Walled City on August 2, 4 p.m.
ILVSTRADOS aims to showcase various emerging arts that fellow Filipinos can take pride in. These include independent music and spoken word poetry. Mapua Institute of Technology (MIT)-based band Saving the Dying Hope and Lyceum of the Philippines (LPU) and Pamantasan ng Lungsod ng Maynila (PLM)-based band  Leo and the Tolstoys will be headlining the festival. Along with them, 10 more Intramuros-based bands from LPU, PLM, and MIT will join in on the festivities. Tickets are priced at P100.
For tickets and more information, click here or call (0917) 524-4673.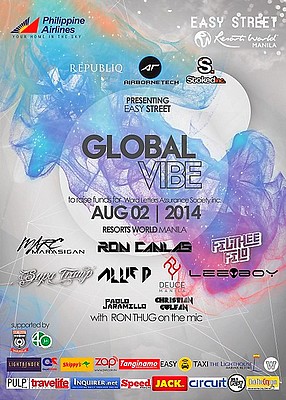 On August 2, Easy Street Strategy and Events, together with Philipine Airlines, will bring another hit party more popularly known as the Global Vibe at the Taps, Genting Club in Resort's World Manila. Party with amazing DJs from Sydney, Melbourne Bounce EDM, and Big DJs from Manila. The goal is to help Word Letters in its yearly commitment to give food, clothes, slippers and education about Mother Nature to children all over the Philippines.
ADVERTISEMENT - CONTINUE READING BELOW
Tickets, which are priced at P995, are inclusive of free entry and drinks to Republiq immediately after the event. The event will also include a fashion show featuring Carla Eugenio's "Carla Designs" and Vanessa Dela Cruz' "Penelope and Parker." On top of the free drinks inclusions, the ticket will get guests the chance to win raffle prizes.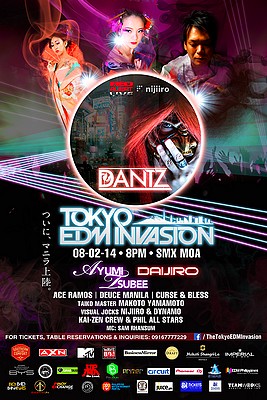 Don't miss Tokyo EDM Invasion when it hits Manila on August 2, 8 p.m., at the SMX Convention Center. Dance to the beats of Tokyo's resident DJs: DJ Dantz, DJ Ayumi, and DJ Daijiro. Our own local acts will be joining the party, too! Party with Ace Ramos, Deuce Manila, Curse & Bless, and a whole lot more. Tickets are priced at P993.
For ticket inquiries or reservations, call 470-2222.
Share this story with your friends!
---
Help us make Spot.ph better!
Take the short survey
Load More Stories