10 Things to Do This Weekend: August 8 to 10
Fall in love with a musical that will break your heart, go on a gastronomic journey all over Asia, solve a murder mystery over dinner, and more.
(SPOT.ph) What's happening in Manila this weekend? SPOT.ph zeroes in on the events you shouldn't miss.
Check out SPOT.ph's gig guide: 10 Gigs and Parties to Go to This Week: August 6 to 11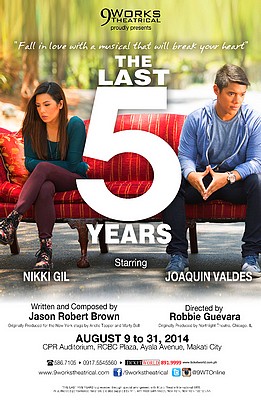 Fall in love with The Last 5 Years, opening on August 9, 8 p.m., at the Carlos P. Romulo Auditorium at RCBC Plaza. The production runs through August 31.
In a heartbreaking and moving tale of "he says, she says" told forward and backward, we meet rising young novelist Jamie Wellerstein and struggling young actress Cathy Hyatt. She begins at the rueful end of their marriage and moves towards a hopeful beginning. He begins as a giddy, young 20-something who has just met the girl of his dreams, but winds up making unfavorable choices - a story all too familiar but structured in a way that is unique and set to Brown's emotionally raw and honest music. This production by 9 Works Theatrical features Nikki Gil and Joaquin Valdes as Cathy and Jamie, respectively.
ADVERTISEMENT - CONTINUE READING BELOW
Tickets are priced at P1,771, P1,563, P1,458, P1,250, and P833.
For ticket inquiries or reservations, call 891-9999.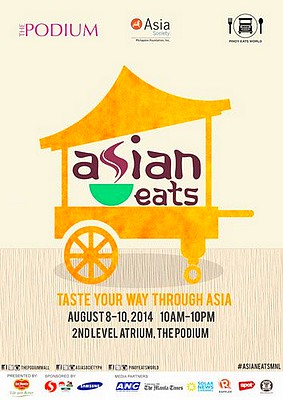 CONTINUE READING BELOW
Recommended Videos
Savor Asian favorites and sample new dishes at Asian Eats food festival, happening from August 8 to 10, 10 a.m.  to 10 p.m. at The Podium. The three-day event, hosted by Asia Society Philippines, Pinoy Eats World, and The Podium, is part of Pinoy Eats World's regular World Eats bazaar.
Take a culinary tour around Southeast Asia, starting off with traditional Indonesian cuisine by Chef Rita Binibule (Rita's Indonesian Kitchen). Thai restaurant NAV, Vietnamese restaurant P.H.A.T. Pho, and Singaporean bistro Your Local will be firing up taste buds with a modern take on Southeast Asian cuisines. Chef Claude Tayag's Downtown Cafe by Bale Dutung will serve up Filipino fare with a twist, while Inasalan sa Dalan will offer Ilonggo classics.
To add to this gastronomic feast, Manila-based cooks from around Asia will be sharing authentic dishes from their homelands. Taste Indian cuisine from Maharajas Kababs by Aashish Mirpuri and healthy Chinese comfort food from Suzy Lee's Spring by Ha Yuan.Turkish-national Aysegul Ozden Trifyllis (Ayse's Turkish Cuisine) and Korean-national Tina Hong Garcia (Bi Won) will present their interpretations of the flavors of their home countries.
ADVERTISEMENT - CONTINUE READING BELOW
Foodies can look forward to pairing their food with unique concoctions by EDSA Beverage Design Studio. Finally, satisfy your sweet tooth by checking out modern patisserie Pink Wasabi, which will be serving their trademark kashi maki (sweet hand-rolled sushi cakes) and other unique desserts.
Aside from all the feasting, you can also learn more about the culture of our Asian neighbors. On Saturday, August 9, there will be a live Roti Canai cooking demonstration by chefs from Berjaya Hotel Makati, and musical performances by acoustic guitarist Alyza Barro and Indonesian singers. On Sunday, August 10, there will be a demonstration by Turkish Chef Illhami and a performance by K-pop cover group NEO.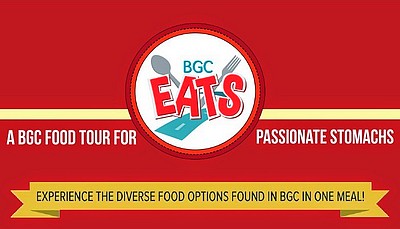 Catch the last two legs of BGC Eats 2014 on August 9 and 14, 3 p.m. The starting point is at the Hop On, Hop Off Bus Stop at 9th Avenue.
The third stop of the tour, happening on August 9, focuses on beverage pairings, featuring Enderun's assistant dean of hospitality management, Bel Castro. She will be sharing some tricks for how to enhance one's dining experience and drink one's way to a better meal. Since wine will be involved, participants of this tour must be 18 years old and above. The last stop on August 16 focuses on Healthy Eats, featuring Edgy Veggie café owner Denise Celdran, who helps guests discover delicious and healthy food options.
ADVERTISEMENT - CONTINUE READING BELOW
Qualified participants are shoppers with a single receipt purchase worth a minimum of P2,000 from retail stores or restaurants located at Bonifacio High Street, The Fort Entertainment Center, Crossroads, Bonifacio Stopover, One and Two Parkade, and The Mind Museum from July 21 to August 16, 2014. A shopper can only redeem a maximum of two tickets per day.
For more information, email martha.asuncion@artsatbgc.org or call 818-3601 local 3207.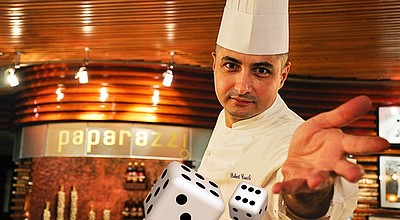 EDSA Shangri-La Manila's famed Paparazzi restaurant, in cooperation with Get Real Theatre HK, brings back its highly successful Murder Mystery dinner theater series with its second installment, Casino Fatale. The four-course dinner theater rate is set at P3,450 net per person, with wine pairing at P5,000 net. The dinner theater includes pre-dinner cocktails featuring premium Banfi wines from Tuscany courtesy of Wine Depot and runs for three nights from August 7 to 9,  7 p.m.
The story is set in 1965 Las Vegas, with Inspector Slate on the hunt for a diamond thief, when he discovers a dead body under the black jack table. The body belongs to the diamond thief, Donnie 6 Fingers, who was in search for the Black Bacari Diamond of Jaipur. Inspector Slate needs to find out what role the odd bunch of Doris Knight, the aging casino bombshell, Nervous Herman, her besotted card dealing beau, and Lord and Lady Twittington, from the Peak of Hong Kong,  play in the case before it's too late.
ADVERTISEMENT - CONTINUE READING BELOW
In between courses, guests are able to play the role of super spies going on roller coaster rides with unexpected twists and turns, and solving mindboggling murder mysteries played out by the Get Real Theatre HK actors, all internationally heralded thespians. No two nights are ever alike as guests have a hand in how the Casino Fatale story unravels.
EDSA Shangri-La Manila's executive sous chef Robert Cauchi has prepared a four-course dinner exclusively for the Casino Fatale dinner theater. The menu is comprised of Beginner's Luck (carpaccio of yellow fin tuna with caper and shallot remoulade, avocado and truffle tartare with shaved grana, herb oil and aged balsamic), Double or Nothing (signature tortelli, fresh sage and butter with a classic combination of baked pumpkin puree, mustarda di Cremona and amaretti biscuit), In the Red (lamb cutlets Milanese style stuffed with buffalo mozzarella, preserved tomato and basil with a confit of bell peppers and sugodágnello), and Midnight Run (millefoglie of chocolate with white chocolate mousse, dark chocolate sheets, rose water gel and raspberry sorbet).
For bookings and inquiries, call 633-8888 ext. 2922 or email paparazzi.esl@shangri-la.com.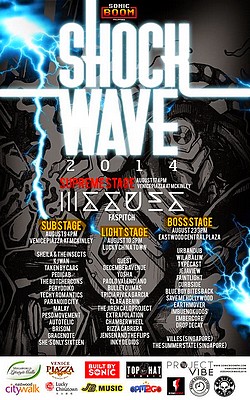 ADVERTISEMENT - CONTINUE READING BELOW
Sonic Boom Philippines brings Shockwave 2014, a series of shows at Megaworld Lifestyle Malls, featuring the best local acts today with a one-night-only performance by America metalcore band Issues, live in Manila!
The event kicks off on August 9, 4 p.m., at the Venice Piazza. The line-up includes Sheila & The Insects, Kjwan, Taken By Cars, Pedicab, Peryodiko, The Butchercons, Paranoid City, Peso Movemet, Autotelic, Malay, Brisom, Gracenote, and She's Only Sixteen. It continues on August 10, 3 p.m., at the Lucky Chinatown Mall with performances from Bullet Dumas, Quest, December Avenue, Yosha, Paolo Valenciano, Tricia Rivka Garcia, The Jireh Calo Project, Clara Benin, Extrapolation, Chamberwheel, Rizza Cabrera, Jensen and the Flips, and Inky De Dios.
The third stop will be on August 17, 4 p.m., at the Venice Piazza with ISSUES live in Manila for one night only with a special performance by Faspitch. The culminating event will be on August 23, 3 p.m., at Eastwood. Expect performances from Urbandub, Wilabaliw, Typecast, Jejaview, Fainthlight, Curbside, Blueboybitesback, Save Me Hollywood, Earthmover, Imbuenokudos, Embercore, Drop Decay, Villes, and The Summerstate.
Tickets are by invitation only. For more information, click here.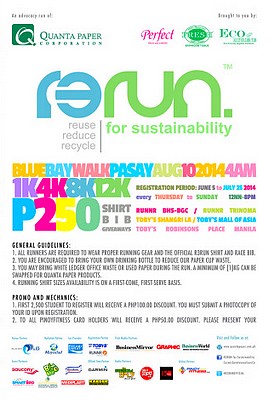 ADVERTISEMENT - CONTINUE READING BELOW
Sign up for ReRun for Sustainability 2014, happening on August 10, 4 a.m., at the Blue Bay Walk. Registration is priced at P250 for each category (1K, 4K, 8K, and 12K). You may download the registration form here (Individual andGroup) and submit to the following sites:
RUNNR (Bonifacio Global City)
RUNNR (TriNoma)
Toby's Shangri-La
Toby's SM Mall of Asia
Toby's Robinsons Ermita
For more information, click here.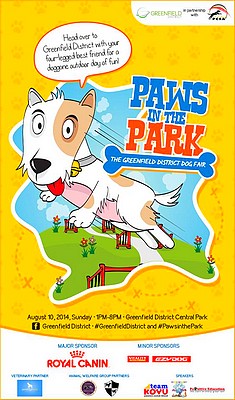 Spend the day with your four-legged best friend at Paws in the Park: The Greenfield District Dog Fair on August 10, 1 p.m. The event is expected to attract pooch lovers all over the metro. Dog owners can sign up their pets for free workshops on agility and training or for doggie-and-owner parlor games. Dog experts will also be in attendance to share valuable tips on how dog lovers can train their pets to be at their best behavior at all times. Participating sponsors and vendors will also be welcoming visitors with doggie freebies and other fun pooch finds.
ADVERTISEMENT - CONTINUE READING BELOW
Aside from this, dog owners can also capture the fun moments they will be sharing with their cuddly pals either by posing for photos at the petparazzi booth or by having their dog's portrait done by artists at the venue. Those looking to find furry buddies, meanwhile, can also sign up to adopt dogs of their choice at the venue.
For more information, call  534-7336 or (0917) 534-7336, visit www.greenfield.com.ph, or email inquire@greenfield.com.ph.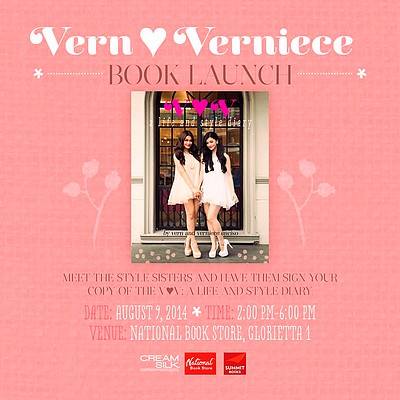 Join bloggers Vern and Verniece Enciso for the book launch of VV: Life and Style Diary on August 9, 2 p.m., at National Book Store Glorietta 1 and for a book signing event on August 23, 2 p.m., at National Book Store Trinoma. Vern and Verniece Enciso, 20 and 18, respectively, are sisters. Their blog is about their day-to-day adventures as they juggle both college and the world of fashion blogging. Now, the sisters bring to their fans a complete style guide that they can look to whenever they seek inspiration.
ADVERTISEMENT - CONTINUE READING BELOW
For more information, click here.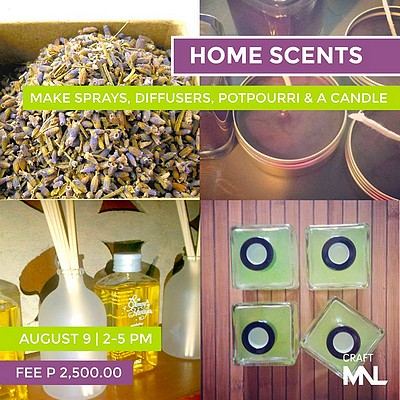 Personalize your home or office with your own selection of fragrances! Learn to make room sprays and scent diffusers, along with potpourri and a scented candle! Join Craft MNL and Lala de Leon of Simoy ng Haraya on August 9, 2 p.m., for a Home Scents Workshop at The Collective in Makati. The session fee of P2,500 covers all materials and a take-home gift of 1 100mL room spray, 1 100mL linen spray, 2 80mL reed diffusers, 150 grams of scented dried flowers, and 1 100 gram tin of scented soy candle.
Lala De Leon is an advertising practitioner and a enthusiast in anything hand-made. Once her duties are done in the office, she goes home to concoct soaps, perfumes, and aromatherapy balms. What was once a hobby has evolved into a small sideline business with the name Simoy ng Haraya (loosely translated as Whiff of Imagination).
ADVERTISEMENT - CONTINUE READING BELOW
To register, click here.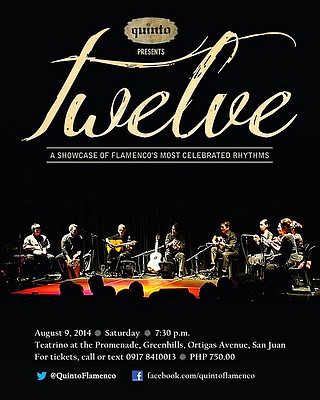 The country's premier Flamenco ensemble Quinto presents Twelve: A Showcase of Flamenco's Most Celebrated Rhythms, at Teatrino, Greenhills on August 9, 7:30 p.m. Tickets are priced at P750.
Considered the only true Flamenco ensemble in the Philippines, Raj Mansukhani, Arby Sacristia, John Songco, and Miguel Nañawa are the talented and dedicated musicians who bring to life the soul of the art of Flamenco with passionate playing, enchanting melodies, and exciting rhythms. With roots in 2002 and an ever-evolving sound, its members continuously hone their talent, with some having gone as far as Madrid, Granada, and Seville to further their study of this unique and passionate musical form. Whether as solo artists or guests, their sound can capture the hearts of any audience, be it on the grandest of stages or the most intimate of settings. These Flamenco artists pride themselves in the group they have created - one that unifies music and dance through dedication, love, and raw passion for their shared art.
ADVERTISEMENT - CONTINUE READING BELOW
For more information, click here.
Share this story with your friends!
---
Help us make Spot.ph better!
Take the short survey
Load More Stories