10 Things to Do This Weekend: August 15 to 17
Follow the heart-warming story of Pinocchio as he comes to life, step into the exciting world of the Carousel Caravan, join the battle of the brains at Mind Pub, and more.
(SPOT.ph) What's happening in Manila this weekend? SPOT.ph zeroes in on the events you shouldn't miss.
Check out SPOT.ph's gig guide: 10 Gigs and Parties to Go to This Week: August 13 to 19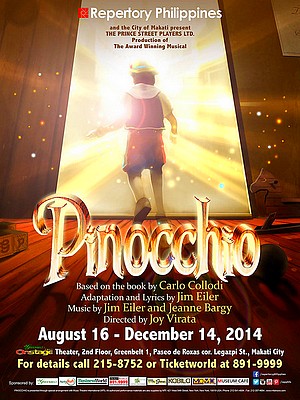 Enter the world of Pinocchio, opening on August 16, 10:30 a.m., at the OnStage Theater in Greenbelt 1. The show runs through December 14.
In Pinocchio, the story of a familiar wooden puppet who wants to become a real boy is told with vim, verve, and vibrancy. Set in Italy, this version tells the beloved tale of Pinocchio, a boy-sized puppet built by the caring puppet maker, Geppetto. Knowing of his longing for a son, the Blue Fairy brings Pinocchio to life as a reward for Geppetto's remarkably generous spirit. Pinocchio is told by the Blue Fairy that if he always obeys his father, she will turn him into a real boy. But, the best laid plans can sometimes go awry and Pinocchio's boyish longings leads him away from his father and on an adventure unlike any other. From the Land Of The Toys to the belly of a whale, Pinocchio learns that no love is greater than that of a parent for a child.
ADVERTISEMENT - CONTINUE READING BELOW
Tickets are priced at P625, P521, and P416.
For ticket inquiries or reservations, call 891-9999.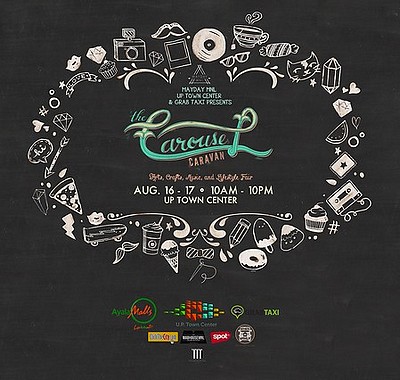 CONTINUE READING BELOW
Recommended Videos
Hop into the whimsical world of the Carousel Caravan! A weekend filled with art, crafts, music, and unique finds is about to make its way on to the grounds of the U.P. Town Center. Get ready for a two-day fair booming with assorted activities and attractions. It promises to be a gold mine for arts and craft enthusiasts, music lovers, and shopaholics.
Swing by as the caravan parks at its first stop, marking the beginning of this whirlwind adventure from August 16 to 17, 10 a.m., at U.P. Town Center's amphitheater. Come and join in on the fun, no entrance fees needed! Just bring family, friends and yourself to the grounds and explore the carefully curated bazaar, listen in on the acoustic music or jump into a new craft and skill through our various workshops on site.
ADVERTISEMENT - CONTINUE READING BELOW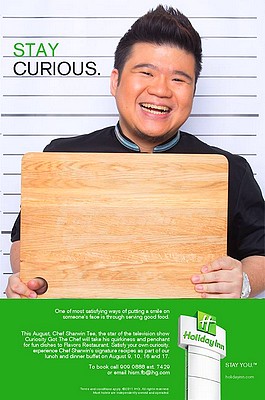 Curiosity got Flavors Restaurant when they decided to bring the Quirky Chef Sharwin Tee to its home at the Holiday Inn & Suites Makati. Chef Sharwin's fun take on popular dishes will be showcased in Flavors' lunch and dinner buffet on August 9, 10, 16, and 17 only.
It was their unique interpretation of popular dishes that made this partnership between Chef Sharwin Tee and Flavors Restaurant a match made in heaven.  Flavors Restaurant will highlight dishes that Chef Sharwin prepared throughout the four seasons of his show, Curiosity Got the Chef. Hotel guests and fans of the show will now get the chance to taste his Beef and Rattan Broth, his own version of Sinigang using rattan fruit as the sour component. Other dishes worth looking out for are the Pig on Vacation, Salmon Pinakbet En Croute, Salvation Rice, Tocino Mac and Cheese, Bacon "Awessam" Bulgogi, Meatball Stuffed Tomatoes, and  Seafood Bringhe Rice Pilaf.
ADVERTISEMENT - CONTINUE READING BELOW
Flavors Restaurant is located at the lobby level of Holiday Inn & Suites Makati, Glorietta 1, Palm Drive, Ayala Center, Makati City. Lunch and dinner buffet rates are P1,200+ (Saturdays) and P1,400++ (Sundays). For reservations, please call 909-0888 ext. 7429 or email hism.fb@ihg.com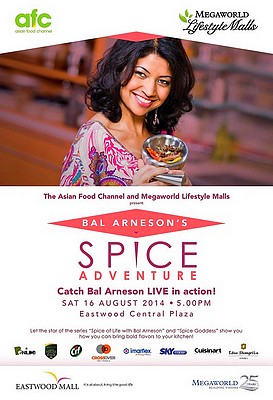 Megaworld Lifestyle Malls and The Asian Food Channel (AFC) invite all foodies, aspiring chefs, and cooking enthusiasts to an exciting culinary event featuring AFC's premier celebrity chef Bal Arneson. The Canada-based celebrity chef will be visiting Eastwood Mall on August 16, 5 p.m., as part of Bal Arneson's Spice Adventure Asian Tour, which also stops in Singapore, Malaysia, and Indonesia.
During her visit, Arneson, host of Spice of Life with Bal Arneson and Spice Goddess, which airs on AFC, will be conducting a live cooking demonstration at the Eastwood Mall Atrium at 5 p.m. The culinary event, launched in partnership with SkyCable, is Arneson's only live cooking demonstration in the Philippines.
ADVERTISEMENT - CONTINUE READING BELOW
Fans of Arneson, foodies and those who want to learn more about her world-renowned spice-infused cooking techniques will have a chance to watch the celebrity chef weave her magic in the kitchen and sample some of her most famous dishes, such as Butter Chicken, Spiced Yoghurt with Local Seasonal Fruits and Sweet Potato, and Yam Samosas with Fresh Mango Chutney.
For more information, call 709-9888, 709-0888, or (0917) 838-0111. You may also visitwww.megaworldlifestylemalls.com or www.asianfoodchannel.com/beta/balarneson.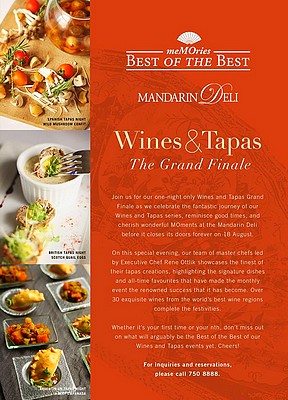 On August 15, 7 p.m., join Mandarin Oriental for the Wines and Tapas Grand Finale! Celebrate the fantastic journey of its Wines and Tapas series and revisit the best of the best tapas creations by the hotel's master chefs. With over 30 exquisite wines from the hotel's cellar, representing all of the world's best wine regions, this is one night you wouldn't want to miss! Limited seats available.
For reservations, call 750-8888.
ADVERTISEMENT - CONTINUE READING BELOW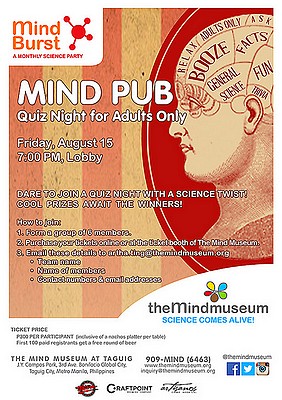 Bring your friends to MindBurst's exciting Mind Pub: A Quiz Night for Adults, happening on August 15, 7 p.m., at The Mind Museum Lobby.
Mind Pub promises a quiz night of scientifically epic proportions. Questions range from current events to pop culture, all with a science twist. To fuel curious minds, Taters will make favorite comfort food, like nachos, popcorn, and chips, available. Craftpoint Brewing Company will also be on hand to offer its unique and flavorful beers.
Grab your friends and form a team of six. Tickets are at P300 per person, and it comes with one nacho platter per table. The first 100 ticket holders get a free round of beer.
For tickets, click here.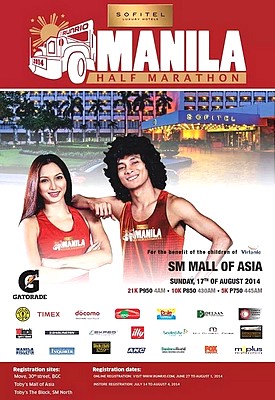 ADVERTISEMENT - CONTINUE READING BELOW
Sign up for the Sofitel Manila Half-Marathon, happening onn August 17, 4 a.m., at the SM Mall of Asia. Registration is priced at PP50 (21K), P850 (10K), and P750 (5K). You may register here or at the following sites:
MOVE Store (30th Street, Bonifacio Global City)
Toby's SM Mall of Asia
Toby's The Block, SM North EDSA
This race is for the benefit of the children of Virlanie.
For more information, call 703-1736 or 463-4814.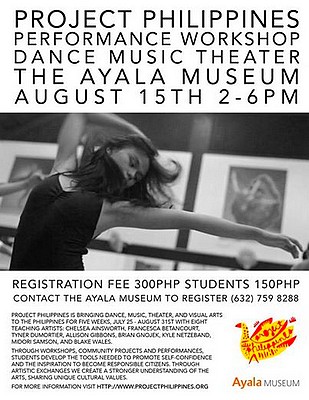 Sign up for the upcoming Project Philippines Performance Workshop on August 15, 2 p.m., at the Ayala Museum. Registration is priced at P300 (regular) and P150 (students).
The workshop aims to expose various dance students in Manila to contemporary dance and music collaboration through arts education, as well as inspire cultural exchange with the students. This involves interactive-dance classes and improvisation as a means to self-expression.
The program includes in-depth contemporary technique classes, followed by collaborative workshops and then a performance exchange with the team and the participating schools. The program will conclude with a discussion about arts in the Philippines and the United States.
ADVERTISEMENT - CONTINUE READING BELOW
For more information, call 759-8288 or email education@ayalamuseum.org.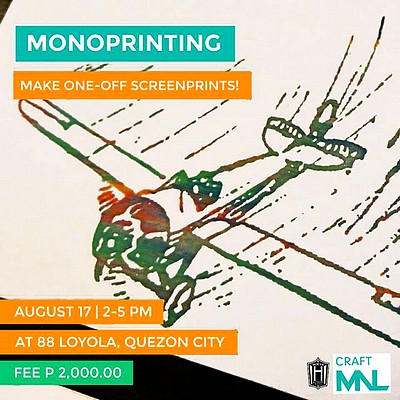 Learn how to make one-off screenprints with the Monoprinting Workshop of Craft MNL and Hocus, happening on August 17, 2 p.m., at 88 Loyola in Quezon City. The workshop fee is priced at P2,000.
In this workshop, learn how to print unique singular designs by experimenting with different patterns and textures. The three-hour session will tackle the materials needed for screen printing, preparing the positive and image for transfer, exposing and transferring image to screen, and how to coat the screen frame with photo emulsion.
To register, click here.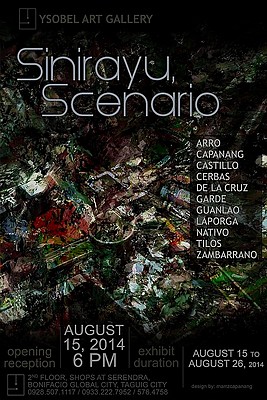 ADVERTISEMENT - CONTINUE READING BELOW
Catch the opening of Sinirayu/Scenario: A Group Exhibit on August 15, 6 p.m., at the Ysobel Art Gallery in Serendra. This group exhibit features visual artists Cezar Arro. Marrz Capanang, John Paul Castillo, Leoniel Cerbas, Richard dela Cruz, Rommel Garde, Jeffrey Guanlao, Jeline Laporga, Mark Nativo, Jzy Tilos, and Arel Zambarrano.
Sinirayu is the Hiligaynon term scenario or situation, the thematic crux of this collection of paintings. The exhibition relates to the social drama of peculiar scenarios or situations that pitches a process of change between places, time and people seen through its dissonances and the toll of its exigent terms. The artists explore various visual representations of conjured response to both the changing cultural landscape of Ilo-ilo and the chasms that go with these transformations. These are sort of psychological portraits of places and visible collective sensibilities of people being subject change.
For more information, call 576-4758  or (0928) 507-1117, or email mark.sancheztiongco@gmail.com.
Share this story with your friends!
---
Help us make Spot.ph better!
Take the short survey
Load More Stories