10 Things to Do This Weekend: September 26 to 28
Put your taste buds to the test, get your hands on indie komiks, follow the yellow brick road, and more.
(SPOT.ph) We know you're already looking forward to the weekend. We zero in on the events you shouldn't miss.
Check out SPOT.ph's gig guide: 10 Gigs and Parties to Go to This Week: September 24 to 30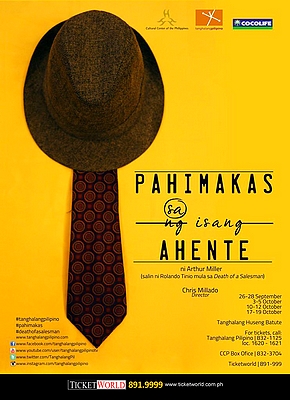 Book your tickets to Pahimakas ng Isang Ahente, opening on September 26, 8 p.m at the CCP Studio Theater. The production runs through October 19.
Adapted from Arthur Miller's Death of a Salesman, the local production also finds capitalist materialism at its core. Willy Loman's tragic downfall stems from his unwavering desire to achieve the American dream. And 65 years later, the obsession with this fantasy still plagues our national ethos; it could very well define the tragedy of the Filipino people. This play addresses loss of identity, an obsession to keep clinging to days gone by, and a man's inability to accept change within himself.
Tickets are priced at P824 and P618 (for matinee shows only).
For ticket inquiries or reservations, call 891-9999.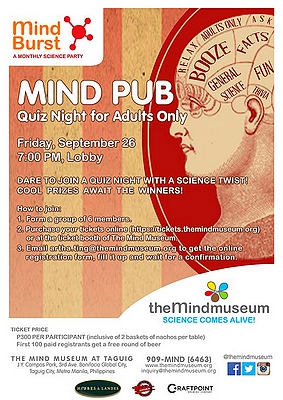 Round up your friends and sign up for Mind Pub Quiz Night on September 26, 7 p.m at The Mind Museum Lobby.
This night isn't just for science geeks: Prepare to sharpen your minds for current events and pop culture, all with a science twist. Mind Pub has all the elements of a fun Friday night with your friends: nachos, popcorn, chips, flavored beers and ales, and Belgian beers. Tickets are at P300 per person.
For tickets, call 909-6498 or click here.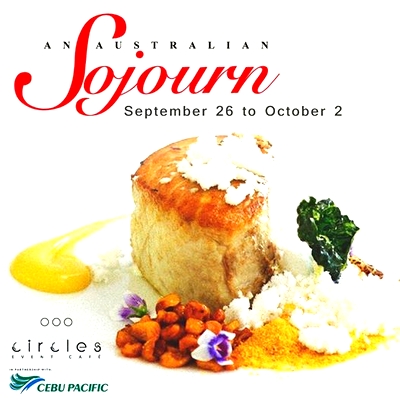 It's time for a gastronomic trip to the land down under! Take An Australian Sojourn with Makati Shangri-La from September 26 to October 2 at Circles Event Cafe.
ADVERTISEMENT - CONTINUE READING BELOW
Shangri-La's Chef McCool has come up with a menu that highlights modern Australian dishes and the flavors of Pacific Rim cuisine, a combination of Asian culinary styles with the cooking techniques of the Pacific Islands and the Western coast. Dishes include Preserved Lemon Quinoa with Roasted Capsicums, Roasted Rosemary Lamb Fillets with Mustard and Lemon, and more.
For a more intimate experience, guests may opt for a wine-pairing dinner at Sage Bespoke Grill on October 1, with a curated menu that includes Sydney Rock Oyster, Blue Swimmer Crab, Charred Swordfish, paired with premier Australian wines. Reservations are recommended as seats are limited.
Diners may get a chance to win roundtrip tickets for one to Sydney via Cebu Pacific Air and accommodations at Shangri-La Hotel, Sydney for every P2,000 spent at Circles Event Cafe. An Australian Sojourn's lunch buffet on September 28 is priced at P2,149 net while dinner buffet from September 26 to October 2 is priced at P2,395 net.
For reservations, call 814-2580 or e-mail rric.slm@shangri-la.com.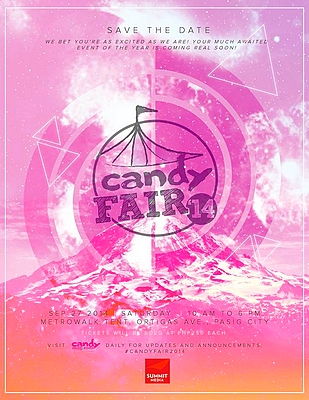 Drop by the Candy Fair 2014 on September 27, 10 a.m. at the Metrowalk Tent.
This is the biggest and most exciting annual Candy magazine event, featuring the largest gathering of Candy Cuties. Like a true high school fair, there are activity booths, exciting games, and special freebies for you to take home. A variety show featuring today's hottest celebrity performers caps off the day.
Tickets are priced at P250.
For ticket inquiries or reservations, call 891-9999.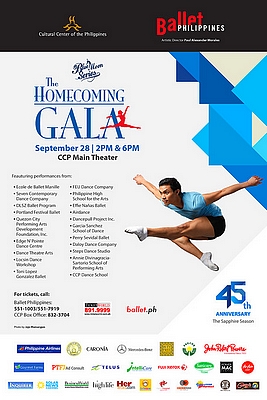 It's Ballet Philippines' Homecoming Gala on September 28, 2 p.m. and 6 p.m. at the CCP Main Theater. Ballet Philippines shares the stage with the companies, dance schools, and artists who have sprung from its rich tradition of excellence. This concludes a two-week mini-festival and fundraising series celebrating the company and its works.
ADVERTISEMENT - CONTINUE READING BELOW
Tickets are priced at P5,150, P2,060, P515, P360, P309, and P257.
For ticket inquiries or reservations, call 891-9999.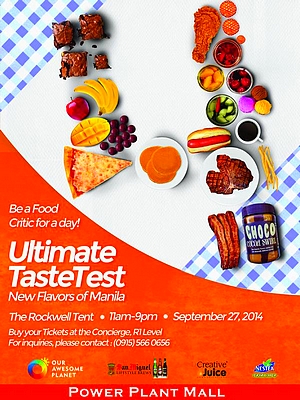 Be a food critic for a day! Check out the Ultimate Taste Test 2014 on September 27, 11 a.m. at The Rockwell Tent.
Sample flavors that are sure to keep you coming back for more. Food connoisseurs will feature their best dishes, then guests vote for their favorites using a score card. A winner will be determined once all votes have been tallied.
Event fee is P600 which includes a complimentary bottle of San Miguel Super Dry, Cerveza Negra, or Premium All-Malt.
For ticket inquiries, click here.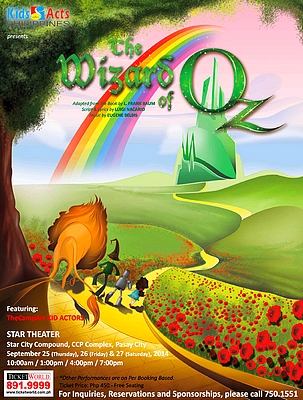 Make it a family affair and catch The Wizard of Oz, opening on September 25, 10 a.m at the Star Theater. The production runs through September 27.
Follow Dorothy as she discovers the beautiful and colorful land of the munchkins, the Munchkinland, and the rest of Oz. Meet Scarecrow, Tin Woodman, and Cowardly Lion as they seek help from the Wizard, as well as the four witches of Oz. Be inspired by this story of determination, love, courage, honesty, and a place called home.
Tickets are priced at P468.
For ticket inquiries or reservations, call 891-9999.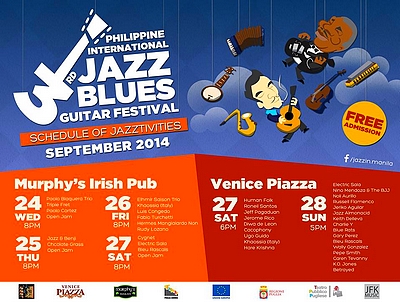 Sit back, relax, and enjoy the music at the 3rd Philippine International Jazz and Blues Guitar Festival from September 24 to 27 at Murphy's Irish Pub and from September 27 to 28 at the Venice Piazza. Admission is free.
Celebrate the world on strings and groove with some of Manila's finest musicians. Performers at Murphy's Irish Pub include Triple Fret, Open Jam, Fabio Turchetti, Bleu Rascals, and more. Over at Venice Piazza, enjoy music from Human Folk, Cacophony, Eletric Sala, Pepe Smith, and many more.
ADVERTISEMENT - CONTINUE READING BELOW
For more information, click here.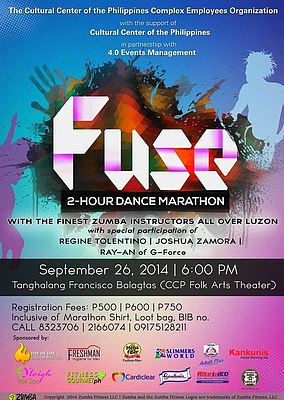 It's going to be a fun Friday night at FUSE: Two-Hour Dance Marathon on September 26, 6 p.m. at the CCP Folk Arts Theater. This event is for all Zumba aficionados and fitness enthusiasts!
Zumba is the latest branded dance craze and fitness program in the industry. This event will feature certified Zumba instructors and active Zumba Instructor Network (ZIN) members, together with celebrity guests Regine Tolentino, Joshua Zamora, and Ray-an of G-Force, providing everyone a one of a kind dance experience.
Registration fees are at P500, P600, and P750.
To register, call 216-6074,  832-3706, or 832-1125 local 1803.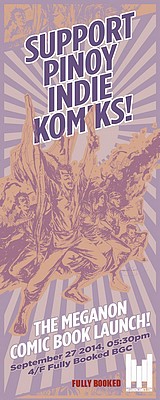 Comic book junkies can get their hands on indie komiks at The Meganon Comic Book Launch on September 27, 5:30 p.m. at Fully Booked Bonifacio High Street. Get first dibs on some of the best pinoy indie komiks today, meet and greet the artists, and get a chance to win original artworks or limited edition collector's items!
Meganon Comics aims to build a more sustainable comics industry for indie komiks artists. Every comic book you buy helps support the livelihood of a comics creator, so he can continue working on his craft.
For more information, click here or email info@meganoncomics.com.
Load More Stories